College football players are speaking out in an attempt to save their season.
Administrators from the Big Ten Conference and the rest of the Power 5 conferences met this weekend and multiple reports said the conclusion from those talks were to cancel the college football season due to the COVID-19 pandemic.
Late Sunday night, players made their voices heard on social media, using the hashtag "#WeWantToPlay." The hashtag became the No. 1 trend in the United States on Twitter and became a rallying cry not only for the 2020 season, but for a change in the structure of college football entirely.
In a post shared by a vast number of players, including some from the University of Wisconsin, college football players called for a uniform testing standard across the Power 5 conferences and for the creation of a college football players association.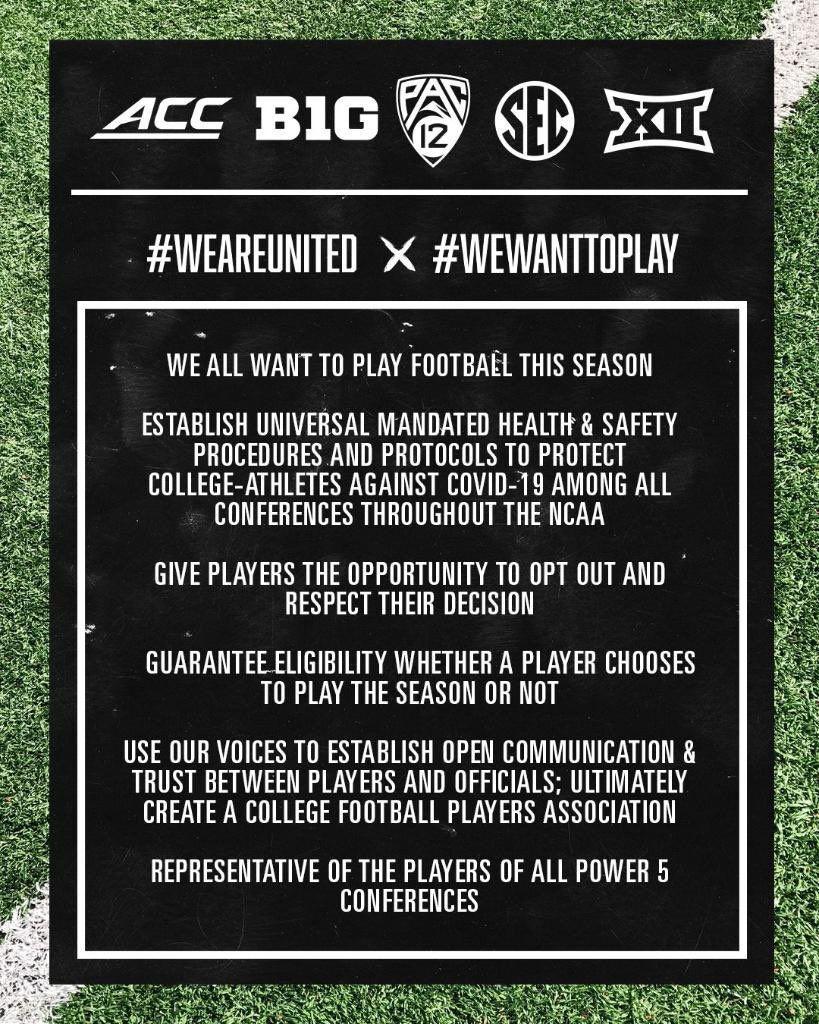 Player unionization has been a topic of discussion for a number of years, and was attempted by the players at Northwestern in 2014. Northwestern's concept was rejected by the National Labor Review Board in 2015, saying that scholarship players were employees of their university, but the NCAA's focus on competitive balance negated their ability to collectively bargain.
Players could form a non-union organization as well. 
In the COVID-19 era, however, there may be more evidence that athletes should have negotiating power because their circumstances are different than the rest of the student body. Schools across the country are grappling with the decision of whether to bring students back for in-person instruction as COVID-19 cases continue to rise. As of Monday, UW is planning to hold in-person classes that have distance-learning options, but football players would need to be on campus for practices and games.
Republican Sen. Ben Sasse of Nebraska sent a letter to the Big Ten that urged them to play football this season. 
"Life is about tradeoffs. There are no guarantees that college football will be completely safe — that's absolutely true; it's always true. But the structure and discipline of football programs is very likely safer than what the live experience of 18- to 22-year-olds will be if there isn't a season," his letter read.
While dealing with the pandemic, Congress is being lobbied by the NCAA and the Power Five conferences to adopt laws controlling how players can profit from their name, image and likeness. A players union would seemingly be involved in those discussions as well.
Yahoo Sports' Pete Thamel tweeted Sunday night that a decision on the Big Ten football season could come at any time, and the conference commissioner Kevin Warren told teams to "go easy" in practices Monday — UW was scheduled to open its training camp Monday, and other teams started training camp last week.
Star college players have made their desire to play despite the risk of COVID-19 clear. If college leaders allow it is yet to be seen.
"I feel like I can speak for every college football player and say that football has positively impacted and changed our lives in some way, shape, or form," read a tweet from Badgers tight end Gabe Lloyd.
"Football is our safe space in all of this and I can personally say I feel the most safe when surrounded by my teammates, coaches, trainers, and the rest of the staff. The attention to detail, care, and concern for our safety that our medical staff, as well as those across the country, has shown is what makes us confident in our safety playing the game."
---
Players share their thoughts on 2020 season