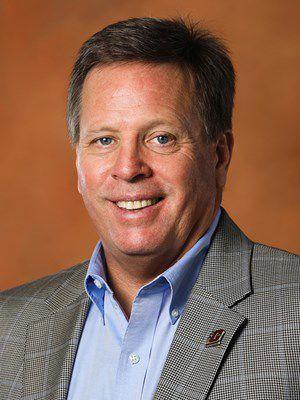 Jim McElwain arrived at the podium for a news conference in mid-August and smiled. The Central Michigan coach addressed the room and asked how everybody was doing, then waited for responses before speaking again.
"Thanks for being here," McElwain said. "This is awesome."
The man who will lead his Chippewas (1-0) into Camp Randall Stadium on Saturday as a heavy underdog against the University of Wisconsin football team — the No. 17 Badgers (1-0) are favored by 35 points — seemed right at home at a new job that certainly qualifies as off the beaten path.
Mount Pleasant, Michigan, is only about 130 miles from Ann Arbor, where McElwain was stationed last season as the wide receivers coach at Michigan under Jim Harbaugh. But the Chippewas and Wolverines couldn't be much farther apart on the college football map.
McElwain, 57, also had stops at Michigan State (2003-05), where he served as one of coach John L. Smith's top lieutenants; Alabama (2008-11), where he helped coordinate the offense and was part of two national title runs; and, more recently, Florida, where his 2½-season run in charge of the program included highs and lows. He even coached in the NFL for a season.
Asked about going from programs with national championship aspirations to one coming off a 1-11 season, McElwain pointed out that a large chunk of his time in coaching has come far away from the spotlight.
McElwain grew up in Montana and played at Eastern Washington. His first 15 years as a coach were spent either at his alma mater or Montana State before he finally landed a job in the Football Bowl Subdivision at Louisville in 2000.
While he wasn't necessarily looking to jump back into the head coaching ranks, the Central Michigan job was intriguing for a variety of reasons.
"My expectation is sometimes you're going to lose a game, sometimes you're going to win it," McElwain said. "But more than anything truly be proud of how you played the game and truly be proud of what you put on film. Don't look at the scoreboard, let's just go out and get a little bit better every day.
"I've got high expectations. To me, the sky's the limit."
It wasn't long ago that McElwain was a rising star in the coaching ranks. He parlayed the run at Alabama into a job at Colorado State, which he led to a 10-2 record in his third season.
Florida came calling and McElwain jumped at the opportunity. He was named SEC Coach of the Year his first season and led the Gators to division titles the first two seasons before everything unraveled.
In the spring of 2017, McElwain was incorrectly identified as the naked man on top of a dead shark in a picture that went viral. As it turned out, that wasn't even the most bizarre thing to happen during his run in Gainesville.
Florida was 3-0 in SEC play and 3-1 overall to start the 2017 season before losing close home games to LSU and Texas A&M in back-to-back weeks. Prior to the Gators' next game, against rival Georgia, McElwain implied in a news conference that his family and players had received death threats.
That revelation blindsided Florida officials, and the school later sent out a statement saying McElwain had offered no additional details about the death threats in a follow-up meeting. After speculation that Florida might fire McElwain for cause, a 42-7 loss to Georgia sealed his fate and he and the Gators agreed to a mutual separation.
McElwain admitted to ESPN earlier this year that, in retrospect, Florida wasn't a good fit for him.
Central Michigan, on the other hand, seems like a good place for a second chance.
"This wasn't something I was looking to do," McElwain said prior to the start of the season. "I really like the vision and direction of the school."
At Central Michigan, McElwain is surrounded by others in search of fresh starts.
His quarterback, senior Quinten Dormady, is a graduate transfer on his third stop in college. Dormady, who threw for 285 yards and three touchdowns in a 38-21 victory over Albany last week, was a starter at Tennessee as a sophomore before losing the job and ending up at Houston for a season.
Sophomore wide receiver Kalil Pimpleton, who had eight receptions in the opener, is a transfer from Virginia Tech.
Even senior tailback Jonathan Ward, who had 211 total yards and three touchdowns against Albany, is hitting the refresh button after going from 1,017 rushing yards as a sophomore to 212 last season.
Central Michigan went to bowl games in nine of 12 seasons despite losing two coaches — Brian Kelly and Butch Jones — to bigger jobs. But the program slipped under former Green Bay Packers special teams coach John Bonamego, who was fired after going 22-29 in four seasons.
The Chippewas' only win last season came against Maine from the Football Championship Subdivision. They've already matched that total this season but are looking for their first win over an FBS opponent since beating Northern Illinois in the 2017 regular-season finale.
"The smiles in the locker room were long overdue," McElwain said after the win over Albany. "It's been awhile for them to get a win and for our team. I'm just really proud of them."
Be the first to know
Get local news delivered to your inbox!