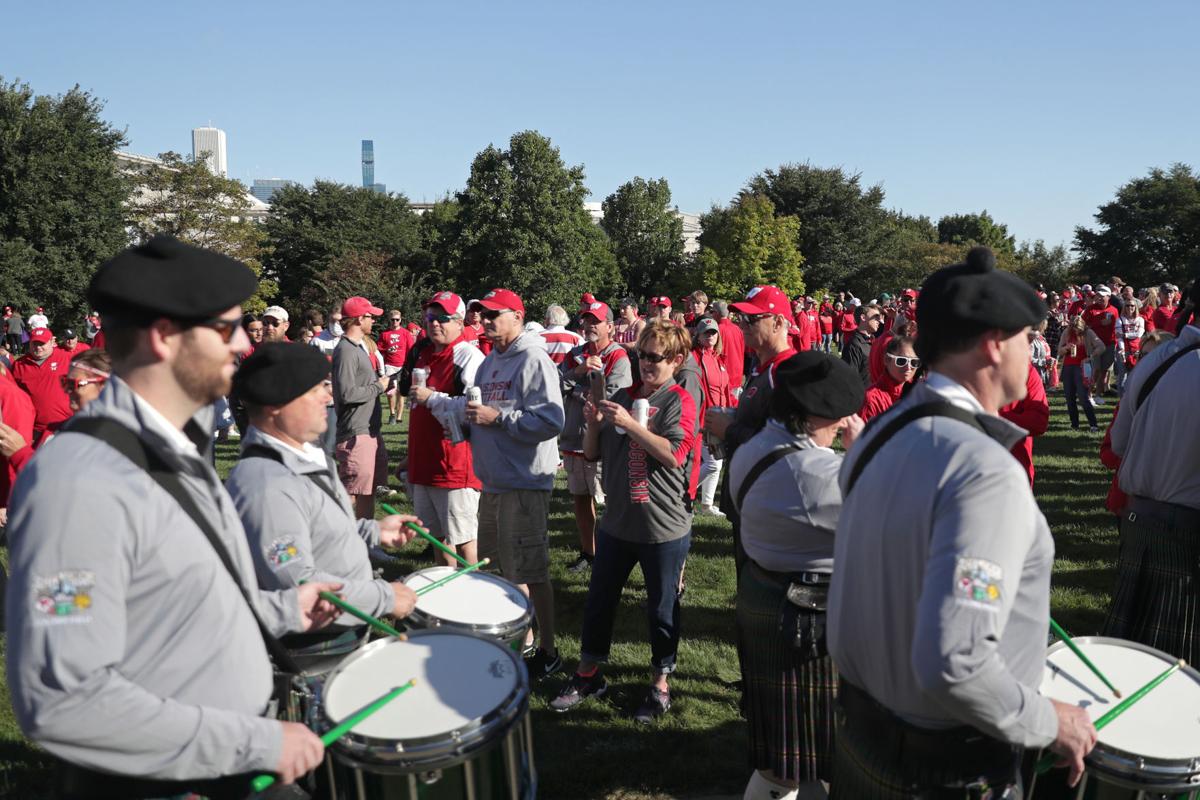 CHICAGO — No matter where a person was standing outside Soldier Field on Saturday morning there was some form of pregame festivity. From tailgating in the parking lot to ESPN's "College GameDay" show, fans of both Notre Dame and Wisconsin football surrounded the perimeter of Soldier Field. 
Red and white or blue and gold, fans were trying to make the most of their morning leading up to what was on paper the best college football game of the week between the Fighting Irish and the Badgers. 
The stadium and area around it was even referred to as the "epicenter of college football" by multiple people on Twitter. 
"It's a Fox game, but GameDay decided to show up anyway," said Stephen Bergsten, a college football fan with no allegiance to either team who said it was a dream come true to be at such a high-profile game. "This was on my bucket list to come to a game at Soldier Field with my son and daughter." 
ESPN's signature show was set up on a field between the stadium and Chicago's Field Museum. A sea of people were jumping around, waving their signs in an attempt to catch the attention of the panel. Some sported orange hard hats courtesy of Home Depot, others were decked out head to toe in their school's colors. Glitter was everywhere as many people adorned their faces with the sparkles. 
Fans stood both in front and behind the "College GameDay" set, with both groups of people holding the decorated poster boards that have become a staple of the program. 
Signs with phrases like "The Power of Chryst" — a nod to UW coach Paul Chryst — and "You Coan Have Him" — a play on words referring to former Badgers and current Notre Dame quarterback Jack Coan — were carried proudly by their creators. 
Bergsten held a sign that said "ND uses Snail Mail." It was both a reference to his job as a mail man and a dig at the Irish.
"It's a little bit of the calm before the storm," Bergsten said. "The game is what's going to be really big and awesome. This is just the build up. It's all about football in Chicago today."
Both mascots stood on ladders in front of the crowd at one point. While Notre Dame's Leprechaun led Irish fans in chants, Bucky Badger mimicked pushing him off the ladder. 
A simple walk over the hill was the UW Alumni Gameday Pep Rally. Traffic was so bad that the original emcee for the event didn't make it until well after the start, but a substitute filled in and kept the crowd pumped. 
UW alumni also brought in the Shannon Rovers Irish Pipe Band to help fans get in the Irish spirit, though many people winced at the loudness of the bagpipes as the band walked through the crowd. 
In the midst of all the Badgers fans were a couple in mixed gear. Andy Anderson wore a Notre Dame jersey and a UW ski cap, while his wife had on a Badgers shirt and a Fighting Irish baseball hat. 
Anderson grew up a Fighting Irish fan because multiple family members taught at the institution. The 47-year-old went to UW and lived in Wisconsin for a majority of his life, so he said he couldn't pick a team to root for. He was just hoping for a good game. 
"It's the first time they're playing in my lifetime," Anderson said. "We had to be here. My wife bought tickets as my Christmas present. I'm still undecided if I'm going to be cheering or booing the whole game."
The nearest path around the stadium led to Notre Dame tailgating headquarters and eventually to Fox's "Big Noon Kickoff" show. 
Former UW Athletic Director Barry Alvarez and Big Ten Commissioner Kevin Warren discussed the rivalry between Coan and Badgers quarterback Graham Mertz with the hosts of Fox's show. Of course Alvarez didn't escape his appearance before someone mentioned his grandson, Jake Ferguson, playing in the game.
The circle around the stadium completed in the main parking lot where a majority of UW fans were set up with gallons of tomato juice ready for Bloody Marys. 
Outside one of the gates two fans stood waiting to enter the stadium while bickering over whether Coan or Mertz was the better quarterback. They weren't the only two having that conversation as many other fans around Soldier Field discussed whether Coan or Mertz would win.
When in mass groups, fans traded chants of "Go Irish" or "Go Badgers" before many started to make their way into the stadium about an hour before kickoff. 
"It's just refreshing to see everyone all together having fun and partying," Olivia Boray, a future UW student said. "There's so many different tailgates here and you just see groups of Badger fans talking to Notre Dame fans. It's just a cool experience."
---