Shannon Ryan has covered Northwestern, Illinois and college football and basketball for the Chicago Tribune since 2007. She gives her thoughts on how the No. 10 Badgers match up with No. 19 Northwestern this weekend.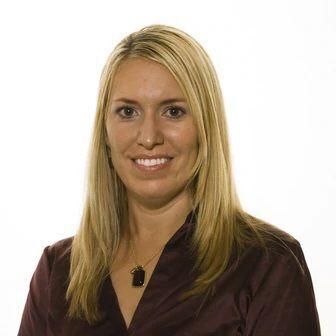 Which offensive player must have success for Northwestern to beat the Badgers?
Quarterback Peyton Ramsey has been a season-changer for the Wildcats. The Indiana transfer has helped spark a turnaround after Northwestern was plagued by ineptitude last season. Ramsey will have to continue his steady play to keep pace with Graham Mertz.
He's completing 65.8% of his passes for 723 yards and six touchdowns. His four interceptions (are) a bit worrisome, but he's shown to have a connection with a bevy of receivers. He connected with Ramaud Chiaokhiao-Bowman for a career-high three touchdown passes. Chiaokhiao-Bowman, Kyric McGowan, Riley Lees and tight end John Raine have all proven reliable targets for Ramsey.
Which defensive player must have success for Northwestern to beat the Badgers?
Wisconsin shouldn't expect to rush for 341 yards and five touchdowns against Northwestern like it did against Michigan. The Wildcats defense gives up only 91.8 rushing yards per game (eighth in the nation). Linebacker Paddy Fisher and his crew will have to be at their best to limit Wisconsin's ground attack (261.5 yards per game). Northwestern held Purdue to only 2 yards rushing. Maryland and Iowa were held to less than 80 rushing yards, but Nebraska rushed for 224 yards. A day like that likely would spell doom for the Wildcats.
Which Wildcats player has surprised you the most this season?
A lot of Northwestern players have risen to the occasion this season. Redshirt freshman Brandon Joseph has proven he can be a game-changer. He's one of just four FBS first-year players in the last 10 years to snag three interceptions through the first three games. His two picks helped Northwestern charge back to beat Iowa. Joseph also had a career-high seven tackles, five of which were solo, in his first start against Maryland.
What's the feeling of the job Pat Fitzgerald is doing at Northwestern?
Northwestern fans are thrilled to have a Wildcats-lifer like Fitzgerald steering the program. After all the angst following the disaster last season when the Wildcats went 3-9 overall and 1-8 in the Big Ten, it looks like a blip rather than a trend. Give Fitzgerald credit for paring ways with his longtime offensive coordinator and hiring Mike Bajakian. Bringing in Ramsey and handing him the job also changed the direction of the program.
With nine bowl appearances in 14 seasons and four of the program's five bowl wins in program history, Fitzgerald will eventually have a statue outside Ryan Stadium.
Prediction for the game and why?
Wisconsin still looks just a step ahead. It will be an exciting showdown, but the Badgers will pull it out in the fourth quarter with a 27-24 victory.
---
Who has the edge when the Badgers' face Northwestern?
WHEN THE BADGERS HAVE THE BALL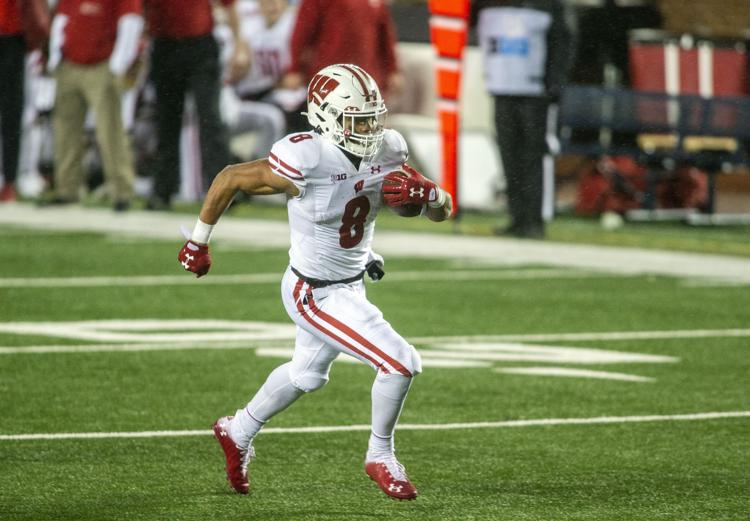 UW found its rushing attack last week at Michigan despite being down two key running backs. True freshman tailback Jalen Berger (above) made his first contributions, gaining 87 yards and scoring a touchdown on 15 carries and the Badgers racked up 341 yards on the ground. Five players had at least 30 yards rushing and UW consistently found ways to attack the perimeter of Michigan's defense. Receiver Danny Davis was crucial to the effort as well, gaining 65 yards on seven jet sweep carries.
That made things easier for redshirt freshman quarterback Graham Mertz, who was a little rusty after recovering from a COVID-19 infection. He had two passing touchdowns, including a nice throw to tight end Jake Ferguson in the end zone, but he wasn't as sharp as he was in the season opener against Illinois. Northwestern has eight interceptions and statistically one of the best pass defenses in the nation, so Mertz will have to be smart with the ball.
With jet sweeps, reverses and pitches, the Badgers have shown a number of ways that they can attack the edges of a defense. Challenging the perimeter may be crucial again this week at Northwestern, which has held UW under 200 yards rushing in their past four meetings and allowed 3.8 yards per carry in those contests. Northwestern is allowing 91.8 yards per game rushing this season and has only given up two rushing touchdowns.
The Badgers' offensive line adjusted well without starting guard Josh Seltzner, one of the players who contracted the coronavirus. Senior Jon Dietzen slid to left guard to fill his spot, Logan Bruss moved from right tackle to right guard and Tyler Beach started at right tackle. Mertz was only sacked once against Michigan and the Wildcats have just seven sacks this season.
Linebacker Paddy Fisher (33 tackles) draws the attention for Northwestern's defense, but fellow linebackers Blake Gallagher (34 tackles, 4½ for loss) and Chris Bergin (36 tackles, three pass breakups) have been just as impactful this season.
EDGE | UW
WHEN THE WILDCATS HAVE THE BALL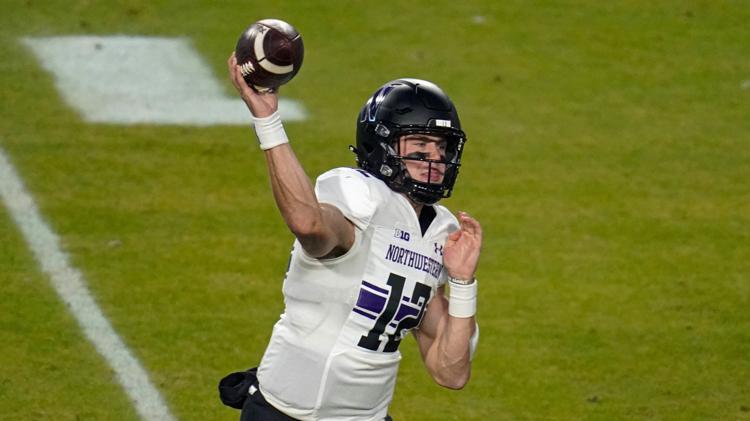 The Badgers' defense has proven to be as good as advertised through two games, allowing opponents just 18 points and 18 first downs thus far. UW's passing defense efficiency of 83.45 is second-best in the FBS and ranks first among teams who have played multiple games.
UW has gotten contributions from all over its defense. Four players lead the team with seven tackles, and three more have at least five. UW's massive time-of-possession advantage (average of 41:52-18:08 so far) and the defense's ability to get off the field on third downs — opponents are 5 of 21 on third-down tries — has kept the unit fresh and effective.
True freshman linebacker Nick Herbig continued to stand out against Michigan, tallying five tackles, three of which were for loss. His four TFLs this season lead the team.
Northwestern quarterback Peyton Ramsey (above), a transfer from Indiana, has thrived under new offensive coordinator Mike Bajakian. He's averaging 180.8 yards per game and has six touchdown passes after the Wildcats had one of the worst passing offenses in the nation last season.
Stopping the run has been a strength of UW's defense thus far, allowing just 89 yards per game. The Badgers will need to be stout against the run again facing Northwestern, which uses a number of backs. Led by sophomore Drake Anderson (198 yards, two TDs), the Wildcats also feature Isaiah Bowser (182, one) and Ramsey (122, one) prominently in the run game.
EDGE | UW
SPECIAL TEAMS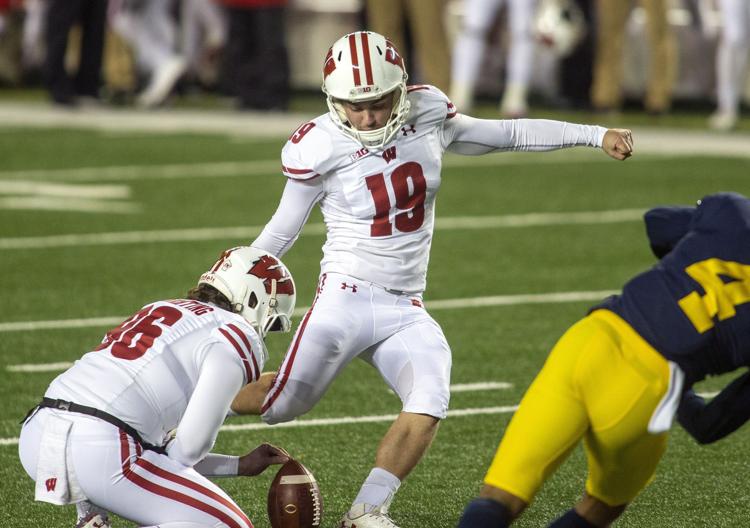 UW punter Andy Vujnovich has been a bright spot on special teams through two games. The Division III transfer has an average punt of 44.3 yards and four of his seven attempts have pinned opponents inside their 20-yard line. He ranks fourth in the Big Ten in punting average, which is significant improvement for the Badgers' punting unit which has ranked near the bottom in the conference in recent seasons.
Kicker Collin Larsh (above) hasn't yet been put in a pressure situation, but he's made all 13 of his PAT attempts and one short field goal. Return man Stephan Bracey started the Michigan game with a nice kick return of 33 yards and he could have chances against Northwestern — only eight of their 22 kickoffs have been touchbacks.
Northwestern's Charlie Kuhbander has gone 5-for-6 on field goal tries, including 4 of 5 from 40-49 yards.
EDGE | PUSH
COACHING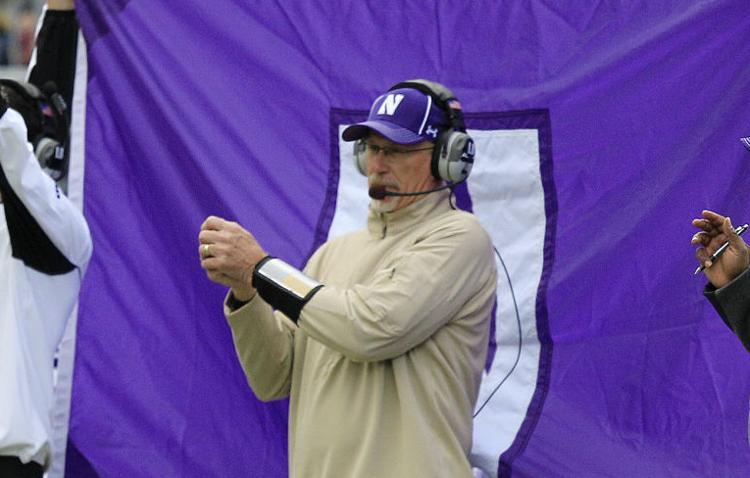 In their two games this season, the Badgers coaching staff has dismantled opponents. In the opener against Illinois, UW attacked down the field and exploited the Illini's Cover-2 defense. Against Michigan, the Badgers took advantage of an injury-riddled defensive line and gashed the Wolverines' on the ground.
Paul Chryst and his assistants will need to find the weak point against a Northwestern defense that allowed the second-fewest points per game (14.0) in the conference. One advantage UW has is in penalties: UW has averaged 10 penalty yards on two flags per game while Northwestern averages 54 yards on 6.5 flags per game.
After a down season last year, Northwestern coach Pat Fitzgerald quickly righted the ship and has his team leading the Big Ten West Division and sitting at 4-0 for the first time since 1996.
This game pits two of the conference's best defensive coordinators, UW's Jim Leonhard and Northwestern's Mike Hankwitz (above) — a former UW assistant — against one another.
EDGE | PUSH
INTANGIBLES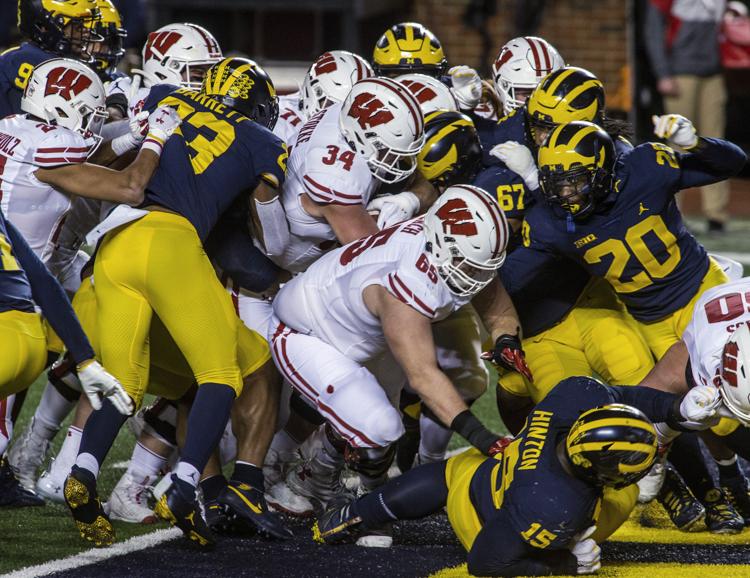 Ryan Field hasn't been kind to the Badgers in the 21st century. UW is 1-5 at Northwestern since 2003. This game was originally slated to be played at Wrigley Field in Chicago, but COVID-19 nixed those plans in the summer.
This will be the first meeting with both programs ranked in the AP Top 25 since 1995, a 35-0 Northwestern win. However, the last time the teams were both ranked in the top 20 of the poll, in 1962, No. 8 UW ran through No. 1 Northwestern 37-6.
The winner of this one holds the inside track to the West Division championship. Northwestern has a significantly easier slate after the UW game, with road games at Michigan State and Minnesota before finishing the regular season at home against Illinois. UW faces Minnesota, No. 9 Indiana and Iowa the final three weeks of the season.
EDGE | NORTHWESTERN
STATE JOURNAL PICK
The Badgers adjusted well with a number of contributors out due to a COVID-19 outbreak within the program. UW may be able to get some of those players back this weekend, but they'll need to pass physical tests. Either way, UW has more offensive firepower than anyone Northwestern's faced and the defense looks just as good as a season ago.
WISCONSIN 31, NORTHWESTERN 21
THE NUMBER (UW)
6.1: Yards per play for the Badgers thus far, which ranks third in the Big Ten and in the top 40 in the FBS
THE NUMBER (NORTHWESTERN)
6: Turnovers in the past three games for the Wildcats, four interceptions and two fumbles
KEY STAT (OFFENSE)
Time of possession: UW had held the ball for more than two-thirds of their two games thus far, but Northwestern has won the time-of-possession battle in three of its four games
KEY STAT (DEFENSE)
First downs: Northwestern averages 20 first downs per game, which ranks eighth in the conference, while the Badgers give up just nine first downs per game.