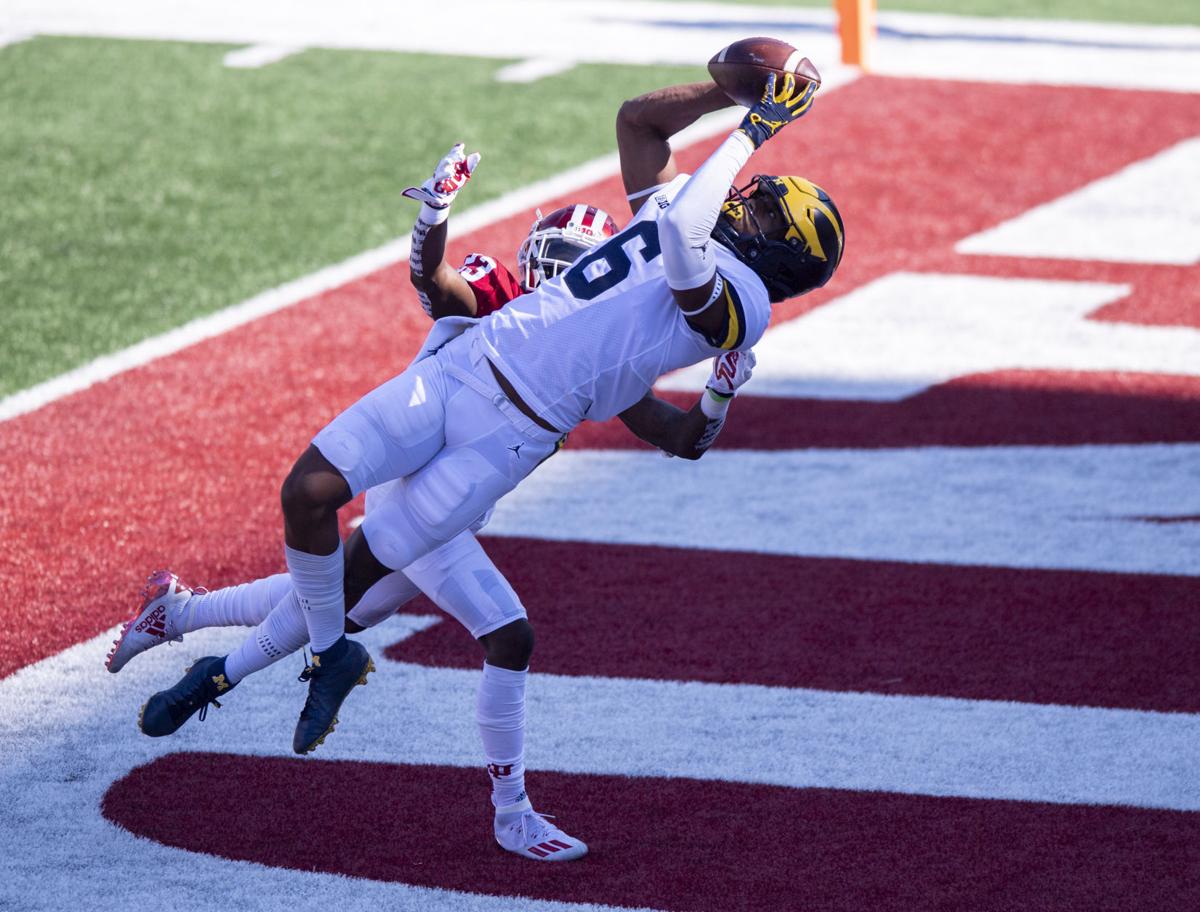 Aaron McMann is the Michigan football beat reporter for MLive Media Group, which publishes newspapers across the state of Michigan. The Redford, Mich., native and Central Michigan University graduate gives his thoughts on the Wolverines' matchup on Saturday against No. 13 Wisconsin.
Which offensive player must have success for Michigan to beat the Badgers?
The obvious answer here is Joe Milton, just because he's the quarterback and the one that touches the ball most often. But I'm going to pick an entire position group instead: the running backs. Michigan failed to rush the football last week in its loss to Indiana (13 carries, 18 yards) and it made them a one-dimensional team. Their offense isn't experienced enough to win solely by throwing the football, so it's going to need its stable of backs (they use four fairly regularly) to hit some big runs and open things up. Otherwise, Michigan isn't going to win this game.
Which defensive player must have success for Michigan to beat the Badgers?
Vincent Gray, Michigan's redshirt sophomore cornerback. He's struggled mightily in the Wolverines' previous two games -- and opponents have taken note. Michigan State went after him early and often two weeks ago and Indiana did the same, throwing over top of him when he was in man-coverage. He's still young and in his first year starting, so Michigan believes there's plenty of growth to be had. But for the Wolverines to remain competitive in this game, they're going to need Gray (and their secondary) to avoid giving up the deep ball.
Which Wolverines player has surprised you the most this season?
True freshman receiver Roman Wilson. We knew Michigan was going to play all six of its scholarship receivers, but Wilson (8 catches, 118 yards, TD) has been a pleasant surprise through three games. He's been reliable and gets open, making him Joe Milton's No. 3 option at this point.
What's the feeling of the job Jim Harbaugh is doing at Michigan?
I guess it depends on which group of people you're talking to. Fans are growing impatient with the lack of progress (still no Big Ten titles or playoff appearances to speak of), but Michigan's administration seems content. Harbaugh still wins a lot of games, brings plenty of attention to the program, fills stadiums and brings the athletic department revenue. From a business sense, he's a winner. The on-field product, however, is a different story. He has about 14 months left on his original contract, so the next six months to a year are going to be telling.
Prediction for the game and why?
I think Wisconsin wins this game, and comfortably. Between the struggling secondary, its lack of pass rush (which took another hit this week with DE Aidan Hutchinson sidelined indefinitely due to injury) and a running game in shambles at the moment, Michigan just isn't a very good team. Wisconsin has had a long layoff, and I'm curious to see how that affects them, but there's an experience edge and talent gap between the two teams at the moment that favors the Badgers. Wisconsin 31, Michigan 17.
---
Who has the edge when the Badgers visit Michigan?
Who has the edge when No. 13 Wisconsin travels to Michigan?
WHEN THE BADGERS HAVE THE BALL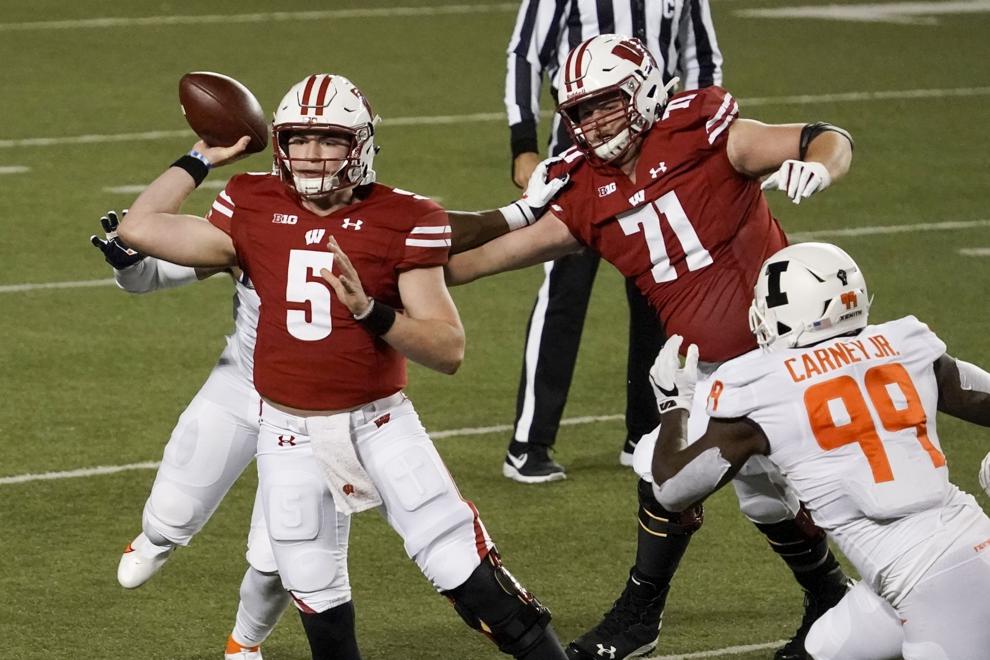 After a star-making performance in his starting debut, redshirt freshman quarterback Graham Mertz (above) may be eligible to play this week after sitting out of game action for 21 days after a positive COVID-19 test. Mertz had to clear physical tests this week before he could practice and coach Paul Chryst said Mertz's status will be determined by how he looks in practice.
If Mertz can play, expecting another near-perfect showing from him is a bit ridiculous, but after seeing what Michigan has allowed opposing quarterbacks the past two weeks, nothing is out of the question. Michigan allowed over 300 yards and three touchdowns apiece to Michigan State's Rocky Lombardi and Indiana's Michael Penix Jr. If Mertz can get back in a rhythm with his receivers after a hiatus, the passing attack could be in line for a big game.
UW's rushing attack was a bit slow out of the gate, averaging 3.4 yards per carry against Illinois, but Badgers coaches and players believed they had chances for big plays that they missed. Garrett Groshek had the most productive day on the ground in the opener, gaining 72 yards. The ground game needs to get back to form against Michigan, which has allowed over 100 yards rushing in each of its three games, but is only surrendering 3.2 yards per carry.
The Wolverines are anchored by a stout defensive line that features standouts Kwity Paye and Carlo Kemp, but they're struggling to put pressure on passers. Michigan hasn't recorded a sack in the past two weeks. Aidan Hutchinson, another stud defensive lineman, is out indefinitely after breaking his leg last week against Indiana.
EDGE | UW
WHEN THE WOLVERINES HAVE THE BALL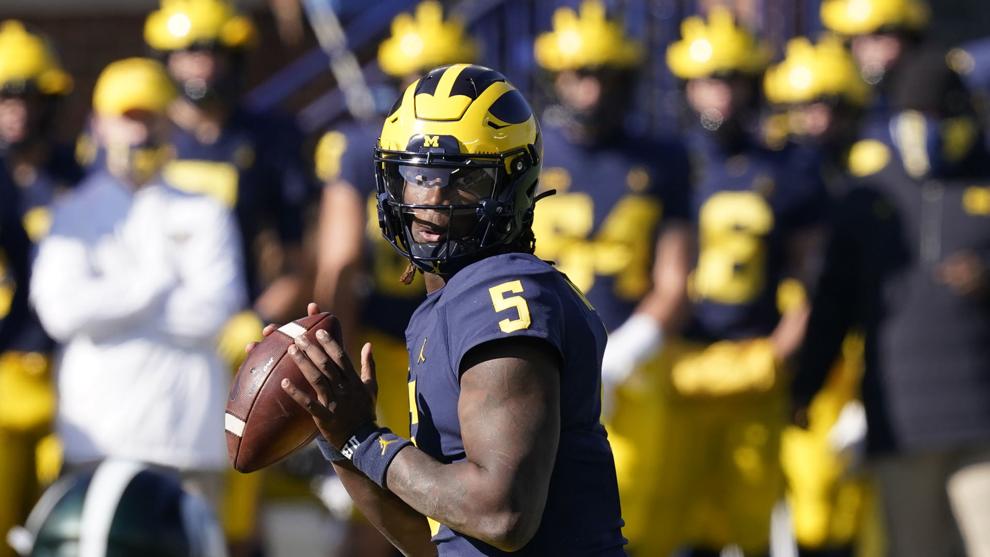 The Michigan offense in its second year with coordinator Josh Gattis has been subject to quarterback Joe Milton's (above) performance — as he goes, the Wolverines go. Milton — a 6-foot-5, 243-pounder out of Pahokee, Fla. — has been inconsistent at best. He'll flash tremendous arm strength and touch one possession, then miss an open target on another.
He's averaging 289.7 yards per game and his average completion goes for 13.4 yards, but he's completing just 60.8% of his throws in an offense designed for efficient QB play.
Milton adds another threat to Michigan's rushing attack, which is led by junior Hassan Haskins, but a number of backs get touches for the Wolverines. Six players have rushing touchdowns this year and the team averages 5.1 yards per carry.
UW's defense pitched a shutout against Illinois — the Illini's only points came on fumble returned for a touchdown — and showed strong secondary play, particularly from cornerback Rachad Wildgoose. If the Badgers have a majority of their defensive starters available, they should be able to corral the Wolverines' offense.
EDGE | UW
SPECIAL TEAMS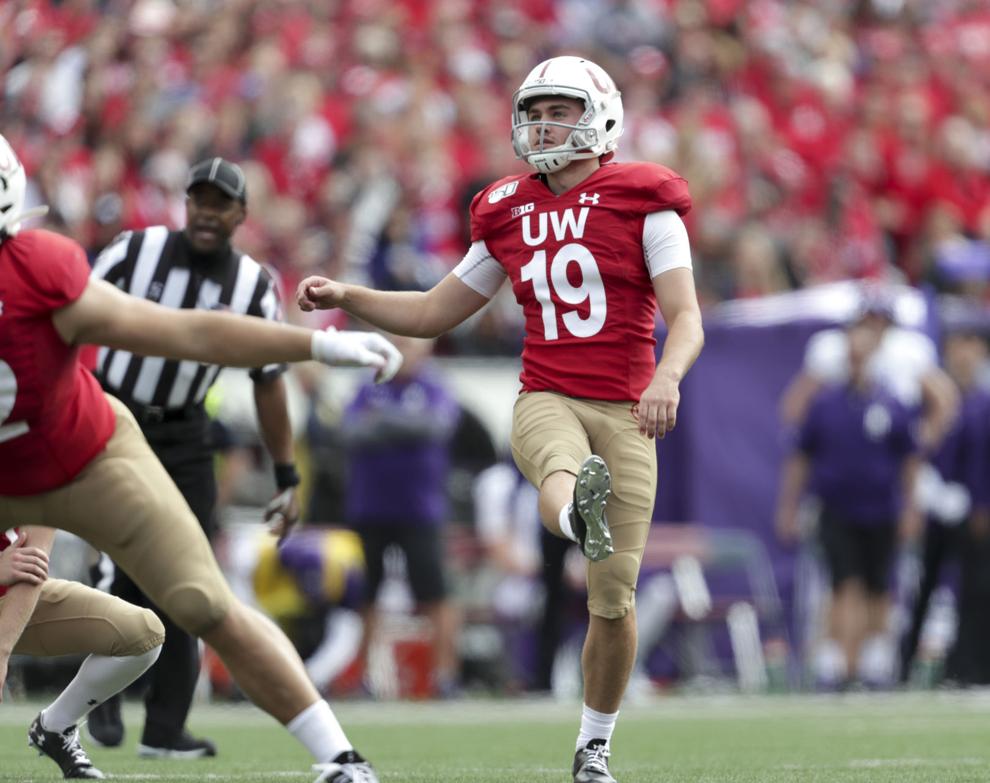 UW's special teams were a major question mark heading into the opener, but the unit was up to the task. Punter Andy Vujnovich had an up-and-down day, highlighted by a 60-yard punt in his first attempt. He finished with an average punt of 46 yards. Kicker Collin Larsh (above) made all six of his PAT attempts and added a short field goal late in the game. The coverage teams, revamped after some roster turnover, allowed one kickoff return of 20 yards, but stymied everything else short.
However, if the kicking spots are affected by the virus outbreak among the team, the reserves are true freshmen Gavin Meyers and Jack Van Dyke.
Wolverines punter Brad Robbins is averaging 49.4 yards per punt, best in the Big Ten, and has pinned seven of his 11 tries inside the opponent's 20-yard line. Placekicking has been an issue for Michigan — Jake Moody is 0-for-3 on field-goal attempts this year.
Return man Giles Jackson ranks third in the conference with 11.3 yards per punt return and fourth with 18.4 yards per kick return.
EDGE | PUSH
COACHING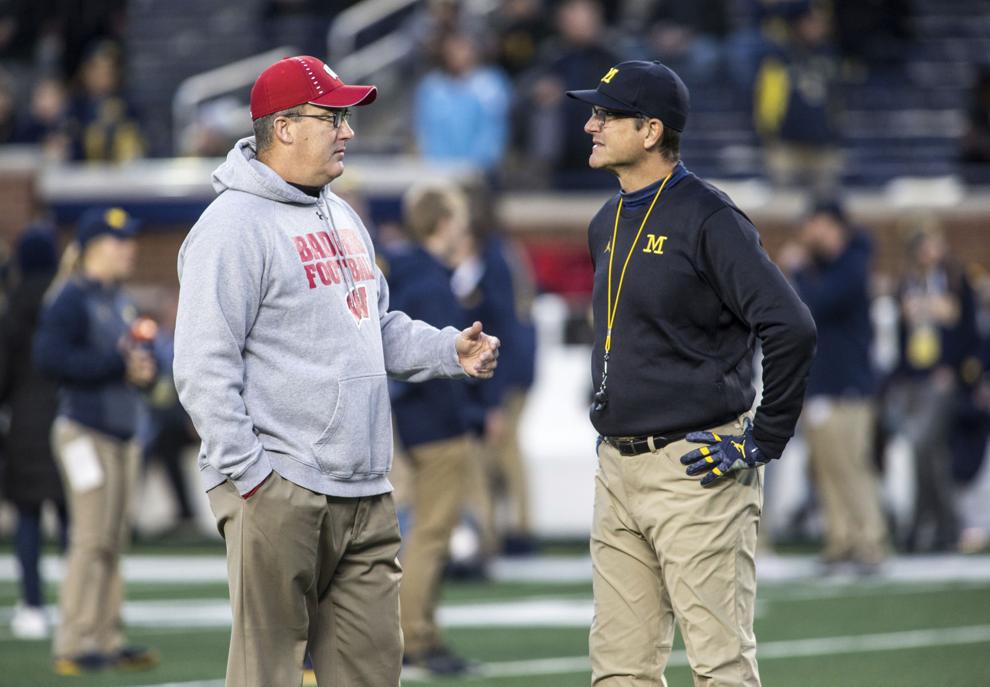 UW had seemingly a perfect game plan for the Illini on both sides of the ball. Mertz picked apart Illinois' Cover 2 defense and exploited the defense's aggressiveness in the red zone to get Jake Ferguson wide open for two touchdowns. UW's defense didn't allow a point, and let up a total of 218 yards. The Badgers were again stingy on third downs, allowing Illinois to convert just 2 of 10 chances.
Paul Chryst and his assistants will need to scheme players open against Michigan defensive coordinator Don Brown's man-coverage-heavy approach.
Michigan's Jim Harbaugh is coaching in the final year of his contract with the program, an exceedingly rare act in college football. Frustration is mounting in Ann Arbor regarding the football program's inability to contend with Ohio State and other top teams in the conference.
EDGE | UW
INTANGIBLES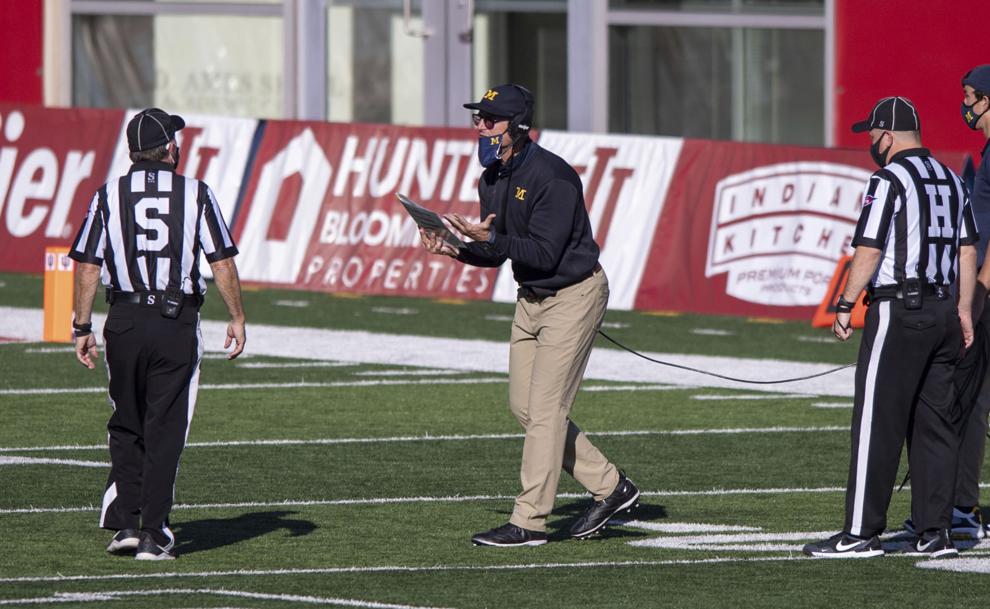 This game will be defined by how the Badgers respond to their COVID-19 situation. If Mertz is available, he'll need to apply the same focus and attention to detail that he showed in throttling Illinois. If it's anyone else under center, the offensive line and rushing threats will need to take a step forward from Week 1 to get the offense moving.
This could be a pull-out-all-the-stops game for Michigan, because their schedule the rest of the way is tougher than it once appeared. Rutgers, Penn State, Maryland and Ohio State follow the Badgers on Michigan's slate. Rutgers and Maryland are proving to be tough outs already this season, Penn State is in dire straits and Ohio State is still Ohio State.
The Big Ten is reportedly considering allowing limited fans into stadiums in the second half of the year, but "The Big House" will be void of fans this week.
EDGE | MICHIGAN
STATE JOURNAL PICK
It's difficult to make a prediction not knowing who the Badgers will put on the field Saturday. However, the Wolverines haven't shown much to inspire optimism against top-tier opponents in the Big Ten this season. UW is one of those top-tier teams with a healthy roster, so we'll see what kind of patchwork the Badgers have to do on their starting lineup due to the COVID-19 outbreak.
If Mertz can play, UW has seen the blueprint in the past two weeks to attack Michigan's secondary and takes advantage. If Mertz is out, the Badgers' defense may need to win a slugfest.
BADGERS 31, MICHIGAN 24
THE NUMBER (UW)
X: How many players are out for UW due to the COVID-19 outbreak and contact tracing.
THE NUMBER (MICHIGAN)
2: Giveaways this season for the Wolverines, tied for the fewest in the Big Ten.
KEY STAT (OFFENSE)
Yards per carry: UW's 3.4 yards per carry in the opener against Illinois were the team's lowest since a midseason loss at Ohio State last year, and the fourth-lowest in the past three seasons
KEY STAT (DEFENSE)
Third-down conversions: UW allowed the Illini to convert 2 of 10 third-down chances in the opener and Michigan comes in ranked eighth in the conference on third down, converting at a 38.9% clip.