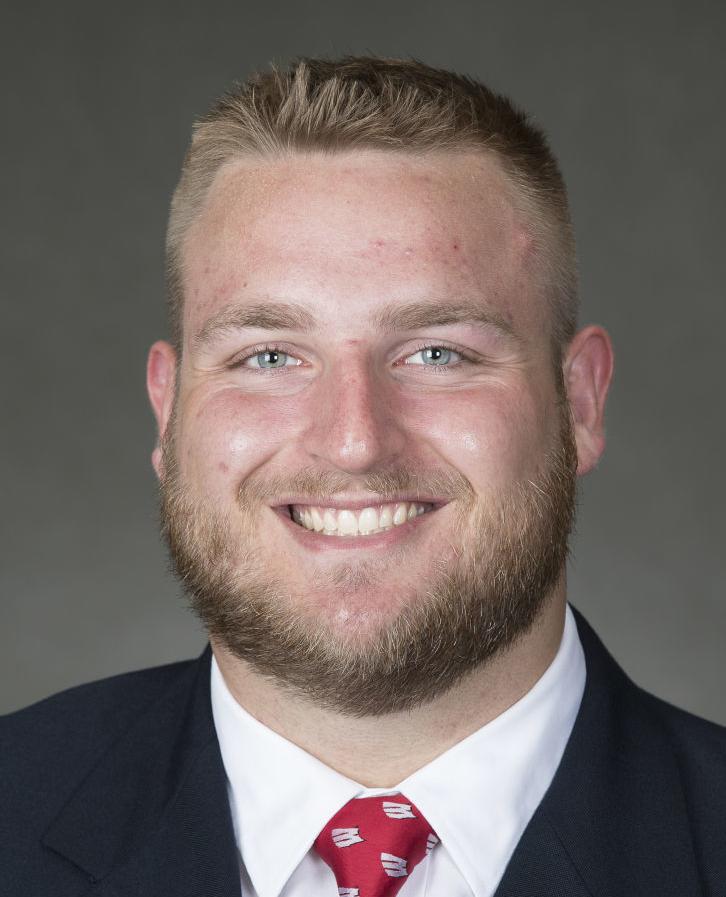 David Moorman put on the No. 46 jersey and admired himself in the mirror. The fifth-year senior may have even lingered for a few moments before taking the field for the University of Wisconsin football team's season opener.
"I thought I looked skinny before the game," Moorman, who's listed at 6-foot-5, 307 pounds, said earlier this week. "And then I went out there and I was watching film after and I was like, 'Man, I've still got those love handles.'"
Not that it mattered. Moorman felt like a million bucks before, during and after the 49-0 victory at South Florida on Friday night.
Moorman, a reserve offensive lineman, played 11 snaps at tight end, hence the change in numbers. He wore his usual No. 68 jersey when he played right tackle for four snaps late in the game.
The opener was Moorman's 42nd career game with the Badgers, tying him for the most on the team. But it marked the first time he got first-half snaps in a non-special teams situation.
"It was fun to get out there," Moorman said. "Whatever I can do to get on the field. It was awesome having that role."
Moorman may be in line for his first career start Saturday when No. 17 UW (1-0), which moved up two spots in this week's Associated Press Top 25 poll, hosts Central Michigan (1-0) at Camp Randall Stadium. Ironically, the Chippewas were the first team to offer Moorman, who grew up near Detroit, a scholarship.
Sophomore right tackle Logan Bruss will miss the game with a left leg injury. The depth chart released Monday has either Moorman or sophomore Tyler Beach listed with the first team.
"Going forward, whatever I can do to help the team," Moorman said. "Tight end, tackle, guard, center, I'm ready for all of it."
Moving around is nothing new to Moorman, who got reps at all five offensive line spots during training camp. He began camp working at both guard spots, had gotten a little time at center and was just getting settled at tackle when junior tight end Luke Benzschawel injured his right leg during a scrimmage on Aug. 12.
Even before Benzschawel's injury, UW's depth at tight end already was a concern. Moorman didn't hesitate when asked to learn a new role.
UW offensive coordinator Joe Rudolph, who coaches the offensive line, was asked recently about the value of having a utility player such as Moorman.
"Guys that are smart. Guys that understand football. Guys that work at it and are like, 'OK, I've got to leave this meeting and really understand what I need to do. I can't be on the field asking questions or trying to figure it out while everyone else is repping,'" Rudolph said. "He's into it, man. I love him. What he brings to this team is immeasurable. He's doing a great job and is going to help us in a lot of ways this year."
It didn't take long for Moorman to make an impact against the Bulls. UW went with its jumbo package in a third-and-1 situation on its third snap of the game, sending Moorman on the field to line up next to junior left tackle Cole Van Lanen.
Moorman shoved South Florida defensive end Greg Reaves out of the way to help open a hole for junior tailback Jonathan Taylor, who moved the chains with a 3-yard run.
"He's very versatile," UW junior center Tyler Biadasz said of Moorman, who also played eight snaps on special teams in the opener. "He's making that tight end role really real for him. I'm happy for him. To get on the field and to make an impact on the game like that, it's pretty big-time."
Moorman said the move to tight end has been relatively smooth. He still goes through meetings with the offensive line but occasionally meets with tight ends coach Mickey Turner to go over plays and responsibilities.
Plus, Moorman lives near two tight ends: sophomore Jake Ferguson is right next door and Benzschawel lives down the hall.
"It's not that different," Moorman said. "There's definitely some technique things that are different. You have to be a little bit more athletic in space. But it's not like I'm not running the full route tree. So for the most part, as far as blocking goes, it was fun. I think I did a pretty good job at it."
Moorman has spent most of his career waiting his turn behind the likes of Michael Deiter, Beau Benzschawel, David Edwards and Jon Dietzen, some of his best friends.
He saw action in five games as a reserve offensive lineman as a junior and six the previous season. Moorman admits he lacked a sense of urgency early in his career, but that changed after UW's victory over Miami (Fla.) in the Orange Bowl following his sophomore campaign.
Moorman contributed to that victory on special teams but walked off the field wanting to contribute more.
"You get that itch," Moorman said, "and you kind of buy in more."
That's what made Friday night feel so special to Moorman. Whether he was wearing No. 46 or No. 68, Moorman felt like was doing his part to help.
"I just love football," he said. "And I love this team."