University of Wisconsin Chancellor Rebecca Blank asked legislators Tuesday to provide the framework for athletes to earn money for their name, image and likeness.
Speaking as an NCAA witness to the U.S. Senate Committee on Health, Education, Labor and Pensions, Blank echoed the desires of the NCAA and Power Five conferences for Congress to make a national law governing NIL payments to athletes and to allow the NCAA to enforce that law.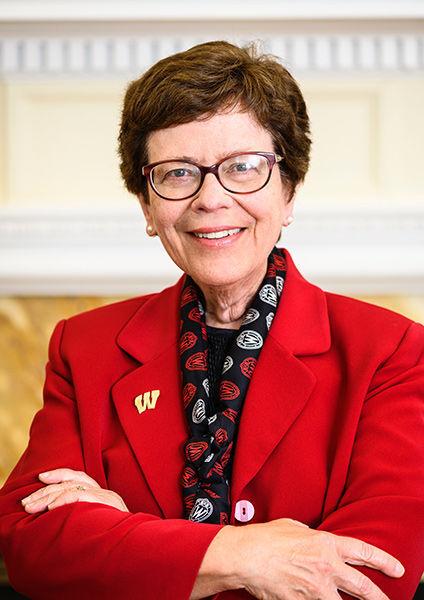 "In recent years there's been a lively discussion about allowing students to generate income from name, image and likeness, or NIL. Other students have this opportunity, and I support finding ways for student-athletes to do so as well," Blank said.
She detailed some of the key factors the NCAA and Power Five conference requests from Congress in a potential law:
Passing federal legislation before July 2021, when state laws on the subject go into effect, and for the federal law to preempt any state laws
An anti-trust exemption for the NCAA to enforce the law
NIL considerations kept separate from recruiting
Avoiding pay-for-play situations
A definition that student-athletes are not employees of their schools
Senators on the committee had mixed responses to the proposition of Congress enacting an NIL law.
Sen. Rand Paul, R-Ky., said the NCAA can handle the issue themselves and shouldn't involve the federal government.
"I think it's a terrible, rotten, no-good idea to federalize college sports," Paul said. "The NCAA is particularly poised to propagate nationwide rules because losing membership in the NCAA is a significant cudgel to enforce a nationwide rule on name, image and likeness."
Sen. Christopher Murphy, D-Conn., argued that because a vast majority players aren't able to go straight to the professional ranks out of high school, enacting a law that allowed student-athletes to profit from NIL agreements in college is fair.
Blank was joined by Utah State vice president and athletic director John Hartwell, Ohio State track and field and cross country director Karen Davis, and National College Players Associated executive director Ramogi Huma.
Finances for non-revenue sports — particularly for women's and Olympic sports — was a topic of discussion during the hearing as well. Some senators, like committee chair Lamar Alexander, R-Tenn., contended that money earned by an athlete in such agreements should benefit all student-athletes at their school.
Blank said that all athletic programs' budgets dipped at UW due to the COVID-19 pandemic, but all programs benefit from the revenue-producing sports of football and men's basketball.
"The business model for college athletics is greatly misunderstood by the public. We aren't sponsoring college sports because of its potential to make money," Blank said.
"At the University of Wisconsin, only football and men's basketball are revenue-generating sports. Our other 21 sports cost more money than they generate. But the value of our academic program is the broad opportunities it provides for students with many skills to compete. If we had to spend all of our revenue in only our two revenue-producing sports, I'm not sure we'd choose to run an athletic program at UW."
Responding to a question from Sen. Mitt Romney, R-Utah, Blank said setting a cap on NIL earnings isn't necessary to create a helpful law.
"The main benefit these students take away is their educational degree. It's not about coming here to earn money and be an employee," Blank said.
Here are other highlights from Blank's testimony at the hearing:
On why the Big Ten postponed fall sports:
"There were several main reasons for that. One was that we were uncertain that we could do the level of testing and contact tracing that we needed to keep athletes safe. Secondly, there was this growing evidence of heart-related myocarditis, and that evidence was uncertain and it wasn't clear what it meant. We wanted to know more. There were a few other, more minor reasons, but until we have answers to that, we will keep our season postponed. Once we have answers to that, to some of those issues and things that we have ways to deal them effectively, we will try to plan a delayed season."
On the Big Ten's vote to start the football season:
"I'm not going to speak to that. You're going to have to let the Big Ten make that announcement, when and if such a decision is made. When such a decision happens, your first question should be, 'What's changed?' Hopefully we will have answers to exactly the issues that I just raised.
On if starting the Big Ten football season requires a unanimous vote by the (Big Ten Council of Presidents and Chancellors):
"I can't say what the vote is going to look like. Decisions within the Big Ten are largely majority-based decisions. But I'll be honest, we almost always decide everything by consensus, we very rarely take votes."
On covering athletes' potential long-term health issues stemming from COVID-19:
"We provide insurance to all of our athletes. At a minimum, we cover them for anything that happens to them while they're student-athletes and up to two years after that. In a number of cases … COVID is an interesting situation. Usually we're talking about more physical damage injuries which are generated on the field in some way. We, in a number of cases, have covered athletes much older who had injuries that they needed help on beyond two years.
"Our expectation is that if we have someone who has serious COVID-related issues that they contract while they are playing, we would cover them.