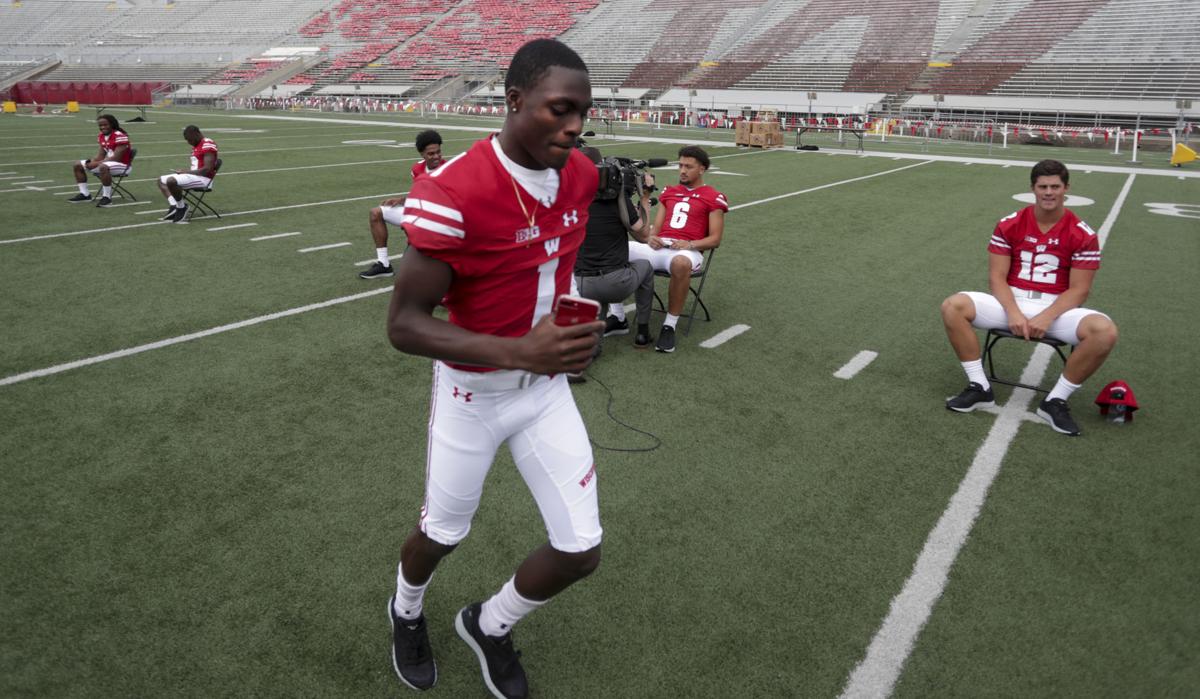 He had blazing speed and the ability to cut on a dime, leaving would-be tacklers grasping at air.
Even Aron Cruickshank's biggest critics wouldn't deny he had the physical tools necessary to play big-time college football.
What those detractors couldn't get past — some of them towering over Cruickshank as they offered their opinion — was his size.
"It happened every day," he said. "Even before I was getting (scholarship) offers they were like, 'You're too small. You should stick to track. You should stick to basketball.' But it was motivating. I knew I had it in me and my mom and my family knew I had it in me."
So did University of Wisconsin assistant coach Mickey Turner and a host of other recruiters around the country. Cruickshank, a 5-foot-9, 154-pound freshman wide receiver from New York, picked the Badgers over offers from Penn State, Michigan and Ohio State, among others.
Turner had heard good things about Cruickshank, a star at Erasmus Hall High School in Brooklyn, and began doing his homework. Cruickshank checked off a lot of boxes, both with his speed and playmaking ability and with his sparkling academic resume.
So Turner dug deeper. He discovered that Cruickshank sometimes spent three hours a day on a train — 90 minutes each way — during his trek from home to school and back. To Turner, that was a sign that Cruickshank was dedicated to play for a powerhouse Erasmus Hall football program that produced former Ohio State standout Curtis Samuel.
Then there was the first meeting between Turner and Cruickshank.
"I just saw that look in his eye," said Turner, UW's tight ends coach. "I was like, 'There's something about you.' "
As for the idea that Cruickshank's size would hold him back, Turner offers this anecdote.
Turner traveled to New York last December to watch Cruickshank, who had orally committed to the Badgers the previous summer, play in the PSAL City Conference championship game at Yankee Stadium.
Curtis, Erasmus Hall's opponent, wisely kept the ball away from Cruickshank on kickoffs. But what Turner couldn't help but notice was how Cruickshank hustled in front of the play and took out two players with massive blocks.
You have free articles remaining.
Reminded of that play shortly before UW opened training camp earlier this month, Cruickshank smiled and shrugged his shoulders.
"Everybody thinks I'm not going to hit anybody because I'm so small, but I've got to let my teammates eat as much as I want to eat, too, because I know everybody's hungry," he said. "I wasn't just going to sit around. I had to hit somebody."
Cruickshank is hungry to get on the field this season, but he's still trying to carve out a role in a loaded wide receiving corps.
The Badgers' top four receivers are all back this season. That group — juniors Quintez Cephus and A.J. Taylor, along with sophomores Danny Davis and Kendric Pryor — produced a combined 100 catches for 1,573 yards and 17 touchdowns in 2017.
UW wide receivers coach Ted Gilmore said one of the things that has stood out about Cruickshank is that he doesn't shy away from contact.
"Where you really see it is when he has the ball in his hands," Gilmore said. "He attacks the tacklers."
UW is in need of kickoff and punt returners, and Cruickshank could fit into the team's plans at that spot.
"I just want to help out when my number is called," Cruickshank, who will wear jersey No. 1 this season. "I know there's a lot of depth here. If it has to be on special teams, kick return or punt return game, I don't have a problem with it as long as I'm showcasing what I have to the guys."
Cruickshank has had discussions with UW coach Mick Byrne about joining the track and field program in the spring, but he plans to see how his first football season goes before making a decision about whether or not to try two sports.
It'd be another chance for Cruickshank to showcase speed that he credits to good bloodlines. Cruickshank's mother, Bernadette O'Connor, grew up in Trinidad and Tobago before coming to the United States to compete in track and field at Grambling State.
Cruickshank's older sister Loraine also ran at Grambling State.
As for his size, Cruickshank is ready to continue proving that won't keep him from succeeding at this level.
"Ever since my first time playing football, I was always the smallest guy on the field," Cruickshank said. "But I always stood out to coaches, not just because of my speed, but the vision I had and how I could make people miss.
"I'm glad I'm the smallest guy on the field, because now I'm giving motivation to people back home because not everybody is that big."