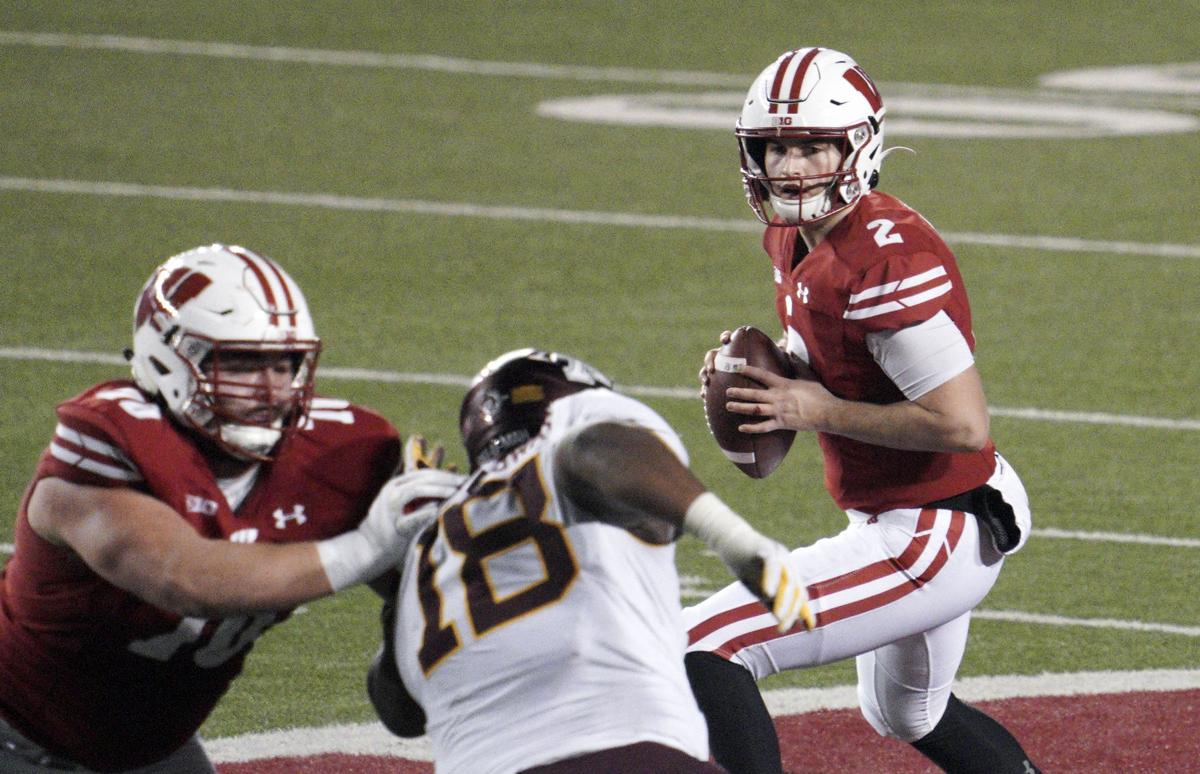 There hasn't been much to shout about during this disjointed University of Wisconsin football season, but UW fans can rest easy knowing one thing:
The Badgers can still beat Minnesota.
A year ago, the same teams played for the West Division title in the Big Ten Conference. Saturday, they were reduced to playing for Paul Bunyan's Axe and a chance to avoid a losing record in a season altered by the COVID-19 pandemic.
It wasn't easy for the Badgers. It seldom is against the Gophers even though UW has now won 16 of the last 17 meetings. Nor was it pretty for a UW program mired in its deepest offensive slump in 30 years, one that continued well into the second half against Minnesota.
But thanks to some gritty veterans who refused to quit and a Minnesota defense that was several notches below what UW had seen during its losing streak, the Badgers kept the Axe, evened their record at 3-3 and assured that they wouldn't be embarrassed to accept a bowl invitation.
No, the Badgers didn't cure all their offensive ills. In fact, the offense continued to look toothless well into the third quarter. But all of that was forgotten by the end thanks to running back Garrett Groshek and wide receiver Jack Dunn, two senior walk-ons who played their best games when they were needed the most. They didn't get frustrated by UW's ongoing lack of offense and they didn't let anyone else get frustrated, either.
"I thought they kept fighting through that and knowing that it takes everyone," coach Paul Chryst said of his offense. "Obviously, when you struggle it can wear on not just the offense (but) the whole team. You've just got to be resilient and you've got to keep going and I thought in many ways we did. We came up with some drives. There were times when we didn't change the field, but I thought we had some good drives and guys stepped in. Obviously, we've got to be and want to be a lot better there. It makes it hard to (win). If you're going to be in a lot of games like this, you've got to score points. But we found a way tonight to score more than Minnesota and that was big."
Although the Badgers' 20 points matched their total from the previous three games, the game again showed why scoring has become so difficult since they ran up 94 points against Illinois and Michigan in their first two games.
First, the teams they lost to — Northwestern, Indiana and Iowa — all have defenses ranked in the top five in the Big Ten in the key statistical categories. Second, the attrition from injuries and COVID-related issues robbed the offense of what few playmakers it had, putting the burden squarely on redshirt freshman quarterback Graham Mertz, who wasn't ready for that much responsibility. Finally, those three defenses were strong up front, which meant they slowed UW's running game and forced Mertz to beat them without any playmakers around him.
UW entered the game having scored on only four of its previous 41 possessions, including two touchdowns. They continued that level of futility while falling behind Minnesota 10-7, scoring only a touchdown on its first seven possessions.
Mertz was without his top two running backs (Jalen Berger and Nakia Watson) and his top two receivers (Danny Davis and Kendric Pryor) against the Gophers. Moreover, left tackle Cole Van Lanen missed the game, causing the coaches to reconfigure the line. Things got even more difficult when Mertz left the game late in the third quarter with an injury after driving the Badgers into scoring position for their second touchdown. He was replaced by Chase Wolf, who had thrown one pass in his UW career.
UW showed what dire straits it was in early in the game when Groshek and Dunn, role players throughout their careers, handled the ball on the first eight snaps. UW didn't have much choice with Mertz struggling with his accuracy and tight end Jake Ferguson getting extra defensive attention.
Yet, the Badgers somehow mustered enough offense to beat the Gophers. Groshek took over the game in the fourth quarter, finishing with 154 yards on 24 carries and moving the pile on play after play. Dunn helped move the chains with seven catches for 76 yards.
"We got a lot of production out of the older guys that you needed them to be productive," Chryst said.
That's what happens in good programs. Veterans produce when they're needed even if they don't have the playmaking ability of the starters. These Badgers didn't let a scoring slump or a new quarterback deter them and they got the offense going just in time.
"It's completely up to us on how we respond to it," Groshek said. "We decide what happens next, whether it's energy or execution, and the guys did a good job. We had been struggling the past few weeks and we knew that we needed to bring great energy every play if we wanted to help this defense and special teams win a football game."
That's exactly what the offense did. It wasn't a scoring explosion and it came against one of the Big Ten's more suspect defenses, but the offense found a way to win the game.
That counts for something, even if it came against Minnesota.
---
Photos: Badgers take down Golden Gophers in overtime