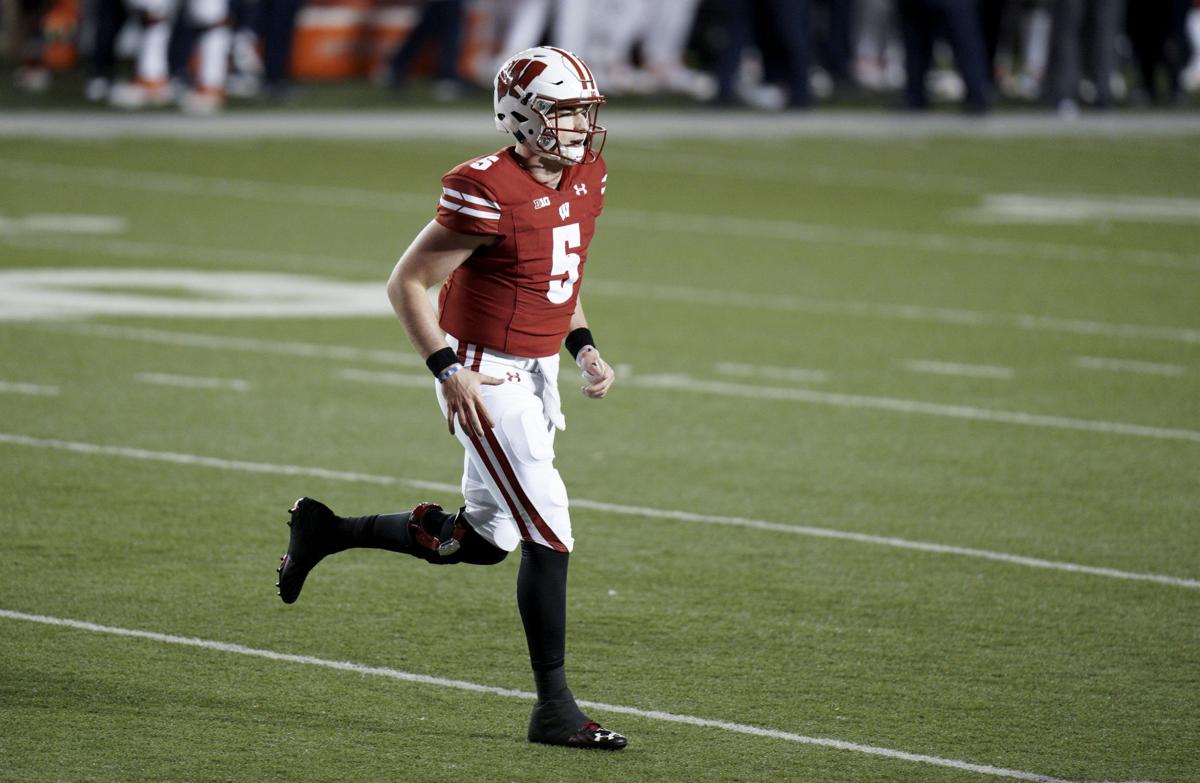 Years from now, hundreds of thousands of University of Wisconsin football fans will say they were there for the debut of quarterback Graham Mertz.
Due to the COVID-19 pandemic, there wasn't a single paying customer in the Camp Randall Stadium seats when Mertz, a highly touted redshirt freshman making his first collegiate start, led the 14th-ranked Badgers to a 45-7 victory over Illinois in the Big Ten Conference and season opener for both teams.
The fact that there was no one there to witness it in person takes nothing away from quite possibly the most spectacular debut in UW history.
Mertz played briefly — two games, 10 pass attempts — in mop-up duty behind Jack Coan last season and wasn't even supposed to start this pandemic-delayed season until Coan suffered a foot injury during fall camp that required surgery. Though Coan has developed into a rock-solid Big Ten quarterback and had entrenched himself as the starter going into his senior season, many fans wanted Mertz anyway, even though most had never seen him in action.
The fans got their wish Friday night and Mertz didn't disappoint. Indeed, he did the seemingly impossible during his starting debut. He lived up to the hype.
By halftime, Mertz was 14-for-14 passing for 190 yards and four touchdowns. His two touchdown throws in the final 1 minute, 6 seconds of the half gave UW a 28-7 lead against a team that beat the Badgers last year in Champaign but kept Friday's game close in the early going only because its defense returned a fumble for a touchdown.
Crazy, indeed. Mertz completed his first 17 passes, showing the passing versatility that had many of the nation's top programs trying to pry him away from UW after he committed to the Badgers. He finished the game with 20 completions in 21 attempts for 248 yards, with five touchdown passes and not even the hint of an interception. The five touchdown passes in a game tied a school record held by Darrell Bevell and Jim Sorgi.
To show how Mertz can make every throw, just look at his first-half scoring passes alone. He showed a beautiful touch on a 10-yard swing pass to fullback Mason Stokke to open the scoring. He found tight end Jake Ferguson for a 5-yard touchdown pass while rolling to his right. He found Ferguson in the end zone again, this time on a 14-yard rocket ball between defenders on an in-breaking route. Finally, he hit wide receiver Danny Davis on a deep ball behind the defense for a 53-yard touchdown.
Still, it wasn't as easy as Mertz made it look. Appearances aside, Illinois is not a team a quarterback wants to see in his first college start.
Sure, the Illini owned an 8-28 Big Ten record in Lovie Smith's first four seasons as coach and their defense ranked 10th and 11th in the conference in points and yards allowed, respectively, last season.
That doesn't mean Illinois is easy to play against for a quarterback. Especially a young, inexperienced quarterback. The Illini were first in the Big Ten and fourth in the nation in takeaways last season, something Smith's defenses are know for. He has a long history of playing head games with NFL quarterbacks, much less a redshirt freshman.
None of that fazed Mertz one bit. He used all of his receivers, made good decisions and avoided the big mistake.
"I thought he had good poise; I thought he saw the field well," coach Paul Chryst said. "You never know quite how someone's going to react in their first start, but I thought he was himself and that you appreciate. I thought there was a good plan for him by the offensive coaches and he was able to execute it."
UW eased Mertz into the game with some short passes, which was smart. He probably didn't need it, though.
"The kid's definitely smooth," Ferguson said. "He was smiling cheek-to-cheek after the first touchdown. He knew and everybody in that huddle knew that we were rolling. It's just awesome to see that out of him the first game. I mean, golly, the kid can play. He's in there cracking jokes. We ran the same play like four times in a row and he's just like, 'Guess what it is, fellas?' It's good to see that he's got that confidence."
Mertz said all he wanted out of the game was a victory.
"It was definitely fun," he said. "We had a great week of prep. I owe it to (quarterbacks) coach (Jon) Budmayr and coach Chryst. We took a ton of time in one-on-one meetings and just really sorted the game plan out. We knew what we were doing and I felt confident in my ability to go execute. I think there's definitely some stuff that we need to clean up."
Hundreds of thousands of UW fans can't wait for that to happen.
---