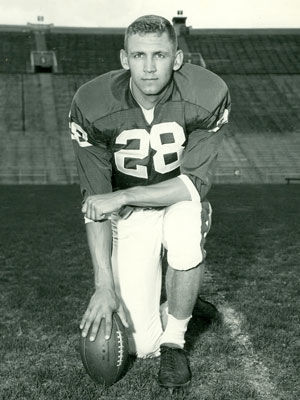 MINNEAPOLIS — The winner-take-all Big Ten Conference football game between Minnesota and the University of Wisconsin on Saturday at TCF Bank Stadium needs no introduction.
The 13th-ranked Badgers and ninth-ranked Gophers will determine which team wins the West Division and gets to play Ohio State in next week's Big Ten Championship Game.
But while this showdown is as good as it gets in a rivalry that began in 1890, there was a time when season-ending games between UW and Minnesota had great meaning almost every season. During the 1950s and early 1960s, something was usually on the line for one or both teams and no game at old Memorial Stadium epitomized that stretch more than the 1959 contest.
The Badgers went into the final game that season ranked ninth with a 6-2 record and needed a win to secure at least a share of the Big Ten title. Minnesota had a 2-7 record, but had enough young talent that it won the national championship the following season.
UW's unsightly 11-7 victory over Minnesota that day, coupled with Northwestern's loss to Illinois, cemented a Rose Bowl bid and completed a series of firsts for the Badgers. It was UW's first outright Big Ten title since 1912, the first time it beat Ohio State since 1946 and the first time it beat Michigan since 1934.
Perhaps because it got walloped by Washington in the Rose Bowl or lacked a transcendent star such as Alan Ameche, Pat Richter or Ron Dayne, the 1959 team is probably the most forgotten among UW's nine Rose Bowl qualifiers. Indeed, the school didn't even celebrate the 60-year anniversary of its Big Ten title at Camp Randall Stadium this season.
Coming off a 7-1-1 season in which its junior-dominated team lost only to Big Ten champion Iowa and ended up ranked fifth, coach Milt Bruhn's team entered 1959 with a No. 8 ranking and high hopes. But after UW beat Stanford and Marquette in non-conference play, a season that interspersed incredible highs with heavily criticized lows began in earnest.
A 21-0 loss at No. 7 Purdue was followed by four consecutive huge wins — No. 9 Iowa, No. 20 Ohio State, Michigan and No. 2 Northwestern, with the last two on the road. Then came a controversial 9-6 homecoming loss to Illinois, which made the regular-season finale at Minnesota the most important game of the season for a UW team that lacked firepower on offense and size on defense but made up for it with toughness and determination.
"The team in '58 really was pretty good," Jim Bakken, a sophomore backup quarterback in 1959, said this week. "When we came into the '59 season, Wisconsin had some high expectations. That's why the Purdue game was such a disappointment. Then we blossomed a little bit. We played it pretty close to the vest. We were pretty much a senior team."
The run-first Badgers were opportunistic, capitalizing on short fields created by a defense that forced 41 turnovers, still a school record. Quarterback Dale Hackbart, who threw mostly off the option, was the team's leading rusher and backs Bob Zeman, Billy Hobbs, Eddie Hart, Bob Altmann, Ron Steiner and Tom Wiesner shared the ball-carrying duties evenly. The strength of the team was reflected in the all-conference picks. Hackbart, who finished seventh in the Heisman Trophy voting, and four linemen — tackles Jim Heineke and Dan Lanphear and guards Jerry Stalcup and Ron Perkins — were the only Badgers on the first and second teams.
The Badgers didn't have much speed but they were tough-minded. The only game they won by more than nine points all season was a 44-6 victory over Marquette.
"Milt never used these words," Heineke said, "but we took care of business when we had to."
You have free articles remaining.
Except, of course, for that 44-8 loss to No. 8 Washington in the Rose Bowl. Between scrimmaging too much on the practice field and partying too much at night, the Badgers had nothing left on game day. But not even that loss could detract from one of the more interesting seasons in UW history.
Beating Iowa got UW back on track, but beating Ohio State in the rain and mud at Camp Randall the next week was more memorable. Lanphear, an All-American tackle, had the game of his life, blocking a punt for a safety, recovering two fumbles and sending Ohio State's two 220-pound fullbacks — Bob White and Bob Ferguson — to the sideline with bone-jarring hits. Hackbart scored the game's only touchdown on a 7-yard run after the safety.
"It was so muddy it was just unbelievable," Heineke said. "I think it rained for three days and then Saturday it just poured. They didn't have much offense because we stopped them pretty good. It really exciting because (Buckeyes coach) Woody Hayes was really mad. He threw his hat down a couple of times. He got a 15-yard penalty for chewing out the ref. It was fun playing against a guy like that."
Stopping Northwestern's six-game winning streak in a back-and-forth game before 55,282 fans at Dyche Stadium was the next highlight, but that was followed by the loss to Illinois. The Badgers took a 6-2 lead in the first quarter and gamely held on until Illinois fullback Bill Brown scored on a 1-yard plunge on the game's final play.
Illinois had a first down at the 1 with 28 seconds left and no timeouts, but Brown didn't score until third down. In between, the referees stopped the clock twice because the UW crowd, especially the student section, was so loud the Illini couldn't hear the signals. That gave them a chance to get off one or two extra plays.
"Our only loss that I consider a true loss was to Purdue the first Big Ten game," Hackbart said. "Illinois, we never should have lost that game because of what was going on in the stadium with the fans. I think when you really look back on that, the referees stopping the game gave them time to come back."
That loss set up UW's biggest game of the season at Minnesota. The Gophers scored a touchdown on the fourth play and UW didn't score until Karl Holzwarth's field goal late in the third quarter. The Badgers drove 80 yards for Hackbart's 1-yard touchdown run on their next series, then Hackbart put UW up 11-7 with a 2-point conversion pass to Henry Derleth. Bruhn, a Minnesota alum, said he made the head-scratching decision to go for two because UW needed to win to claim the Big Ten title and a potential tie was meaningless.
Minnesota was driving after that when Stalcup intercepted a Sandy Stephens pass. The Gophers retained the ball, however, when Heineke was penalized for unsportsmanlike conduct. UW did eventually stall Minnesota's drive on downs at the 6.
"We came back and we stopped them," Heineke said. "Otherwise, can you think what kind of a memory I'd have if they had gone down there and scored? I don't know who would have gone to the Rose Bowl then."
Hackbart ended Minnesota final thrust with an interception, then was carried off the field by his teammates. UW would finish the season ranked sixth in the nation.
"That was a rough, brutal game at Minnesota," Hackbart said. "Milt was in one of his roughneck moods prior to the game. He wanted that one so bad and I know he mentally drove us during the week in getting us prepared. Milt was never a mellow guy, but this game he really wanted."
It won't be any different today.
---
No. 13 Badgers vs. No. 9 Gophers: Who has the edge?
WHEN THE BADGERS HAVE THE BALL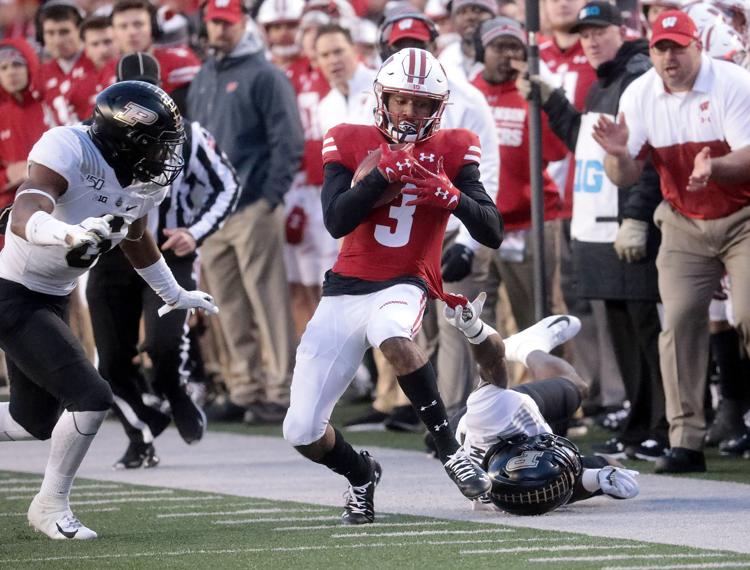 The Badgers' offense has been clicking since their late-season bye at the beginning of the month. Powered by a combination of scheme creativity to get playmakers the ball and outstanding production from Jonathan Taylor and the offensive line, UW has averaged 35.3 points and 520.3 yards of offense per game in November. Taylor has been on a tear, posting three consecutive 200-yard rushing games for the first time in his career. His 5,856 yards as a Badger are the most in any three-year span in Football Bowl Subdivision history.
UW used jet motion on 25 percent of their non-kneeldown snaps against Nebraska two weeks ago and 23.2 percent of their non-kneeldown snaps against Purdue. Kendric Pryor (above) tallied 56 rushing yards against Purdue, most of which came on a jet sweep that gained 49, and 47 receiving yards to post his first game with 100 or more scrimmage yards this season.
Outside of an interception in the second half, quarterback Jack Coan had one of his best games last week, going 15 of 19 for 203 yards and two touchdowns. Coan will need to take care of the ball against the Gophers' ball-hawking secondary, whose 14 interceptions are tied with Ohio State for the Big Ten lead and tied for seventh-most in the FBS.
Antoine Winfield Jr. has been Minnesota's top defender, leading the team with 76 total tackles and seven interceptions.
EDGE | UW
WHEN THE GOPHERS HAVE THE BALL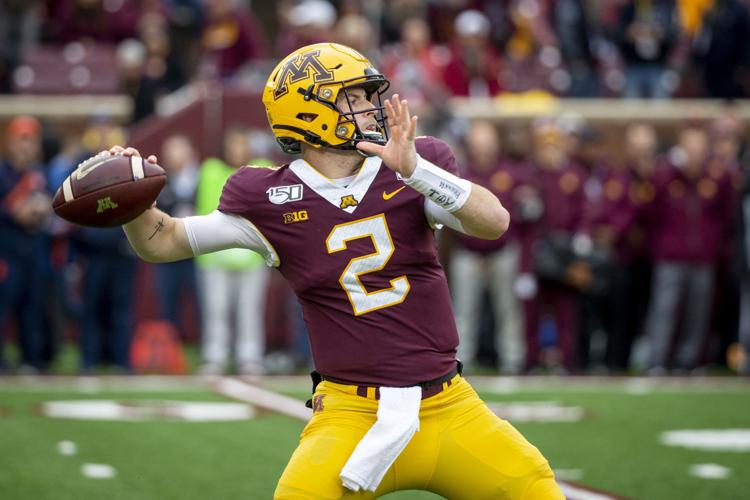 Tanner Morgan (above) wasn't projected to be Minnesota's starting quarterback, but when Zack Annexstad seriously injured his foot during training camp, Morgan took over. He's put together one of the best seasons by a quarterback in program history — his 2,679 passing yards are tied for the most in a season by a Gophers' QB, and his 26 touchdowns are a single-season program record. Morgan leads the Big Ten in passing, and has two top-tier wide receivers at his disposal.
Senior Tyler Johnson (1,025) and sophomore Rashod Bateman (1,023) are one of two pairs of teammates to have 1,000 or more receiving yards apiece this season, and each has 10 touchdowns. Johnson is 6-foot-2 and 205 pounds, while Bateman is 6-2 and 210 pounds, and their physicality at the point of the catch is tough to match.
A stout running game (184.7 yards per game) behind an offensive line that averages 6-foot-6 and 340 pounds only makes it more difficult to commit to slowing down Johnson and Bateman. Running back Rodney Smith has 1,063 yards on the ground. That massive line will test UW's pass rush, which had trouble getting to Purdue's Aidan O'Connell last week as he was quick to deliver passes.
Chris Orr leads UW with 64 total tackles and 11 sacks.
EDGE | MINNESOTA
SPECIAL TEAMS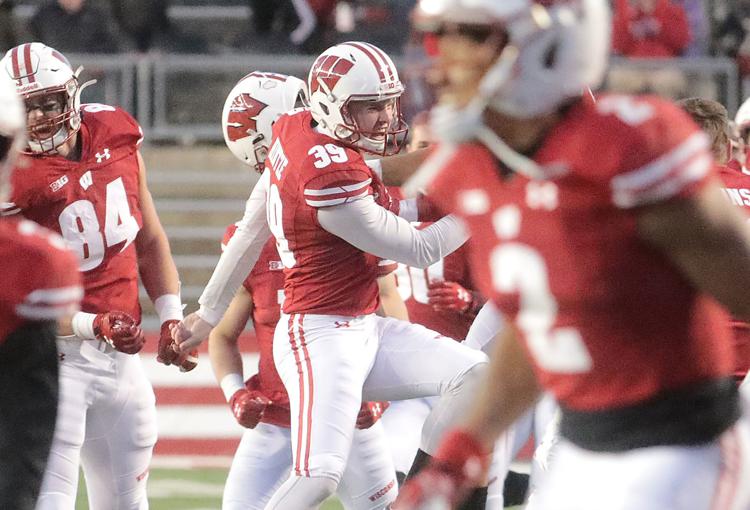 Zach Hintze (above) provided a special play on special teams for the Badgers last week when he booted through a 62-yard field goal to set a modern-era program record.
Anthony Lotti didn't have to punt against Purdue, as UW scored on seven possessions, lost four turnovers, and ran out the clock on its final drive last week. Kicker Collin Larsh is 7-for-9 on field goals and 16-for-16 on extra points in his last five games.
Minnesota uses a pair of freshmen kickers — Michael Lantz and Brock Walker — and they're a combined 9 of 13 on field goal tries this season. Less than half of Grant Ryerse's kickoffs have gone for touchbacks, so UW kick returner Aron Cruickshank should have chances to make an impact.
EDGE | UW
COACHING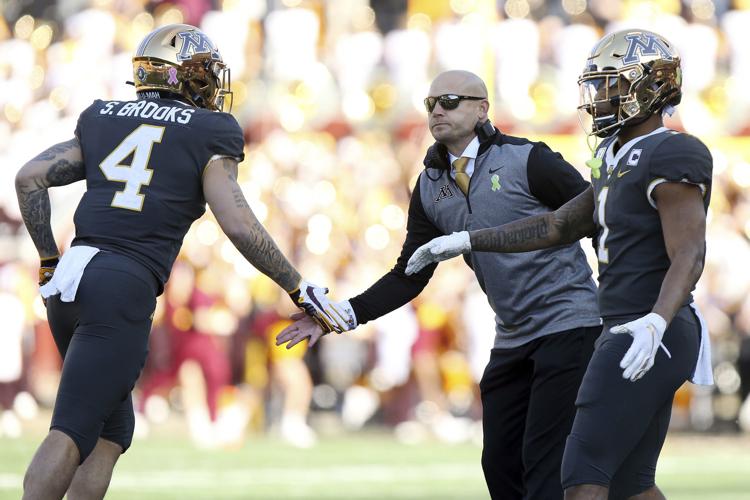 His catchphrases and relentless attitude are what draw headlines about Minnesota coach P.J. Fleck (above), but the job he's done with the Gophers this season is commendable. Minnesota is seven points per game better offensively this season over last, and its defense is 5.5 points per game better. The Gophers have won 12 of their past 13 games.
UW coach Paul Chryst got his team to right the ship after back-to-back losses to close out October. The Badgers' offense has been resurgent and created space on the ground to close out games with second-half touchdowns.
How UW's defense, led by coordinator Jim Leonhard, schemes to slow the Gophers' offense, and how the players execute that scheme will be the keys to the game for UW.
EDGE | UW
INTANGIBLES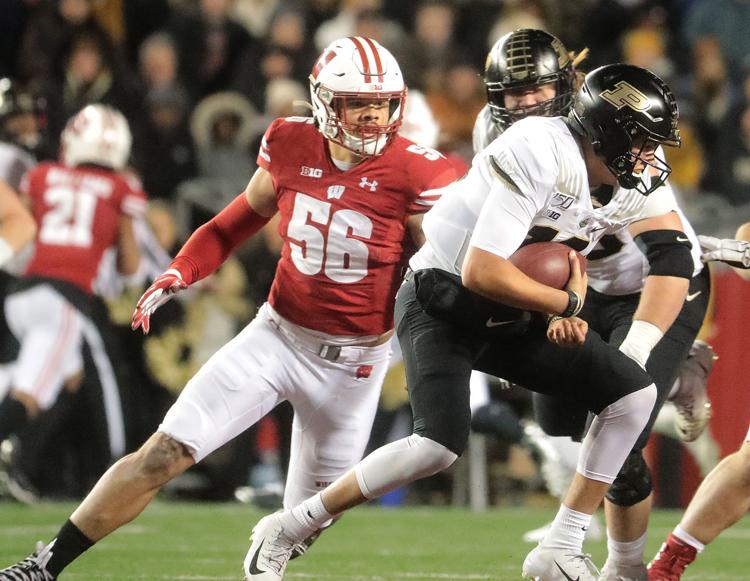 This will be one of the most hyped games of the season for either team. ESPN's College GameDay will be in Minneapolis for the first time, and the winner moves on to play Ohio State in the Big Ten Championship Game.
Badgers like Zack Baun (above) spoke about having a bad taste in their mouth from last season's loss to Minnesota, a game in which the Gophers tallied 201 rushing yards and scored three times on the ground.
Expect a loud TCF Bank Stadium to play a role, as it did when the Gophers beat Penn State at home earlier this year.
EDGE | PUSH
STATE JOURNAL'S PICK
Outside of Ohio State, this will be the Badgers' toughest game of the season. Minnesota's receivers are a major challenge for UW's secondary and the Badgers can't afford to have giveaways like they did against Purdue. This may come down to who has the ball last.
BADGERS 24, GOLDEN GOPHERS 21
THE NUMBER (UW)
676: Rushing yards for junior Jonathan Taylor in the last three games.
THE NUMBER (MINNESOTA)
20.1: Yards per catch for Rashod Bateman (above), which leads Big Ten receivers with more than 40 catches.
KEY STAT (OFFENSE)
Fourth-down conversion percentage: UW leads the nation at 84.6 percent conversion (11 of 13), a fact that could loom large in what figures to be a close game.
KEY STAT (DEFENSE)
Passing efficiency: Tanner Morgan is up to No. 6 in the FBS in passing efficiency, with a rating of 187.6.
Video: Badger Sports Report with Paul Chryst — UW 45, Purdue 24
Video: Badgers football Chapter 12: AXE