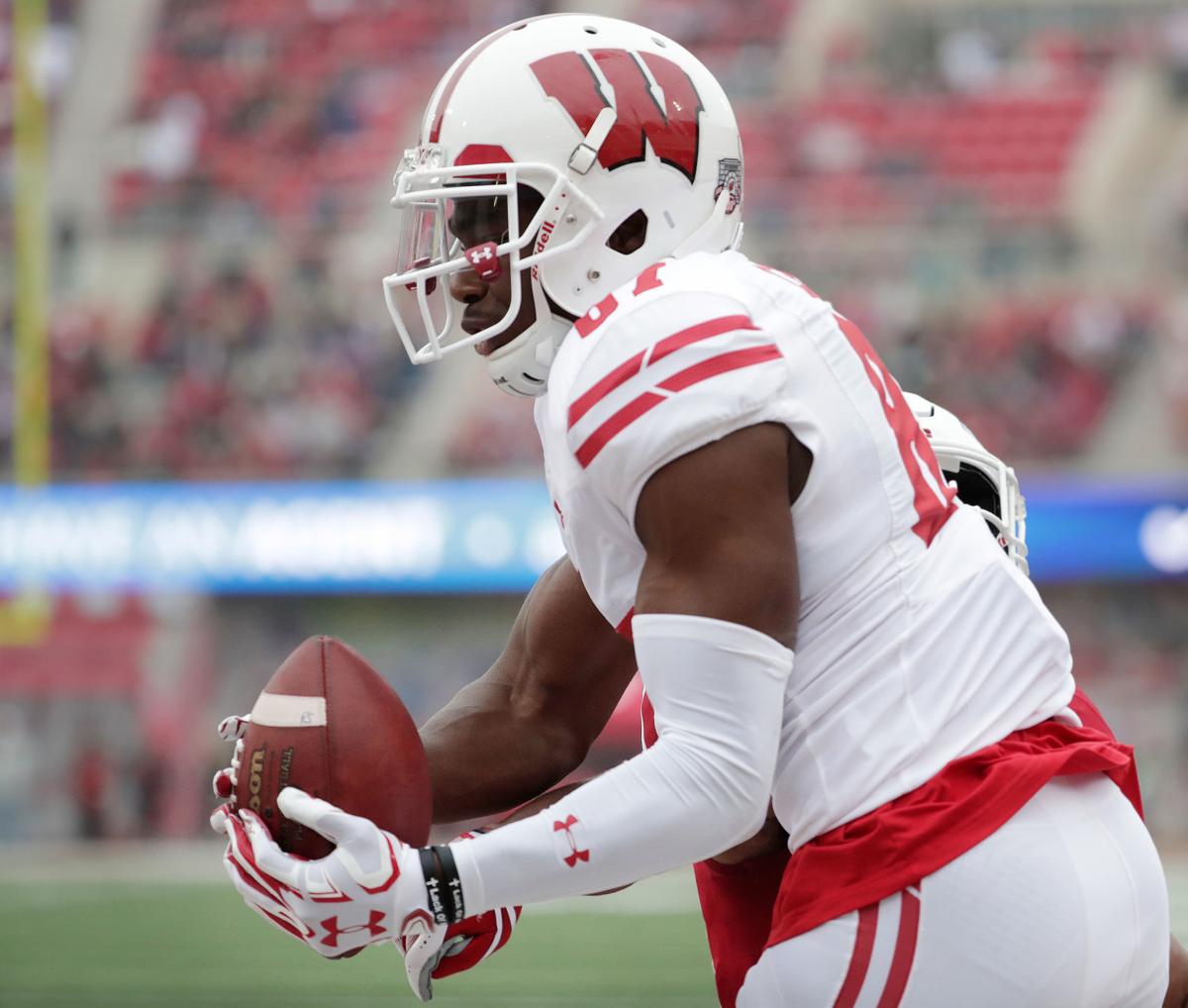 The fact that the headlines appeared in the newspaper on the same day was a coincidence.
One story trumpeted the fact that the University of Wisconsin football team was ranked No. 4 in The Associated Press preseason poll. No UW team has ever been ranked higher in the preseason.
The other story detailed a night of sordid behavior that led to star wide receiver Quintez Cephus being suspended from the team Monday after he was charged with sexually assaulting two women in his apartment in April. Cephus' roommate, wide receiver Danny Davis, was also mentioned in the criminal complaint as having laughed at and taken a photo or photos of the women.
Cephus, who aggressively proclaimed his innocence on social media, will make his first court appearance today. Davis has not been charged and Dane County District Attorney Ismael Ozanne, asked whether Davis might also face charges connected to the incident, said, "I don't think I can answer that right now."
Cephus' punishment fell under the school's student-athlete discipline policy, which mandates a suspension when a player has been charged with or arrested for certain crimes, including sexual assault. UW coach Paul Chryst announced Wednesday that Davis, "based on the information I have available to me at this time," would be suspended for the first two games because, the coach said, "We have a high standard of conduct within our football program and we cannot accept behavior that is not consistent with that standard."
The juxtaposition of two stories from such opposite extremes isn't out of the ordinary at some big-time athletic schools, where off-the-field trouble is often the price they pay for on-the-field success. In recent years, however, UW has largely avoided embarrassing publicity such as this, even as its high-profile programs joined the nation's elite.
Still, the incident with Cephus and Davis does raise the question of whether this is an isolated instance of two players making bad decisions or a sign that UW has compromised its values and is admitting athletes of questionable character.
My interactions with UW athletes tells me the former is true, that UW coaches try hard to fill their rosters with high-character young people who know how to act. Unfortunately, there are exceptions to every rule.
But even if this was a one-time incident, UW must treat it with all the seriousness it demands. The university must show that such behavior won't be tolerated to validate its cherished image as a school that does athletics the right way and, more important, to ensure that all of its students feel safe on their own campus.
The athletic department had no decision to make on Cephus' suspension because the student-athlete discipline policy kicked in as soon as he was charged. Chryst suspended Davis for a violation of team rules, a decision that will be perceived by many as soft, especially since the games he'll miss are against teams that aren't likely to beat UW anyway.
Meeting with reporters Wednesday, Chryst was asked what he would say to those who think Davis' suspension isn't enough.
"It's the most strict one that I've done to this point. Certainly feel that it's appropriate," he said.
Chryst also said he could reevaluate the length of Davis' suspension should further information become available.
Though the judge-jury-and-executioner crowd has already determined that Cephus and Davis should never again play for UW, there are many things for UW to consider in making these decisions. As in any sexual-assault charge, the victims' rights are paramount. But the accused also have rights and it is the legal system that will ultimately determine if Cephus is guilty or innocent.
Still, there are a few things that are hard to understand.
If Chryst suspended Davis for behavior that didn't meet the program's standards, exactly what behavior was it that determined the length of the suspension? Was it for being at the scene? For showing disrespect to the women? For not attempting to stop an alleged sexual assault?
And if Davis was suspended for two games despite not being charged in the incident, why wasn't Cephus suspended in April, when UW officials first learned of the situation? His alleged actions certainly crossed the line of unacceptable behavior within the program, yet UW waited until a criminal complaint was filed to take any action on Cephus.
Finally, why did it take the district attorney's office so long to charge Cephus? The incident took place almost four months ago.
Though the behavior outlined in the criminal complaint is disgusting and degrading, UW's actions so far are acceptable simply because no one knows how this will turn out. If Cephus is found not guilty, the punishments he and Davis will have already served would be fair. However, if Cephus is convicted of sexual assault, he should be removed immediately and permanently from the campus and Davis, who could have tried to stop it, should receive a far greater punishment than a two-game suspension.
No matter what happens, UW must send a strong message because there is more at stake here than the success of the football program.
Be the first to know
Get local news delivered to your inbox!