PASADENA, Calif. — If you were lucky enough to see the 2012 Rose Bowl, chances are you haven't forgotten Oregon speed demons LaMichael James and De'Anthony Thomas trading haymakers with University of Wisconsin quarterback Russell Wilson until the clock finally ran out on the Badgers.
At the time, the Ducks' 45-38 victory was the highest-scoring game in Rose Bowl history.
"It was like a racetrack, freakin' back and forth," UW offensive coordinator Joe Rudolph said. "It was an awesome game."
How things have changed in eight years.
When 11th-ranked UW (10-3) and seventh-ranked Oregon (11-2) stage a Rose Bowl rematch Wednesday, it might well end up being an awesome game. It won't, however, turn into a 60-minute drag race.
Both programs have changed considerably since that day in the Southern California sun. Under former coach Chip Kelly, Oregon was college football's fastest team and most explosive offense. UW hasn't found a playmaking quarterback who could carry the team on his back since Wilson's one-and-done season.
This season, both teams are solid offensively but lean more on their defenses, both of which rank in the top 10 nationally in fewest points allowed. That's a radical departure, especially for the Ducks.
"They were an explosive offense with speed and they had some good players on defense, but I think it was an offensive-driven team," said UW coach Paul Chryst, the Badgers' offensive coordinator eight years ago. "This year's team, I'm impressed with them defensively. They do a good job of getting off blocks and running to the ball. Offensively, in a different way, they still can be explosive. It seems different than that team. But I think it's a really good team."
Eight years ago, Oregon entered the Rose Bowl ranked sixth and UW was eighth. Both were coming off victories in their conference championship games. But it was the offenses that caused people to sit up and take notice. That season, Oregon was ranked third in the nation with 46.1 points per game and UW was sixth with a school-record 44.1 average.
Pairing those two offenses in the Rose Bowl produced numbers so staggering it looked like a Big 12 Conference game had broken out. The teams combined for 1,120 yards — 612 by Oregon, 508 by UW.
James and Thomas, who moonlighted as 100-meter runners on the Oregon track team, rushed for 159 and 155 yards, respectively, leading a running game that totaled 345 yards. Amazingly, Thomas only carried the ball twice, for touchdowns of 91 and 64 yards. Even more amazing, neither one was named the offensive player of the game. That honor went to wide receiver Lavasier Tuinei, who caught eight passes for 158 yards and two touchdowns, including the go-ahead score early in the fourth quarter.
The Badgers, who led on five occasions during the game, had uncommon balance offensively. Wilson threw for 295 yards as wide receivers Jared Abbrederis and Nick Toon each went over 100 yards receiving. Tailback Montee Ball rushed for 165 yards.
Other than the quarterback position, UW hasn't changed a whole lot on offense since that day. It still relies on a power running game with two-time Doak Walker Award winner Jonathan Taylor as the centerpiece. UW's defense is much improved, however, having become a perennial top-10 unit nationally over the past seven years.
The Ducks, on the other hand, have changed dramatically. Coach Mario Cristobal came to Oregon in 2017 after four seasons as an assistant coach at Alabama and is changing the program's long-standing image as a track team in cleats. Cristobal is turning the Ducks into a Crimson Tide-like blend of speed and power, which was good enough to give them the Pac-12 Conference championship this season. Senior quarterback Justin Herbert, a likely first-round NFL draft pick, leads the way, but the running backs — Cristobal uses three — are no longer the fastest players on the field.
"This team wants to be physical," UW linebacker Chris Orr said. "They want to run the ball and not even throw it. Their running backs want to get north-south. Everybody's trying to finish the play in a dominant position, just like us. They're just doing it in a different way. They're just doing it from the spread instead of the 'I.' I would say they're different from that team in that they want to hit you in the mouth. Before, it was more so about getting it to the athletes out in space, but they want to hit you in the mouth."
Not just on offense, either.
"They get off blocks, they tackle extremely well, they're physical," Rudolph said. "They can be all those things within this multiple defense that shifts into different fronts at the last minute, disguises coverages, brings pressures. It's situational. It can be completely different. I think that's a hard thing to do, to remain physical and do all the other stuff. They've proven to do that. And so I think that makes them a great challenge."
Actually, the teams are as evenly matched as it gets. Oregon scores 35.8 points per game, UW 34.6. Oregon allows 15.7 points per game, UW 16.1. Oregon no longer has the blinding speed that gave UW fits, but UW won't be able to push it around, either.
So while the schools may be the same, the game won't be.
---
Badgers vs. Oregon: Who has the edge?
Who has the edge when the Badgers take on Oregon in the Rose Bowl?
WHEN THE BADGERS HAVE THE BALL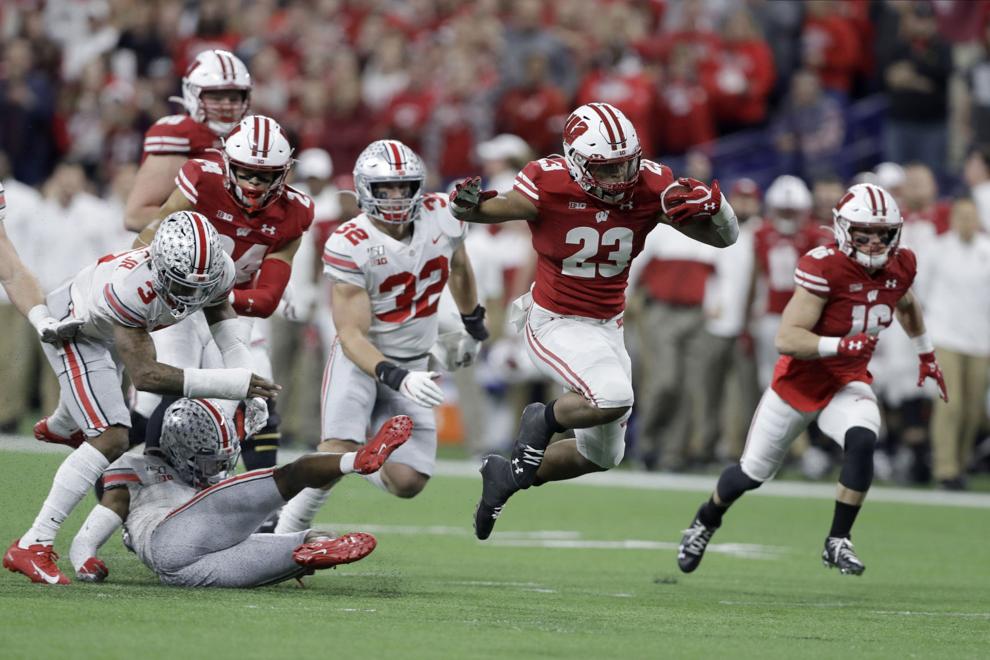 The Badgers played one of their best halves of offense to open the Big Ten Championship Game, and held a 21-7 lead at halftime. That didn't stick, as Ohio State stormed back to win, but the things that worked early on are what UW can focus on against the Ducks in the Rose Bowl.
A lot of attention will be on Doak Walker Award winner Jonathan Taylor (above), who is likely playing in his final game for UW. His 1,909 yards were second in the FBS this year, and he has a chance to end his college career on a high note. Before the Pac-12 title game against Utah, Oregon played just one team (Auburn) whose rushing offense finished in the top 50 in the FBS.
Receiver Quintez Cephus and quarterback Jack Coan continued to show a strong connection against Ohio State, and Cephus is a tough matchup for an Oregon secondary that 222.8 yards per game in the air (58th in FBS). UW will look to maintain variety in its offense with jet sweeps, end arounds and Coan's willingness to keep the ball on read options.
Linebacker Troy Dye led the Ducks with 75 total tackles, 9½ of which were for loss. Kayvon Thibodeaux is the bright spot up front for the Ducks with 14 tackles for loss including nine sacks. Coan will need to be smart with the ball against Oregon's secondary, which has 19 interceptions.
EDGE | UW
WHEN THE DUCKS HAVE THE BALL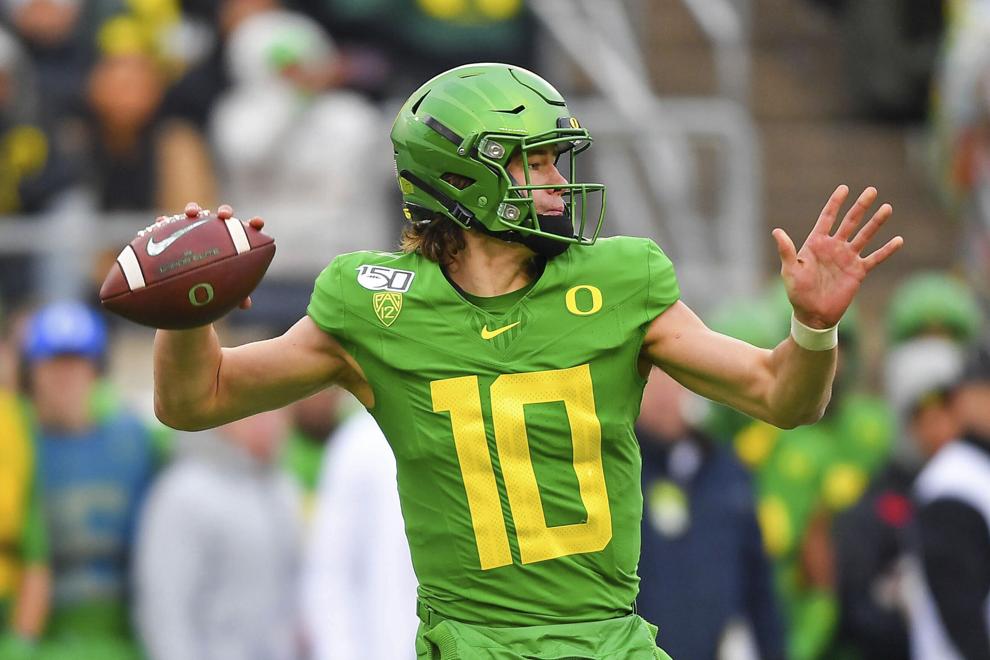 Led by senior quarterback Justin Herbert (above), the Ducks have one of the best passing attacks in the country. Oregon's team passing efficiency rating of 160.37 is 13th in the FBS. Herbert threw for 32 touchdowns to just five interceptions, and used a bevy of receiving threats to do it.
Four Oregon receivers have at least 25 catches, 400 yards and three touchdowns this season. Junior Johnny Johnson III leads the group with 55 catches and 818 yards, and his seven touchdowns are tied with Jaylon Reed (50 catches, 465 yards) for the team lead. However, the Ducks maintain balance offensively with a solid running game — an average Oregon game has 37 rushes and 33 passes.
CJ Verdell is Oregon's top rusher with 1,171 yards this season, while Travis Dye has added 655. Cyrus Habibi-Likio has been the short-yardage back for Oregon, and he's scored a team-best 10 touchdowns. The Badgers will need to limit the Ducks' run game and generate pass rush against a strong offensive line.
Outside linebacker Zack Baun, who has been stacking up All-American honors this season, will have one of his top challenges to date with Penei Sewell, Oregon's Outland Trophy-winning tackle. After playing well against Minnesota, the Badgers' secondary struggled against the Buckeyes when quarterback Justin Fields extended plays with scrambles. Herbert has that ability as well, so the game may swing on how those defensive backs hold up on long plays.
EDGE | OREGON
SPECIAL TEAMS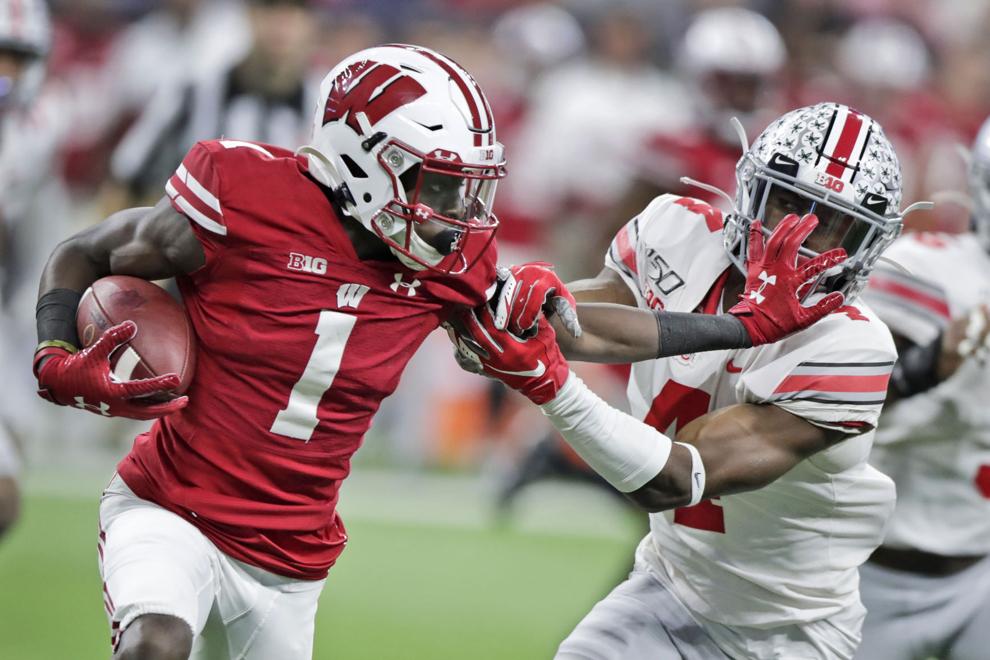 Neither team has had a particularly strong year out of their kickers.
UW's Zach Hintze missed his first field goal since taking over as the placekicker when his 48-yard field goal went left against the Buckeyes. Between Hintze and Collin Larsh, Badgers kickers are 12 of 18 on field goals this season. Oregon's Camden Lewis is 9 of 14 on field goals after starting the year 0-for-3.
UW's Aron Cruickshank (above) has been a dynamic kick returner, averaging 25.3 yards per return including an 89-yard touchdown. Oregon counters with Mykael Wright, who averages 38.7 yards and has two touchdowns on nine returns.
Blake Maimone's 43.9-yard average on punts is one of the best in the country, and he has 15 punts of more than 50 yards.
EDGE | OREGON
COACHING
Mario Cristobal's short tenure as the Ducks' coach has seen the program get back to national relevance after a couple of down seasons.
The longtime offensive line coach is 20-6 as Oregon's top man, and looking for his second bowl win. He makes his mark on the Ducks' offensive line, which has been one of the best units in the country. Oregon's offensive coordinator, Marcus Arroyo, was hired as the head coach at UNLV in early December, but will coach the Rose Bowl.
UW coach Paul Chryst (above) is coaching in his third Rose Bowl after being the offensive coordinator and quarterbacks coach for the Badgers in the 2010 and 2011 games. He and offensive coordinator Joe Rudolph have added layers to the offense throughout the season, blending Taylor's between-the-tackles runs and the quick passing game well.
How defensive coordinator Jim Leonhard blitzes to pressure Herbert, who's playing in his final game, will be fun to watch.
EDGE | UW
INTANGIBLES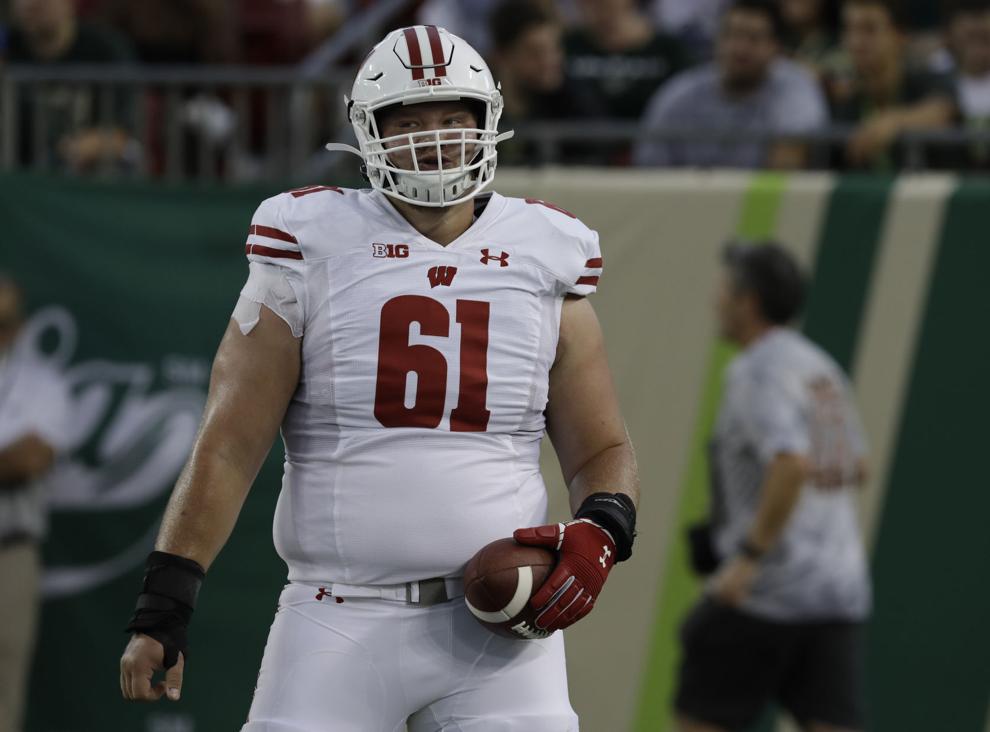 There's a thought out there that because of the College Football Playoff, the Rose Bowl doesn't hold the same meaning it once did — don't buy it. Both teams will be thoroughly motivated to end bounce-back seasons for their programs with a strong showing, and winning the biggest bowl game outside of the playoff will do that.
The Badgers will certainly have some extra juice with two of their best players, Taylor and center Tyler Biadasz (above), likely playing their final games for the program. UW also wants to shake its three-game losing streak in the Rose Bowl.
Herbert will be looking to add a statement win to his college career before embarking on an NFL journey.
EDGE | PUSH
STATE JOURNAL'S PICK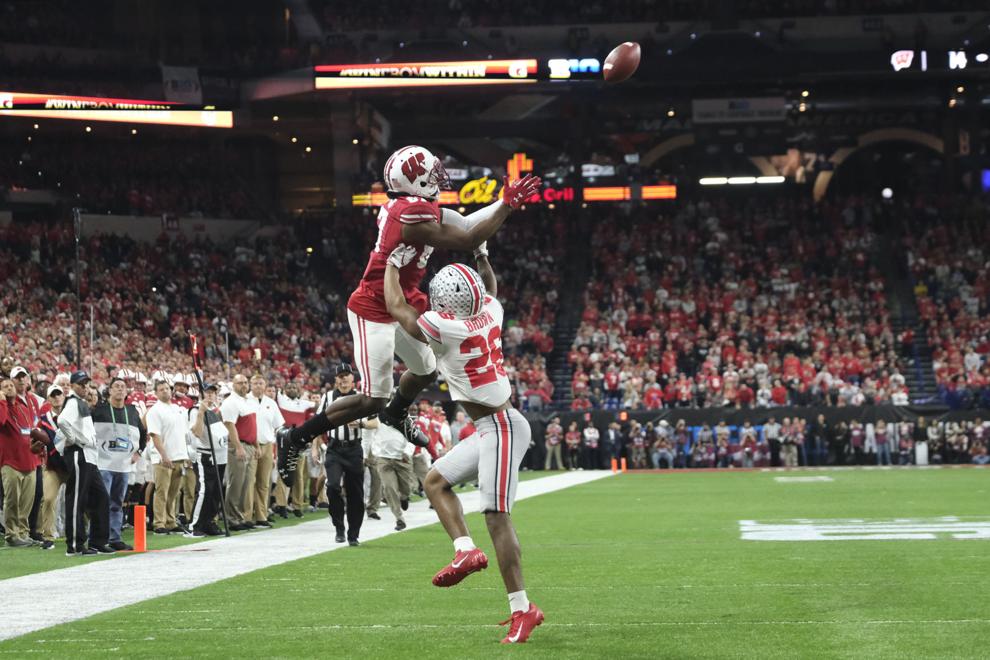 This should be another classic Rose Bowl for the Badgers. The Ducks are a tough team and have the ingredients to win, but UW has bounced back from a midyear slump to look like a complete team. The Badgers' last six Rose Bowls have been one-score games, and this one will be too. But Taylor puts on one more memorable performance on his way to the pros to lift the Badgers.
BADGERS 31, DUCKS 28
THE NUMBER (UW)
14: Lost fumbles for the Badgers, playing against an Oregon defense that has only forced seven and recovered three
THE NUMBER (OREGON)
59: Tackles for loss allowed by the Ducks, tied with UW and Clemson for 12th best in the FBS
KEY STAT (OFFENSE)
Third-down conversions: UW has converted half of its third-down attempts this season, while Oregon's defense has allowed a 33.5 percent conversion rate
KEY STAT (DEFENSE)
Completion percentage: Despite completing two-thirds of his passes this season, Justin Herbert has been at or under 60 percent completions over the past three games
Video: Badger Sports Report with Greg Gard, week of 12-29-19
Video: Behind the Badgers — Rose Bowl preview