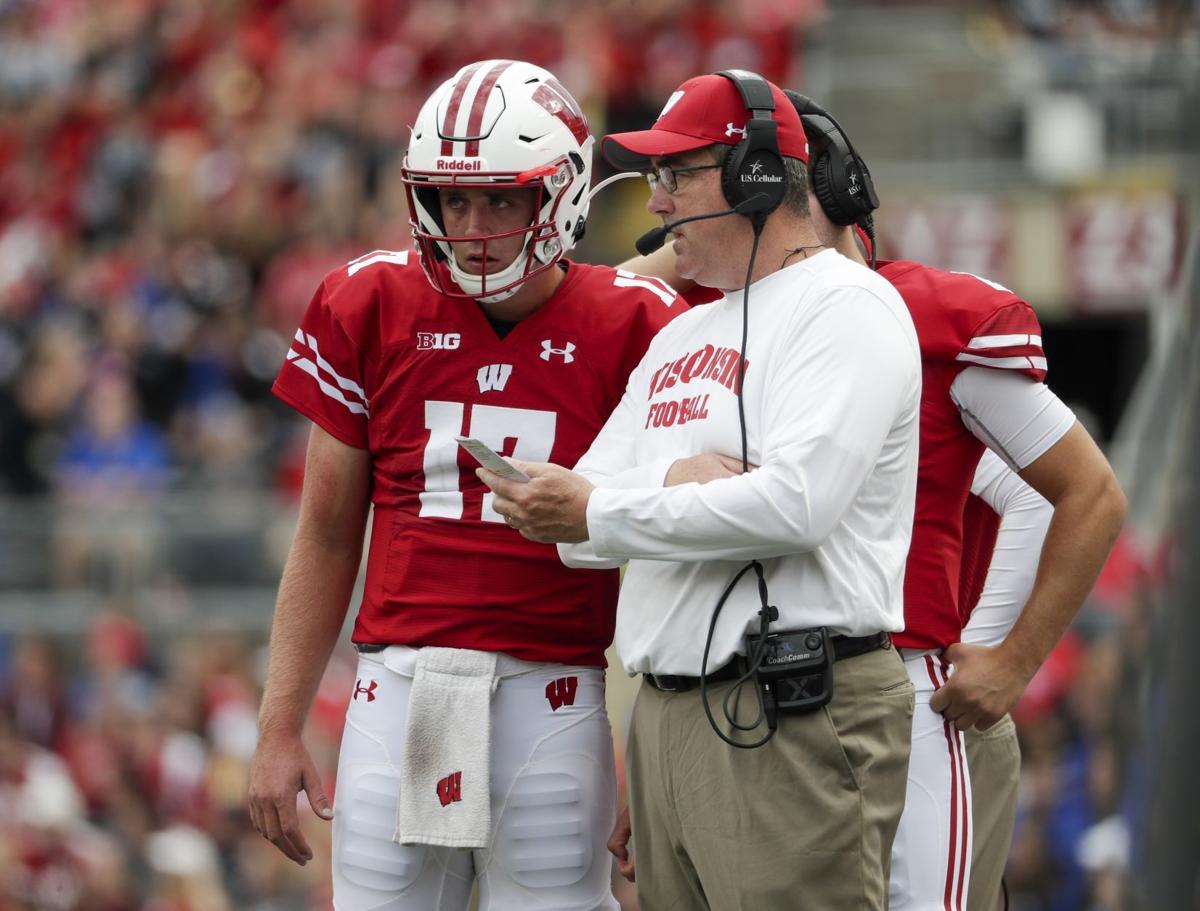 If the start of spring football practice is here, it can only mean one thing at the University of Wisconsin.
It's time to talk quarterbacks.
Coming off a 10-4 season in which they finished ranked 11th in the nation, the Badgers return all four quarterbacks from the deepest and most talented quarterback room they've ever had.
Normally, that would signal a quiet spring with little or no change in the pecking order, especially since senior-to-be Jack Coan established himself as a quality Big Ten Conference quarterback while making 14 starts last season. At UW, however, it means it's time to rev up the debate over who should start under center.
Of course, most of the talk comes from outside the program. Or is it all of the talk?
Coach Paul Chryst met with reporters to kick off spring drills Monday and two things stood out when he was asked about his approach with the quarterbacks during the next 15 practices: First, there will be no competition this spring to determine playing time in the fall, and second, Chryst loves everything about the quarterback room, which consists of Coan; last year's co-backups, redshirt freshman Graham Mertz and redshirt sophomore Chase Wolf, and luckless Danny Vanden Boom, a redshirt junior who might be vying for the starting job in many other UW seasons but can't seem to make much headway with that threesome in front of him.
Actually, it makes no sense for Chryst to conduct a quarterback derby this spring. There are plenty of practice repetitions to go around and Chryst said everyone would get enough of them to show improvement, which is the primary focus for the coaches and players.
"The spring's a great time to improve your craft," Chryst said. "Jack did do a lot of really good stuff last year and yet I think one of his strengths as a player, as a competitor, is he's always working to get better. And he needs to. We all do. In the spring, there'll be a lot of reps. Whether it's Jack, whether it's Graham, you've got Chase and Danny, those guys will all get work. I'm not worrying about how we're going to play in the fall. I'm more excited to see if we can make the most out of this spring for them."
Clearly, individual improvement will be the No. 1 goal this spring. Besides, why would Chryst declare a pecking order months before he has to? There already is risk enough in this era of transfer-itis, where players can — and do — transfer right up to the start of fall camps in August.
If any of the quarterbacks were inclined to leave, however, they would probably be gone by now. Mertz, Wolf and Vanden Boom have to know Coan is entrenched as the starter following a junior season in which he made huge jumps in every statistical category. They also know he's in his final season.
Nationally, Coan ranked seventh with a 69.6 completion percentage and 19th in passing efficiency. His 18-to-5 touchdown pass-to-interception ratio was excellent. But while Coan is now a veteran with 19 starts under his belt, the rest have seen scant game action. Mertz, who was being prepared to start when Coan battled a knee injury near midseason (it was a false alarm), attempted 10 passes in two games, completing nine. Wolf, who has shown an intriguing ability to make plays on the move, and Vanden Boom have attempted — and completed — one pass apiece during their careers.
Those numbers don't signal "quarterback derby" in any way, shape or form, no matter how much fans clamor for the heavily recruited Mertz to play. Still, Chryst admires the competitive nature of all four quarterbacks and knows they're all intent on improving their skills to better position themselves for playing time when there is an opening.
"That group, they've done a ton," Chryst said. "We're actually just reviewing the winter conditioning and a couple of the strength coaches commented that the energy that that group gives competing against each other for the team, it affects the whole room. I think they've done a really good job of being competitive and balancing that with being good teammates for each other. I think the individuals in that room, they're pretty impressive and how they approach things has been impressive. That's why we're so excited this spring for them to get their work."
Chryst likes the group so much he didn't bring in a scholarship quarterback during this year's recruiting cycle. The coaches did convince Daniel Wright of Sergeant Bluff, Iowa, to walk on, but he won't be a factor until later in his career at best.
For now, it's Coan, Mertz, Wolf and Vanden Boom, all trying to utilize their practice reps to get better.
"They're going to compete against each other; they're going to compete against themselves," Chryst said. "They're a competitive group. But they won't do it at the expense of (one another). I don't think there's one of them that even in the back of their mind is happy when the other ones sail a ball or something. They'd rather beat you at it than have a guy screw up. And I think our players know that. They know that those four guys will do anything for this team. That's a great starting point."
It's the ending point that matters, and if the expected improvement takes place, UW's quarterbacking duties will be in good hands by the fall.
---
Intriguing position battles to watch when the Wisconsin Badgers start spring practices