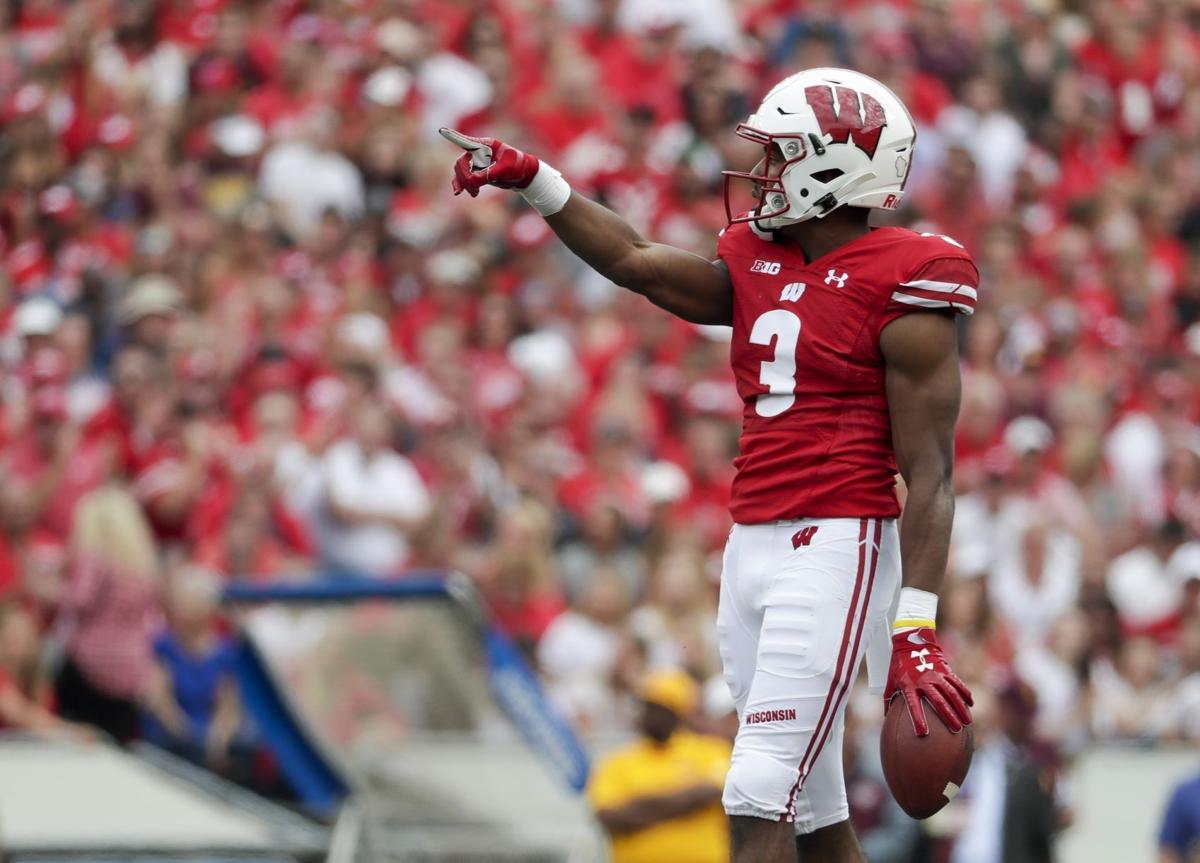 The University of Wisconsin didn't lose many starters off the team that won the Big Ten Conference West Division football title last fall.
It did, however, lose its home-run hitters.
The UW team that will open its pandemic-delayed season tonight against Illinois at Camp Randall Stadium has experience, talent and depth but will be missing its elite playmakers from last season.
Always efficient on both sides of the ball, UW is at its best when it has several explosive playmakers mixed in. The Badgers had that with last season with tailback Jonathan Taylor and wide receiver Quintez Cephus on offense and linebackers Zack Baun and Chris Orr on defense, but all four are now drawing NFL paychecks. Even UW's most dangerous kick returner, Aron Cruickshank, transferred to Rutgers.
With no spring practice and a shortened fall camp, UW is still searching for their replacements, still seeking athletes who can turn a game with one big play. History tells us that playmakers will surface in a program as strong as UW's, but there are no guarantees.
"I think as a coach you're always looking to see, what is the personality of your team going to be? How are you going to play games and, for lack of a better term, what is your recipe to win games?" coach Paul Chryst said. "Every year you're going to lose some part of your team. You're also going to add some pieces that are either new to the program or new to that role. So I think that's the fun part of starting a season, finding out, 'Who are we as a team?'"
The departure of Taylor and Cephus left sizable shoes to fill on offense. The pair had 28 of the offense's 56 plays of 20 or more yards and a whopping 17 of the 24 plays of 30 or more.
Nakia Watson and Garrett Groshek, the top two running backs, don't have Taylor's breakaway speed. Isaac Guerrendo might, but he is new to the position. Perhaps the best hope might be true freshman Jalen Berger, an accomplished runner and receiver.
One player who could break out is wide receiver Kendric Pryor. He had four plays of 33 or more yards last year, two on runs, two on pass receptions. Wide receiver Danny Davis had a long catch of only 18 yards last year, though he showed big-play ability earlier in his career. Freshman Chimere Dike turned some heads during camp with his athleticism and maturity.
At tight end, Jake Ferguson had eight catches for 20 or more yards last season, though the longest was 28. Converted defender Jaylan Franklin has the speed to stretch the field, but he too is new to the position.
"I'm excited for the guys we have this year to show (big-play ability)," offensive coordinator Joe Rudolph said. "I think we have that in the wide receiver room. I'm excited for guys to step up and earn roles. I think there's a really good group of guys. I think (playmakers) will emerge from that group. And I think it's the same thing in the running back room. ... There's a group of guys there that can (do it). And as always, someone emerges and earns roles. That's what you're excited for at the beginning of the season. It gets you (doing) a little bit of nail-biting, like, all right, who's going to be those guys? But I'm confident in that group of guys to get themselves where they need to be."
Baun and Orr were the heart of a top-10 defense, combining for 24 of UW's school-record 51 sacks and 33½ tackles for loss. Jack Sanborn, Orr's partner inside, had 5½ sacks, one fumble recovery and three interceptions, so he's shown he can make big plays. The same goes for safety Eric Burrell, who had three interceptions, two forced fumbles and two fumble recoveries. After that, who the playmakers are is a mystery.
Can outside linebacker Noah Burks do as others have done and make a huge jump as a pass rusher in his final season? Can true freshman Nick Herbig, who plays fast and physical, make his mark opposite Burks after a strong camp? Can powerful Leo Chenal, who will take Orr's place, be consistently disruptive?
Defensive coordinator Jim Leonhard has great experience on the line and at cornerback. Still, linemen Matt Henningsen, Isaiahh Loudermilk, Garrett Rand and Keeanu Benton have to start putting consistent pressure on the quarterback and Faion Hicks, Caesar Williams and Rachad Wildgoose have to improve on the two interceptions by cornerbacks last season.
"We feel great about what we have back," Leonhard said. "But obviously, we're realistic in saying, can you ask just a one-for-one swap to get that production? We don't feel that's true. Those guys were amazing. They had unbelievable seasons last year, just disruptive week in and week out and so consistent. We're going to find other ways to do it. We feel like we have guys that can step into those roles and create plays and be dynamic for us. But at the same time, we're not going to ask them to just do what Chris did or do what Zack did. That's not fair to them.
"Hopefully, we can develop into that as far as our depth and who we have. But it may look different, as it did the year before and the year before that. We're going to always be on the search for putting our guys in the best position to be dynamic and to make those plays. If it's the same calls as it was last year, great. And if it looks a little bit different for us, we're OK with that. The flexibility within what we do and how we think is there. I do love the group. I love the depth that we have. I think there's some young guys really stepping up and are prepared to take a big jump forward."
The loss of starting quarterback Jack Coan to injury could complicate matters, but the Badgers still need to find explosive players on offense and dynamic, get-off-the-field players on defense to make this season a success.
---
Tom Oates: Only one thing remains unchanged in Big Ten this season — Ohio State's dominance
Top five Heisman Trophy candidates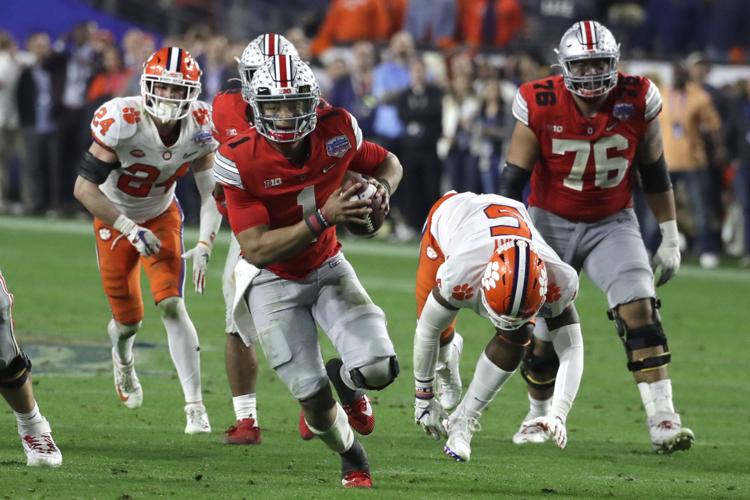 1. Justin Fields (above), QB, Ohio State: Run-pass threat leading a national title contender is a winning Heisman formula.
2. Rondale Moore, WR, Purdue: Injuries limited college football's most electrifying player to four games last year.
3. Rashod Bateman, WR, Minnesota: Supreme deep threat — 20.3 yards per catch in 2019 — opted out, then back in.
4. Master Teague, RB, Ohio State: With J.K. Dobbins in the NFL, Teague should get more than 135 carries this year.
5. Tanner Morgan, QB, Minnesota: Toughest hurdle might be loss of offensive coordinator Kirk Ciarrocca to Penn State.
Top five quarterbacks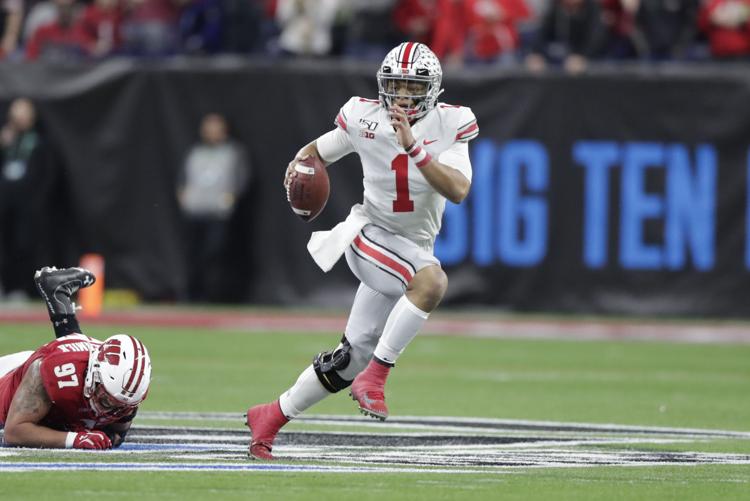 1. Justin Fields (above), Ohio State: In 10 games against Big Ten teams, he threw 30 touchdown passes and one interception.
2. Tanner Morgan, Minnesota: He may not have a big arm, but Morgan is the ultimate gamer, especially in the clutch.
3. Sean Clifford, Penn State: There was little dropoff from Trace McSorley to the strong-armed Clifford last year.
4. Michael Penix, Indiana: Split time with Peyton Ramsey in 2019, but athleticism and arm strength won him the job.
5. Adrian Martinez, Nebraska: Jack Coan's injury opens up this spot for Martinez, who played hurt all last season.
Top five running backs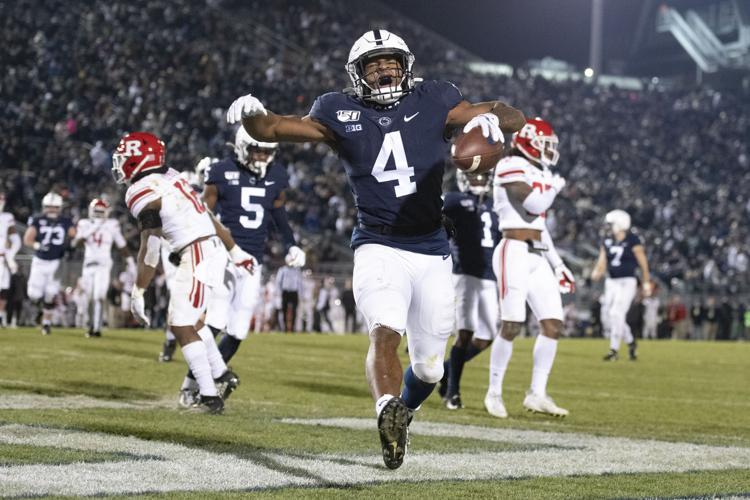 1. Journey Brown (above), Penn State: Averaged 6.9 yards per carry last year, better than Jonathan Taylor or J.K. Dobbins.
2. Master Teague, Ohio State: Had limited touches, but his 5.8 yards per carry made him third-team All-Big Ten.
3. Stevie Scott, Indiana: Leading returning rusher in the conference has effective combination of size and speed.
4. Mohamed Ibrahim, Minnesota: Were those 140 rushing yards against Auburn in the bowl a sign of things to come?
5. Zach Charbonnet, Michigan: He showed a nose for the end zone as a freshman but will be counted on to do more.
Top five wide receivers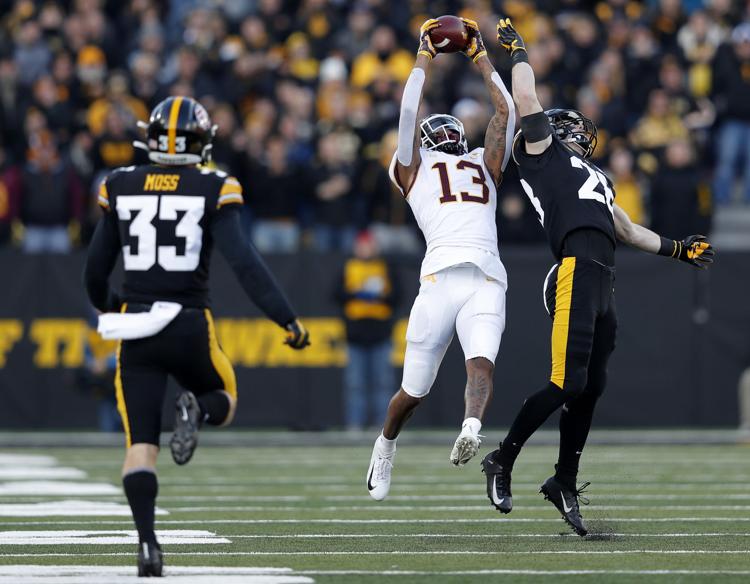 1. Rashod Bateman (above), Minnesota: Had 60 catches for 1,219 yards and 11 touchdowns paired with departed Tyler Johnson.
2. Rondale Moore, Purdue: His 4.3 speed and elusiveness as a runner make him Big Ten's ultimate big-play weapon.
3. Chris Olave, Ohio State: Despite Buckeyes' wealth of talent at wide receiver, Olave was third-team All-Big Ten.
4. David Bell, Purdue: Following in Moore's footsteps, sure-handed Bell was Big Ten Freshman of the Year in 2019.
5. Whop Philyor, Indiana: Philyor, Bateman and Bell were three of Big Ten's four 1,000-yard receivers last year.
Top five tight ends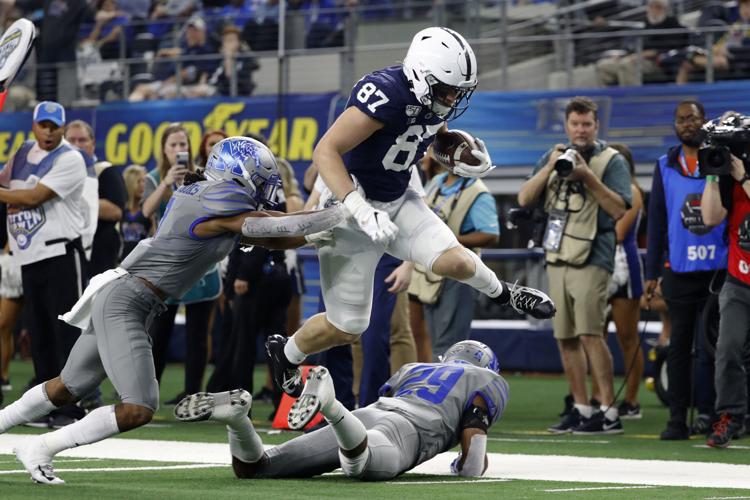 1. Pat Freiermuth (above), Penn State: Hasn't had huge numbers, but he catches everything in sight and moves the chains.
2. Jake Ferguson, UW: With wide receiver Quintez Cephus gone to NFL, Ferguson could become Badgers' go-to-guy.
3. Peyton Hendershot, Indiana: A good fit for Hoosiers offense, his production made him third-team All-Big Ten.
4. Luke Farrell, Ohio State: Although an afterthought in Buckeyes offense, Farrell also was third-team All-Big Ten.
5. Sam LaPorta, Iowa: After emerging late in his freshman season, LaPorta looks like next great Hawkeyes tight end.
Top five offensive lineman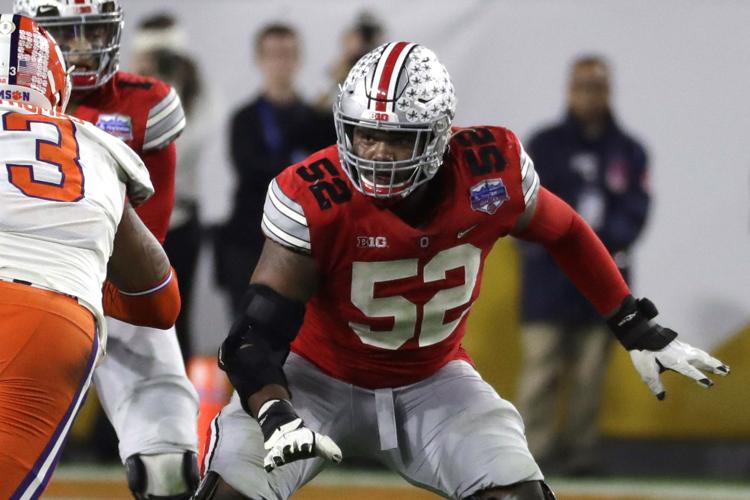 1. Wyatt Davis (above), G, Ohio State: Powerful run blocker returned after considering NFL in January, opting out in August.
2. Cole Van Lanen, T, UW: Injuries limited Van Lanen's effectiveness in 2019, but he's healthy and ready to go now.
3. Alaric Jackson, T, Iowa: Overpowering run blocker was third-team All-Big Ten despite sitting out four games.
4. Josh Myers, C, Ohio State: Third-team All-Big Ten pick leads what should be conference's best offensive line.
5. Jalen Mayfield, T, Michigan: Nasty on-field disposition gives him edge over Ohio State tackle Thayer Munford.
Top five defensive lineman
1. Kwity Paye (above), DE, Michigan: Prototypical NFL edge rusher was only scratching surface with 6.5 sacks last year.
2. Shaka Toney, DE, Penn State: Another freak athlete who has amassed 15.5 career sacks for the Nittany Lions.
3. George Karlaftis, DE, Purdue: Made freshman All-America teams after producing 7.5 sacks in his first go-around.
4. Zach Harrison, DE, Ohio State: Program that produced the Bosa brothers and Chase Young now turns to Harrison.
5. Isaiahh Loudermilk, DE, UW: A big man who can move, Loudermilk looks poised to put it all together this season.
Top five linebackers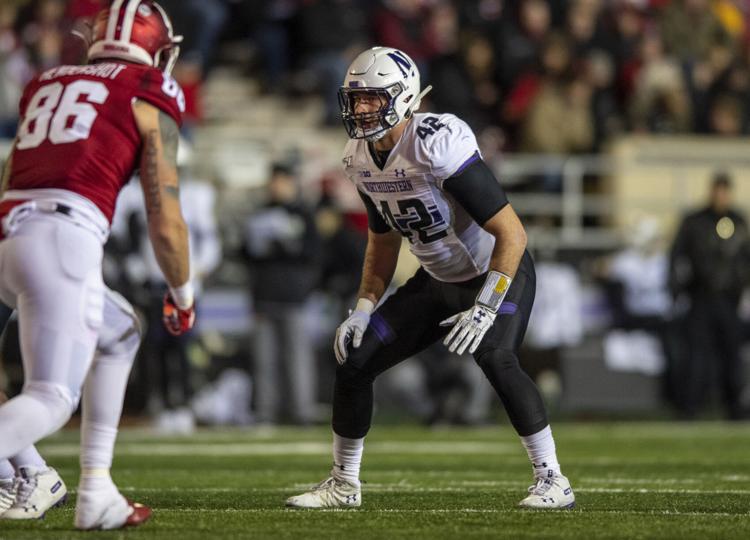 1. Paddy Fisher (above), MLB, Northwestern: Fisher has been around so long he might have played with coach Pat Fitzgerald.
2. Antjuan Simmons, OLB, Michigan State: Played all over last year, even safety, but those 16 TFLs speak volumes.
3. Jack Sanborn, ILB, UW: The next great Badgers linebacker is Sanborn, who plays with speed, toughness, smarts.
4. Cameron McGrone, MLB, Michigan: Anchor of a defense that is expected to be the strength of the Wolverines.
5. Jake Hansen, ILB, Illinois: Veteran tackling machine led all FBS players in forced fumbles last season.
Top five defensive backs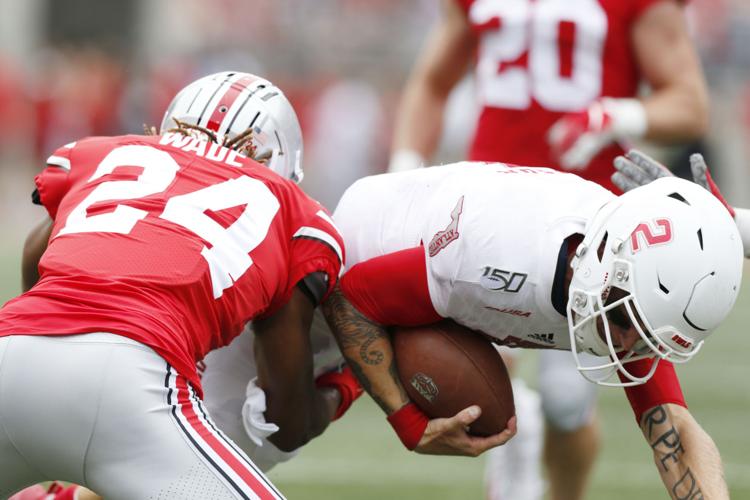 1. Shaun Wade (above), CB, Ohio State: Latest in long line of elite cover corners with great closing speed at Ohio State.
2. Tariq Castro-Fields, CB, Penn State: Thought about heading to the NFL but was limited by injury late in season.
3. Eric Burrell, S, UW: Whether it's interceptions, tackles or TFLs, Burrell can usually be found around the ball.
4. Daxton Hill, S, Michigan: Didn't live up to his 5-star billing as a freshman, but he's a budding star now.
5. Tiawan Mullen, CB, Indiana: Broke up 13 passes last year, tops in the nation among freshman defensive backs.
Top five specialists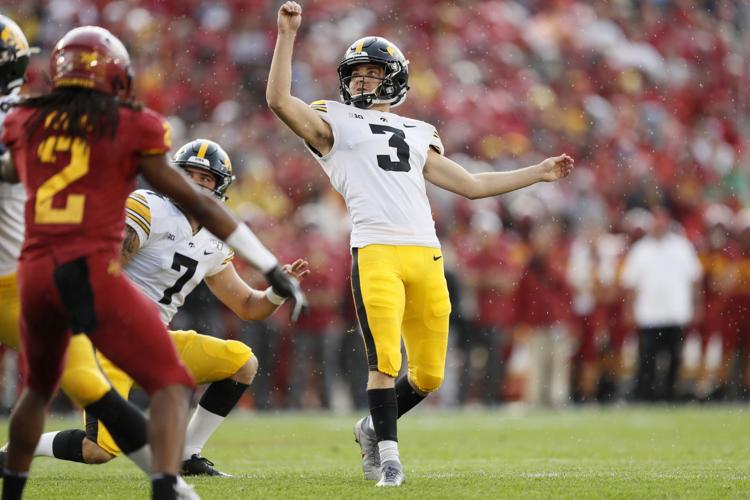 1. Keith Duncan (above), K, Iowa: Longest field goal was only 49 yards, but he was good on 29 of 34 attempts last season.
2. Blake Hayes, P, Illinois: Like Duncan, was named first-team All-Big Ten after averaging 44.6 yards per punt.
3. Ihmir Smith-Marsette, KR, Iowa: Blazing fast, he averaged 29.6 yards on kickoff returns, scored two touchdowns.
4. Blake Haubeil, K, Ohio State: Ryan Day usually eschews field goals, but Haubeil was 13-for-15 with a long of 53.
5. Aron Cruickshank, KR, Rutgers: Averaged 29.3 yards per kickoff return at UW, then took his talents to Rutgers.
Top five transfers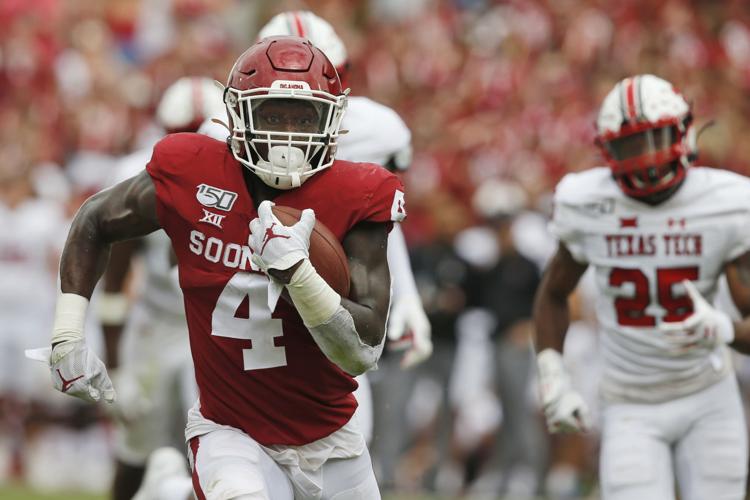 1. Trey Sermon (above), RB, Ohio State: Oklahoma transfer will shine if Master Teague is slowed by spring Achilles injury.
2. Peyton Ramsey, QB, Northwestern: Capable starter for 2½ seasons at Indiana, he could revive Wildcats.
3. Jayden Reed, WR, Michigan State: Sat out last year after being named a freshman All-American at Western Michigan.
4. Omar Manning, WR, Nebraska: Top-ranked junior college receiver is needed immediately after J.D. Spielman left.
5. DaMarcus Mitchell, LB, Purdue: New 3-4 scheme needs linebackers and huge junior college transfer will play outside.
Top five position groups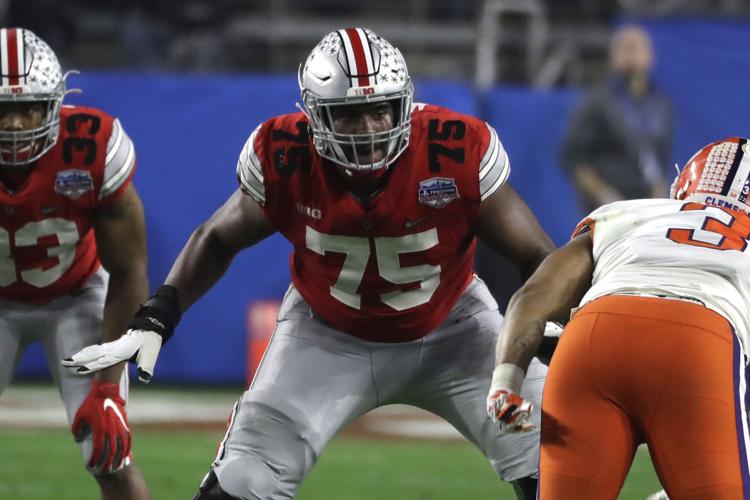 1. Ohio State offensive line: Thayer Munford (above), Wyatt Davis and Josh Myers passed on NFL, will be high picks in 2021.
2. Penn State running backs: Journey Brown, Noah Cain, Devyn Ford combined for 1,647 yards and 6.2 yards per carry.
3. Purdue wide receivers: Rondale Moore was Big Ten Freshman of the Year in 2018, David Bell was the same in 2019.
4. UW secondary: Rising star Reggie Pearson was lost to injury, but unit returns 11 others who have started games.
5. Ohio State linebackers: Nothing flashy about Tuf Borland, Baron Browning and Pete Werner; they're just good.
Top five freshman
1. Rakim Jarrett, WR, Maryland: First committed to LSU, but changed his mind and stayed home to play for Terps.
2. Jalen Berger, RB, UW: True freshman running backs from New Jersey have a way of making immediate splash at UW.
3. Julian Fleming, WR, Ohio State: Big, fluid route-runner with a 5-star rating will help ease loss of K.J. Hill.
4. Maliq Carr, WR, Purdue: Freshman wide receivers thrive at Purdue and 6-5, 225-pound Carr enrolled in January.
5. Graham Mertz (above), QB, UW: Jack Coan's foot injury thrusts heralded recruit into limelight after redshirt season.
Five best games
1. Ohio State at Penn State, Oct. 31: With apologies to UW and Michigan, this is de facto Big Ten championship game.
2. UW at Iowa, Dec. 12: These teams have won five of the six West titles, could play for another one on final day.
3. Penn State at Michigan, Nov. 28: Home team has won last four in game that usually determines second in East.
4. Minnesota at UW, Nov. 28: This could be West's new rivalry after each team won on road the last two years.
5. Michigan at Minnesota, Oct. 24: Suddenly there is more at stake in this season opener than the Little Brown Jug.
Five easiest schedules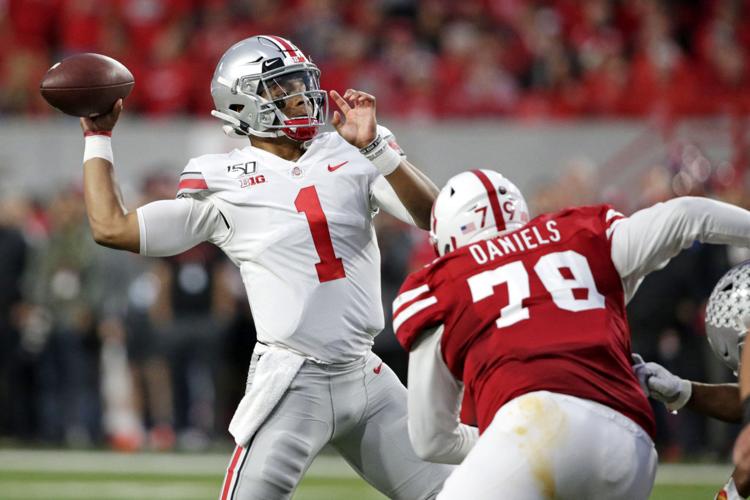 1. Ohio State: Buckeyes' West Division foes are Illinois and Nebraska. Better yet, they don't have to play Ohio State.
2. Penn State: Getting Iowa at State College in a crossover game is nice, getting Ohio State at home is even nicer.
3. Minnesota: Gophers open at home against a Michigan team that has a brand-new quarterback. Toughest test is at UW.
4. Rutgers: With Maryland and Michigan State down and crossovers versus Illinois and Purdue, losing streak could end.
5. Northwestern: Crossovers are Maryland and Michigan State, plus Wildcats get UW at home, where they've had success.
Five toughest schedules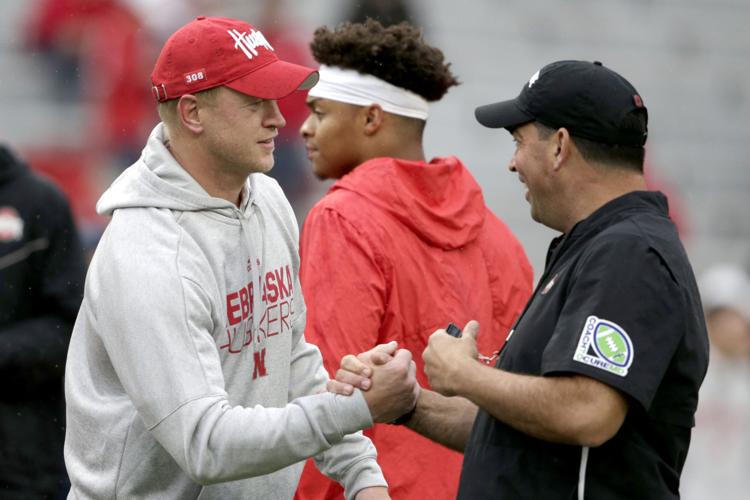 1. Nebraska: Crossover games are Ohio State and Penn State, proof the Big Ten office knows how to carry a grudge.
2. Michigan: Wolverines face UW and Minnesota, the two best teams in West last year, and at recent nemesis Ohio State.
3. Maryland: Terps play Penn State and Michigan on road and have daunting home games against Minnesota and Ohio State.
4. Michigan State: Back-to-backs at Michigan and Iowa early, back-to-backs against Ohio State and at Penn State late.
5. Iowa: Back-to-back roadies at Minnesota and Penn State mar otherwise manageable schedule that ends with UW at home.
Five coaches with something to prove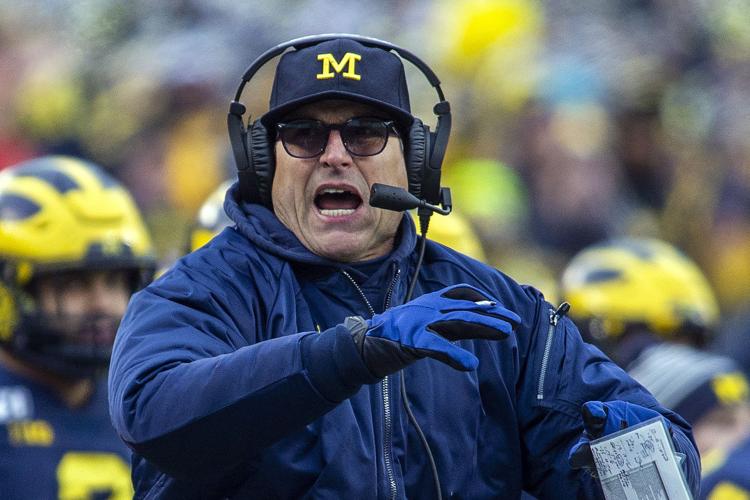 1. Jim Harbaugh (above), Michigan: He's 0-5 versus Ohio State, hasn't reached Big Ten title game and lost a ton of experience.
2. Scott Frost, Nebraska: Allegedly strong recruiting has yet to show on field, where Huskers have 6-12 Big Ten record.
3. James Franklin, Penn State: His 3-9 record against Ohio State and Michigan puts up obstacle to Big Ten title, CFP.
4. Pat Fitzgerald, Northwestern: Wildcats went from first to worst in West, leading some to question beloved coach.
5. Jeff Brohm, Purdue: Purdue's upward mobility stalled in 2019, prompting change to defensive coordinator Bob Diaco.
Five teams with no hope of Big Ten title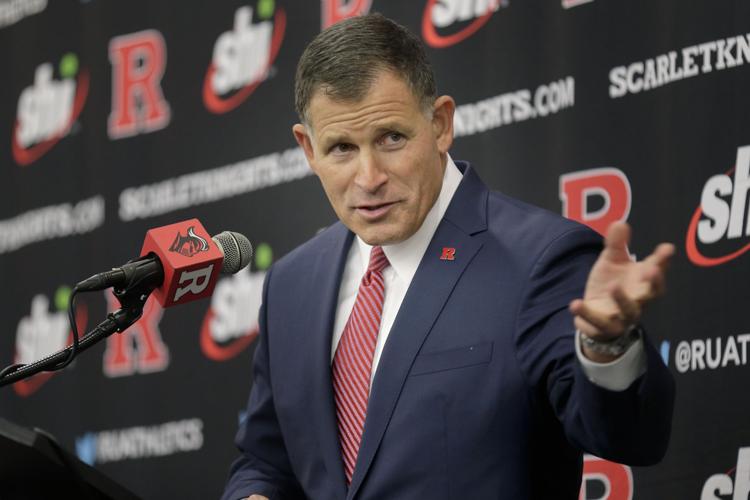 1. Rutgers: There won't be a one-year turnaround under Greg Schiano (above) for team that has lost 21 straight Big Ten games.
2. Maryland: Terps cratered last season, then lost six players to COVID-19 opt-outs, including quarterback Josh Jackson.
3. Illinois: Yes, the Illini won four Big Ten games and went to a bowl last year. No, they won't match that this year.
4. Michigan State: Mel Tucker doesn't have a single recruit on roster and had no spring ball to get to know new team.
5. Indiana: Hoosiers coming off breakthrough 8-5 season, but path in East blocked by Ohio State, Penn State, Michigan.
Top five contenders for Big Ten title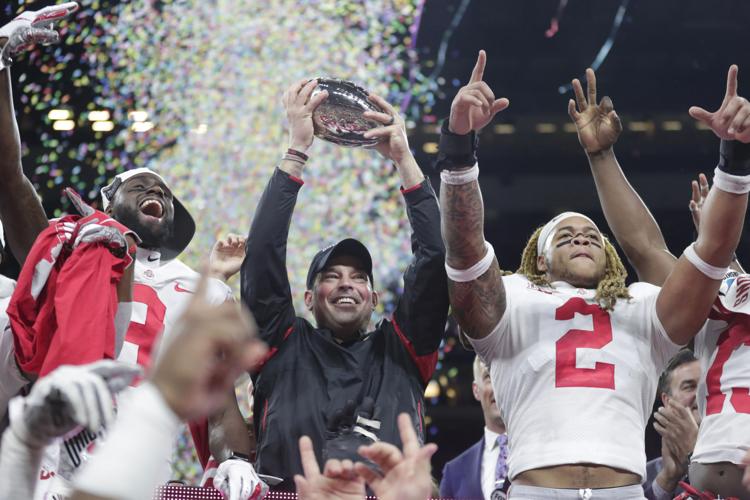 1. Ohio State: Buckeyes didn't miss a beat under first-year coach Ryan Day (above), winning third straight Big Ten title.
2. Penn State: Nittany Lions' chance of unseating Buckeyes in East took hit when linebacker Micah Parsons opted out.
3. Wisconsin: Badgers are deep and experienced, especially on defense, but must replace stars on both sides of ball.
4. Minnesota: Gophers a handful on offense, but will inexperienced defense play well enough to knock off UW in West?
5. Iowa: If Hawkeyes find a quarterback, they could contend in West, especially since they have the Badgers at home.
Tom Oates, who retired as a full-time columnist, has returned to write occasional columns for the State Journal.