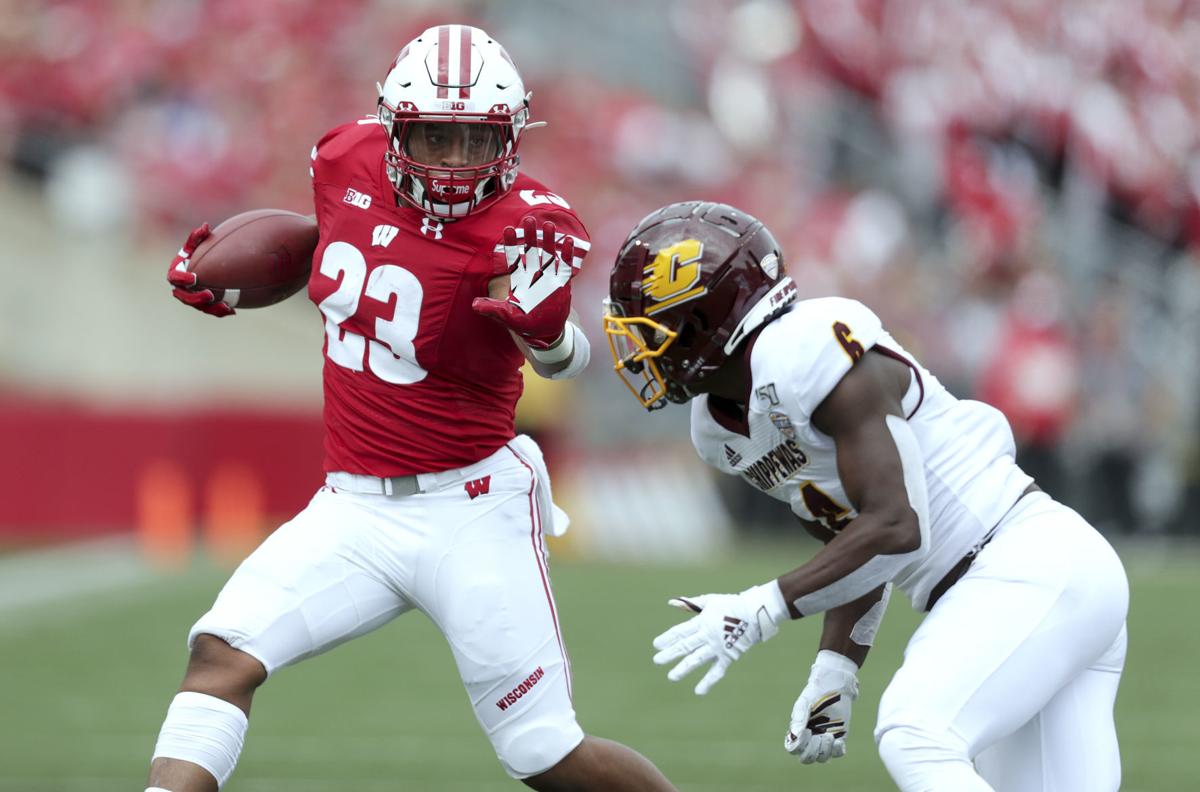 Even in this era of Heisman Trophy watch lists and betting odds that are updated weekly, it seems too early to even think about who might win the coveted award.
But the reality is it's never too early because the opportunities for players to legitimately build a Heisman case don't come around that often.
The 13th-ranked University of Wisconsin football team's Big Ten Conference showdown with 11th-ranked Michigan on Saturday at Camp Randall Stadium has been acknowledged as an early season statement game by players from both sides. Because it is a high-profile game against an opponent that began the season in the national championship conversation, however, it will also be a chance for UW tailback Jonathan Taylor to make a statement to Heisman voters who increasingly suffer from quarterback-on-the-brain syndrome.
Taylor, who set Football Bowl Subdivision records for the most rushing yards by a freshman (1,977) and a sophomore (2,194), finished ninth in the Heisman voting last year despite leading the nation in rushing. Two games into Taylor's junior season, the latest odds from BetOnline say he's still ninth — behind eight quarterbacks.
A big game against what has been a fast, athletic, stingy defense in four seasons under respected coordinator Don Brown would boost Taylor's stock considerably. In UW's 2-0 start, he leads the nation with eight touchdowns — five rushing, three receiving — but doing it against South Florida and Central Michigan doesn't register nearly as much as doing it against Michigan.
All of which means nothing to Taylor, by the way. Asked if this is a game where a running back can make a name for himself or enhance his candidacy for a certain trophy, Taylor's response was, well, pure Taylor.
"Really, this is a game where a running back like me can do whatever I can to help the team win," he said. "It's one of those teams where everyone's going to have to do their job and everyone's going to have to make sure to execute."
If you think that's a canned response, then you haven't been watching Taylor in his first three years at UW. His message in media settings never wavers. Apparently, it doesn't change behind the scenes, either.
"I do believe that it's not lip-service when he talks about (doing) whatever he can do to help this team," coach Paul Chryst said. "And he does help it in so many ways."
It is generally assumed that Taylor will head to the NFL after the season, so his pursuit of two things — the Heisman Trophy and the FBS career rushing record — has a sense of urgency. With 4,408 rushing yards in 29 games, Taylor needs 1,998 more to surpass all-time leader Donnel Pumphrey of San Diego State. (Actually, the record should belong to UW great Ron Dayne, but that's a different column.)
There's a catch, though. It's possible UW won't be handing the ball to Taylor as much this season as it has in the past. In his first two seasons, Taylor averaged 22.4 carries and 154.4 rushing yards per game. In two games this season, he's averaged 17.5 carries and 118.5 yards per game.
Some of that is because UW has blown out both opponents and Taylor has yet to carry the ball in the fourth quarter. But some of it is because UW is passing more effectively and more often this season, so the offense might become more balanced.
Even if Taylor's carries are reduced and his pursuit of trophies and records takes a hit, no one expects to hear anything about it from him.
"I think he would handle it great," center Tyler Biadasz said. "Honestly, I think he's such a great team player and he wants the best for the team. Whenever his opportunity is going to hit, he's going to make the most of it and he's appreciative of that. He never complains about anything. He's the most humble guy you'll ever meet."
No matter what happens with Taylor's workload, he is an improved player this year, largely because he's worked hard to become a better pass receiver. After catching eight passes as a freshman and eight more as a sophomore, he has caught five this season, three for touchdowns.
"I think it just took my game to another level," Taylor said. "That was the next step for me as far as becoming a better player, adding to my skill set. One of the biggest things is continuing to build on that so that defenses are going to have to continue to prepare for us each and every week."
Even if they stay the same as in the past, Taylor's touches could be redistributed a bit. With his increased role in the passing game, he's averaging 151 yards from scrimmage per game this year.
A possible side effect of UW's improved passing game, which includes Taylor, is that it might force opponents to play UW differently than in the past and cover the entire field. Don't worry, though, Chryst understands that carrying the ball is what Taylor does best and how he affects the game the most. Chryst also believes that Taylor will do whatever is asked of him.
"I think like any competitor he wants to be able to impact (the game)," Chryst said. "But I think he also knows that he can impact it in a lot of ways. I love the way he approaches it. And I really do believe that the team and the team's success is truly what he's chasing."
Whatever Taylor is chasing, the Badgers need him to make a statement Saturday.