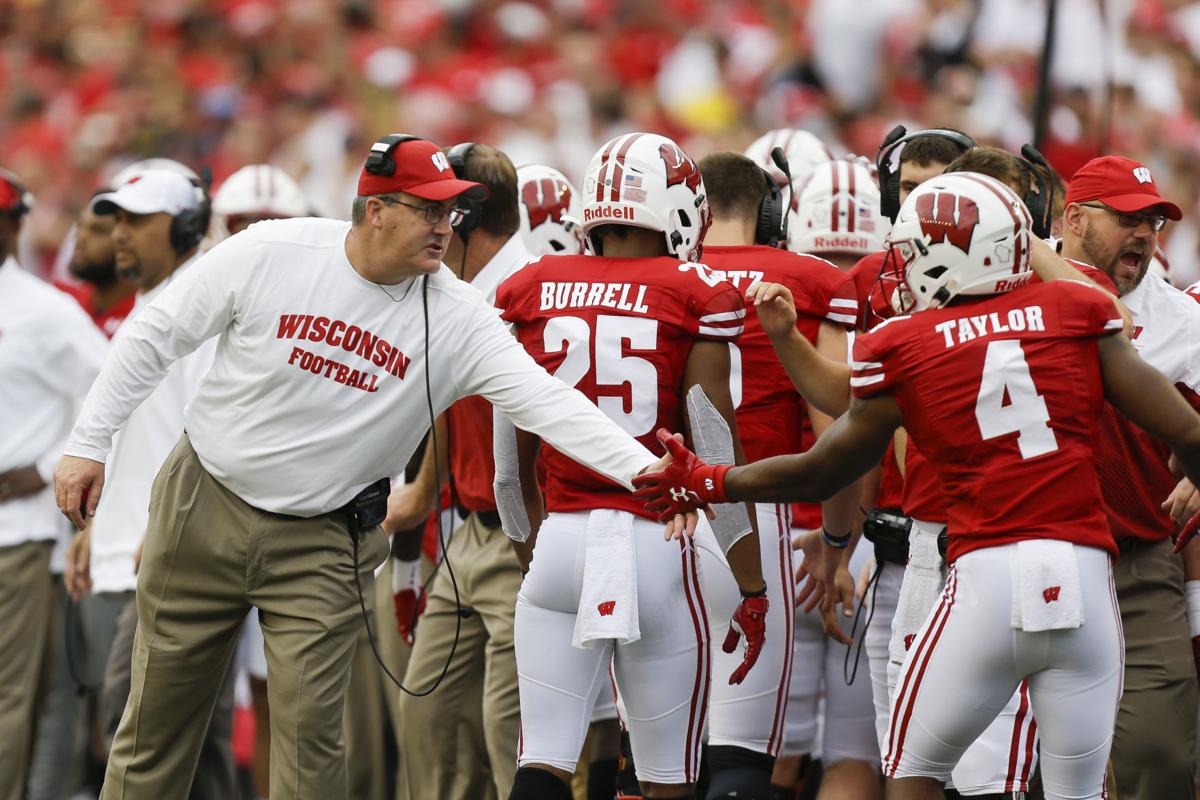 CHAMPAIGN, Ill. — During the course of a college football season, a team will hear any number of inspirational sayings or slogans designed to keep everyone on the same path.
Some stick, some aren't worth the T-shirts they're printed on.
During training camp in August, University of Wisconsin cornerback Faion Hicks came up with a keeper, a mantra that has resonated with his fellow Badgers throughout this season of redemption.
"We do a quote, where a guy gets up and says a quote, something he feels like the team may need or share some inspiration," linebacker Chris Orr said. "A quote that we had earlier was for everyone to be a dog and (Hicks) was like, 'If you're a dog, you have no switch. There's no switch on the field. There's no switch when you step into the facilities.' We just took that and ran with it. That's going to be our identity."
The junior outside linebacker delivers with a steady performance that often doesn't show up on the stat sheet.
It already is. The sixth-ranked Badgers hit the ground running this season and haven't slowed down one bit en route to a 6-0 record, including impressive Big Ten Conference victories over Michigan, Northwestern and Michigan State. Their on-off switch is stuck permanently in the on position.
That approach will come in handy Saturday when UW faces a struggling Illinois team at sparsely populated Memorial Stadium. Coming off a 38-0 rout of Michigan State and with a game at fourth-ranked Ohio State scheduled for next week, UW's matchup with Illinois, which is 2-4 overall and 0-3 in the Big Ten, is the very definition of a trap game.
If the Badgers do indeed have no switch this season, their focus and effort level shouldn't waver Saturday, even in what promises to be a dreary, energy-free setting.
"You do all you can to make sure that you take advantage of every opportunity," coach Paul Chryst said. "With this group, I don't worry about it. But at the same time I think you never want to take anything for granted."
There are signs everywhere that depict how this team has taken its no-switch rallying cry to heart.
The Badgers haven't suffered a letdown against an opponent they were expected to beat, like they did against BYU last season. They are preparing well during the week and playing clean football on Saturdays, keeping their mental mistakes low and their execution level high. They are getting off to fast starts in games, having outscored their opponents 152-3 in the first half. With four shutouts in six games, they are dominating opponents all the way to finish, even when they go the bench late in blowouts.
You have free articles remaining.
A combination of smart play-calling, accurate throws and strong receiver play sunk MSU's attempts to stop the Badgers' receivers.
"A lot of teams have one game they're up, one game they're down, kind of turning the switch on and off," quarterback Jack Coan said. "Then when a big game comes around, they want to flip it on. But our motto is just having no switch, so we're always ready to go and play our best."
Face it, UW's best will be good enough to beat Illinois. Now in their fourth season under coach Lovie Smith, the Illini don't seem to be making progress. Since Smith took over in 2016, Illinois has an 11-31 record and is 4-26 in the Big Ten. And two of those four Big Ten wins came against Rutgers.
Illinois might have a puncher's chance against UW because it has a couple of playmakers on each side of the ball — tailback Reggie Corbin and wide receiver Josh Imatorebhebhe on offense and end Oluwole Betiku and linebacker Jake Hansen on defense. But its best chance would be if UW doesn't show up ready to play.
The Badgers say that hasn't happened yet — not in practice, not in the weight room, not in the film room and especially not during games.
"It's a mentality," safety Reggie Pearson said. "All of us have got it right now. It's like every time we go on the field, it's emptying it out, emptying your tank, that's all it is is. It's referring back to that saying. I feel like we've done a good job doing it."
This season, 35 of Hintze's 44 kickoffs have been touchbacks, which ranks third in the Football Bowl Subdivision.
According to Orr, it doesn't matter who the Badgers are playing because they're all nameless, faceless opponents. Instead, the Badgers focus on themselves.
"We don't want to step on the field and all of a sudden it turns on," Orr said. "We're always on. I think that's why we've been able to start fast and take it to teams early. We're just doing what we're coached to do, doing what we set out to do as a team, and it's coming true."
UW might have learned that lesson the hard way. This year's motto is a by-product of the up-and-down nature of last year's team, which began the season ranked fourth in the nation and finished with an 8-5 record.
"I think the biggest thing is just understanding that complacency kills," tailback Jonathan Taylor said. "Whenever you get complacent, that's when things start to fall off. People get get relaxed. That's why we say, 'no switch,' just to understand that you've got to always be ready."
Even if UW has beaten Illinois in 13 of the last 14 meetings, including nine in a row?
"We treat everybody the same, no matter who it is," Hicks said. "Like Chris Orr was saying, they're a nameless, faceless opponent. They might as well come out with no colors on and no logos because we're going to treat everybody the same. The motto of the whole season, 'no switch.' We're not turning off the switch for nobody."
Which means they're turning on switch for everybody. Even Illinois.