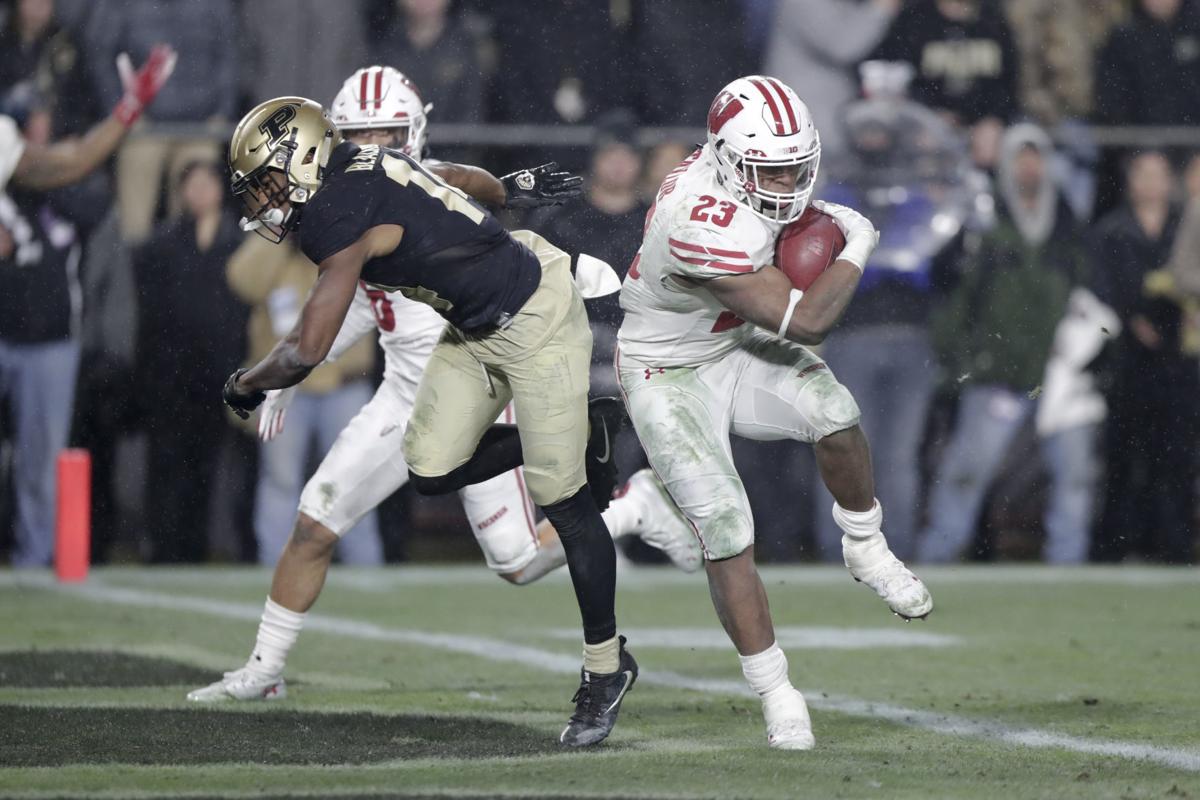 Wisconsin State Journal columnist Tom Oates grades the Wisconsin Badgers' performance in their 47-44 triple-overtime win over the Purdue Boilermakers on Saturday at Ross-Ade Stadium in West Lafayette, Indiana. 
Offense: B
An "F" in the first half, an "A" in the second. Jonathan Taylor rushed for 321 yards and three touchdowns on 33 carries and simply refused to go down during the overtimes. After some shaky decision-making early, Jack Coan finally cut it loose after halftime. If Danny Davis' teammates haven't yet nicknamed him "Odell," they should.
The Wisconsin Badgers rallied to beat the Purdue Boilermakers, 47-44, in a game that took three overtimes to decide on Saturday at Ross-Ade St…
Defense: C-minus
The defense bottled up Purdue's running game and had two goal-line stands that forced Purdue to settle for field goals. UW's young cornerbacks struggled against Purdue's multifaceted passing attack. Too many missed tackles on short passes and too many open receivers on long passes. Andrew Van Ginkel had two sacks and a forced fumble.
You have free articles remaining.
Special teams: C-minus
Caesar Williams has to listen to Jack Dunn and vacate the area before a bouncing punt can hit him in the leg. Connor Allen's short punts handed Purdue field position all day, then he boomed a 50-yarder when UW needed it most at the 11 near the end of regulation. Rafael Gaglianone bounced back from his missed field goal with three makes.
Coaching: B
Paul Chryst's bland play-calling in the first half suggested a coach who doesn't trust his players, especially his quarterback. That all changed in the second half when Chryst spread things out and got consistent running room for Taylor and convinced Coan to take the short, easy throws. Penalties continue to be a problem.
Wisconsin State Journal reporter Jason Galloway collected some of the best tweets after the Wisconsin Badgers defeated the Purdue Boilermakers…
Overall: B
The Badgers were down by two touchdowns and in danger of losing their fourth consecutive road game, but they finally found some rhythm in their offense and exploded for 44 points after halftime, winning in triple overtime. Taylor had one of the great running performances in UW history and the offense finally did its part to win.