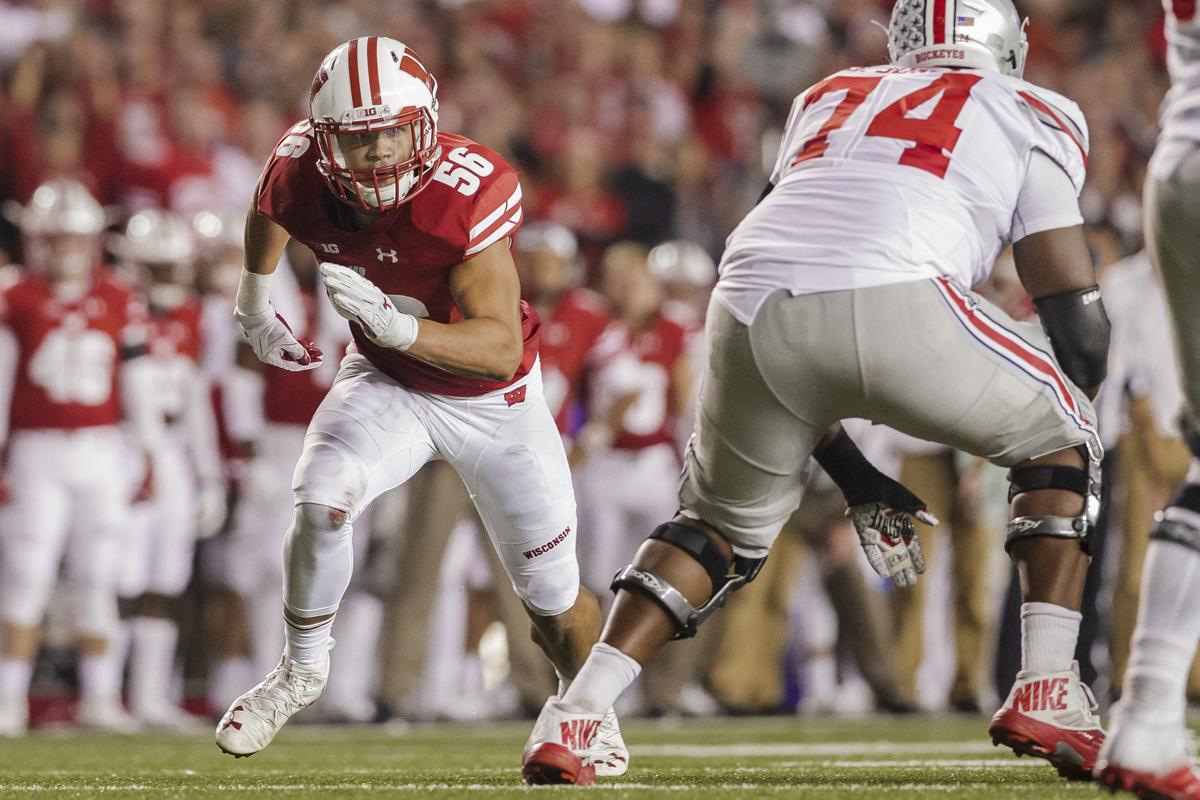 TAMPA, Fla. — One of the reasons the University of Wisconsin football team suffered through an 8-5 season in 2018 was it didn't have great quarterback play.
But the Badgers haven't had great quarterback play since Russell Wilson in 2011 yet they still managed the compile one of the best records in the nation — 54-14 — over the previous five years.
What was different about UW in 2018? The defense was different, that's what.
After five seasons where UW's defense routinely ranked among the nation's top 10 under coordinators Dave Aranda, Justin Wilcox and Jim Leonhard, a combination of inexperience and injuries caught up with the unit last year. The defense was still respectable, but with injuries striking key veterans and mostly first-timers on the line and in the secondary, it wasn't able to backstop UW's one-dimensional offense like it had done in the past.
"There's definitely a standard that's been set with this Wisconsin defense," senior linebacker Zack Baun said. "That's being physical, getting to the ball, all 11 hats to the ball. We just need to get back to that standard."
The defense will have to revert to form if 19th-ranked UW hopes to regain its standing among the nation's top teams. And it won't take too long to find out if the Badgers' hard-earned experience on defense will pay off because they open their season with a rare non-conference road game at South Florida tonight.
Despite the promise of better quarterbacking and a more balanced offense this season, it is the defense that will determine UW's fate. If this looks like a tougher-than-usual opener for UW, that goes double for the defense, which will face a Bulls offense blessed with experience, skill, speed and a new scheme.
But being put in tough situations one year usually benefits a unit the following year. UW defense will enter this season with experience in its pocket and a chip on its shoulder, which is the silver lining to last season.
"I think that's the way you have to look at it," said Leonhard, in his third season as coordinator. "Last season did not go as planned for us. I think after getting a lot of players on the field, now it's about teaching them how to convert that to confidence and getting them to understand just what big-time college football is all about. It really opens your eyes sometimes when you get out there in front of 80,000 people, the stress and the different situations you're going to get put in. I'm excited about where our group is."
From a personnel standpoint, the 2019 defense will be a complete makeover from the 2017 group, which ranked second in the nation in yards allowed with 262.1 per game and third in scoring defense with 13.9 points per game. Last season, those numbers fell to 344.2 yards allowed (29th) and 22.6 points allowed (34th). Both were the highest figures for a UW defense since 2008.
UW began last season with a strong group of five seniors, but only one — All-America linebacker T.J. Edwards — played every game. Worse, the expected starters at end were injured, with Garrett Rand missing the entire season and Isaiahh Loudermilk making only five starts.
The injuries forced many young players into action and, as is to be expected, they performed inconsistently. But the Pinstripe Bowl showed the strides they made as UW held Miami (Fla.) to three points and 169 yards. Better yet, nine of the 11 defenders who started that game return.
"We do feel like we have a talented group and now it's really getting them to take that next step as far as understanding of the defense," Leonhard said. "Those guys (in 2017) had so much confidence. They had the talent and they knew they were good and they went out and played in those big moments like they knew they were good and were extremely successful for us. But that's college football. the names are going to change. A lot of these guys we feel like have that ability. They have that confidence in there, we've just got to draw it out and hopefully the experience that they gained a year ago can help them take that next step."
All of a sudden, the line has four experienced players in Loudermilk, Rand and two sophomores — nose guard Bryson Williams and end Matt Henningson — who were forced to play major roles last season. Baun and fellow senior Chris Orr head the linebacker corps, but new starters Jack Sanborn and Izayah Green-May have intriguing potential. At cornerback, four players return who started five or more games last season and safety Reggie Pearson looks like a potential difference-maker after starting four games as a true freshman.
At least there's no mystery where the defense needs to improve. It must stop the run and rush the passer better than it did in 2018. A more experienced front seven should take care of the run. The biggest question is whether Baun and Green-May can bring pass-rush heat off the edge.
Starting tonight, we'll find out if the light bulb has gone on.
"Last year young guys just wanted to see the field, get on the field, touch the field and play in front of 80,000 fans," Baun said. "Now we're really focusing on just playing better football, team football. If we can do that I think we'll be a good defense."
They'll need to be a good defense because UW's schedule is more difficult than usual, starting with South Florida.
Be the first to know
Get local news delivered to your inbox!