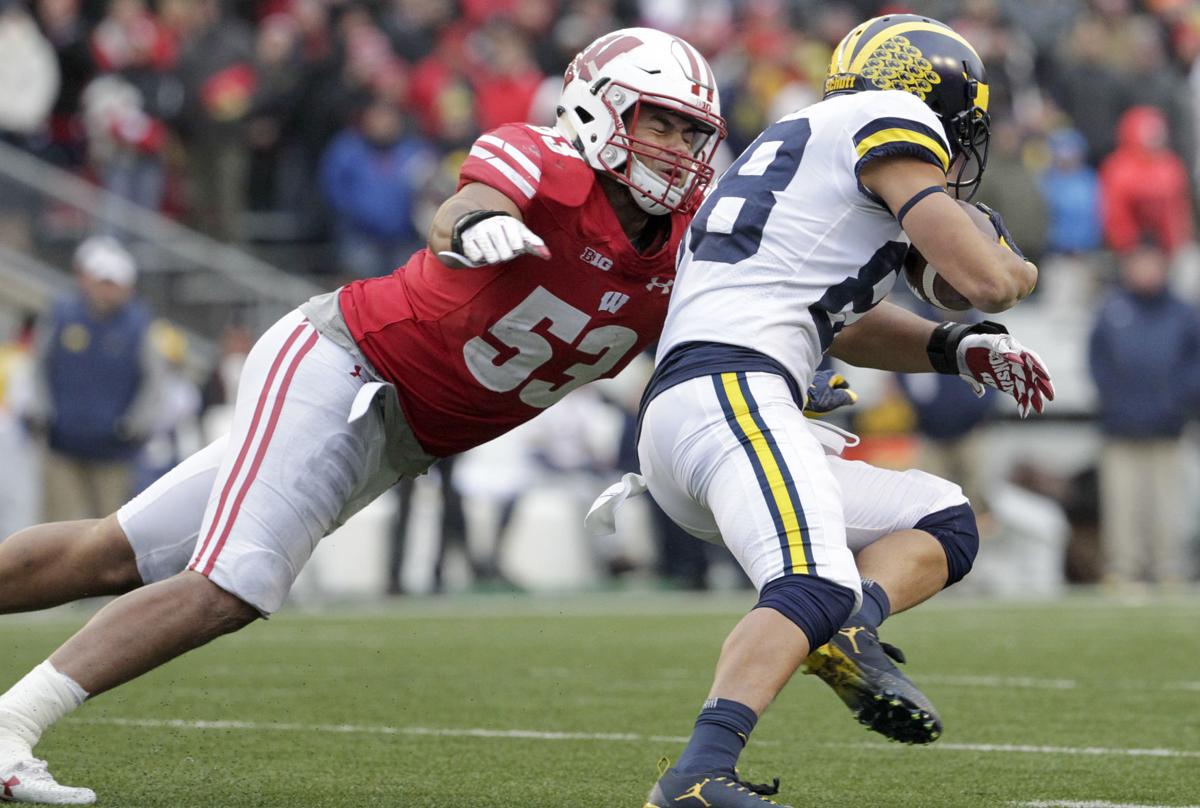 One downside to having great college football players is you're bound to lose some of them to the NFL prior to their senior seasons.
It happened to the University of Wisconsin last year, when linebacker T.J. Watt and tackle Ryan Ramczyk opted to enter the NFL draft after their junior seasons. Both were selected late in the first round and are starters on playoff-bound teams as rookies.
This year, there are a handful of Badgers with decisions to make regarding the NFL draft. Cornerback Nick Nelson, linebacker T.J. Edwards, guard Beau Benzschawel and tackles Michael Deiter and David Edwards all showed up on All-American teams and have at least one year of eligibility remaining.
Nelson, T.J. Edwards, Benzschawel and Deiter are redshirt juniors, David Edwards is a redshirt sophomore. The latter has said he will return to UW while the others have petitioned the NFL Draft Advisory Board for feedback on where they might be picked should they declare for the draft before the Jan. 15 deadline.
So, should they stay or go?
First, it's important to remember each player has a personal business decision to make. Fans naturally want them to stay — How good would UW have been with Ramczyk and Watt this season? — but no two situations are alike and each player has to weigh the pros and cons of declaring for the draft.
How much does he like school or value a degree? Where can he expect to go in the draft? Where can he expect to go in next year's draft if he stays in school and has a good senior season? What happens if he comes back and has an injury-plagued or down season? How strong is the draft at his position? How strong is next year's draft expected to be at his position?
Those are just a few of the questions each of the Badgers must contemplate once Saturday's Orange Bowl is over.
Unlike recent years, when Watt, Ramczyk and tailback Melvin Gordon had ample reason to leave early, none of the current UW players projects as a lock first-round draft pick and therefore their decisions aren't cut-and-dried. David Edwards might have the most upside of the group, but he only moved from tight end to tackle two years ago and was wise to return for another year to work on his strength and technique. The others may have already made up their minds, but all four face some degree of uncertainty when projecting their draft status.
Although things usually change after the scouting combine and on-campus workouts, Nelson, T.J. Edwards, Benzschawel and Deiter are considered by NFL scouts to be potential second-day day picks, which means the second or third round. Depending on how they do in predraft testing and how the draft shapes up at their position, any of them conceivably could slip into the fourth round as well.
You have free articles remaining.
In terms of a player's initial contract, the difference in money falls off with each round. Perhaps the biggest decision for any player is whether he can dramatically improve his draft stock by playing another year in college. Although there are exceptions, most NFL scouts think an experienced fourth-year junior has pretty much developed into the player he will become. The injury risk might not be worth it if a player isn't likely to move up a round or two.
There were media reports Nelson has already decided to enter the draft, though he refuted them. In his first season at UW after starting for two at Hawaii, Nelson has solid size and speed for an NFL cornerback and his NCAA-best 20 passes broken up this season testify to his impressive one-on-one coverage ability.
Nelson isn't in the first tier of available cornerbacks, but could go as high as the mid-second round barring a combine disaster. The biggest red flag is he had no interceptions this season. Scouts tend to worry about such things, though they overlooked it with Florida State's Jalen Ramsey two years ago. He was picked fifth overall and is in the Pro Bowl this season.
Coming out early would be risky for T.J. Edwards if only because of the scouts' fascination with measurables. A three-year starter, the instinctive Edwards is a proven playmaker, with four interceptions and 11 tackles for loss this season. However, scouts question if he can run with tight ends and running backs in coverage and currently view him as a two-down linebacker, a tag that can be an anchor on draft day.
Last year, Northwestern's productive Anthony Walker, who is the same height and weight as Edwards, slipped to the fifth round because he was viewed as a two-down linebacker. It's unlikely Edwards would drop below the early fourth round, but if he runs better than expected for scouts, he could push all the way up to the second round.
Benzschawel has the look of a solid third-round pick after starting most of the past two seasons at right guard. He's a good, physical run blocker, though scouts are probably waiting to see how athletic he is in testing.
Because tackles are so important in the NFL, even the top interior linemen often have to wait until the second or third rounds to get taken. For that reason, it's doubtful Benzschawel could raise his stock significantly by coming back.
Deiter has to weigh more variables than the others in making a decision, mainly because he was a center and guard for two seasons before moving to left tackle this season. Some scouts view Deiter as an interior lineman, but he opened up some eyes with his strong play at tackle this season — his struggles against Ohio State's fast pass rushers aside.
If Deiter is considered a tackle, he could struggle to get picked early because there is a strong group of tackles at the top of the draft. Similarly, there was a good group of tackles when Colorado's David Bakhtiari came out early in 2013 and Bakhtiari, now a Pro Bowl-caliber tackle in Green Bay, fell to the fourth round.
If Deiter is a guard or center, scouts will watch tape from early in his UW career, which was very good. One potential tipping point is if Deiter comes back and plays another year at tackle, he would then would be two full seasons removed from playing inside, a possible red flag for teams that consider him a guard or center.
Deiter's positional flexibility is a plus, but his biggest problem is scouts won't be able to project his ability to play tackle until they can measure his length and movement skills at the combine. Like his UW teammates, Deiter has to make his decision long before then.