PASADENA, Calif. — With several weeks to prepare for bowl games, college football coaches often get adventuresome, putting in new plays and schemes they wouldn't have time for in their normal week-to-week routine.
Tight end Jake Ferguson is hoping University of Wisconsin coach Paul Chryst is at his creative best when the Badgers (10-3) meet Oregon (11-2) Wednesday in the Rose Bowl.
"I've definitely wanted a tight end reverse pass put in," Ferguson said with a laugh. "I told Coach we have the weeks to prepare, but I don't know if he's going to do it."
You never know. Chryst has displayed considerable offensive creativity in bowl games, but putting in new wrinkles is only one reason he has a 4-0 bowl record at UW. Chryst has also shown a remarkable ability to get his players to perform at a high level in bowl games, something that isn't easy for coaches to do, especially when their team is coming off a disappointing loss or season.
Of course, it helps when you're in the Rose Bowl, the greatest consolation prize in sports. If you fall short of the four-team playoff, a game in Pasadena is the next best thing.
"This is the bowl game you want to go to," tailback Jonathan Taylor said. "Before college playoffs was a thing, this was the bowl. So we're going to be out there and be really excited."
With Chryst pulling the strings, that's almost a given. He learned how to prepare a team from the old bowl-meister himself, former UW coach and current UW athletic director Barry Alvarez. Alvarez was 3-1 in Rose Bowls and 9-4 in bowls overall, including a 1-1 record as an interim coach.
Chryst was the offensive coordinator in Alvarez's final season in 2005 and remained in that position through 2011 before becoming the coach at Pitt, where his bowl record was 1-1 in three seasons. You may recall that Chryst's game plan in Alvarez's final game as coach was a thing of beauty. UW couldn't match Auburn's team speed in the Capitol One Bowl, but Chryst schemed to get his two fastest players — tailback Brian Calhoun and wide receiver Brandon Williams — the ball in space, resulting in more than 200 yards from scrimmage from each one in the Badgers' 24-10 victory.
Since Chryst took over at UW, the Badgers have beaten USC, Western Michigan and Miami (Fla.) in bowl games — defeating Miami twice. His game plans included things like tight end screens, more fullback runs and, last year, option runs by quarterback Jack Coan.
Those weren't wholesale changes, just a little something to make the opposing coaches and players scramble. Chryst said there is a fine line between putting in new things and overloading his players.
"You've got time to maybe put in something specifically for the opponent, but you had better not try and reinvent everything," he said, noting that his players had reduced practice time since the regular season was pushed back this season and UW played in the Big Ten Conference Championship Game. "You don't have a ton of time. You can put in a play-action pass off of something because you see how they fit it or you can put in something else, but the bulk of your plays better be from the bulk of your offense."
More important than the game plan is the team's approach. Alvarez always told his players to have fun when it was time to have fun and work when it was time to work. Chryst does the same.
"I think what I took away from him was that it's a reward for the players and for the coaches' families and so enjoy that part of it, and then I also believe the thing you still will remember the most is the game," Chryst said. "So if you can balance those two, you can make it a success."
Alvarez has praised Chryst for making bowl games important to the players, something that can be difficult. Some players might be thinking of their NFL future, others might have checked out mentally when the team fell short of its goals.
Only in Chryst's first year did UW go into a bowl game off a victory. The Badgers lost in the Big Ten title game in 2016, 2017 and again this year. Last year, they were coming off a shocking loss to Minnesota. Yet, they always come to play, usually jumping out to early leads.
"I think Coach does a great job of telling them to be in the moment," offensive coordinator Joe Rudolph said. "It's the holiday season. It's bowl game festivities. Enjoy what you're doing, have fun with it. And the two key things are focus and caring about each other."
A good way to tell how important the game is to UW's players is their attendance. These days, college players routinely duck out of bowl games to prepare for the NFL draft process.
UW has players who could have opted for that route this year, but will continue its streak of never having a player bypass a bowl game. The program's culture won't allow it.
"I think it says a lot about their character, first and foremost," linebacker Chris Orr said. "Second, I think it says a lot that they love football. Collectively as a program, we love football here. When you love football, you don't just skip out on your last game with your team. I'm not saying people don't. I definitely understand the decision. I wouldn't be mad at somebody if they did. But we truly love each other and nobody wants to leave anybody behind. You don't want to end your last game as a team or your last game with some of your teammates on that Big Ten loss. You want to finish with a win."
Under Chryst, that's what UW does.
---
Badgers vs. Oregon: Who has the edge?
Who has the edge when the Badgers take on Oregon in the Rose Bowl?
WHEN THE BADGERS HAVE THE BALL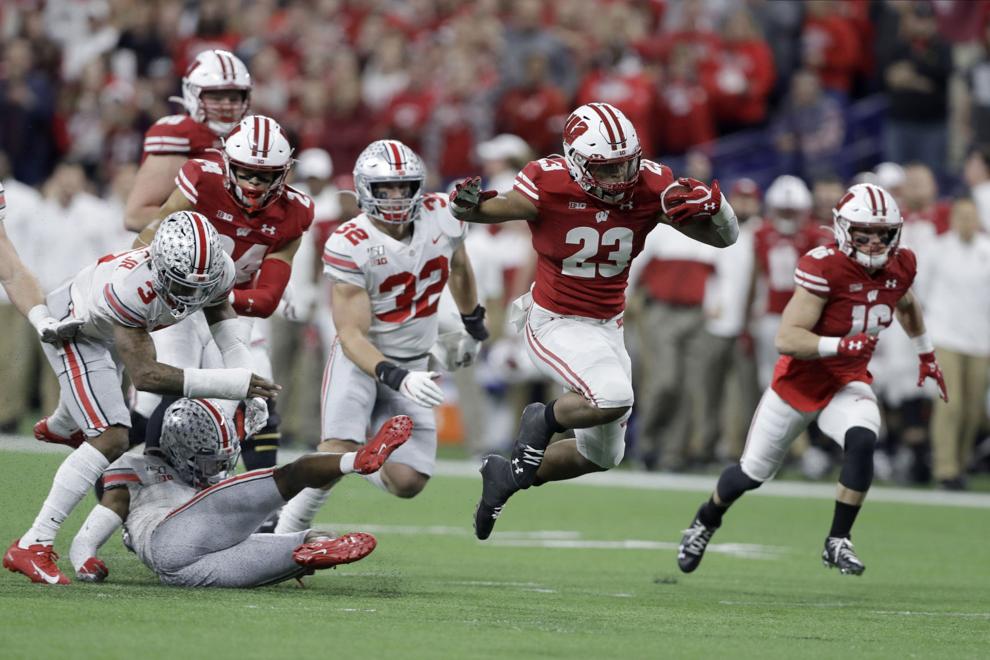 The Badgers played one of their best halves of offense to open the Big Ten Championship Game, and held a 21-7 lead at halftime. That didn't stick, as Ohio State stormed back to win, but the things that worked early on are what UW can focus on against the Ducks in the Rose Bowl.
A lot of attention will be on Doak Walker Award winner Jonathan Taylor (above), who is likely playing in his final game for UW. His 1,909 yards were second in the FBS this year, and he has a chance to end his college career on a high note. Before the Pac-12 title game against Utah, Oregon played just one team (Auburn) whose rushing offense finished in the top 50 in the FBS.
Receiver Quintez Cephus and quarterback Jack Coan continued to show a strong connection against Ohio State, and Cephus is a tough matchup for an Oregon secondary that 222.8 yards per game in the air (58th in FBS). UW will look to maintain variety in its offense with jet sweeps, end arounds and Coan's willingness to keep the ball on read options.
Linebacker Troy Dye led the Ducks with 75 total tackles, 9½ of which were for loss. Kayvon Thibodeaux is the bright spot up front for the Ducks with 14 tackles for loss including nine sacks. Coan will need to be smart with the ball against Oregon's secondary, which has 19 interceptions.
EDGE | UW
WHEN THE DUCKS HAVE THE BALL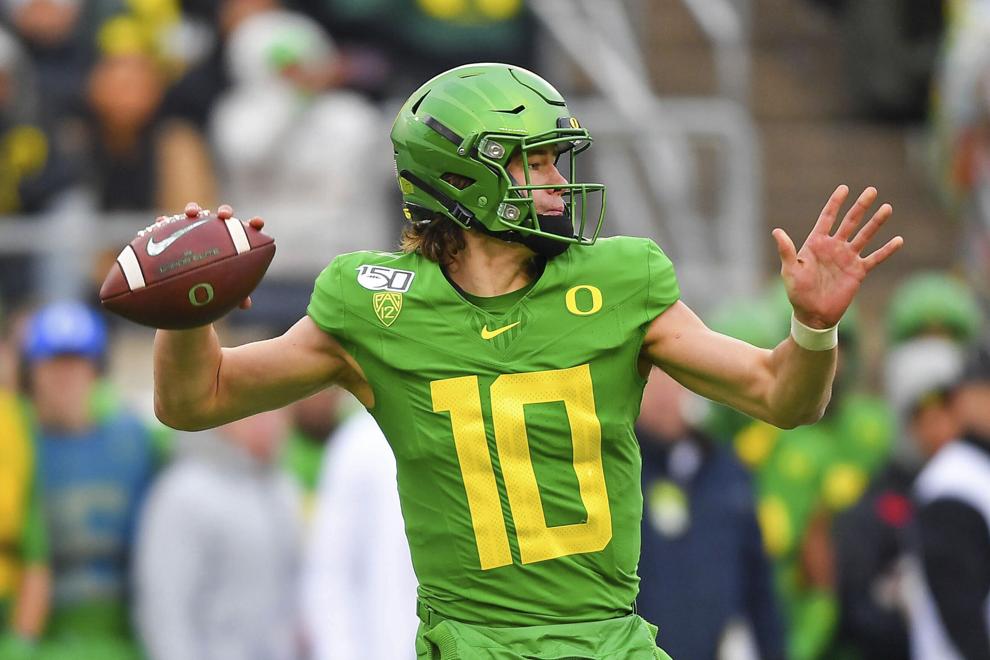 Led by senior quarterback Justin Herbert (above), the Ducks have one of the best passing attacks in the country. Oregon's team passing efficiency rating of 160.37 is 13th in the FBS. Herbert threw for 32 touchdowns to just five interceptions, and used a bevy of receiving threats to do it.
Four Oregon receivers have at least 25 catches, 400 yards and three touchdowns this season. Junior Johnny Johnson III leads the group with 55 catches and 818 yards, and his seven touchdowns are tied with Jaylon Reed (50 catches, 465 yards) for the team lead. However, the Ducks maintain balance offensively with a solid running game — an average Oregon game has 37 rushes and 33 passes.
CJ Verdell is Oregon's top rusher with 1,171 yards this season, while Travis Dye has added 655. Cyrus Habibi-Likio has been the short-yardage back for Oregon, and he's scored a team-best 10 touchdowns. The Badgers will need to limit the Ducks' run game and generate pass rush against a strong offensive line.
Outside linebacker Zack Baun, who has been stacking up All-American honors this season, will have one of his top challenges to date with Penei Sewell, Oregon's Outland Trophy-winning tackle. After playing well against Minnesota, the Badgers' secondary struggled against the Buckeyes when quarterback Justin Fields extended plays with scrambles. Herbert has that ability as well, so the game may swing on how those defensive backs hold up on long plays.
EDGE | OREGON
SPECIAL TEAMS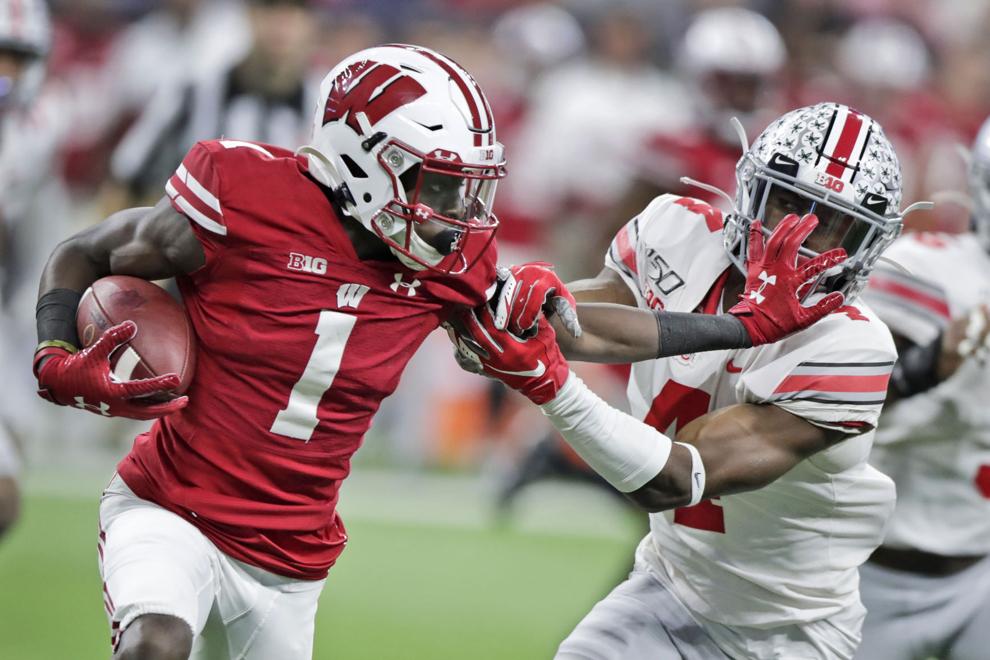 Neither team has had a particularly strong year out of their kickers.
UW's Zach Hintze missed his first field goal since taking over as the placekicker when his 48-yard field goal went left against the Buckeyes. Between Hintze and Collin Larsh, Badgers kickers are 12 of 18 on field goals this season. Oregon's Camden Lewis is 9 of 14 on field goals after starting the year 0-for-3.
UW's Aron Cruickshank (above) has been a dynamic kick returner, averaging 25.3 yards per return including an 89-yard touchdown. Oregon counters with Mykael Wright, who averages 38.7 yards and has two touchdowns on nine returns.
Blake Maimone's 43.9-yard average on punts is one of the best in the country, and he has 15 punts of more than 50 yards.
EDGE | OREGON
COACHING
Mario Cristobal's short tenure as the Ducks' coach has seen the program get back to national relevance after a couple of down seasons.
The longtime offensive line coach is 20-6 as Oregon's top man, and looking for his second bowl win. He makes his mark on the Ducks' offensive line, which has been one of the best units in the country. Oregon's offensive coordinator, Marcus Arroyo, was hired as the head coach at UNLV in early December, but will coach the Rose Bowl.
UW coach Paul Chryst (above) is coaching in his third Rose Bowl after being the offensive coordinator and quarterbacks coach for the Badgers in the 2010 and 2011 games. He and offensive coordinator Joe Rudolph have added layers to the offense throughout the season, blending Taylor's between-the-tackles runs and the quick passing game well.
How defensive coordinator Jim Leonhard blitzes to pressure Herbert, who's playing in his final game, will be fun to watch.
EDGE | UW
INTANGIBLES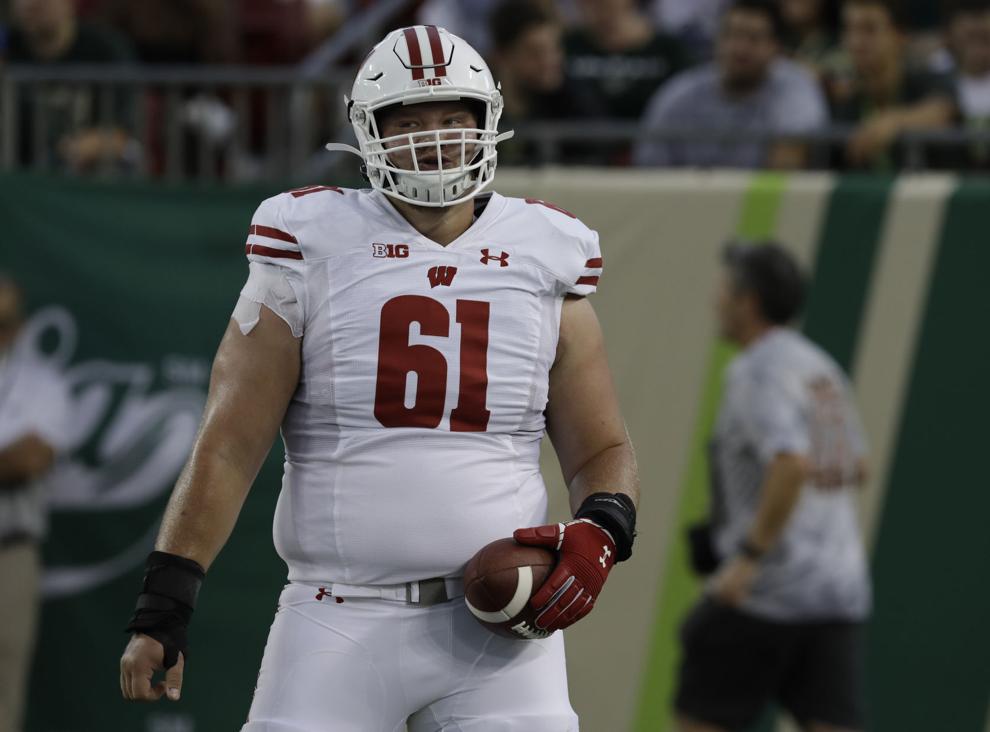 There's a thought out there that because of the College Football Playoff, the Rose Bowl doesn't hold the same meaning it once did — don't buy it. Both teams will be thoroughly motivated to end bounce-back seasons for their programs with a strong showing, and winning the biggest bowl game outside of the playoff will do that.
The Badgers will certainly have some extra juice with two of their best players, Taylor and center Tyler Biadasz (above), likely playing their final games for the program. UW also wants to shake its three-game losing streak in the Rose Bowl.
Herbert will be looking to add a statement win to his college career before embarking on an NFL journey.
EDGE | PUSH
STATE JOURNAL'S PICK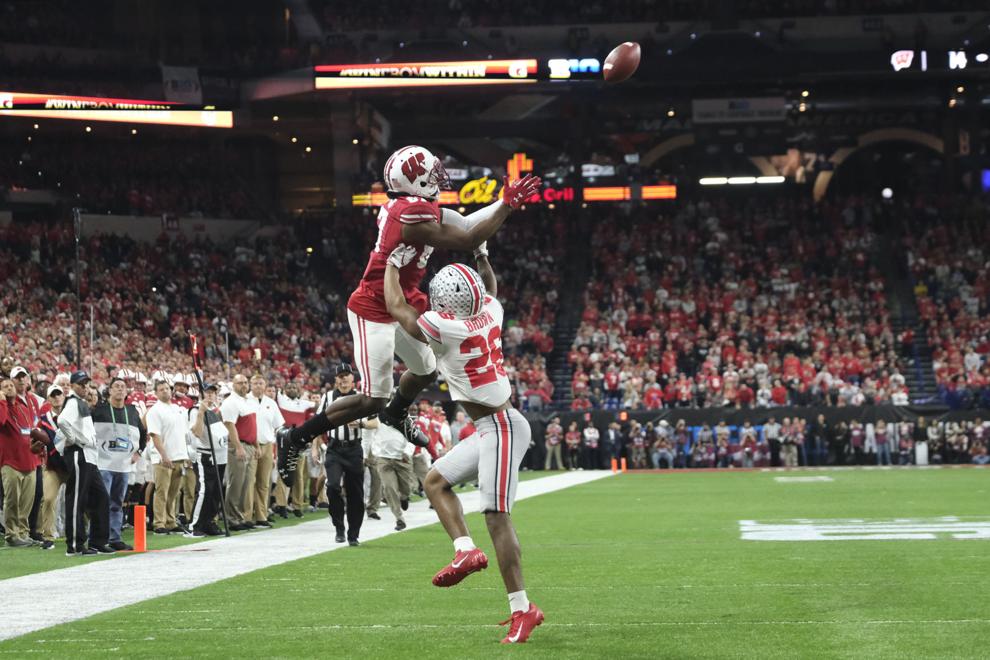 This should be another classic Rose Bowl for the Badgers. The Ducks are a tough team and have the ingredients to win, but UW has bounced back from a midyear slump to look like a complete team. The Badgers' last six Rose Bowls have been one-score games, and this one will be too. But Taylor puts on one more memorable performance on his way to the pros to lift the Badgers.
BADGERS 31, DUCKS 28
THE NUMBER (UW)
14: Lost fumbles for the Badgers, playing against an Oregon defense that has only forced seven and recovered three
THE NUMBER (OREGON)
59: Tackles for loss allowed by the Ducks, tied with UW and Clemson for 12th best in the FBS
KEY STAT (OFFENSE)
Third-down conversions: UW has converted half of its third-down attempts this season, while Oregon's defense has allowed a 33.5 percent conversion rate
KEY STAT (DEFENSE)
Completion percentage: Despite completing two-thirds of his passes this season, Justin Herbert has been at or under 60 percent completions over the past three games
Video: Badger Sports Report with Greg Gard, week of 12-29-19
Video: Behind the Badgers — Rose Bowl preview