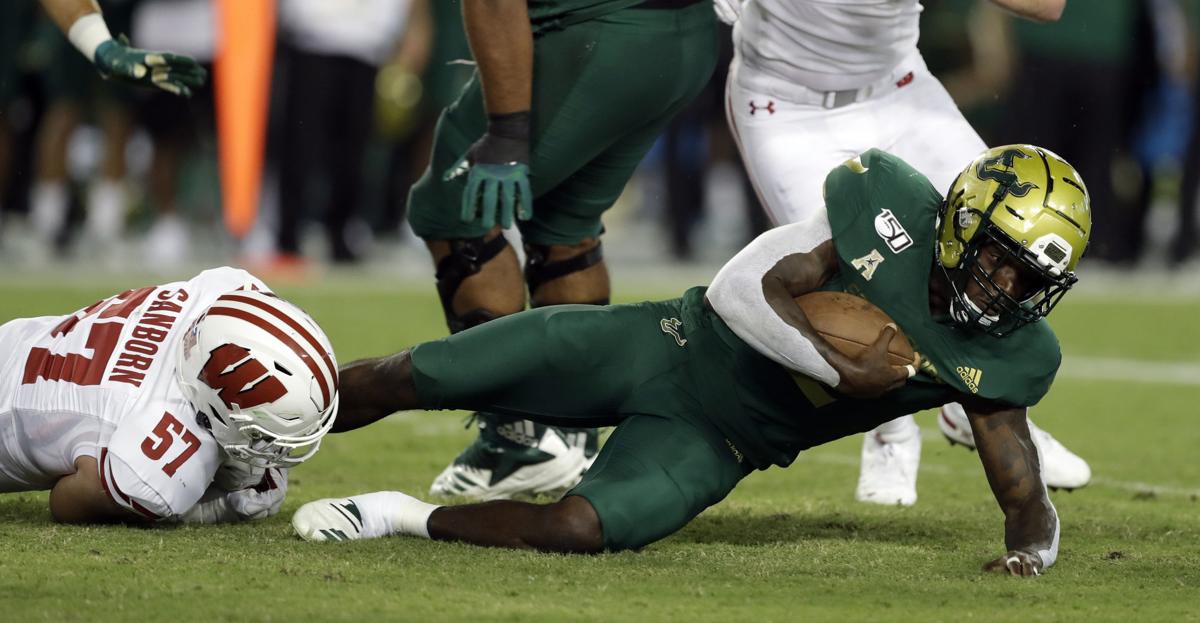 TAMPA, Fla. — It was anything but a traditional season opener for the University of Wisconsin football team.
Rather than kick off its season with a no-worry home game against an opponent from the Football Bowl Subdivision's lightweight classification, UW somehow ended up playing South Florida of the respected American Athletic Conference at Raymond James Stadium Friday night in the opening game of what many think will be a pivotal season for a program coming off an 8-5 record.
Only once in the last 15 openers — at UNLV in 2010 — has UW started a season with a true road game. And to do it against a Bulls team that has a veteran offense with plenty of speed and skill and is picked to finish second or third in the AAC East Division had the potential to turn into a scheduling nightmare.
Originally scheduled in 2013 and later moved from 2017 to 2019 in part because the Big Ten Conference went to a nine-game conference slate, the game figured to be a stern opening test for a Badgers team that was ranked 19th in the preseason poll mainly on reputation. At least it was considered a test by UW coach Paul Chryst, who refused to take issue with such a tough opener even though it was scheduled when he was the coach at Pittsburgh at Gary Andersen was at UW.
"I don't know that I know how it came about, but I do like it," Chryst said early in the week. "You're going to choose to like it. And I think our guys are fired up to be doing it and playing a good team. Every first game you're going to find out a lot about yourself. You're going to get tested in ways that maybe you couldn't anticipate and don't anticipate."
Make no mistake, opening at South Florida was nowhere near as difficult as starting the season with a neutral-site game against LSU or Alabama, something UW did three times in recent years. But that didn't make UW's 49-0 rout of South Florida any less impressive.
The Badgers dominated the Bulls in every way imaginable, rolling to a 35-0 lead just 2 minutes into the second half. The most important development, however, was that the Badgers did things on both sides of the ball that proved they have addressed the many issues that plagued them last season and put them into play on the field.
Quarterback Jack Coan looked more composed and confident. The offense was more balanced between run and pass. The defense forced three turnovers and even scored a touchdown. Showing great depth, it stuffed the run, got after the quarterback and had sticky coverage in the secondary.
All of those were significant problems last season.
"We just knew we had to get back to playing Wisconsin football," linebacker Zack Baun said. "We knew that we had something to prove, something to make up for last year. We corrected the little things in the off-season and it paid off."
One thing that wasn't a problem then or now was tailback Jonathan Taylor. The nation's rushing leader last season, he returned, as promised, with an added dimension. Playing less than thee quarters, Taylor ran 16 times for 135 yards and two touchdowns but also caught two passes for 48 yards and two more touchdowns.
Coan built on his four starts last season, showing more poise in the pocket and more accuracy on short and intermediate passes. He was 19-for-26 for 199 yards and two touchdowns, a mistake-free effort that gave UW exactly what it needs from its quarterback.
Coan and the best group of pass receivers UW has had in a long time combined to give UW something it seldom had last season — balance. Through three quarters, the Badgers had 190 yards rushing and 190 passing. Quintez Cephus' return was a success, but Coan didn't lack for targets among Taylor, tight end Jake Ferguson and four capable veterans at wide receiver.
The defense made its biggest mark early in the second quarter when Baun blew around the tackle and hit quarterback Blake Barnett in the back, causing a pop-up fumble that end Matt Henningsen grabbed out of the air and returned for a touchdown and a 14-0 lead. It set the tone for a defense that had only 19 sacks and didn't score a touchdown last season. In all, UW dropped South Florida quarterbacks four times.
Just as important, UW's revamped front seven stuffed South Florida's running game. UW used a 2-4-5 scheme to combat the Bulls' spread offense, but the interior linemen and inside linebackers limited South Florida to 26 yards on 23 carries. Despite returning many of its starters from a solid offense, the Bulls didn't surpass 100 yards in total offense until late in the third quarter, and even then they did it on a failed fake punt. When UW scored a few plays later, it had a 42-0 lead.
"USF is a great program," Ferguson said. "We came into this game knowing it was going to be a fistfight. We didn't expect anything else. I think we clicked in a lot of spots where we wanted to. We did a lot of things that we liked on offense and our defense played good Wisconsin defense. It's awesome when you're sitting there as an offense and you look out there and all of a sudden it's a three-and-out or a turnover. I'm proud of the way the defense played and I'm also proud of the way the offense clicked tonight."
It was only one game against a team that didn't meet expectations, but UW couldn't have drawn up an opener any better.
Prepare for kick off of the University of Wisconsin's football season on Friday night against the South Florida Bulls with the Wisconsin State…
Be the first to know
Get local news delivered to your inbox!