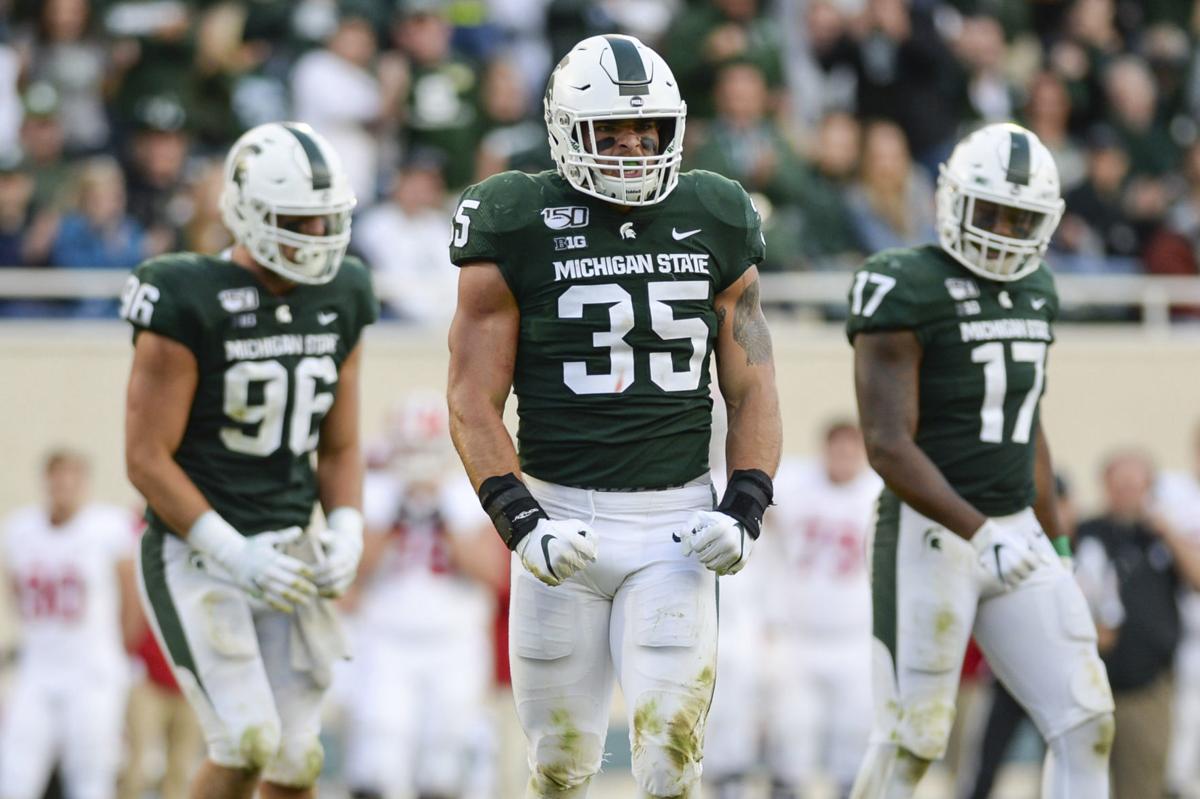 Coming off an 8-5 season, the University of Wisconsin football team had many skeptics, a legion of people from near and far who thought the program was headed downhill after it had averaged 10 wins a year since 2009.
Five games into this season, most of those skeptics have been converted. Or, in this case, re-converted.
UW is 5-0, ranked eighth and the only team in the nation that hasn't trailed all season. Its offense ranks 11th in scoring and its defense ranks first in just about every major statistical category in the 130-team Football Bowl Subdivision.
As dominant as UW has been through five games, however, there is still a bit of doubt. Fueled largely by the offense's struggles against Northwestern two weeks ago, there remains a fair amount of angst that the Badgers' traditionally one-dimensional offense will return to Earth as soon as it runs into an elite defense.
Well, the elite-defenses portion of the schedule has arrived. Starting with Saturday's Big Ten Conference game against Michigan State at Camp Randall Stadium, UW will face some of the nation's best defenses in three of its next four games, defenses that possess All-America candidates plus talent and speed on all three levels.
The Spartans are ranked a very misleading 22nd in total defense, a number inflated when Ohio State's dynamic offense hit Michigan State for 323 rushing yards and 529 total yards last week. Before that, the Spartans stood seventh in total defense.
That was still below Ohio State and Iowa, which UW will face following a game at Illinois. The Buckeyes are ranked third in total defense, the Hawkeyes fifth.
The numbers don't lie. UW's offense will be put to the test over the next month, starting with Michigan State, which is 4-2 and was a fixture in the top 25 until its 34-10 loss to Ohio State.
"It's going to be awesome," left tackle Cole Van Lanen said. "It's going to be a challenge, but you want the challenge. You come out ahead on a challenge like that and it really just shows how good you are. I'm excited for it."
You have free articles remaining.
Don't worry, the Badgers aren't looking ahead to Ohio State and Iowa. They know Michigan State's defense is at least the equal of those two units and, of the three, probably matches up best against them because the Badgers rely so heavily on the running of tailback Jonathan Taylor and Michigan State might have college football's best front seven against the rush.
A year ago, Michigan State led the nation in rushing defense. Six starters from the Spartans' front seven are back, including tackles Raequan Williams and Mike Panasiuk, end Kenny Willekes and middle linebacker Joe Bachie. If you haven't heard of them, you will when the All-Big Ten and All-American teams come out. Michigan State ranks 21st against the rush this season, but was fourth before the Ohio State game, so nothing much has changed.
Saturday's game likely will turn on this matchup of strength versus strength, this battle royale for dominance along the line of scrimmage.
"It's exciting because you know that you've worked all season and now it's your time to really get put to the test," said Taylor, who is second in nation with 149 rushing yards per game. "It's time to strain, it's time to fight and see who wants it more. You never really rise to the occasion, you always fall to the level of your training. We know we put in a lot of training and a lot of hard work in the offseason, so we know we're ready."
Northwestern's defense, ranked 30th nationally, held UW to season lows of 243 yards and 24 points. Perhaps more than any other defense, however, Northwestern has the secret and the type of personnel to make UW sweat. In the Badgers' other four games, they've averaged 48.3 points and 510.3 yards per game.
Most assuredly, Michigan State coach Mark Dantonio and his staff have worn out the video of the Badgers-Wildcats game, making UW's challenge even more difficult. Moreover, the Spartans were stung by what happened against the Buckeyes and are openly seeking redemption.
UW's offense must do two things to make Saturday a success. It must establish the run with Taylor, who has rushed for 100 or more yards in 27 of his 32 career games, including the past 10. And it must get quarterback Jack Coan and his deep corps of wide receivers more involved than they were against Northwestern, when coach Paul Chryst seemed to lose faith in what had been an improved, more versatile passing attack.
Now that the rebuilt line has five games on its collective resume, the Badgers are as ready as they'll ever be.
"At times," offensive coordinator Joe Rudolph said, "everything's exactly the way you like it and, at times, it's not. Which leans towards consistency and that's what separates good teams from great teams. If you can consistently be the good you, if you can consistently execute well, if it isn't the one guy on this play, the one guy on that play — it's hard for 11 guys to be consistently the good them through a series, through a game — that's the battle. That's the battle every day. ... We haven't yet reached that consistency level, but we're flirting with it a lot. We're going to keep grinding, keep pushing to that."
The Badgers have quieted the skeptics. Now it's time to see if they can silence them for good.