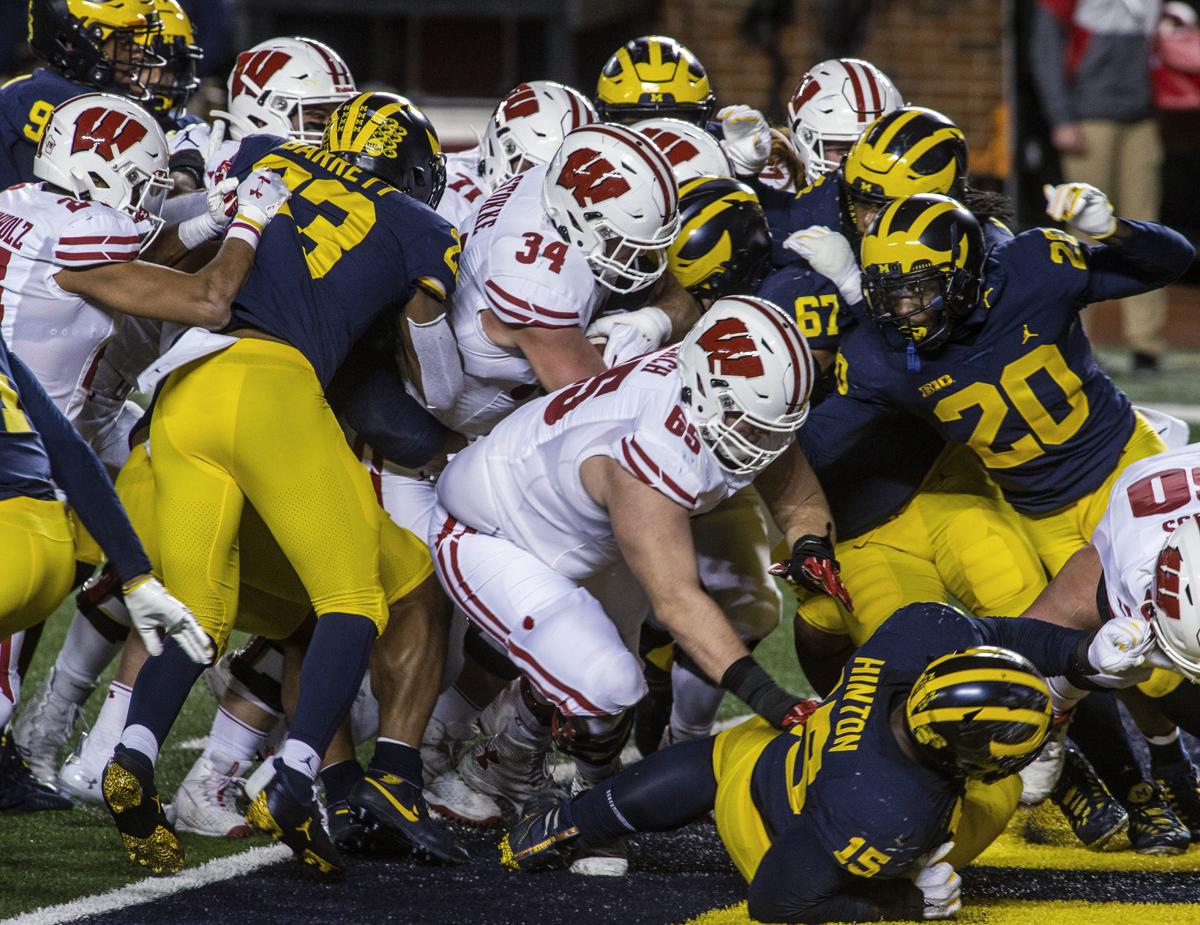 Only one thing was certain when the 13th-ranked University of Wisconsin football team played once-mighty Michigan in Ann Arbor Saturday night.
After all the stops and starts, lost practice time, virtual meetings, living-room workouts and two canceled games due to the COVID-19 pandemic, the Badgers' margin of error in the 2020 season was down to zero.
Everything else was open to speculation.
Would the Badgers be rusty after sitting idle for almost three weeks? Would they lose the spirit they showed in their season-opening blowout of Illinois? With 10 key players unavailable for the game, would they have the manpower to win at Michigan Stadium, where they had won only twice in their previous 20 games? Would they take on a defeatist attitude since they lost opportunities to play Nebraska and Purdue and can't afford to have another game canceled and still contend for the Big Ten Conference title.
Even though freshman quarterback sensation Graham Mertz looked more human than he did in his exceptional starting debut, the rest of the Badgers players and coaches made sure everyone knew that they didn't spend their COVID-mandated sabbatical sitting on their hands or feeling sorry for themselves.
The Badgers executed on both sides of the ball like they never missed a practice or a game in pushing their record to 2-0 and dropping Michigan to 1-3. Instead of letting their attention wander while idle, they kept their momentum. It takes a special program to maintain its approach after such a disappointing pause to its season. Even short-handed, the Badgers didn't miss a beat.
"It was a good night," coach Paul Chryst said. "I'm really proud of the way that everyone worked through what we've gone through. It was great to get back to playing, but I thought the coaches put together a heck of a plan and, most importantly, the players made it come to life. I thought they did a nice job of just starting fast — obviously the (two) takeaways were huge — and playing complementary football. ... A lot of guys contributed. That's what we thought coming in was that it was going to take everyone's effort. I think we got a lot of effort out of a ton of guys. But I'm proud of the way not just they handled the night but how they've handled the last three weeks or so."
Michigan was shorthanded as well, due largely to injuries that claimed its best two pass-rushers and two offensive tackles. But the Wolverines figured to be a desperate team after stunning back-to-back losses to Michigan State and Indiana. Though coach Jim Harbaugh acquired an army of critics after those losses, the fact remains that Michigan recruits at an extremely high level and usually has the manpower to overcome personnel losses.
This time, though, it was UW that looked like the deeper, more talented, more motivated team. Even without Mertz carrying the load.
The Badgers defense set the tone in the rout, intercepting the first two passes thrown by Michigan quarterback Joe Milton. Both set up UW deep in Michigan territory and the offense turned them into a quick 14-0 lead.
When UW pushed that lead to 28-0 in the second quarter, Michigan's offensive numbers were embarrassing. At that point, the Wolverines were 0-for-4 passing with two interceptions, had 6 yards rushing on six carries and didn't have a first down.
UW also showed its superior depth, mostly by turning to true freshmen. Running back Jalen Berger and wide receiver Chimere Dike gave the offense a jolt of speed after making no impact in the opener. And outside linebacker Nick Herbig made plays for the second straight game. If you want more evidence that UW's recruiting is on the upswing, this was it.
Another positive development for UW was an improved running game. Historically, the Badgers have struggled to run the ball against the Wolverines defense, but Chryst and his staff devised a running game that attacked Michigan on the edges with backs and wide receivers.
It wasn't the power running attack we're used to seeing, but it had Michigan's defense on its heels from the start. The result? UW finished with 341 rushing yards on 51 carries, including 105 by wide receivers on jet sweeps, end arounds and reverses. Berger and Nakia Watson combined for 152 yards on 27 carries while giving UW a great change-of-pace duo at tailback.
For the second consecutive game, UW looked like the best team in the Big Ten West Division and a team that could deserve strong consideration for the College Football Playoff should it beat still-mighty Ohio State in the conference championship game. If you're superstitious, though, keep your fingers crossed because UW has a long way to go.
Games against Northwestern and Indiana look much tougher than they did a few weeks ago and the toughest opponent, COVID-19, still hasn't been defeated. Even if UW has put its own bout with COVID-19 in the past, it could still see a game canceled if another opponent has an outbreak and then it couldn't qualify for the Big Ten title game.
That would be a shame because UW showed Saturday night it has the talent and resolve to go a long way.
---
Photos: Badgers put Wolverines away early