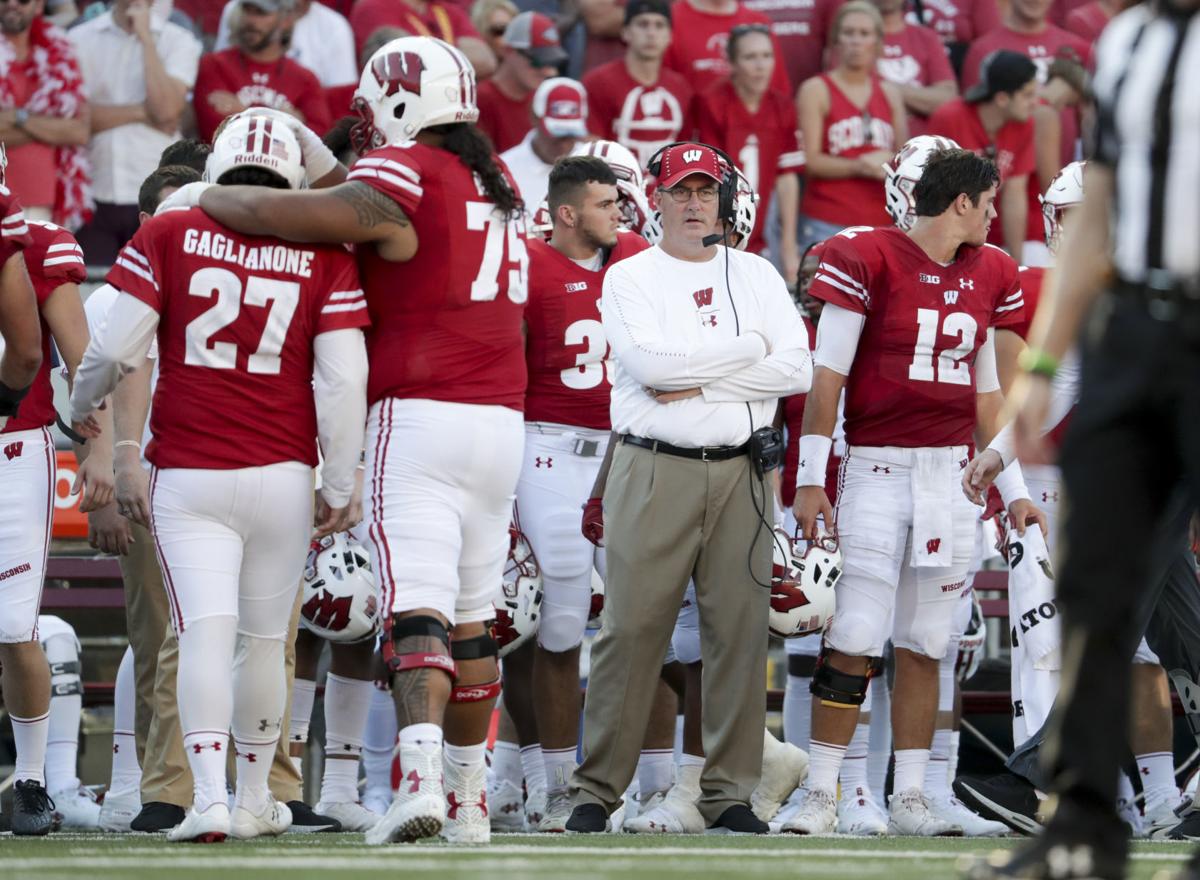 Camp Randall Stadium isn't a place where great expectations go to die.
Not for the University of Wisconsin football team, anyway.
But the unthinkable happened Saturday when the sixth-ranked Badgers, who have spoken openly about competing for the national championship since last spring, played uninspired football for 60 minutes and paid dearly for it, dropping a 24-21 decision to BYU at Camp Randall. The loss snapped UW's NCAA-best, 41-game winning streak in non-conference home games.
A path to the national championship can still be found for the Badgers, who fell to 2-1 on the season, but such talk is beyond ludicrous after UW was outplayed on offense, defense and special teams by BYU, a team that went 4-9 last season and lost to UW in Provo by 34. The Cougars played better and coached better than they did last year, but they still weren't the team anyone expected to throw UW's most-anticipated season in years for a loss.
Iowa in Iowa City next week? Maybe. Northwestern at Evanston? That's always something to guard against. Michigan or Penn State on the road later in the season? Quite possibly. But BYU at home? That's not something anyone thought could happen.
The Wisconsin Badgers lost to the BYU Cougars, 24-21, on Saturday afternoon at Camp Randall Stadium in Madison. 
"It stings," linebacker Ryan Connelly said. "It's disappointing. We have a lot of goals and obviously winning every game is one of them. We've just got to let it sting and remember this feeling so we can come back next week ready to go."
That's the proper reaction, of course, because the outcome can't be changed. Taking their cue from coach Paul Chryst, most of the Badgers spoke afterward about the loss adding fuel to the fire when the Big Ten season opens next week.
However, that forward-looking approach can't erase the feeling that UW didn't show up fully ready for the challenge BYU presented and wasn't good enough to recover once the Cougars gained some confidence. BYU was physical from the start, in many ways beating the Badgers at their own game. UW has been a team where the offense or defense usually picks the other one up when it struggles, but that didn't happen Saturday. Indeed, UW wasn't sharp in any phase of the game.
"It's not like we came into the game with a bad attitude today or anything like that," guard Michael Deiter said. "It's just that we got footballed today. It just didn't go our way and we were never able to spark it the way we usually can, (where) someone will make a play sooner or later. And there were those plays, there were those opportunities to grab some momentum and run with it, but we'd shoot ourselves in the foot or something would go wrong here or there and we'd kind of stop ourselves. You can't really beat really good football teams doing that and I think BYU's a good football team. If you give them that kind of momentum, they're going to run with it."
Wisconsin State Journal reporter Jason Galloway collected some of the best tweets after the Wisconsin Badgers fell to the BYU Cougars, 24-21, …
You have free articles remaining.
And run with it. And run with it. First around the edges with an endless array of jet sweeps, then up the middle on Squally Canada's 46-yard run that set up BYU's game-winning field goal in the fourth quarter.
Indeed, UW was barely recognizable against BYU. The team that had won 16 of its previous 17 games was slow to adjust to BYU's schemes and had a shortage of big plays on both sides of the ball. The Badgers gifted BYU with one touchdown on an Alex Hornibrook interception and fell victim to a trick play for another BYU score. The offense had penalties at critical times, stalling drives against BYU's stubborn defense. Tailback Jonathan Taylor ran hard, but his longest run went for 15 yards. The defense allowed four plays of 20 yards or more after giving up one in the first two games.
Things were so bad that Mr. Automatic, Rafael Gaglianone, missed a potential game-tying field goal in the final minute. Of course, the game never should have come down to that.
Asked if he was stunned or upset by the loss, linebacker Zack Baun said, "More upset with ourselves. We left a lot out there, I'd say. There were a lot of plays that were left out on the field."
As a result, UW will be left out of the national discussion for a good long while. The Badgers can still win the Big Ten West and give themselves a shot in the conference title game, but they'll have to bounce back quickly from this unexpected setback. From the sound of things, they've already started the recovery process.
"I don't think it's deflating at all," Hornibrook said. "I think it's the exact opposite."
Only if the Badgers make it so.
"You've still got a whole season left," Hornibrook said. "I think that's just the way that everybody is wired in this locker room. A loss isn't deflating, it isn't going to defeat you. Just like everything in life really, that's the wrong mind-set if that's how you're looking at it."
No, the Badgers aren't dead yet. But no team has ever reached the College Football Playoff with two losses and they already have one.
"It hurts," safety D'Cota Dixon said. "It hurts even worse to see that reaction on the guys' faces on the sideline having to accept a loss. It is not necessarily the loss itself but the opportunity we let go. But this is fuel and we will get better from this."
If they don't, any remaining expectations will be lost as well.