The way he recites the play, it's clear the memory is always in the back of his mind.
"Eighteen seconds left, on the 20-yard line, I throw a post and the corner undercut it," Deacon Hill says of the final play of last season's CIF-SS Division 8 championship game. "I've got something to prove."
It didn't matter that Hill — a 2021 quarterback recruit who's committed to the University of Wisconsin — had scored a go-ahead touchdown on the previous drive. Or that he'd made a number of scoring plays earlier in the game. To Hill, the loss matters. It's created unfinished business, and it's been a motivator through a difficult and isolated offseason.
Hill, a three-star prospect per 247Sports' composite rankings, ESPN and Rivals, is a prototypical quarterback. A 6-foot-4, 225-pound passer from Santa Barbara, California, whose big frame boasts a strong arm. He's been molding his body and his skills for almost a decade in order to make a splash when he reaches the college ranks.
The work he's put in with longtime coach J.T. Stone, the foundation he inherited from his family, and the mindset they instilled has Hill ready to compete when he joins the Badgers next fall.
"I kept telling everybody, 'I've got a kid coming. I've been working with him since the fourth, fifth grade,'" Stone said. "Everybody passed him up until Wisconsin. Wisconsin came in and got him."
'Like a second father'
Hill's family saw an advertisement for Stone's coaching lessons when Hill was in grade school. Stone was known in the area after being a star quarterback at Santa Barbara City College, and when he first met Hill he knew that without some training, Hill would've been put on the offensive or defensive line on account of his size.
Hill had natural gifts as a passer, especially in his upper body, which he credits to growing up playing water polo. But those needed refinement, so work with Stone started from the feet up. Hill learned how to engage his lower body into throws, building his base as a quarterback, and as he got older, the lessons progressed to reading defenses and more technical footwork.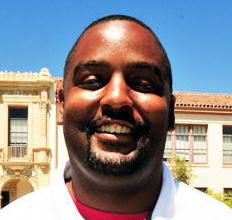 They grew close through the years, and the private lessons continued while Stone was coaching at area high schools. Stone was named the head coach at Santa Barbara High School in 2014, and that cemented in Hill's mind where he'd go to school.
"He's like a second father to me," Hill said. "I wouldn't be where I am today without him. He understands the game more than anyone I know. He's such a great coach, he understands concepts and all that stuff. … Our relationship is like no other."
Their bond allows Stone to push Hill, and push him hard.
Both laughed when asked what Stone does when he needs to light a fire under his quarterback.
"He knows where it's coming from," Stone said. "Everything we do now is preparing for Wisconsin. … I don't let him lollygag, I don't let him BS in practice … We just don't mess around. When you're on my time, there's no messing around."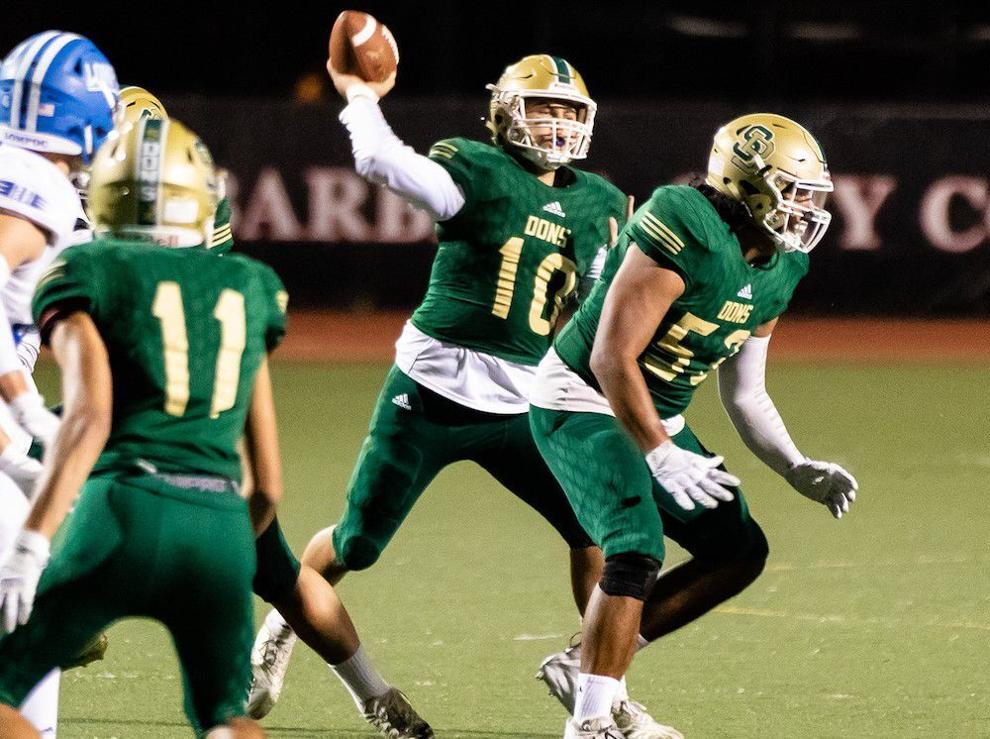 Competition at home
A Hill family vacation this summer featured a golf match that split the group into three teams of two.
Hill says it was heated, with everyone vying for the best score and bragging rights. That's typical of the Hills, he said.
"We get mad, even if we're just playing board games," Hill said through a laugh. "It's all fun. We laugh and joke, but we really get after it. Every single one of us is so competitive."
Hill's sisters — Sami, Kodi and Abbi — were elite high school water polo players and earned chances to play at UCLA. Sami won a gold medal with the U.S. Olympic Team in 2016. His parents, Cindy and Pe'a, were also college athletes. Cindy was an All-American basketball player at BYU, while Pe'a played basketball at BYU-Hawaii.
His family conditioned him to the hard work and commitment it takes to succeed.
"Since 7, 8 years old, none of us missed a practice. Two practices a day, all week, even if we were sick," Hill said. "A lot of people see what we do in our athletic careers, but the way my sisters carry themselves now in their jobs, it all translates over. Once you set that mindset, it carries on once you're older."
Hill said family guidance, especially from Sami and Kodi, has been helpful during the COVID-19 pandemic as traditional workouts have been shut down and he had to stay motivated to do things on his own.
While they may compete with each other, Stone says the Hills epitomize the caring family.
"What I always see is a loving, nurturing family," Stone said. "Pe'a and Cindy are probably the most supportive parents I've ever seen in my life. … I just see so much support for each other and for the family."
Loyalty matters
Once Hill trusts a person, he sticks by them.
His family and Stone are two examples, but he's also showing his loyalty by playing his final high school season. The CIF, the governing body of high school sports in California, moved the football season to the spring semester due to COVID-19. Hill was quick to announce he'd be staying to finish his career with his teammates and not graduating early.
"I just had so much respect for that because, here I am saying, 'Deacon, go, go compete (at UW),' but that's who he is," Stone said.
Hill's also been loyal to UW, staying committed even as college interest in him has grown. He said UW was the first school to invest in him and give him a scholarship opportunity, and that matters greatly.
He's also trying to spread that loyalty, actively recruiting other players in the 2021 and 2022 classes through group text messages and social media.
In Hill, the Badgers are getting a motivated, driven quarterback. In UW, Hill found a kindred spirit.
"Santa Barbara, we have some really good players here, we just get overlooked because we're undersized," Hill said. "Wisconsin, they're always in that top tier for football, but for some reason people underrate them, or don't give them the rating they deserve.
"That's where I really found my connection. They're about that blue-collar work that I find myself here with my family. That's where I need to be. That's where I could be the best."
Get to know the Badgers' 2021 recruiting class