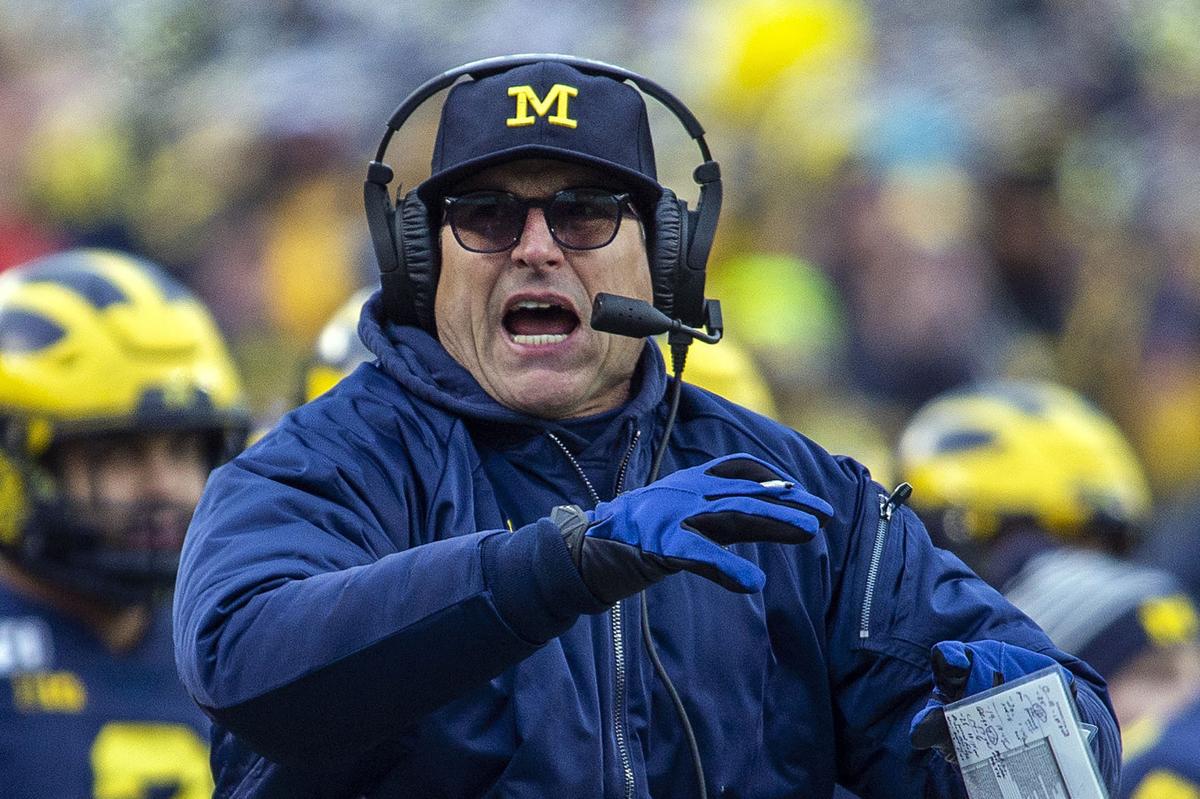 There were smiles, and even some laughs, from Jim Harbaugh during his Zoom meeting with reporters Monday. But make no mistake, those were uncomfortable reactions to questions the Michigan coach didn't want to be addressing.
Such is the state of affairs in Ann Arbor, where the Wolverines will try to right a sinking ship Saturday when they host a University of Wisconsin football team that will be playing its first game in three weeks.
A victory over the No. 13 Badgers (1-0) would help the Wolverines (1-2) end a two-game skid and make the seat under Harbaugh a little less toasty.
Michigan followed up a stunning home loss to Michigan State on Oct. 31 with a 38-21 loss at red-hot Indiana in Week 3. The Wolverines have dropped 20 games since Harbaugh took over the program following the 2014 season, a modest loss total until you consider this context: Half of those defeats have been by double digits, and nine have been by two or more touchdowns.
Starting with back-to-back routs to close the 2018 season, Michigan has been beaten by 17 or more points six times in a span of 18 games.
The Wolverines' pass defense has been atrocious this season – only Rutgers (290.3) has allowed more yards through the air per game than Michigan (287.3) among Big Ten teams – and that weakness was the backdrop for a warning aired by Urban Meyer earlier this week on the Big Ten Network.
Granted, a former Ohio State coach may not be the best person to issue state of the union remarks on the Buckeyes' arch-rival, but it's also hard to disagree with Meyer's take.
"And what does that mean down the road? They're in trouble," Meyer said Monday on The B1G Show. "And whether it's talent – I can't imagine it's that, (a) drop off that significant. IT has to be fundamentals that you have to play the football. And when you start seeing Indiana, Michigan State just light 'em up – throwing the ball down the field, over 300 yards in each game – that's very alarming."
While Harbaugh gave a vote of confidence to defensive coordinator Don Brown after the loss to Indiana, it's his own job security that has become an issue.
Harbaugh is 48-20 overall at Michigan, a .706 winning percentage. The Wolverines are 33-14 against Big Ten opponents during that span; only Ohio State (46-4, .920) and UW (35-13, .729) are better.
But, again, some context is required: Michigan is 0-5 against Ohio State and hasn't even won an East Division title, much less a Big Ten crown, under Harbaugh.
Considering the hype when Michigan hired Harbaugh, an alum who played quarterback under Bo Schembechler, both of the following can be true: The Wolverines have been successful compared to the non-Ohio States of the Big Ten and also can be considered an underachiever.
Meanwhile, the 7-year deal Harbaugh signed when he was hired is slowly running out as he nears the midway point of his sixth season with the Wolverines. According to Yahoo! Sports, Harbaugh is the only Power Five coach with fewer than two years remaining on his contract.
There were reports in the spring that Harbaugh, who came to Michigan after a successful run with the San Francisco 49ers that included a Super Bowl appearance, was on the verge of signing an extension with the Wolverines. When Harbaugh was asked for an update in July, with the Michigan athletic department's finances reeling due to the COVID-19 pandemic, he said, "Just been other fish, bigger fish to fry."
Three months later, Harbaugh's contract status has remained unchanged. Reports have indicated his total compensation for the 2020 season is over $8 million, leaving some Michigan fans angry the school isn't getting enough bang for its buck.
Which brings us to his back-and-forth with a veteran Michigan newspaper reporter earlier this week. It's November, when Harbaugh-back-to-the-NFL rumors typically begin to swirl, and Harbaugh was asked if he wanted to address that issue.
"I don't really have anything to really say to that, because I don't have an interest in listening to that kind of stuff," Harbaugh. "I think you know me by now. I always like letting the action speak for what you have to say. I've always thought this, that your actions speak so loudly that people can't even hear what you're saying. I'll let the actions speak as they have in the past."
Was that Harbaugh's way of saying he wants to be at Michigan for a long time?
"Yeah. Those are the actions," Harbaugh said. "No matter what I say to you … I've been here for 5½, almost 6 years, and I've experienced this. No matter what I say, the next day something else is said, or the next year the same thing comes up. No matter what I tell you, tomorrow somebody else will be written by somebody else. So I'm going to let my actions speak loudly and hopefully, you know me, my actions have been consistent."
It seems unlikely, given the financial picture at Michigan during the pandemic, that the school would fire Harbaugh and pay a buyout. On the flip side, can it really justify rewarding him with a lucrative extension?
That's where the Wolverines find themselves as they navigate the territory between mediocrity and excellence. A slow start to the 2020 campaign means it's likely another season will pass without the program winning a title, leaving Harbaugh to rally his players heading into a game against the Badgers.
"Win the next game," Harbaugh said of his message to his team. "Get prepared for this game coming up. This is the most important thing."