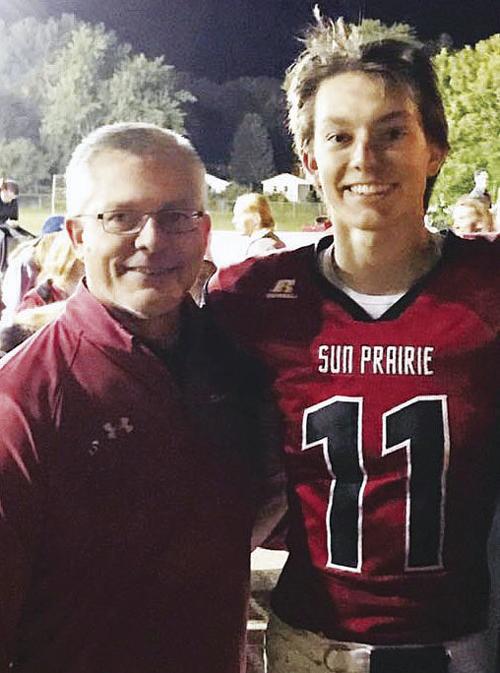 Truth be told, Scott Nelson hoped his son, Cooper, would select a certain university to continue his football career.
But Nelson, a former standout safety for the University of Wisconsin, and his wife, Becky, didn't want to sway Cooper, a Sun Prairie senior and All-State wide receiver, toward their alma mater.
They wanted their 6-foot-4, 185-pound son to be comfortable with his college choice.
So, after each trip to a campus, Cooper provided his thoughts first on the pros and cons of that particular school's academic offerings and its football program. Scott, Becky and Cooper's younger sister Landry, if she had made that specific trip, then offered their opinions.
So it went for an official visit to Western Illinois, and on all the other stops — including Iowa, Iowa State, Minnesota and UW, where preferred walk-on offers were on the table, to Northern Illinois, North Dakota State, Illinois State, Minnesota-Mankato and Winona (Minn.) State.
"We wanted him to be happy wherever he was going to play football and told him that we will support his decision," said Scott Nelson, a four-year starter who played on the UW team that won the 1993 Big Ten Conference title and defeated UCLA in the 1994 Rose Bowl.
"After every visit, I would ask their opinion and they would say, 'What do you think first?''' Cooper Nelson said. "They did a good job of making it my decision."
Cooper had a lot of thinking to do, particularly after he narrowed his favorites to Iowa State, Minnesota and UW.
Last week's snowy and frigid cold weather led to postponed school days. But Scott Nelson said it became a blessing of sorts for Cooper, who had a chance for quiet reflection before deciding.
"He said, 'I want to be a Badger,''' Scott Nelson said.
His parents couldn't have been more excited their son planned to attend UW as a preferred walk-on. It was a place of memories for them — including the moment after the 1994 Rose Bowl when Scott took a knee at the 40-yard line and proposed to Becky.
You have free articles remaining.
"It's pretty cool that he is able to go there," Scott Nelson said.
For Cooper, it becomes the place where he can create his own memories.
"It was an offer I couldn't resist," he said. "My home is 20 minutes from downtown Madison, so that was appealing. The coaches and the program are great and it's a great school. You can't go wrong there."
While his journey will be unique to his experience, Cooper Nelson will indeed follow in his father's football footsteps.
"It is cool to continue that family legacy there," he said.
Nelson caught 60 passes for 1,027 yards and 13 touchdowns and also threw for a score for Sun Prairie, which shared the Big Eight Conference title with Madison Memorial and advanced to the third round of the WIAA Division 1 playoffs last fall.
He was a first-team selection on The Associated Press and Wisconsin Football Coaches Association All-State teams last fall. He was a Big Eight first-team pick and was a first-team choice on the Wisconsin State Journal/WisconsinPrepZone.com All-Area team for 2018. He also plays basketball and competes in track and field for the Cardinals.
Wednesday was a signing day for college football. Sun Prairie coach Brian Kaminski said a signing ceremony was scheduled Wednesday night at the high school for several student-athletes who plan to continue playing football in college. Previously announced NCAA Division I or Division II commitments from Sun Prairie included Nelson, offensive lineman Ben Johnson (Winona State), defensive end Maven Kretche (Minnesota-Mankato) and linebacker/defensive back Jaharee Weah (Michigan Tech).
Scott Nelson said he believes UW offers great support and resources in its athletic department.
"I think it's a good place, for sure," Scott Nelson said.
The offenses and passing games at Iowa State and Minnesota were attractive options to Nelson, who becomes part of a UW class that includes highly touted quarterback Graham Mertz. Nelson said he conferred with former Sun Prairie standout Marty Strey, a freshman outside linebacker at UW, a few times prior to making his decision.
"All three were good schools," said Nelson, adding he liked the coaching staffs of his three finalists. "All three were preferred walk-on opportunities. I wrote down the pros and the cons for each.
"I felt most comfortable with Wisconsin. It is relief and excitement, all in one. I'm super-excited that they want you for the next four or five years of your life."