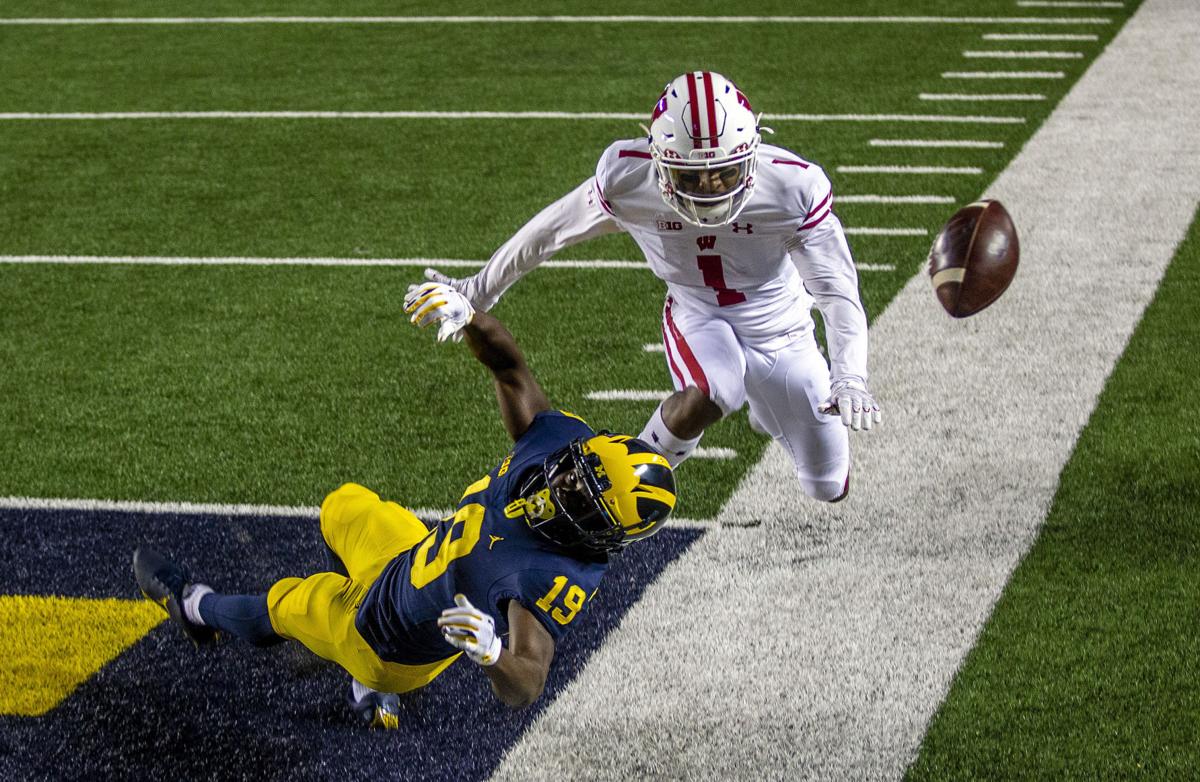 ANN ARBOR, Mich. — Players on the University of Wisconsin football team's defense often call coordinator Jim Leonhard a genius.
There's genuine belief that Leonhard sees the game differently because his wealth of experience includes 10 years as a player in the NFL after going from walk-on to star safety during his Badgers playing career.
But maybe his players should add "fortune teller" to Leonhard's resume. Days before the No. 10 Badgers played the Michigan Wolverines, Leonhard perfectly described what UW had to do to have success at Michigan Stadium on Saturday.
"I know they want to be physical, they want to run the football and play-action off of that. They're very similar to us in that fashion. They've had to kind of get out of their system; I think that causes a little bit of the number discrepancy run-pass and different things like that. With that, hopefully offensively, defensively we can start out hot, put pressure on this team, make them question some things," Leonhard said last week.
UW (2-0) jumped out to a 28-0 lead, spurred by two turnovers the defense caused on the first two Michigan possessions, and rolled to a 49-11 win. Those plays — interceptions by safety Scott Nelson and linebacker Leo Chenal — seemed to take away any fire Michigan had to start the game and the Badgers never looked back en route to the program's most-lopsided win over Michigan.
Nelson, a senior safety who missed all but one half of one game last season due to a knee injury, made his big play in front of a cheering section. "The Big House" only held player guests due to the COVID-19 pandemic, but Nelson — a Detroit native — said he had about 15 people in the stands between he and his girlfriend's families.
"Coming back here it really wasn't what I expected, but what I was hoping for. Very happy that they could be there for the game," Nelson said. "It was huge to be able to go out there and just help my team in any way that I can. It was (everything) I could dream of. It was great to get back into the swing of things, be able to make a couple plays and get back out there with the guys. It was a long time coming. I'm very grateful for being out there, having the opportunity to be out there."
Michigan (1-3) was a struggling offense even before it faced a rugged UW defense. But the Badgers snatched momentum from the Wolverines' offense early and often as it helped build a 28-0 halftime lead — the largest halftime deficit Michigan has ever faced since at home since Michigan Stadium opened in 1927.
UW seemed to take the last of Michigan's fight when it stopped a fourth-and-goal run from inside the 1-yard line. Wolverines receiver Chris Evans appeared to score after making a catch on third down, but his knee was down before the ball crossed the plane of the end zone and officials overturned the call.
Michigan quarterback Joe Milton — who stands 6-foot-5 and weighs 243 pounds — tried to score with a designed QB run, but UW defensive end Isaiahh Loudermilk got into the backfield and hit Milton at the knees, taking out his base and stopping him short of the goal line.
"That was a heck of a play," UW coach Paul Chryst said. "Guys were into it, guys were playing. I loved how they complemented each other. This team cares about each other. They all want to find their way to contribute."
That goal-line stand stood out to Chenal. He said it showed the Badgers' ability to make a play when they needed to most
"That was huge, that was a huge momentum boost. I was really proud of our guys that we didn't hang our heads, we were ready to go. … As soon as we heard the overturn call, it was, 'OK, let's go.' We knew we would get there," Chenal said.
UW held Michigan to 47 yards rushing and just 219 yards total. Michigan went 3 of 11 on third down.
"In all areas, really, that was … underperformed. Every area — coaching, execution, every man here. Ultimately, that's my responsibility," Michigan coach Jim Harbaugh said.
UW's defensive performance was made even more impressive when considering that it was missing a regular contributor at each level of the unit due to the program's COVID-19 outbreak. That group of unavailable players included No. 1 cornerback Rachad Wildgoose and starting defensive end Garrett Rand.
UW's defense now gets to turn its focus to No. 19 Northwestern (4-0), the team that currently leads the Big Ten West Division. That game is slated for 2:30 p.m. Saturday and will be televised on ABC. The defense can prepare for the Wildcats knowing that it proved itself after one of the most challenging stretches in the program's history.
"Personally, I think we're finding our identity," Nelson said. "A lot of stuff carries over from last year. I give a lot of credit to Chris Orr, I think him and Zack (Baun) set the tone a lot, and that kind of mindset carries over. I think we're still trying to find out what position each player's going to be in, build that chemistry that we had."
---
NFL pros react to Badgers' blowout of Michigan
Be the first to know
Get local news delivered to your inbox!