Road to the 2017 Orange Bowl: Relive the Badgers' path to Miami
State Journal reporter Jim Polzin offers a game-by-game breakdown of the Wisconsin Badgers' path to the the Orange Bowl, where they beat the Miami Hurricanes, 34-24, on Dec. 30, 2017.
No. 9 Badgers 59, Utah State 10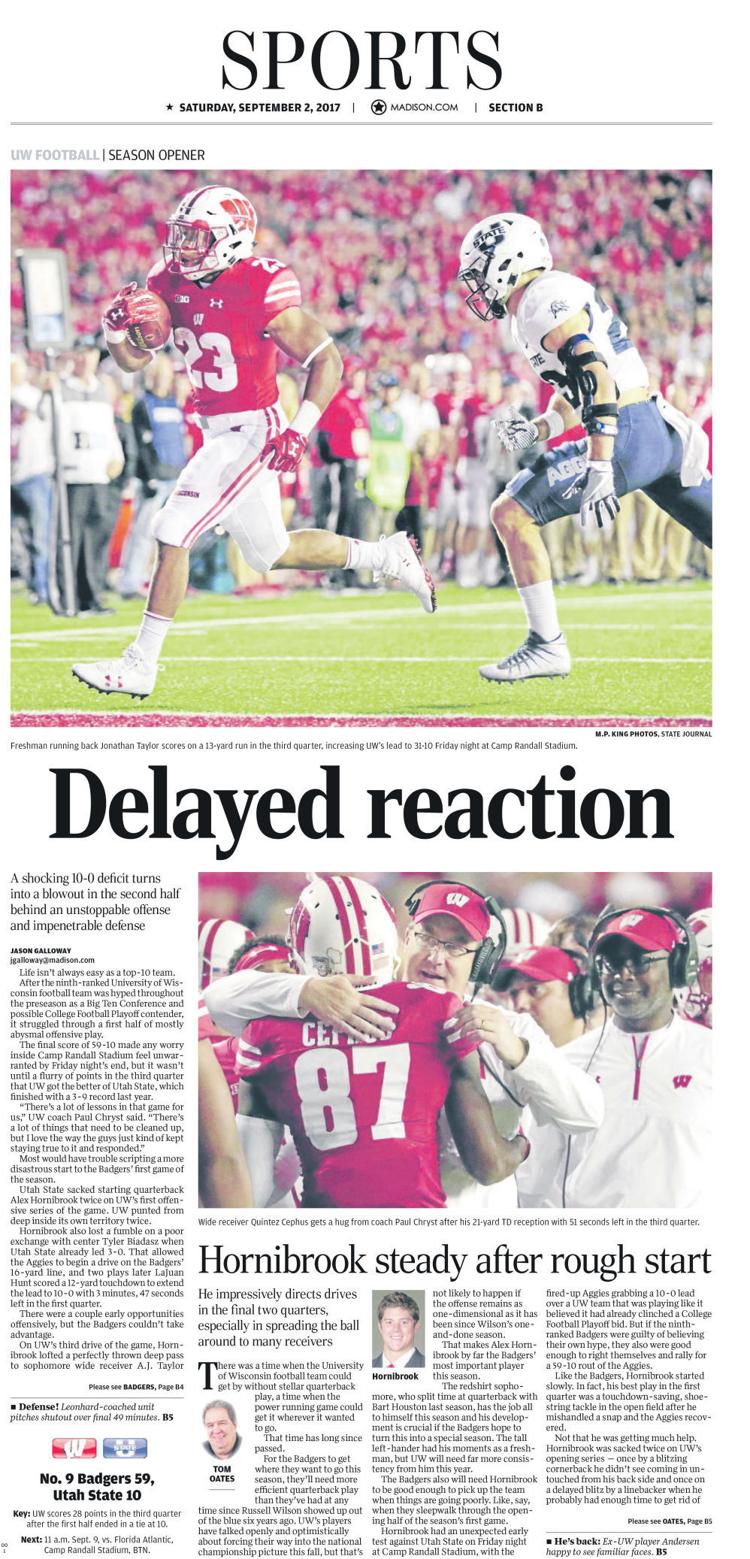 Sept. 1
Camp Randall Stadium 
Record: 1-0
Pregame buzz
The debut of Jim Leonhard as defensive coordinator. Can UW sustain its excellence on that side of the ball after the departure of Justin Wilcox to California? Also a first look at freshman Jonathan Taylor, who is listed as a co-starter at tailback. After three high-profile openers in a row – LSU (twice) and Alabama – the Badgers start with a team that went 3-9 in 2016, including 1-7 in the Mountain West Conference.
What we witnessed
A slow start for the Badgers, who trailed 10-0 late in the first half before exploding for 31 points during a stretch of 8 minutes, 22 seconds that extended into the third quarter. A successful debut for Leonhard, whose unit held Utah State scoreless over its final 10 possessions. A solid start to the season for sophomore quarterback Alex Hornibrook, who overcame an early fumble to go 15 of 23 for 244 yards with three touchdowns through the air.
Water-cooler chatter
It only took nine carries for Taylor to create a buzz. He finished with 87 yards, including a 41-yard burst on UW's opening play from scrimmage in the second half.
Quotable
"There's obviously a lot of things to polish up," junior safety D'Cota Dixon said. "But I'm very proud of the way we responded as a unit."
The number
99 | Yards senior safety Joe Ferguson returned an interception for a touchdown in the fourth quarter. That set a UW modern-era record for the longest interception return and served as one of the exclamation points in a 59-point blitz by the Badgers over the final 31:12 of the game.
No. 9 Badgers 31, Florida Atlantic 14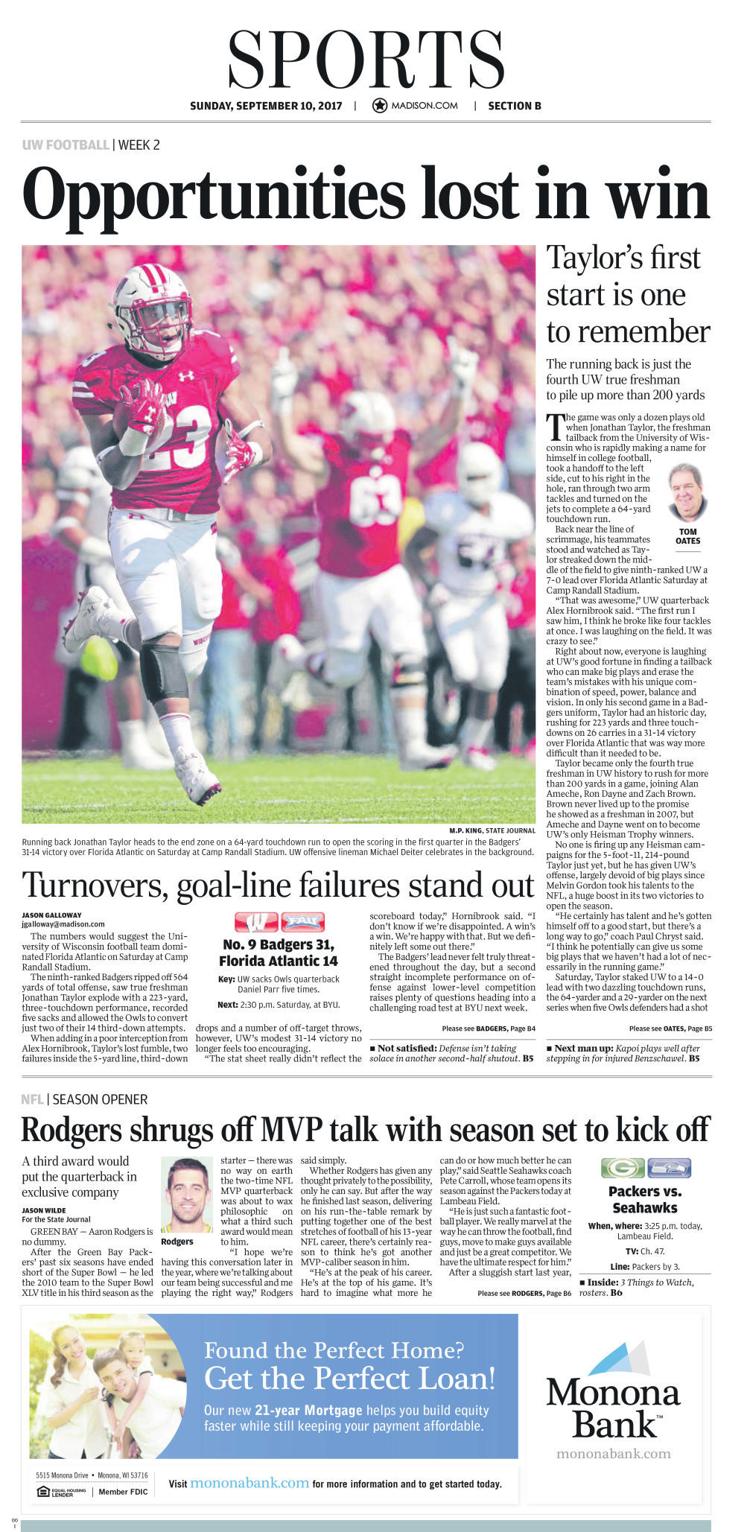 Sept. 9
Camp Randall Stadium 
Record: 2-0
Pregame buzz
One of more eye-opening stats from the opener was UW's nine penalties, its most in a game since 2008. Speaking of trouble makers, Lane Kiffin is coming to town. That Kiffin's debut with the Owls, a 42-19 home loss to Navy, began with three lightning delays totaling 162 minutes was fitting: Storm clouds seem to follow Kiffin wherever he goes.
What we witnessed
An uneven performance by the Badgers on multiple fronts. The offense produced 564 yards of total offense, but it scored 17 points over the final 51 minutes after a pair of early touchdown runs by Jonathan Taylor. After starting the game by completing eight of his first nine passes, Alex Hornibrook went 8 of 19 the rest of the way. One bright spot on offense was Taylor, who rushed for 223 yards and three touchdowns in his first career start. On the other side of the ball, UW defenders were frustrated that allowing too many big plays ruined an otherwise solid performance. Florida Atlantic had 248 yards of total offense, and 144 of that production came on four plays. The Owls averaged only 2.1 yards on their other 50 plays.
Water-coller chatter
There's been just enough sloppiness in the first two weeks to make UW's first road trip of the season, at BYU, look scary. UW coach Paul Chryst might have put it best: "Ready or not, here it comes, right?"
Quotable
"He certainly has talent and he's gotten himself off to a good start, but there's a long way to go," Chryst said of Taylor, who scored on runs of 64, 29 and four yards. "I think he potentially can give us some big plays that we haven't had a lot of necessarily in the running game."
The number
4 | UW true freshmen to rush for more than 200 yards in a game. Taylor joined a list that includes Alan Ameche (1951), Ron Dayne (five times in 1996) and Zach Brown (2007).
No. 10 Badgers 40, BYU 6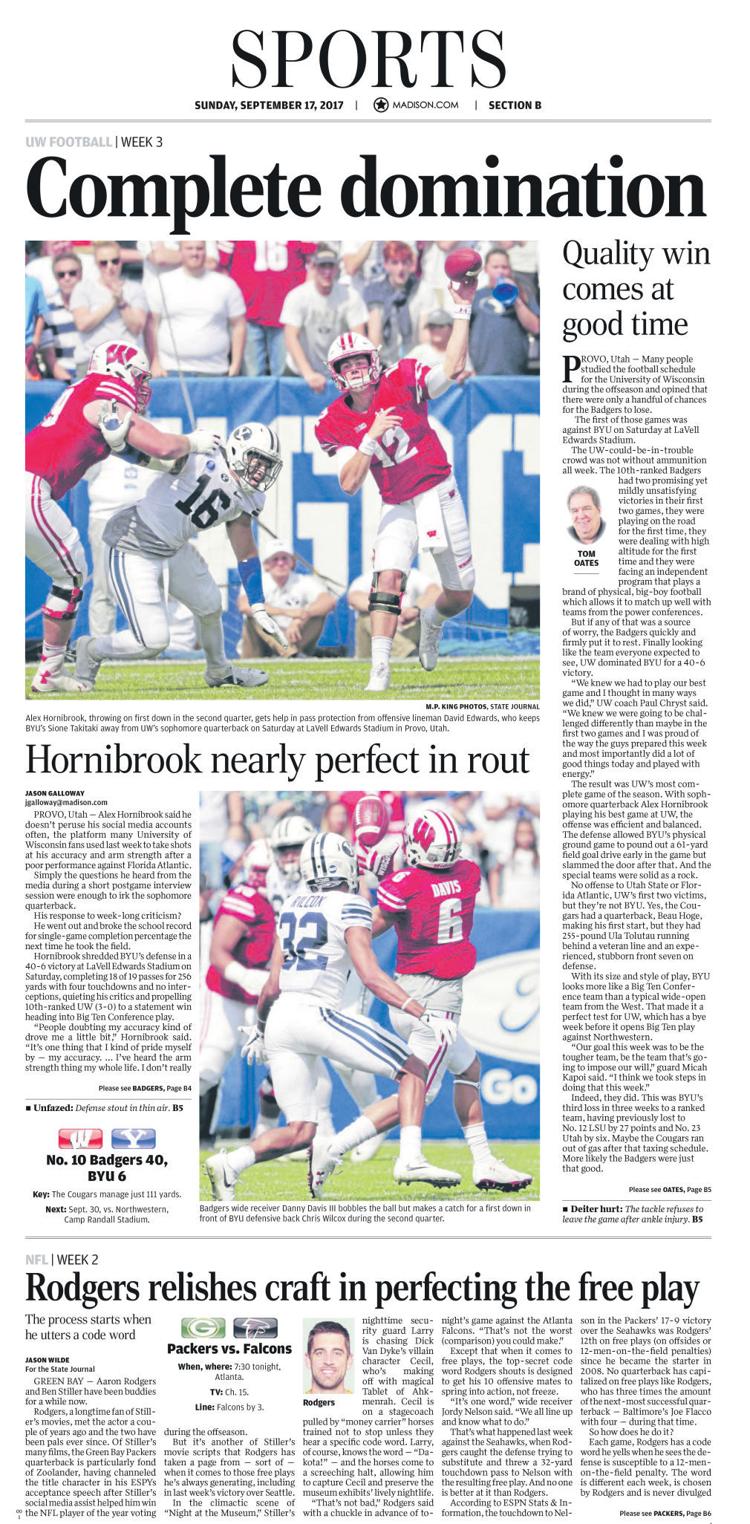 Sept. 16
LaVell Edwards Stadium, Provo, Utah
Record: 3-0
Pregame buzz
BYU's offense is searching for its identity, ranking No. 124 nationally (out of 129 teams) in both total offense and scoring offense. But the Cougars do have a three familiar faces on that side of the ball: offensive coordinator Ty Detmer, a BYU alum who won a Heisman Trophy and played for the Green Bay Packers; Ula Tolutau, a freshman tailback who originally was part of UW's 2014 recruiting class; and tailback Austin Kafentzis, who began his career with the Badgers before transferring.
What we witnessed
Complete domination by the Badgers and a near perfect performance from Alex Hornibrook, who set a program record by completing 94.7 percent of his passes. Hornibrook finished 18 of 19 for 256 yards and four touchdowns, including two to Quintez Cephus.
Water-cooler chatter
Between Cephus, Danny Davis, Jonathan Taylor and A.J. Taylor, UW might have its best group of young playmakers in years.
Quotable
"People doubting my accuracy kind of drove me a little bit," Hornibrook said of the type of questions he got from reporters following a win over Florida Atlantic the previous week. "It's one thing that I kind of pride myself by — my accuracy. ... I've heard the arm strength thing my whole life. I don't really care too much about that. But (accuracy's) one thing I pride myself in, and it kind of irritated me a little bit last week."
The number
277.4 | Hornibrook's pass efficiency rating against BYU, the second-highest mark in program history. John Stocco registered a passer rating of 296.7 in a 52-17 win at Indiana on Sept. 30, 2006.
No. 10 Badgers 33, Northwestern 24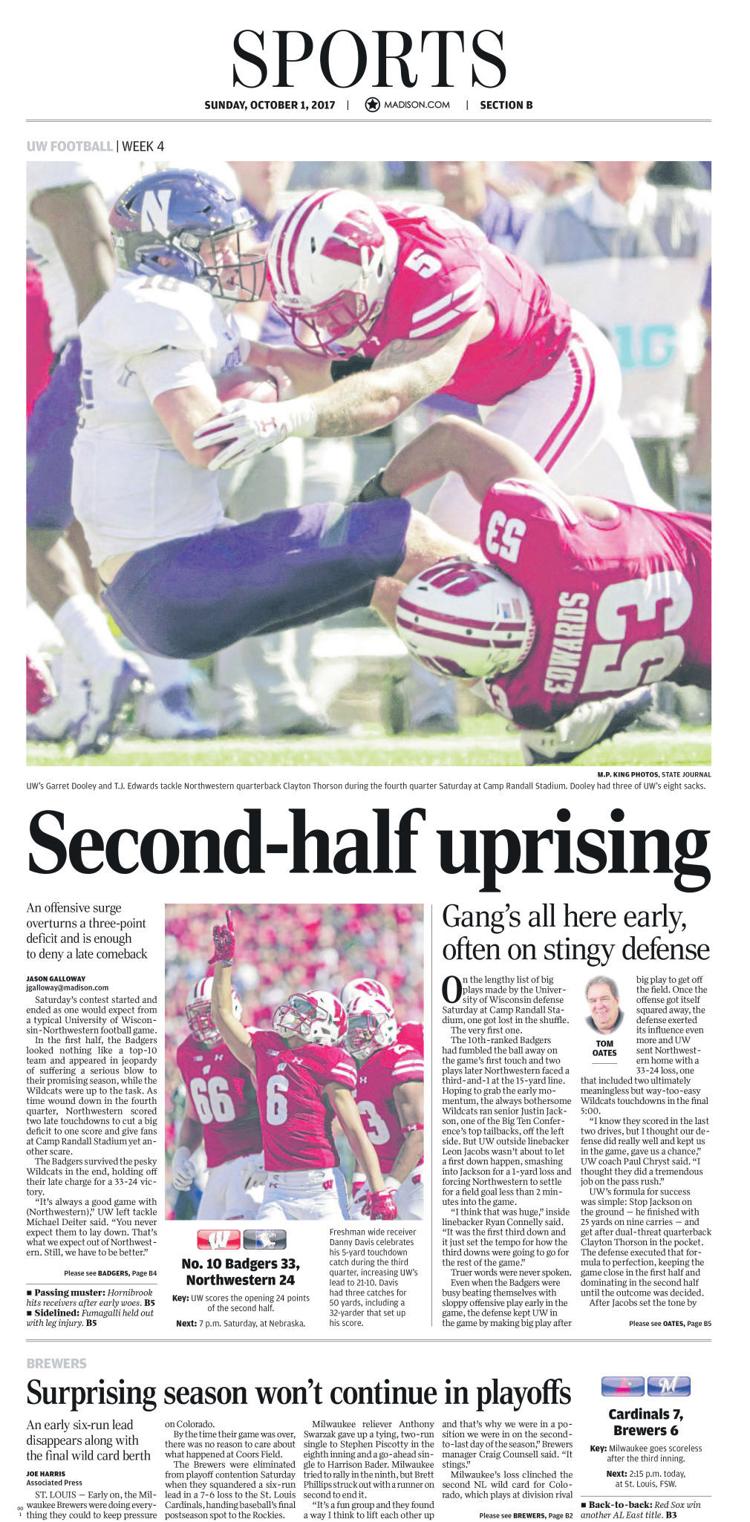 Sept. 30
Camp Randall Stadium 
Record: 4-0, 1-0 Big Ten
Pregame buzz
The start of Big Ten play, and it comes against an opponent with a history of making life difficult on the Badgers. UW's final look at Wildcats running back Justin Jackson, who has a pair of 100-yard games against the Badgers but was held to 42 during the teams' 2016 meeting.
What we witnessed
The Badgers trailed by three points at halftime after turning the ball over three times and generating only 114 total yards. But Alex Hornibrook rallied from a poor first half (5 of 11 for 48 yards with two interceptions) by directing a big-play offense after halftime. He had completions of 61 yards to Quintez Cephus, 32 yards to Danny Davis and 33 yards to A.J. Taylor during a stretch of four possessions in which UW produced two touchdowns and a field goal to turn a deficit into a cushion. The Badgers led by 21 points in the fourth quarter, but Northwestern made it interesting by pulling to within one score. UW's victory wasn't secure until safety D'Cota Dixon sacked Clayton Thorson for a safety with 58 seconds remaining in the game. Another bright spot for the defense: It held a hobbled Jackson to 25 yards on nine carries.
Water-cooler chatter
Will the real Hornibrook please stand up?
Quotable
"I think we kind of got a little relaxed. We got a little too relaxed," Dixon said. "That was the only thing I was disappointed about. ... It was an ugly finish."
The number
2 | Interceptions for UW senior safety Natrell Jamerson. He returned one 36 yards for a touchdown to give UW a 31-10 lead in the fourth quarter.
No. 9 Badgers 38, Nebraska 17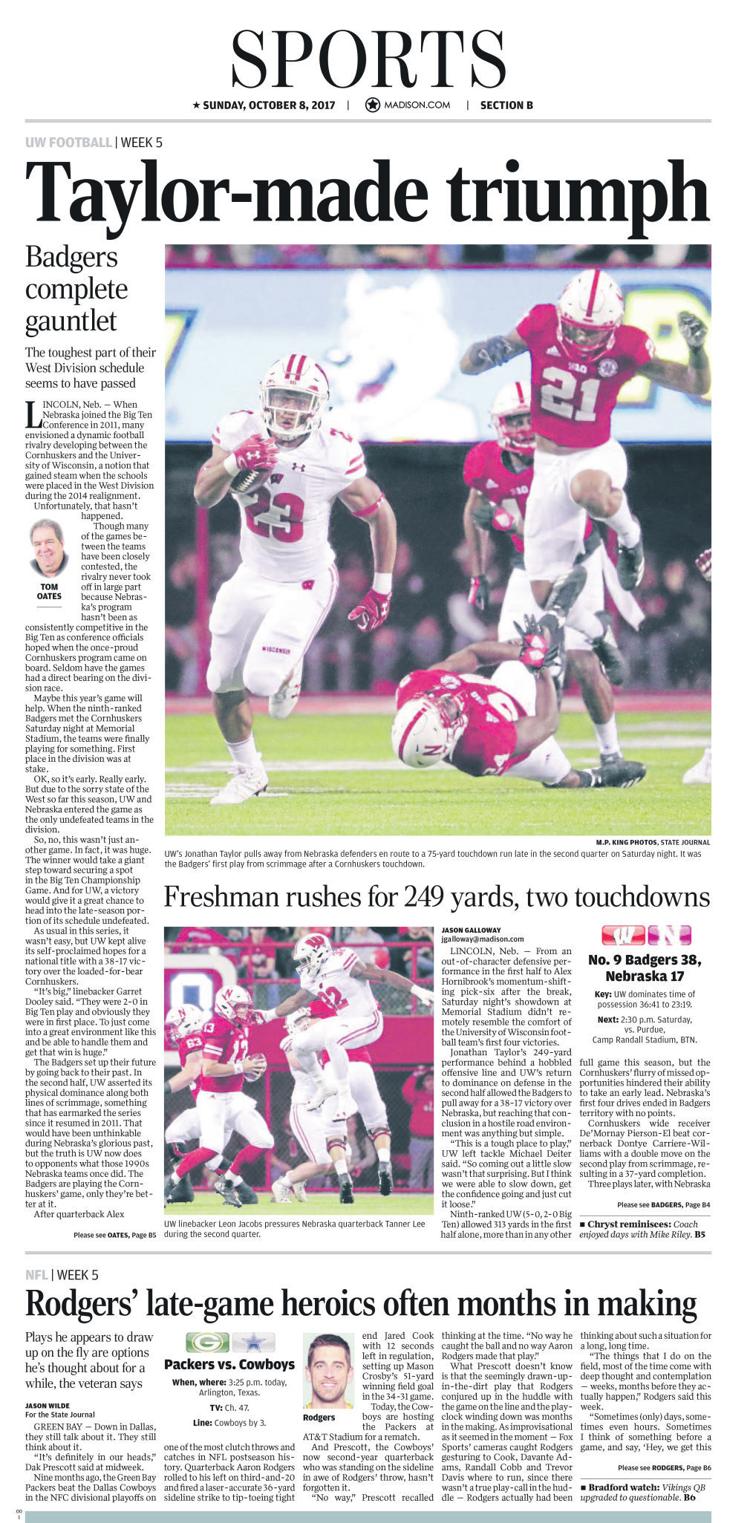 Oct. 7
Memorial Stadium, Lincoln, Nebraska
Record: 5-0, 2-0 Big Ten
Pregame buzz
Another meeting — the last one? — between pals Paul Chryst and Mike Riley. While Chryst is rolling in Year 3 with the Badgers, Riley finds himself on the hot seat in Lincoln. After a terrible start to the season, Nebraska's 3-4 defense under first-year coordinator Bob Diaco has been better in back-to-back wins. Of course, there's a caveat: The Cornhuskers' opponents in those games were Big Ten bottom-feeders Rutgers and Illinois.
What we witnessed
A 21-point blitz by the Badgers to end the game after Nebraska had tied it at 17 early in the second half when Aaron Williams returned an Alex Hornibrook interception for a touchdown. Another brilliant performance from Jonathan Taylor, who rushed for a career-high 249 yards and two touchdowns.
Water-cooler chatter
It's too early to book tickets to Indianapolis, but UW is in great shape in its quest for a second consecutive Big Ten West Division title. Not to mention that 12-0 looks a little more realistic as the season inches towards its midway point.
Quotable
"There's no better feeling," Taylor said, "than silencing such a loud and electrifying crowd."
The number
5 | Consecutive wins for the Badgers over the Cornhuskers.
No. 7 Badgers 17, Purdue 9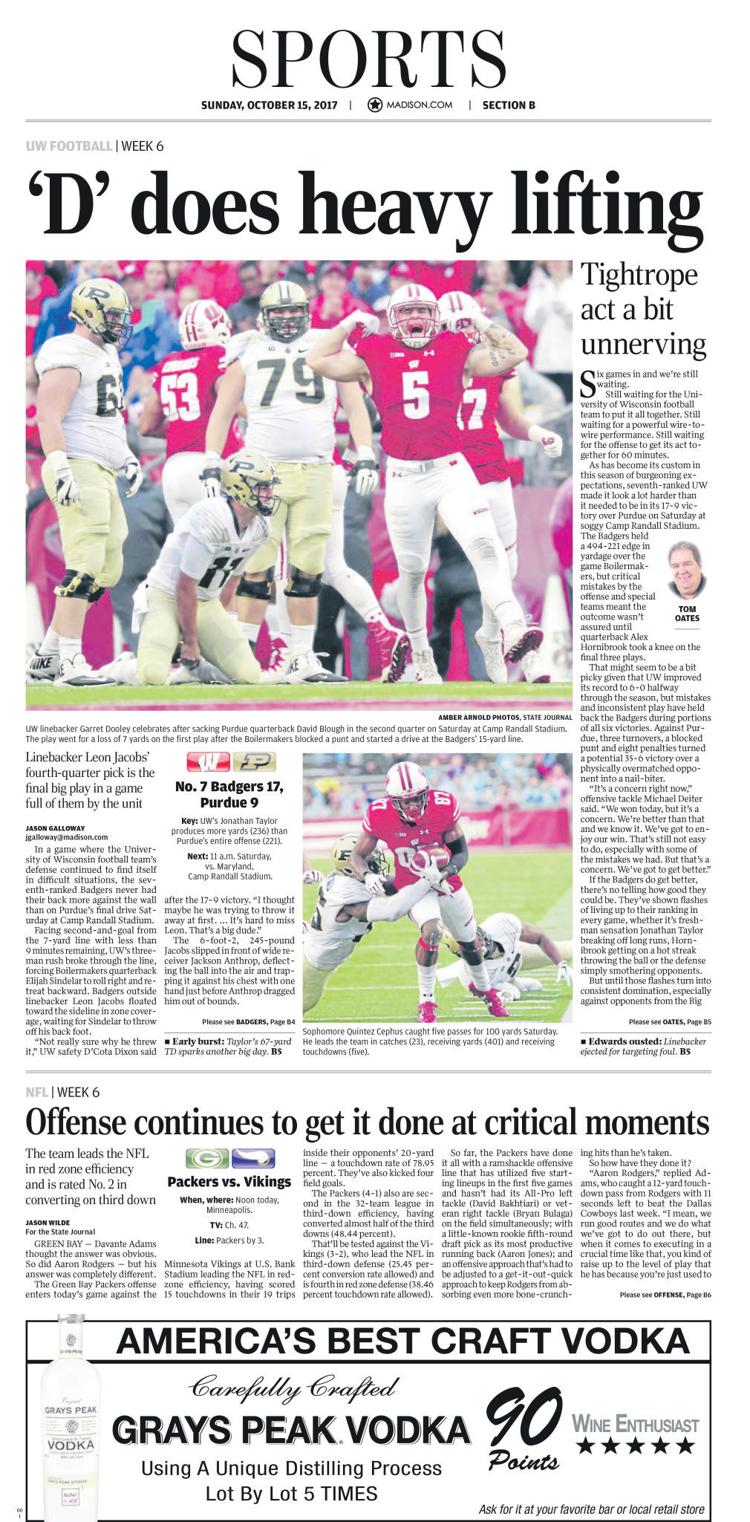 Oct. 14
Camp Randall Stadium 
Record: 6-0, 3-0 Big Ten
Pregame buzz
The Jonathan Taylor-for-Heisman talk has begun, but the Badgers freshman tailback is plugging his ears and ignoring it. Meanwhile, Jeff Brohm has Purdue on the road back to respectability. The Boilermakers already have matched their win total from 2016 and enter a game against UW with a winning record for only the second time since 2006.
What we witnessed
A potential blowout for UW turned into a too-close-for-comfort win. The Badgers busted out to a 14-0 start in the first quarter, but they didn't reach the end zone the rest of the game and were clinging to an eight-point lead in the fourth quarter. A one-handed interception by senior linebacker Leon Jacobs gave the Badgers the ball back with 8:14 remaining, and UW ran the rest of the clock out with a 16-play, 77-yard drive that included three kneel-downs to end the game. Still, there was plenty to dislike for UW. Despite finishing with a 494-221 advantage in total yards, the Badgers let the Boilermakers stick around thanks to three turnovers, a blocked punt and eight penalties.
Water-cooler chatter
Another 200-yard game from Taylor — he finished with 219 and a touchdown — can't mask UW's lack of consistency on offense.
Quotable
"We won today, but it's a concern," UW offensive tackle Michael Deiter said. "We're better than that and we know it. We've got to enjoy our win. That's still not easy to do, especially with some of the mistakes we had. But that's a concern. We've got to get better."
The number
100 | Receiving yards for UW sophomore wide receiver Quintez Cephus, a career high. He scored the Badgers' only touchdown on a 14-yard reception in the first quarter.
No. 5 Badgers 38, Maryland 13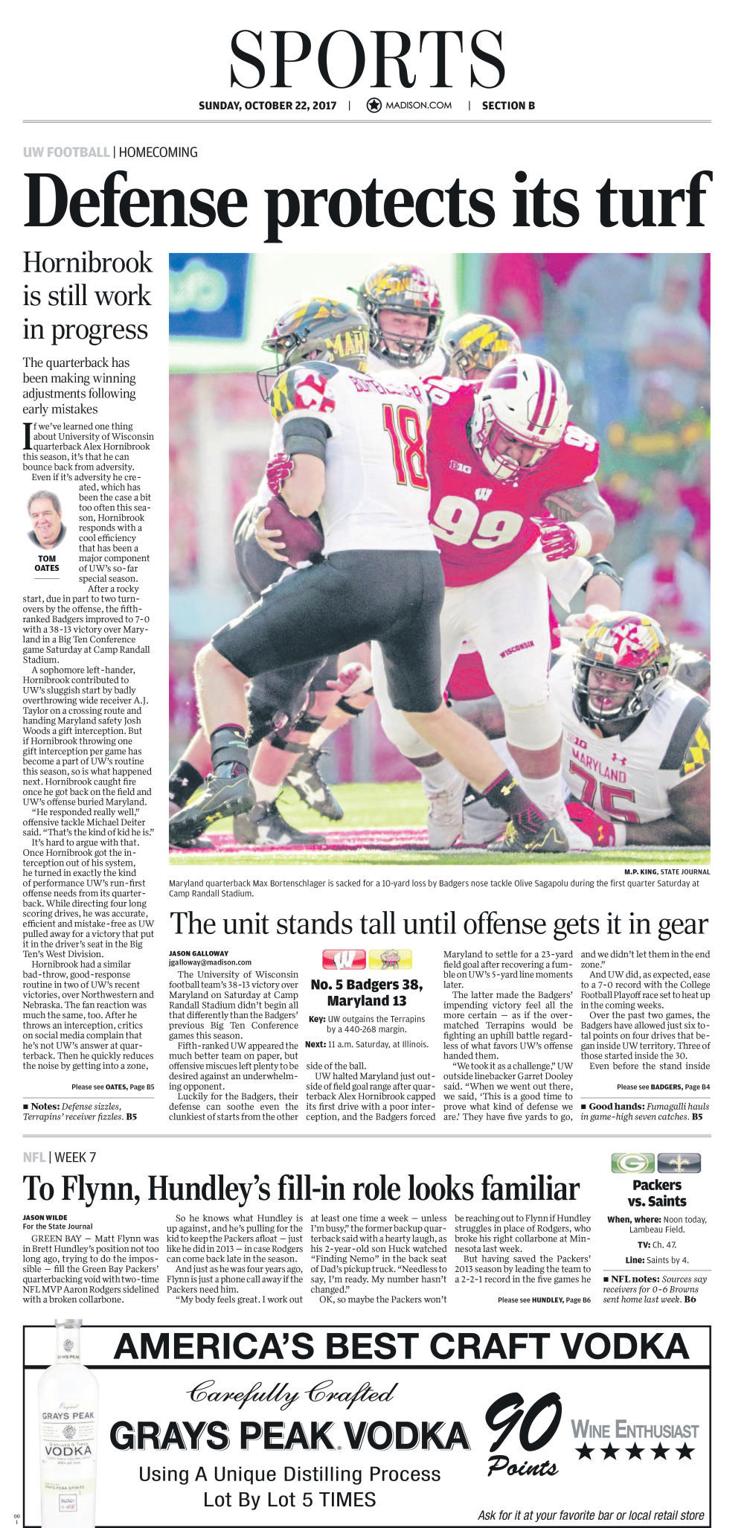 Oct. 21
Camp Randall Stadium
Record: 7-0, 4-0 Big Ten
Pregame buzz
Jonathan Taylor gets all the headlines — and rightfully so — but UW has quietly built some depth at tailback with Bradrick Shaw back from injury and the emergence of Garrett Groshek. Maryland is on its third-string quarterback due to injuries, but the Terrapins feature the leading receiver in the Big Ten in DJ Moore.
What we witnessed
A familiar theme — the UW defense keeping things under control until the offense awoke from its slumber. Counting the first quarter against the Terrapins and the final three quarters the previous week against Purdue, UW produced three points over a stretch of 10 possessions, with three interceptions, two fumbles and three punts that forced UW's defense to constantly come to the rescue. Badgers junior linebacker T.J. Edwards returned an interception 54 yards for a score on Maryland's opening series and the Badgers held Moore to three catches for 44 yards. The offense eventually held up its end of the bargain, producing three touchdown drives that covered 70-plus yards and turned a 7-3 lead into a 25-point cushion.
Water-cooler chatter
This offense teases potential yet always seems to leave you wanting more.
Quotable
"This offense as a whole, we've definitely made our mistakes and had turnovers," UW tight end Zander Neuville said. "But no one ever panics on the sideline and Alex does a really good job of keeping his composure. He never gets too high and he never gets too low, which is what you want in a quarterback. We get in the huddle and we have the same demeanor every time. That kind of stuff doesn't affect us."
The number
7 | Receptions for UW senior tight end Troy Fumagalli. Nobody else on the Badgers had more than two catches.
No. 5 Badgers 24, Illinois 10
Oct. 28
Memorial Stadium, Champaign, Illinois
Record: 8-0, 5-0 Big Ten
Pregame buzz
The first College Football Playoff rankings come out soon, and it's time for the Badgers to pick up their game. That shouldn't be too hard against Illinois, which is in Year 2 of the Lovie Smith experiment and doesn't appear to be making many strides.
What we witnessed
The UW defense being its typical stingy self. The Badgers created three turnovers — a fumble and two interceptions — and had five sacks. Illinois's passing game was atrocious and finished with nine completions in 31 attempts. There weren't many highlights on the offensive side of the ball for UW, though Michael Deiter scoring on a 4-yard run in the fourth quarter — he caught a lateral at the 15 and took advantage of some nice blocks — made him a hero for big bodies everywhere.
Water-cooler chatter
The CFP committee isn't going to be impressed by this one.
Quotable
"We've just got to keep doing what we're doing," UW senior defensive end Alec James said. "It's not as pretty as we want it to be, but at the same time it's a win in the Big Ten, so it's good."
The number
3 | Career field goals of 50 yards or longer for junior Rafael Gaglianone, tying him with Taylor Mehlhaff and Philip Welch for the most in program history. Gaglianone had a 52-yarder against the Illini.
No. 4 Badgers 45, Indiana 17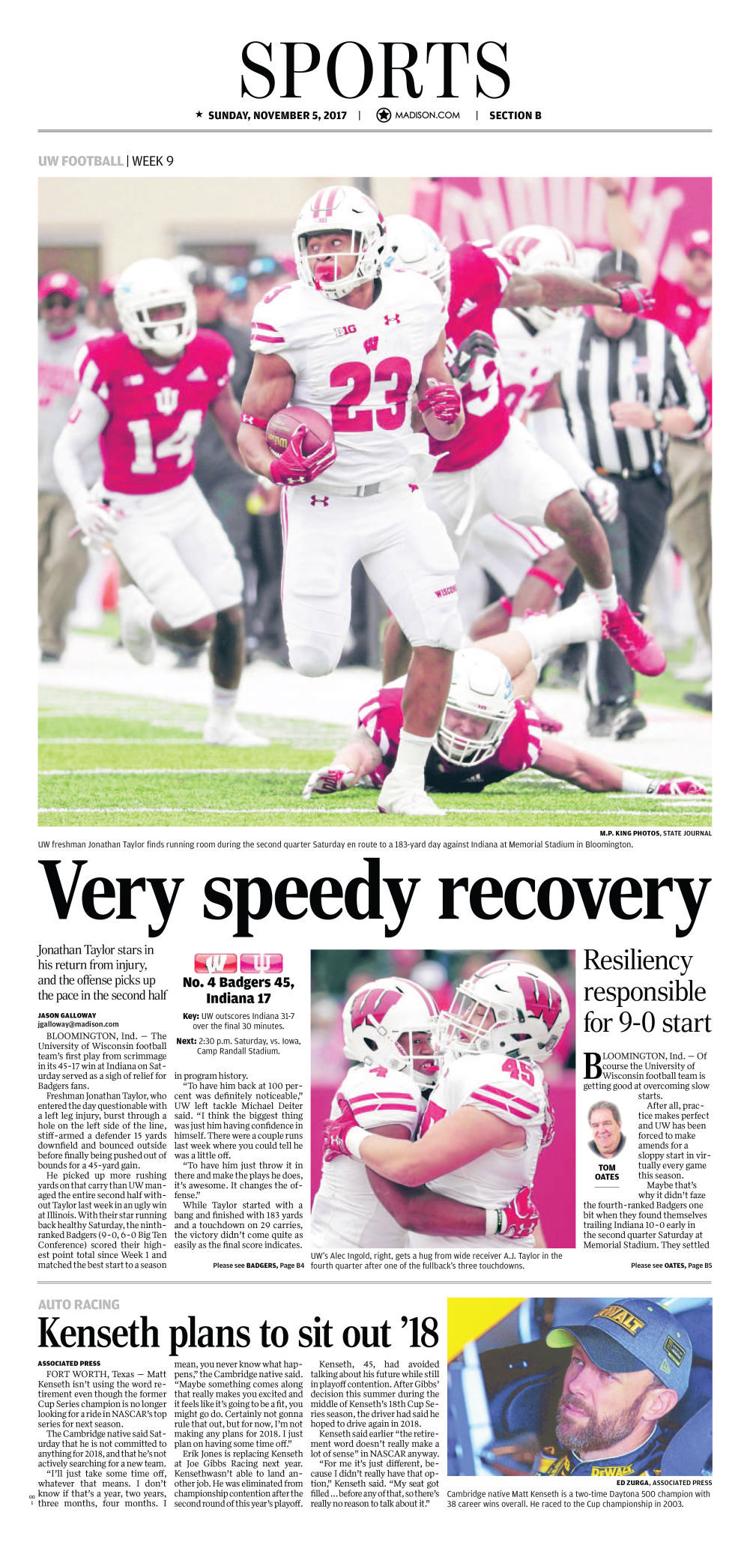 Nov. 4
Memorial Stadium, Bloomington, Indiana
Record: 9-0, 6-0 Big Ten
Pregame buzz
The Badgers checked in at No. 9 in the CFP rankings, a clear sign that the committee isn't impressed with UW's work against a soft schedule. Meanwhile, Indiana had hoped for a breakthrough season under first-year coach Tom Allen, but the Hoosiers are still looking for their first Big Ten win.
What we witnessed
Another slow start for the Badgers, who dug themselves a 10-0 hole. But UW scored 45 points over the final three quarters, with Jonathan Taylor rushing for 183 yards and fullback Alec Ingold scoring three touchdowns. The star on defense was safety Joe Ferguson, who had two interceptions.
Water-cooler chatter
Say this for the Badgers: They've got flaws, but they're a resilient bunch.
Quotable
"There's no panic," UW senior cornerback Derrick Tindal said. "That's what I like about our team. We were down 10-zip and it felt like we were up 25 because everybody on the sideline was laughing, having fun. There's just no panic from the guys and that's what I like to see because we'll need that in the future."
The number
35.9 | Average margin of victory for the Badgers during their 10-game winning streak over Indiana.
No. 6 Badgers 38, No. 25 Iowa 14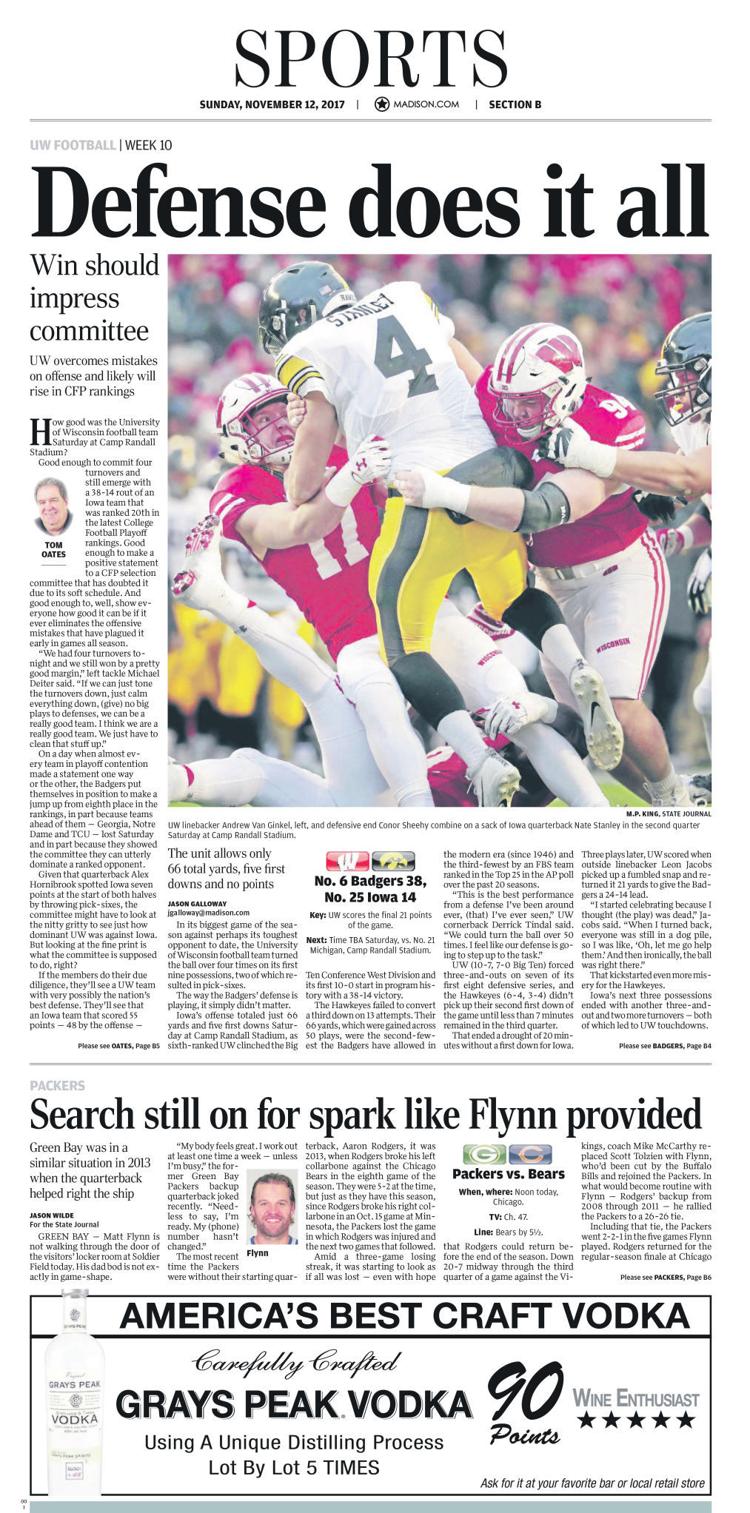 Nov. 11
Camp Randall Stadium
Record: 10-0, 7-0 Big Ten
Pregame buzz
Bad news on the injury front for UW, which lost sophomore wide receiver Quintez Cephus to a season-ending right leg injury. The Hawkeyes come to town after a 55-24 beatdown of Ohio State, giving UW a chance to beat a ranked opponent for the first time all season.
What we witnessed
A jaw-dropping performance by the UW defense, which held Iowa to 66 total yards in 50 plays. State product Nate Stanley, whom UW coach Paul Chryst tried to flip after arriving in Madison from Pittsburgh, was sacked four times, threw an interception and completed 8 of 24 passes. The Hawkeyes went 0 of 13 on third down. Their only points came on a pair of touchdowns off interception returns by Josh Jackson. One of the players to step up in Cephus' absence was redshirt freshman Kendric Pryor, who scored a pair of touchdowns.
Water-cooler chatter
So those are what style points look like?
Quotable
"We felt like we didn't have a single mental error out there," UW safety Joe Ferguson said. "It felt like every check was money, all of our disguises were good and then the front seven was going crazy, winning their one-on-ones. It was just great."
The number
0 | Iowa plays that gained more than 10 yards. The Hawkeyes had 10 plays of 20 yards or longer the previous week vs. Ohio State.
No. 5 Badgers 24, No. 19 Michigan 10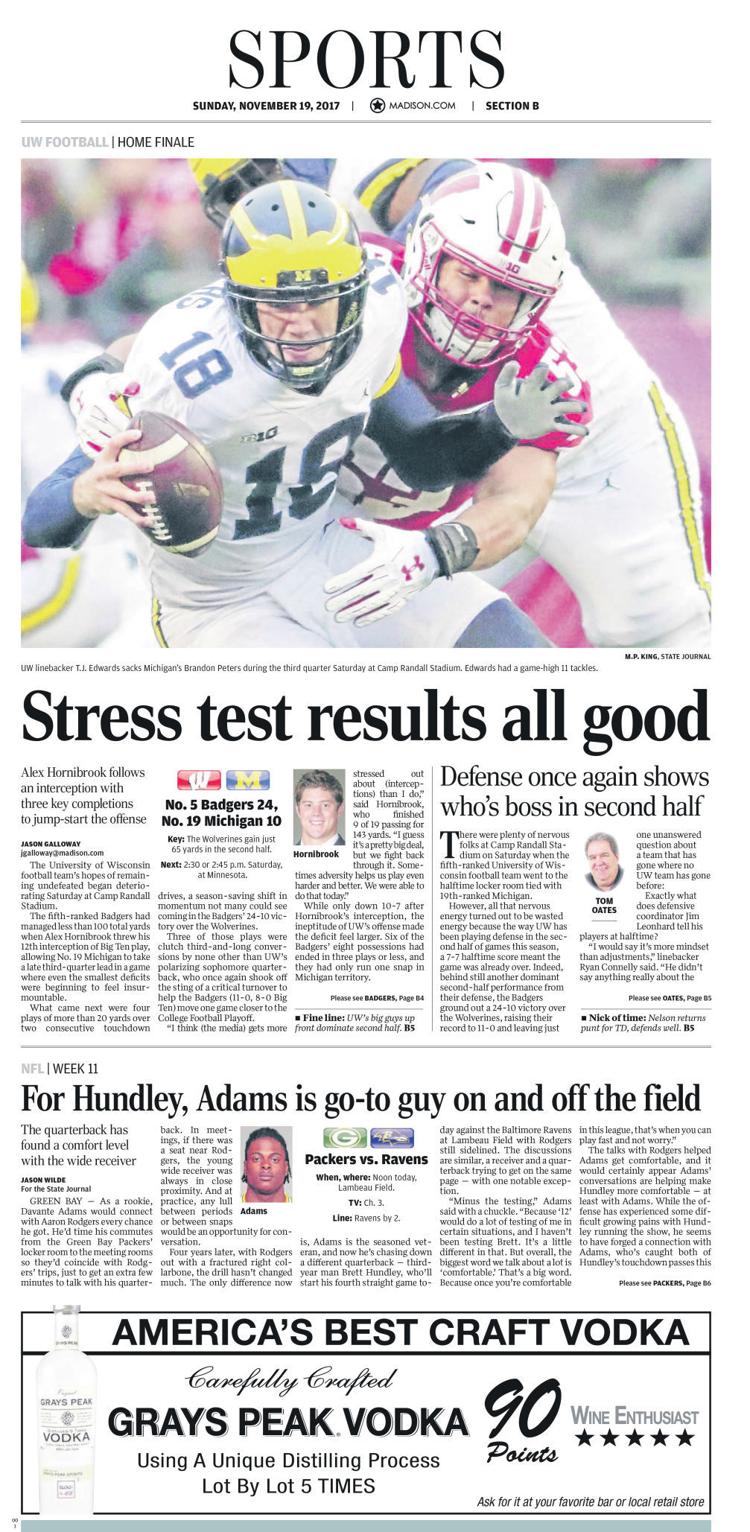 Nov. 18
Camp Randall Stadium
Record: 11-0, 8-0 Big Ten
Pregame buzz
UW's impressive win over Iowa, combined with losses by Georgia and Notre Dame, helped the Badgers jump to No. 5 in the CFP rankings. The last home game for a senior class that went through a coaching transition but kept on winning. In comes a Michigan team light on signature victories under Jim Harbaugh.
What we witnessed
A prototypical Big Ten clash, in a lot of ways. Michigan led 10-7 in the third quarter, with UW's only points coming a punt return for a touchdown by Nick Nelson. The Badgers' first seven drives ended with punts and their eighth began with Alex Hornibrook throwing an interception that set up a Michigan field goal. At that point, the Badgers had 99 total yards on 28 plays. But UW's offense came to life, generating 232 yards on 29 plays – and 17 points – over its next four series.
Water-cooler chatter
UW's offensive line hadn't lived up to its reputation in years, but it sure did in the second half against a stout Michigan defensive front.
Quotable
"It's a mindset, it's a mentality, it's the attitude, it's the approach," UW safety D'Cota Dixon said. "Now we've got to make that happen for a 60-minute ball game, which is a good thing. We haven't played our best game yet."
The number
101 | Passing yards on third down for Hornibrook, who was 5 of 7 in that category.
No. 5 Badgers 31, Minnesota 0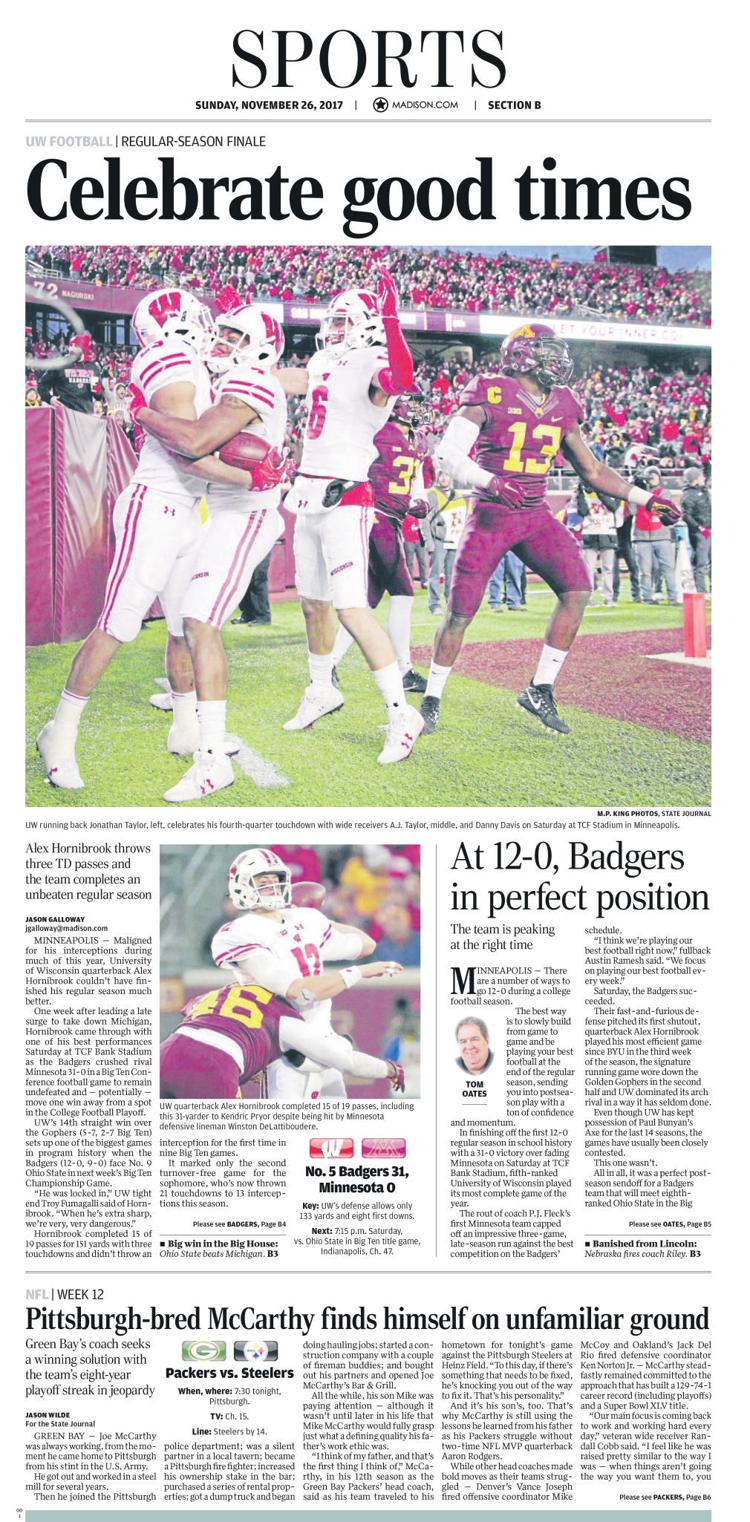 Nov. 25
TCF Bank Stadium, Minneapolis
Record: 12-0, 9-0 Big Ten
Pregame buzz
The only thing standing in the way of UW and a perfect regular season is Minnesota, which hasn't had Paul Bunyan's Axe since the Badgers took it back in 2004. In time, P.J. Fleck may row the Golden Gophers to the top of the Big Ten West Division, but the program is still looking way up at UW. The Badgers should roll.
What we witnessed
The Badgers did roll. UW sophomore quarterback Alex Hornibrook completed 78.9 percent of his passes for 151 yards and three touchdowns. More importantly, Hornibrook didn't throw an interception for the first time in Big Ten play this season. UW inside linebacker Ryan Connelly, a Minnesota native, arrived at TCF Bank Stadium with a chip on his shoulder after not getting recruited by the Gophers and got some revenge. The victory helped UW match a school record with its 12th victory and complete its first undefeated regular season since going 7-0 in 1912.
Water-cooler chatter
The Badgers go a perfect 12-for-12 heading into the postseason. Now, for a position they haven't been in all season: the underdog role.
Quotable
"That's history right there, something that's never been done," UW left tackle Michael Deiter said. "We're proud of that. But there's still more to be had. Really, it's just another week, and that's the only way to approach it. But we definitely understand what we've done to this point, and it's been historic."
The number
60-59-8 | UW's record against Minnesota, the first time the Badgers have had the lead in a series that began in 1890.
No. 8 Ohio State 27, No. 3 Badgers 21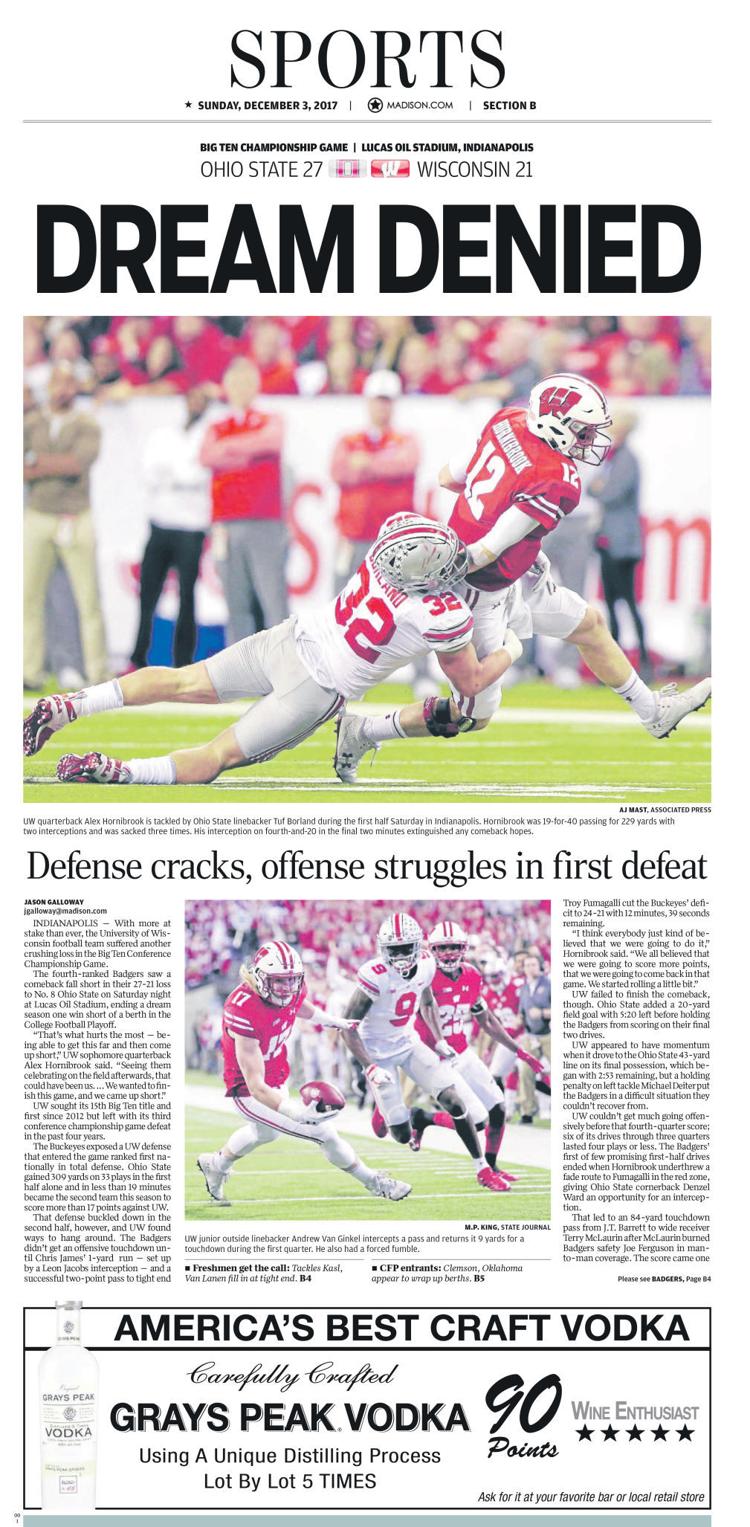 Dec. 2
Lucas Oil Stadium, Indianapolis
Record: 12-1
Pregame buzz
The Badgers are so close to the College Football Playoff, they can practically taste it. Win, and UW is in. Now, the hard part. Ohio State has been a thorn in the Badgers' side and hasn't given up hope that it can get the committee to look past its two losses. An impressive win over UW would help.
What we witnessed
Heartbreak for the Badgers, whose playoff hopes were dashed by the most athletic team they'd faced all season. Ohio State had four plays of 53 yards or longer that accounted for 271 of its 449 total yards. Senior quarterback J.T. Barrett, six days after undergoing surgery on his knee, accounted for three touchdowns and 271 total yards. UW junior outside linebacker Andrew Van Ginkel gave the Badgers a chance by returning an interception for a touchdown and forcing a fumble that led to three more points. In the end, the Badgers had the ball with a chance to take the lead. But after driving into Ohio State territory, UW's offense stalled and couldn't close the deal.
Water-cooler chatter
The Buckeyes' ability to shut down Jonathan Taylor — he finished with 41 yards on 15 carries — forced UW to win the game through the air. Anybody who watched this team all season knew that scenario probably wasn't going to end well for the Badgers.
Quotable
"That's what hurts the most — being able to get this far and then come up short," UW sophomore quarterback Alex Hornibrook said. "Seeing them celebrating on the field afterwards, that could have been us. ... We wanted to finish this game, and we came up short."
The number
182 | Passing yards for Ohio State in the first half. UW came into the game allowing 156.4 per game.