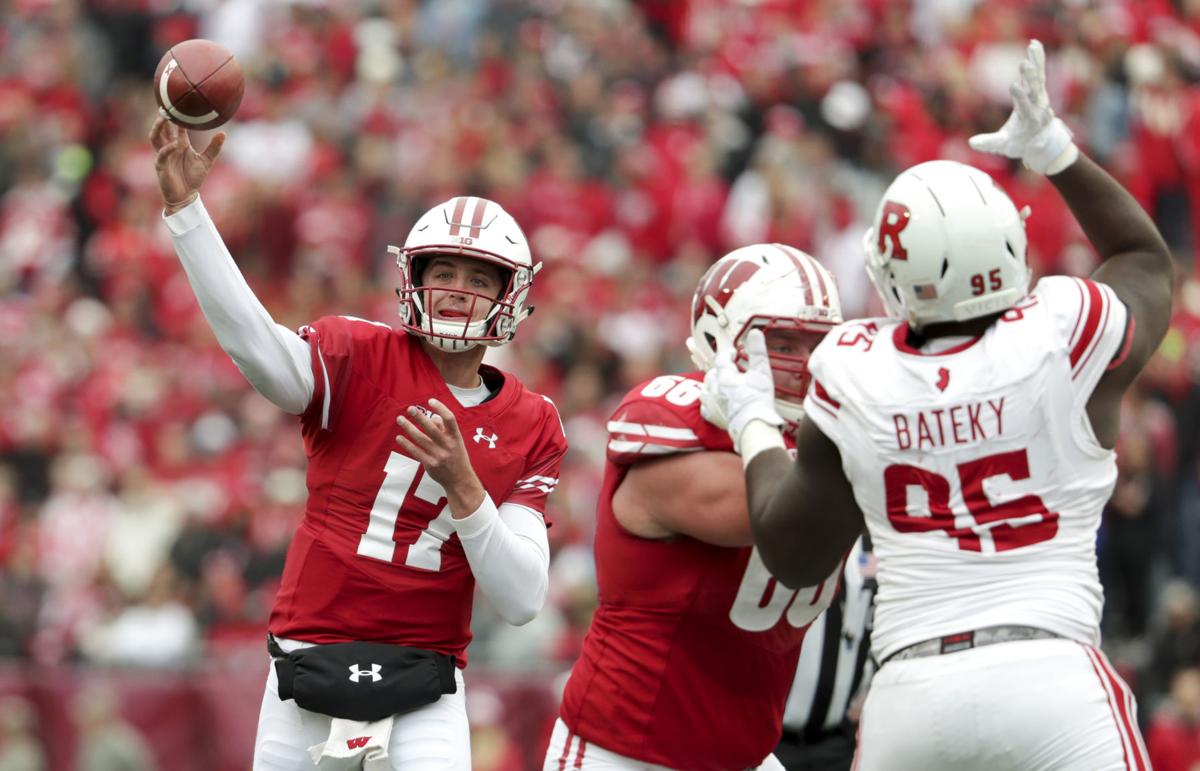 Jack Coan appears to have picked up where he left off this spring — as the University of Wisconsin's top choice at quarterback.
The junior signal caller took the bulk of first-team reps Monday during the Badgers' first full practice open to the media this fall.
True freshman Graham Mertz and redshirt freshman Chase Wolf split second-team reps behind Coan. Sophomore Danny Vanden Boom didn't receive any team or 7-on-7 reps before UW split drills into two separate groups.
Coan will enter this season as the only quarterback on the Badgers' roster with any meaningful game experience. He played in five games with four starts last year, completing 60.2 percent of his passes for 515 yards with five touchdowns and three interceptions.
His final two games against Purdue and Miami were his best, and UW coach Paul Chryst said at Big Ten Media Days last month that Coan's finish to the season "spoke volumes" to his teammates.
Coan took the large majority of first-team reps throughout open practices in the spring and continued that trend Monday.
Despite throwing an early interception to sophomore cornerback Rachad Wildgoose, Coan impressed for the remainder of practice. He threw 40-yard touchdowns to Aron Cruickshank, Kendric Pryor and John Chenal during team drills and added six more touchdowns during red zone drills.
Mertz and Wolf also each thew an early interception — to cornerback Caesar Williams and safety John Torchio, respectively — but both responded with positive moments later on.
Josh Seltzner, Reggie Pearson earn 1st-team reps
You have free articles remaining.
Right guard Josh Seltzner and safety Reggie Pearson took the bulk of first-team reps at their respective positions Monday.
Seltzner, a sophomore from Columbus, earned a scholarship last year after coming to Madison as a preferred walk-on. His first-team reps came ahead of the highly recruited Kayden Lyles, who played defensive end last season. Senior Jason Erdmann took most first-team reps at left guard Monday.
Pearson's first-team reps came alongside Scott Nelson - a spot junior Eric Burrell occupied throughout spring practice. The Badgers did, however, take quite a few snaps with Nelson, Pearson and Burrell on the field together.
Pearson played four games as a true freshman last season, including a start at Michigan.
It isn't easy for an 18-year-old freshman to play tight end for UW, which relies heavily on the position to bring extra muscle in the run game.
Gabe Lloyd out for season
UW tight end Gabe Lloyd will miss this season after having surgery on his right leg Thursday.
The junior could have competed for reps at a position group that remains thin behind sophomore Jake Ferguson and junior Luke Benzschawel.
Those who sat out Monday's practice were defensive end Isaiahh Loudermilk (left arm), tight end/inside linebacker Seth Currens (left leg), cornerback Dean Engram (right leg), offensive linemen Michael Furtney (left arm) and Blake Smithback (right leg), wide receivers Cade Green (right leg) and Cam Phillips (right leg), outside linebacker Spencer Lytle (right leg) and running back Brady Schipper (left leg).
Offensive lineman Logan Brown (left arm), cornerback James Williams (right leg) and running back Julius Davis (core) remained limited.
Wildgoose and Deron Harrell took initial first-team reps at cornerback Monday. ... Inside linebackers Jack Sanborn and Leo Chenal recorded back-to-back safeties during a move-the-ball drill at the end of practice. ... Those fielding kickoffs during special teams drills included Cruickshank, Pryor, Faion Hicks and Nakia Watson. Cruickshank, Jack Dunn and Danny Davis fielded punts.