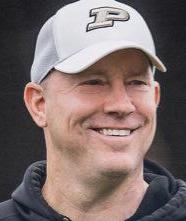 Players on the Purdue football team have heard "next man up" so often this season it might be ringing in their ears.
The Boilermakers, who come to Camp Randall Stadium on Saturday to face No. 14 Wisconsin (8-2, 5-2 Big Ten Conference), have experienced a rash of injuries that could fuel coaches' nightmares. They're down to their third-string quarterback and have lost two starting receivers — one of them an All-American. And yet, Purdue (4-6, 3-4) and coach Jeff Brohm are riding a two-game win streak with eyes on pulling off a turnaround to reach bowl eligibility.
"I've got a lot of respect for 'Brohmer,'" said UW offensive coordinator Joe Rudolph, who played with Brohm on the 1997 San Francisco 49ers. "Tough-as-nails guy, and you can see that that's getting across to his players, and they're fighting through things. You talk about November football, and they're 2-0 in November. He's doing a good job."
Brohm said the key in keeping his depleted roster competitive — three of the team's losses are by one score — has been offseason work with players further down the depth chart.
"Every season is different and, yes, this has presented some challenges. Every year will. As I look at it, it really stresses the importance of making sure you develop all of your guys on your team every day in the offseason," Brohm told reporters Monday. "Making sure you have a plan for that, making sure that everyone is into it, not wasting any practice days or workout days to get that done, because you never know who you're going to need."
Brohm likely didn't think he'd need Aidan O'Connell to step in at quarterback. But after starter Elijah Sindelar broke his collarbone against Minnesota in September and backup Jack Plummer broke his ankle in a win over Nebraska earlier this month, O'Connell took over.
O'Connell, a sophomore walk-on, completed 6 of 7 passes for 62 yards on the Boilermakers' final drive against the Cornhuskers, setting up the winning touchdown with just more than a minute to go. He also engineered a last-minute drive last week against Northwestern that set up a winning field goal, and finished 34 of 50 for 271 yards and two TDs and two interceptions.
Brohm said O'Connell is a good example of how reserves can take mental reps and prepare well without getting as many practice snaps.
"We understand what his strengths are, what his weaknesses are, so he's got to continue to work and get better at some of those things. But he gives us everything he has, he works extremely hard, his teammates love him, he's a good leader," Brohm said. "I anticipate him playing hard again this week."
Rondale Moore, Purdue's All-American wideout who burst on to the scene last season, hasn't been able to practice since his hamstring injury suffered against Minnesota. Brohm said Moore is on the mend but can't be expected to play until the coaches see him practice consistently. Adding to the Boilermakers' receiver woes was an ankle injury to junior Jared Sparks, one that occurred in September and got worse last month when he tried to return at Iowa.
Freshman David Bell has taken over as the top man, hauling in 65 catches for 791 yards and five touchdowns, all team bests. Purdue leads the conference with 42.6 passes per game, so the Boilermakers likely will test the Badgers' secondary.
"I think it's pretty straightforward with Purdue. I think they got a lot of slot guys on the outside, they can make a lot of plays in open space," Badgers junior safety Eric Burrell said. "Quarterback, I think they're on their third one, but he's got a good arm. He's got the ability to make all those plays. I think it'll be a great challenge for us."
Brohm and his staff finally got some good injury news this week — linebacker Semisi Fakasiieiki looks to be on track to play against the Badgers.
That will be a boost to a run defense that has struggled against UW tailback Jonathan Taylor in the past. Taylor has 540 yards and four touchdowns on the ground in two career games against Purdue, including 321 yards and three scores in last season's triple-overtime win. Brohm said Fakasiieiki's strength is filling gaps and tackling, so getting him back on the field with linebacker Ben Holt (99 tackles) will give the Boilermakers their best chance at slowing Taylor.
UW coach Paul Chryst said he has a great deal of respect for Brohm. Two close games between UW and Purdue since Brohm took over certainly factor into that, as does the way Brohm has managed this difficult season.
"What is coaching? It's do the players know what to do, and then do they know how to do it, and then can they apply it to a game situation," Chryst said. "As a coach you want the film to be … what you're coaching. And you want it to look like football and to be executed properly and when you see a number of different people do it, I think that's a really good sign of that's a well-coached team."