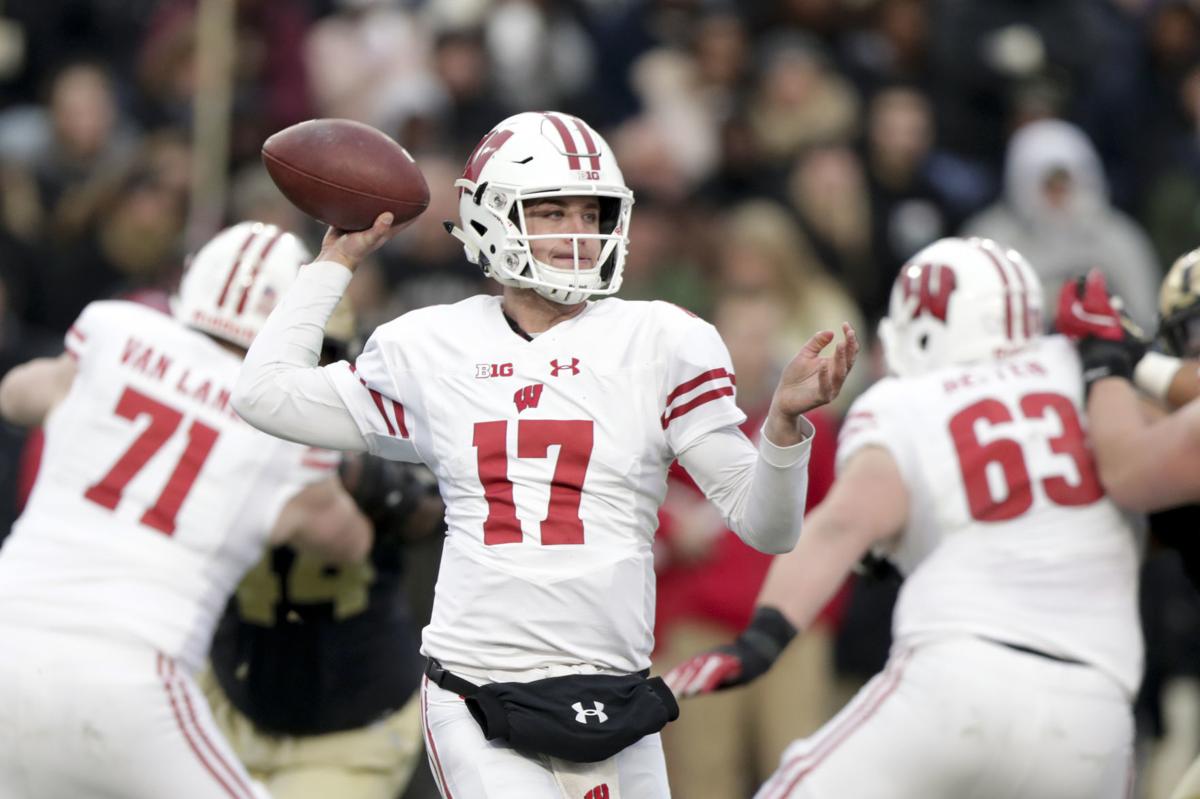 After the University of Wisconsin football team completed its final spring practice Friday, the State Journal took a look at what the Badgers' depth chart may look like this fall.
1. A.J. Taylor, Sr., and Danny Davis, Jr.
2. Kendric Pryor, Jr., and Jack Dunn, Jr.
2. David Moorman, Sr. OR Josh Seltzner, So.
2. Jason Erdmann, Sr. OR Kayden Lyles, So.
2. David Moorman, Sr. OR Josh Seltzner, So.
QB: Coan will enter fall camp as the clear favorite to become UW's next starter. The Badgers' other three quarterbacks all had their moments this spring, but Mertz certainly looks the most likely to challenge Coan in August.
RB: Bradrick Shaw, Isaac Guerendo and even true freshman Julius Davis could compete with Watson to be Taylor's direct backup this season.
FB: Chenal received a ton of reps with Stokke out for most of this spring. The two could find themselves in a position battle this fall.
WR: Taylor, Davis and Pryor can all be considered starters. Aron Cruickshank or Adam Krumholz could ultimately earn the final spot in UW's two-deep.
OL: Moorman could fill in at any spot if needed. Five-star tackle Logan Brown may be capable of competing for a two-deep spot upon arriving in Madison this summer.
Lyles played defensive end last season before moving back to the offensive line.
1. Isaiahh Loudermilk, Jr., and Garrett Rand, Jr.
2. Matt Henningsen, So., and David Pfaff, Sr.
1. Zack Baun, Sr., and Noah Burks, Jr.
2. Izayah Green-May, So., and Christian Bell, Jr.
1. Chris Orr, Sr., and Jack Sanborn, So.
2. Leo Chenal, Fr., and Mike Maskalunas, Jr.
1. Caesar Williams, Jr., and Faion Hicks, So.
2. Rachad Wildgoose, So., and Deron Harrell, So.
1. Scott Nelson, So., and Eric Burrell, Jr.
2. Collin Wilder, Jr., and Reggie Pearson, R-Fr.
DE: Redshirt freshman Isaiah Mullens could compete with Pfaff for two-deep spot.
OLB: Green-May is currently running with the first team in nickel packages over Burks, although it's difficult to know exactly where Bell stands after he sat out the entire spring. Tyler Johnson could also compete for playing time.
CB: A number of players — particularly Wildgoose — will still challenge Williams and Hicks for a starting spot. Madison Cone, Donte Burton and Alex Smith could also see playing time for what may be the Badgers' deepest position group.
2. Connor Allen, Sr., OR Conor Schlichting, So.
Be the first to know
Get local news delivered to your inbox!