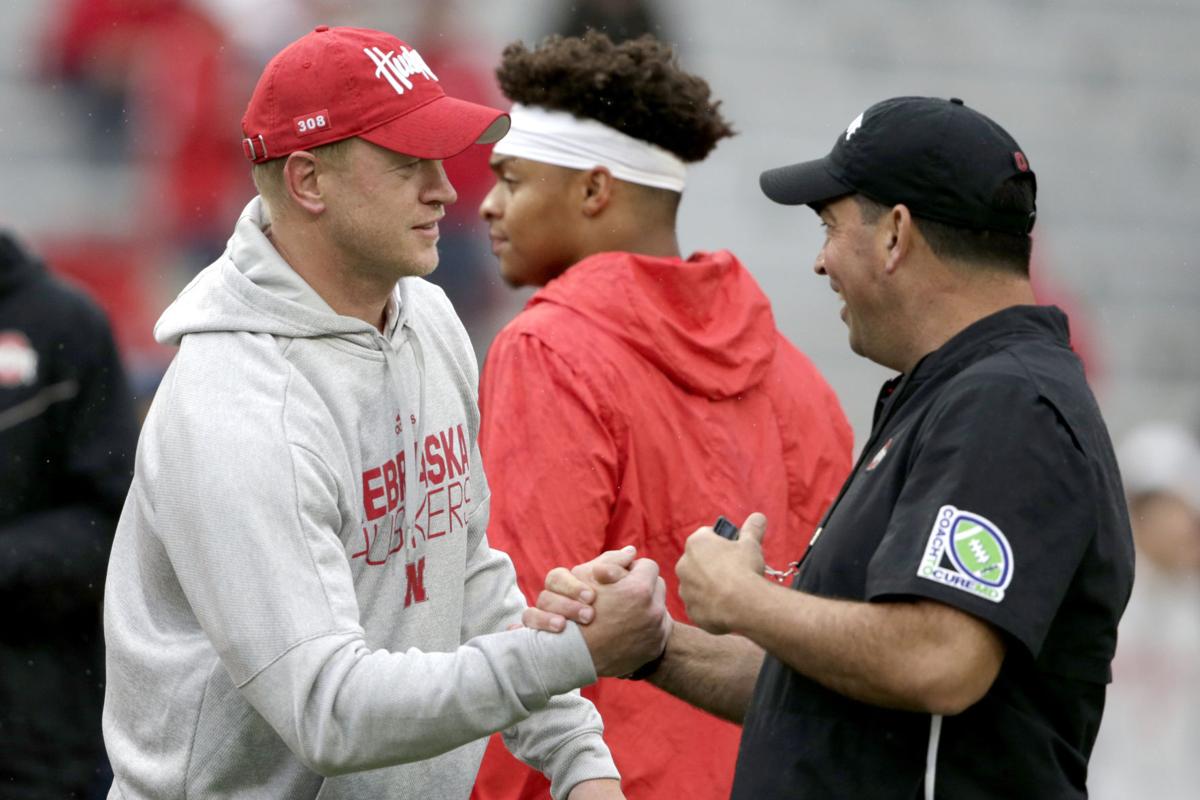 Nebraska coach Scott Frost and his players aren't interested in small steps.
That much is clear as the Cornhuskers get set to host the University of Wisconsin football team on Saturday afternoon at Memorial Stadium in Lincoln.
Year 3 of the Frost era opened with a 52-17 loss at Ohio State, with the Buckeyes overcoming a slow start to throttle the Huskers. It was, though, an improvement for Nebraska on one level: Its margin of defeat against the Big Ten's best team last season was 41 points, a 48-7 rout at home, no less.
As for the narrative that last Saturday was a sign of progress — Nebraska was tied with Ohio State at 14 late in the second quarter — senior defensive end Ben Stille wasn't having it.
"The scoreboard is what it was and that's the ultimate indicator of how the game went," Stille said in a Zoom interview session earlier this week. "A loss by (35) isn't necessarily a step in the direction we're looking for."
Frost, who fell to 9-16 overall and 6-13 in Big Ten play with the defeat, would agree. He even took the high road after Ohio State scored a touchdown with 18 seconds remaining in the game rather than taking a knee.
Buckeyes coach Ryan Day apologized afterward, and Frost was asked this week if it bothered him that Ohio State rubbed salt in the Huskers' wound.
"I don't want to talk about that. We're focused on Wisconsin," Frost said. "I tell you what, if we want the score to be different, we need to play better. That's the bottom line."
Frost looks at UW and sees a program he respects. He said the Badgers do a good job of recruiting, developing and coaching. He's impressed that the Badgers have an identity on both sides of the ball and stick to it.
"I think those kids probably get in the program and they know they need to be tough and physical and they learn the system on both sides and they've got a good system on both sides and they wait their turn, and when they get their shot they're ready to go," Frost said. "That's what we're trying to get a little bit as a program.
"You're better when you don't have to rely on a lot of young kids. You're relying on juniors and seniors that have been in the program and know the schemes and have been physically developed. They're quite a ways down the road. I give them a lot of credit for what they've built up there."
UW has won seven consecutive games in this series and is 8-1 against Nebraska since the Huskers joined the Big Ten in 2011, with six of those wins coming by double digits.
Nebraska has moved the ball in each of the games against the Badgers during the Frost era, producing 493 total yards in a 37-21 loss last season and 533 in a 41-24 defeat in 2018.
Mistakes prevented the Huskers from scoring more points in those games, but their biggest issue in the series has been stopping UW. The Badgers rushed for 320 yards a year ago and 370 in 2018, continuing a theme from the pre-Frost era that included massive rushing totals in 2017 (353), 2014 (581) and the 2012 Big Ten title game (539).
It appears Nebraska will catch a break and face a UW quarterback position that is down to fourth-stringer Danny Vanden Boom due to either injury (Jack Coan) or positive COVID-19 tests (Graham Mertz and Chase Wolf).
The Huskers will be short-handed as well, at least for a half. Two members of Nebraska's secondary — cornerback Cam Taylor-Britt and safety Deontai Williams — will have to sit out the first half after being flagged for targeting in the second half vs. Ohio State.
Meanwhile, Frost believes Nebraska's front seven on defense held up well against Ohio State. But that group, whose only returning starter is middle linebacker Collin Miller, will be tested again by the Badgers.
"It's going to be hard-nosed, physical football," senior cornerback Dicaprio Bootle said. "We understand that. We know that's what Wisconsin brings. So we've just got to match their physicality and play hard."
Much was made about how the Big Ten did Nebraska no favors when the conference released its updated schedule last month. After opening up with then-No. 5 Ohio State, the Huskers now host the No. 9 Badgers.
"Getting the (defending) East champion and the West champion out of the gate, I think our team's ready to turn a page and take a giant step," Frost said. "But we've got to get some momentum. We've got to get some wins, get some energy, have everybody start believing and knowing we can get it done.
"It's a little bit of a climb when they give us the schedule that we have but our kids see it as a challenge and they're going to play hard and do everything they can to try to compete with Wisconsin."
Be the first to know
Get local news delivered to your inbox!