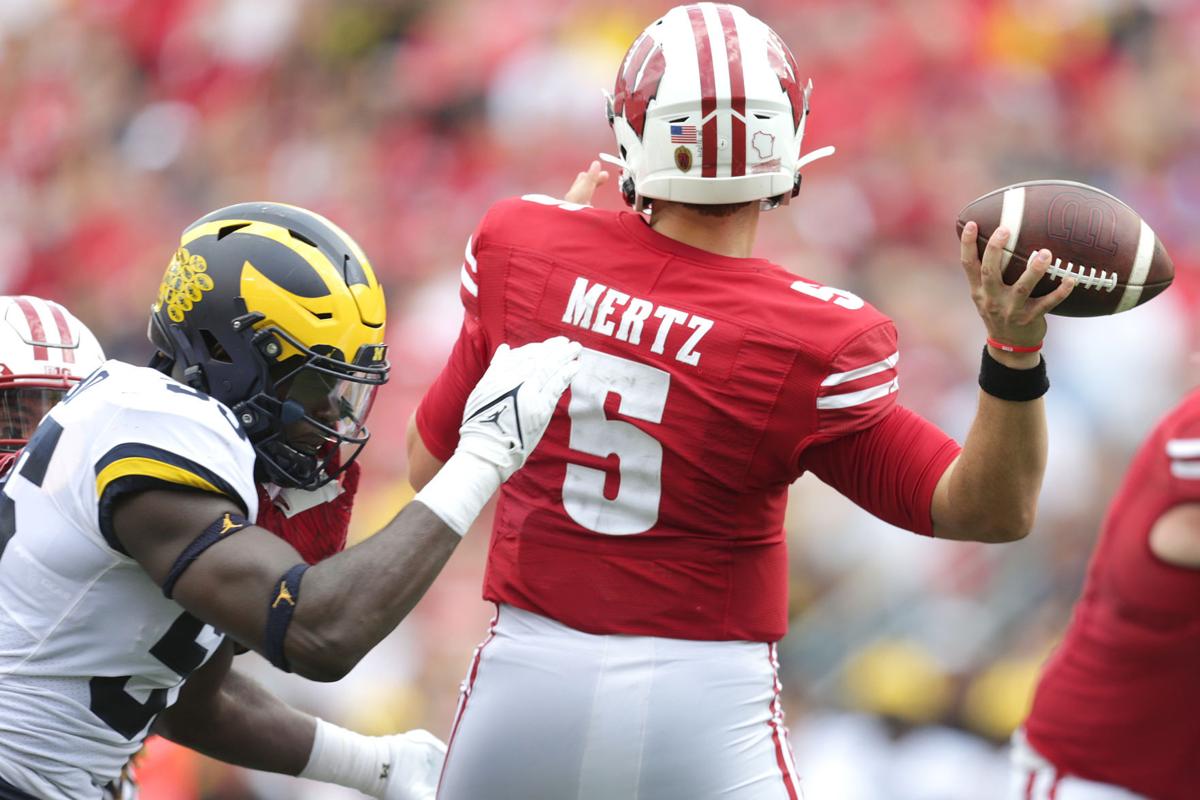 It's a busy sports weekend for Wisconsin teams and — knock on wood — I'm going to try to pull off a tripleheader with three different datelines.
Friday in Milwaukee: Brewers vs. Atlanta Braves in Game 1 of a National League Divisional Series.
Saturday in Champaign, Illinois: University of Wisconsin football team vs. old friend Bret Bielema and Illinois.
Sunday in Cincinnati: Green Bay Packers vs. the Bengals.
Let's get on with this week's Open Jim mailbag, where UW fans are a little less frustrated with Graham Mertz but still mighty discouraged with the state of affairs for a team that is 1-3.
As always, thanks for reading and for those who submitted questions, keep them coming. You can send me questions on Twitter or via email at jpolzin@madison.com.
---
The Packers were throttled by a mediocre Saints team, then won three in a row, mostly convincingly. Meanwhile, the Badgers continue to be curb-stomped by teams the media thinks they should be evenly matched with. While I think some people's suggestion that Paul Chryst should be fired is absurdly premature, I do think he should be able to learn some things from Green Bay. At the same time, I think there's something missing. What do the Packers have that the Badgers don't?
— Andy Pfeiffer (via email)
Talent can make a play caller look pretty good and, on the flip side, a lack of talent can make a play caller look like he doesn't know what he's doing.
That's what I see when I watch these two teams play.
I'm not sure where Aaron Rodgers falls in a ranking of NFL quarterbacks right now, but it's safe to say the reigning MVP is one of the best. The Packers also have an elite running back in Aaron Jones, not to mention a solid backup in A.J. Dillon. Plus, Davante Adams is arguably the best wide receiver in the game right now and Robert Tonyan is a threat at tight end.
In other words, Packers coach Matt LaFleur has weapons at his disposal when he calls plays.
The same can't be said for UW coach Paul Chryst. The Badgers aren't great at any position — tight end Jake Ferguson probably falls in the "really good" category — and quarterback and offensive line have been weaknesses this season.
Chryst and his staff deserve blame for either not recruiting enough talent or not doing a good enough job of developing players — or both — but those two things have handcuffed him as a play caller and I don't think tuning in Sunday to watch the Packers is going to be all that helpful in fixing what's ailing the Badgers.
---
Jim Leonhard's defense seems to consistently get a lot of love. But through the first four games, there seems to be a consistent pattern of giving up big pass plays; and also a persistent failure to create turnovers and give the offense a short field. How do you grade the Badgers defense so far this season?
— Marty in Madison (via email)
If I'm giving an actual grade, I'd go B-plus. That probably sounds low to some and this is where I'll acknowledge that it has to be exhausting for this defense to go out every week knowing it basically has to play mistake-free football because the offense has been so poor.
But as Marty pointed out, there are two legitimate reasons to downgrade UW's defense. The Badgers only have forced three turnovers — one fumble and two interceptions — through four games. That number ranks among the lowest in the country.
Plus, UW allowed a combined 10 passing plays of 20 yards or longer in its three defeats. That's just too many, even if opponents constantly are taking deep shots against the Badgers because there's no point in trying to run the ball against them.
For what it's worth, Leonhard spoke highly of his cornerbacks during his weekly news conference Monday.
"Our guys are playing well," Leonhard said. "For the most part, they recognize those things. And every once in a while, if you're not paying attention, you get stung, and we have to eliminate those as a defense.
"The way we play defense, we are committed to stopping the run. That's what we do. To me, that's the best way to winning in college football. With that, you've got to win some one-on-ones, you have to win some one-on-ones on the outside. And we've done a great job. That's why we're consistently one of the best (defenses) in the country. But it puts a lot of pressure on our DBs, on our corners. And sometimes I don't feel like they get the credit for how well they play because they allow us to play that way in the box. I have to do a smart job of protecting them, I have to do a smart job of maybe giving them some more downs off in order to not have to be kind of on that high alert every single play."
---
How can Paul coach the QBs and help them during a game when he is calling plays and being the head coach? Is he stretched too thin? I still support and want him as the HC.

— BadgerFan (@divot516) October 5, 2021
Fair questions and I wondered the same thing even before the season began. I also wonder whether his performance in all three areas is suffering to some degree because he's wearing so many hats.
Barring a massive turnaround, Chryst is going to have to reevaluate some things after this season and think long and hard about taking some things off his plate in 2022.
---
What is wrong with the UW football team? Chemistry, talent/skill level, coaching?? Or O line, QB, WR's??

— Doug Benzine (@DougBenzine) October 5, 2021
Let's go down the list, Doug:
Chemistry? I haven't heard about any in-fighting. Defensive players, who should be the most frustrated, have gone out of their way after these losses to say they won't point fingers.
Talent/skill level? I think that's a real issue and I addressed it in a column a couple weeks back. There are some good players on this roster, but I don't think there's a long list of great ones.
Coaching? I think even Chryst would admit that the UW staff hasn't done enough to get the most out of this team, even with its obvious flaws. Chryst has talked a lot about how inconsistent the offense has been and he knows better than anyone that a big part of a coach's job is to make sure that group is on the same page play after play after play.
O-line, QB and WRs? I'd say the first two groups definitely have been weaknesses to date. It's hard to beat opponents with below-average quarterback play. And it's almost impossible to win — especially at UW — if the offensive line isn't doing its job. I don't have any issue with the way the wide receivers have played.
---
Before the season, I asked you what you saw as the best and worst case scenarios for the Badgers this season. Care to revisit the worst case scenario? (I think the worst case is missing a bowl and going 2-7 in B1G play)

— Craig Smith (@smithcp1) October 5, 2021
At this point, the only game I feel completely confident UW will win the rest of the way is against Northwestern. Everything else is up in the air, in my opinion.
The Badgers will win some of those toss-ups, so your scenario of 2-7 seems highly unlikely to me. But 4-5 definitely seems possible, and that would leave UW with a 6-6 record at best, good enough to barely qualify for a bowl game.
But the bowl streak is in jeopardy, and my colleague Colten Bartholomew and I discussed the path to qualification in the podcast this week. Check that out when it drops Thursday morning.
---
How dispassionate is Chryst when it comes to evaluating staff? Does he have the will to replace en masse as harbaugh did and can he see past the ties to the school and program in doing so?

— Fred Ehle (@FredEhle) October 4, 2021
Chryst hasn't fired anybody in his six-plus seasons as UW's coach, if that tells you anything.
I can't see him overseeing a coaching staff makeover. But as I wrote in my column after UW's loss to Michigan on Saturday, it's becoming more and more clear that Chryst might have some difficult decisions to make after the season while addressing two important staffers whose units are struggling: offensive line coach Joe Rudolph and special teams coach Chris Haering. Both are longtime assistants under Chryst.
---
I, like others were not likely not shocked by Mertz' hot streak, I noticed a TV close up of his face prior to the TD throw.. not lost, nervous.. but world beater look. Do you think the light went on there? Poised. Also, bench-beach.

— WISkeylover54 (@WISkeylover54) October 4, 2021
I'll say it until I'm blue in the face — there's a good quarterback in there somewhere, and those two drives were proof of it.
But — and this is a big but — it was only two drives. Mertz needs a longer stretch of consistency before I'll be ready to say he's turned some sort of corner in his development.
---
Is there ever any interaction between a OC and DC when one side of the ball is struggling. Like for instance w/ UW, could it benefit Chryst to talk to Leonhard about what is not working offensively, & Jim could tell him what is easy to gameplan against and defend w/ our Offense?

— Matt Uhlmann (@UhlmannMatt) October 4, 2021
I haven't asked that specific question lately, but my impression always has been that the information flows freely back and forth between offensive and defensive coaches.
I highly doubt Jim Leonhard is spending much time breaking down the UW offense during the season because he's got so much else on his plate in terms of getting ready for opponents each week.
But it's possible the Badgers spent part of its bye week last month doing some self-scouting, which would have given Leonhard some time to spend taking a closer look at the UW offense.
---
Do you think that Braelon Allen is being properly used? I do not. When Braelon committed to UW, I was excited at the prospect of he and Hunter Wohler being twin safeties. Then he apparently ate himself out of that position or was instructed to bulk up to be a linebacker. I think that would be the best use of his talents. I realize that he had incredible statistics running the ball his last year in high school. Chryst grabbed him to play running back, but he is only getting a few carries a game. He should either get more touches or be moved back to defense to be groomed as a linebacker.
— Andy Shovers (via email)
Allen actually has a better chance to contribute this season at tailback than he does at linebacker, where UW is pretty deep. And I think his role will expand in the Badgers' backfield as early as Saturday against Illinois.
I think Allen has a bright future as a physical running back, and that's not to say he's a plodder in any way. It's important to remember that he's not even 18 yet, still is learning the position and only will get better with more reps.
Bottom line, I think he's fine where he's at and considering the uncertainty at that position going forward, remaining at tailback is the best option for Allen at this point.
---
Jim - For Pro Football- is the conventional wisdom of deferring the ball to the second half an obsolete strategy? I think you'd want to start the game with your stronger set, which IMO for the Packers is the offense. Why defer and send out your weaker unit first?

— Sean Stephenson (@sgstephenson) October 5, 2021
LaFleur likes to defer and Rodgers typically has been a big fan of that approach because it gives the Packers a chance to score to end the first half and get the ball back to start the third quarter.
But even Rodgers admitted a couple weeks ago that it might be worth revisiting that strategy.
In a perfect world, the defense gets a stop on the opening possession and the offense gets the ball for the first time with the score 0-0. But that hasn't happened in any of the Packers' four games this season.
Green Bay's opponents have gotten the ball first in three of the first four games this season. New Orleans produced a field goal on its opening series, while Detroit and Pittsburgh scored touchdowns.
The Packers got the ball first in San Francisco and produced a field goal on that opening drive.