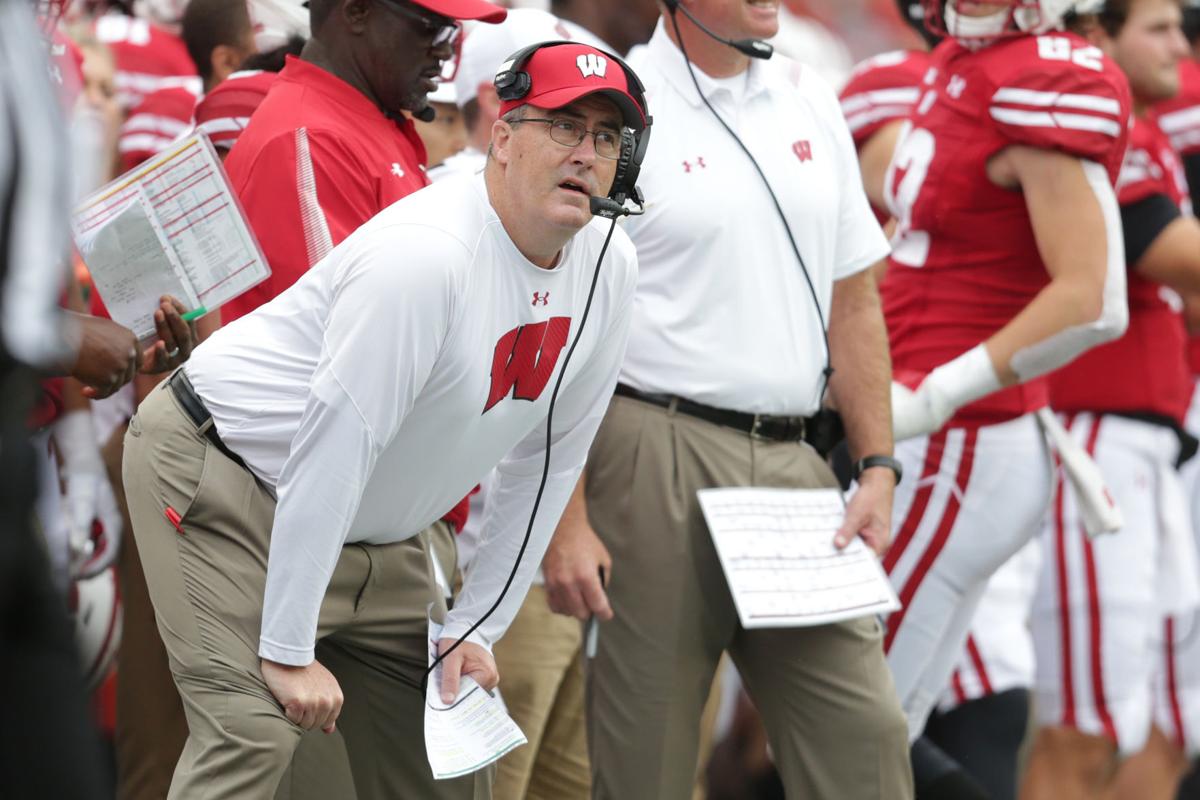 One general theme dominated this week's Open Jim mailbag: University of Wisconsin football fans are fed up with the offense, with quarterback Graham Mertz and coach Paul Chryst designated as the primary targets of that frustration.
If you haven't already, please click this link to become a print and/or digital member. We have a fantastic deal going on right now — six months for $1.
As always, thanks for reading and for those who submitted questions, keep them coming.
---
Next season should Paul Chryst considering hiring an offensive coordinator from outside the Badger family? Sorta like how Andersen brought in Dave Aranda and he brought fresh ideas to our defense.

— EricTheRed (@RealEricTheRed) September 6, 2021
A trait of a great head coach is surrounding themselves with smart assistants. Franklin changed oc multiple times to find the right guy. Do you think Chryst would bring in a fresh set of eyes or perhaps he's nervous to do so?

— Justin Radin (@JRadin15) September 6, 2021
These are better questions for December after we see how the rest of the season plays out. I'm always a little leery about overreacting to one game, especially when it's a season opener against a quality opponent.
And I'd push back a little against Justin's point about James Franklin finding the "right guy." We just don't know that yet. We know first-year Penn State offensive coordinator Mike Yurcich has a good track record and that the Nittany Lions made some big plays on offense in the second half against the Badgers. But if UW's offense doesn't shoot itself in the foot over and over and wins the game, is anybody praising Yurcich following a loss in which his unit produced 16 points? Of course not.
But let's say December rolls around and UW's offense has sputtered for a second consecutive season. At that point, yes, Chryst would need to consider major changes in scheme, staffing or both. And since there's no obvious candidates inside the Badgers family — Jon Budmayr and Scott Tolzien come to mind but probably aren't ready for something this big — it would behoove Chryst to broaden his search.
There obviously would be a ripple effect, too. Hiring an offensive coordinator/quarterbacks coach would require Chryst to fire one of his 10 assistants.
All of this seems very unlikely to me on Sept. 8, but maybe that's just because there are so many hypotheticals at play.
---
Has Paul Chryst bitten off more than he can chew successfully? Graham Mertz's errors Saturday looked like the product of poor coaching to me; very poor fundamentals ... fumbled handoffs, intentional grounding, too jumpy to get through his progressions. Chryst is not only Mertz's quarterback coach, but as a head coach, he's dealing with COVID, recruiting, player discipline issues, game play calling and more. Spread too thin? The buck stops with him.
— Carolyn in Madison (via email)
Carolyn hits on something that I was wondering when training camp opened last month. It does seem like a lot on Chryst's plate, right? Everybody I talked to at the time said he'd be able to handle the big workload and could delegate some administrative duties to give him more time with the quarterbacks and offense.
All that and he had to get his team ready for Penn State. It's a lot.
But is it too much for Chryst to handle? Again, it's always dangerous to jump to conclusions after one game. Some of the silly mistakes Mertz and the offense made Saturday vs. Penn State were unacceptable. Does the coach deserve blame for those errors? Of course, but at some point it's on the individual to execute the basics.
Still, this an issue worth keeping an eye on this season.
---
Jim Leonard is innovative…is he the next head coach?

— Pete Malone (@pmalone95) September 7, 2021
I think so, Pete, but the real question is when does Leonhard become the next coach. I addressed this in a previous Open Jim mailbag, and I don't think that transition will happen anytime soon.
But I do think Leonhard is head coaching material and will be leading this program at some point.
---
Who is the better QB from a skills standpoint between Jack Coan or Graham Mertz?

— Sean Stephenson (@sgstephenson) September 7, 2021
I guess it depends on what skills you mean, Sean.
I think Mertz has the stronger arm, but Coan may be more accurate. Coan seems to be better at making it through his progressions and not locking in on his first read.
We also need to keep in mind that this isn't a fair comparison in some regards. Coan looks like a more seasoned quarterback who makes better decisions, but he should. He's in his fifth season in college, Mertz his third. Check back in two years to see how much Mertz has developed and if he's passed Coan in a lot of the key areas mentioned above.
---
Was Saturday's loss to Penn State the beginning of the end for Paul Chryst and/or Graham Mertz?

— Keith Schmidt (@madtownkeith) September 6, 2021
I'm not even close to being ready to go there, Keith.
I was hard on Mertz after the Penn State loss, and I believe it was warranted. But I still think he has the potential to be a really good quarterback, an All-Big Ten type. Sorry for the cliché, but I think the game will slow down for him at some point and his ability to read defenses, make good decisions and play with poise will improve.
And if Mertz plays well, that bodes well for Chryst. Stay tuned.
---
Why is our passing defense always so vulnerable? This year db is supposed to be a position of strength and it cost us the game. And whats going on with our passing attack?

— Chris (@Cbkoco224) September 6, 2021
I don't think I'd say the UW pass defense always is vulnerable. In fact, it's solid most of the time. But there have been breakdowns in that area and certainly were too many against Penn State.
What's concerning is that this is a veteran group — two fifth-year seniors and two sixth-year seniors in UW's starting secondary — and mental errors shouldn't be an issue. But not sticking to assignments and poor communication played a role in Penn State producing some big plays in the second half after the Badgers essentially pitched a perfect game in the first 30 minutes.
As for UW's passing game, it's not just one thing, of course. Mertz missed some throws, shaky pass blocking led to him being under pressure too often and receivers had a hard time gaining separation at times. And other than a tight end screen in the first half, there wasn't much from a play-calling standpoint that seemed to surprise Penn State.
---
Considering Scott Nelson is in year 5 and still has 3-4 coverage breakdowns a game, should he lose his starting job because he's a liability to an otherwise great defense?

— Matt Scott (@MattScott66) September 6, 2021
I guess that would depend on if UW believes it has somebody behind him who can do the job. Nelson's backup is listed as Travian Blaylock, who hasn't been able to get on the field consistently during his career.
I'll defer to Leonhard on this one: He watches these guys throughout the spring and fall and believes Nelson is the better option.
One other point from my colleague Colten Bartholomew's analysis piece from the game Saturday, which I encourage you to read: Faion Hicks took responsibility for a mental error on Jahan Dotson's long touchdown pass that opened the scoring. Even though it looked like Nelson was to blame, it was actually Hicks' responsibility to cover that half of the field on that play.
---
Of the issues shown on the field Saturday, which is most concerning and which is the least concerning?

— Fred Ehle (@FredEhle) September 6, 2021
I was concerned about the offensive line leading into the opener and that continues to be the case. I'm just not sure this group is going to be great, and UW needs an excellent offensive line for it to be a Big Ten title contender.
I'm least concerned about the big plays allowed by the defense. That group was pretty magnificent on most plays. It just needs to clean up some communication and mental errors in the secondary.
---
Does WI have a decent backup QB?? Badgers are better than that!!!

— Amy Wolfe (@adroess) September 6, 2021
I've had a couple emailers along with people on Twitter saying UW should give backup quarterback Chase Wolf a shot.
I don't see that happening and, frankly, I think it'd be a panic move.
Wolf has appeared in six career games, completing 7 of 9 passes for 31 yards and a touchdown. Both of his incompletions were interceptions. He also has five rushing attempts for 24 yards.
Based on what I've seen in limited game action and practice, I think there's a significant gap between Mertz and Wolf. As sloppy as Mertz was in the opener, I've seen nothing to indicate Wolf gives UW a better chance at winning.
And that's the point: Chryst has to play the guys who give the Badgers the best chance to be successful. He can't — nor would he — change players just for the sake of change.
---
Do you think the biggest issue with Mertz is his football IQ? Certain players have it and others don't.

— Salvador Allende (@1973salvador) September 6, 2021
I don't think that's it. Mertz works hard and wants to get better. I think he has a good understanding of the game and what's expected of him.
I just think the game is moving a little too fast for him right now, as it often does for young quarterbacks. I really think at some point it will slow down and he'll be fine. I just hoped — and I know I'm not alone — that would have happened by now.
---
@JimPolzinWSJ what was with the lack of even an attempt of a downfield attack on Saturday? Felt like Mertz attempted 3 passes over 15 yards

— Matt Shapiro (@meshapiro) September 6, 2021
I'm going to be writing more in-depth on this topic later this week, Matt, but I'll give you a sneak preview after conversations with Chryst and some of the players.
A lot of things go into an offense attempting deep throws: Protection, which wasn't good, is a main factor. And if the receiver isn't open, why force the issue?
UW had a deep shot in the works early in the game, but Mertz didn't have time to throw and ended up nearly getting sacked and getting flagged for intentional grounding.
But I get fans' frustration. Why not test a defense deep just to keep it honest? Penn State took several shots downfield in the second half. Not all of them were successful, but three of them were and led to a combined 143 yards worth of completions.
---
Jim, why do the Badgers keep rotating offensive linemen? That doesn't help get them in a rhythm or figure out how to work together. No other D1 teams do that? Makes no sense.

— j b (@jjwbfdx) September 6, 2021
The explanation we got was that the three backups in the middle — left guard Cormac Sampson, center Kayden Lyles and right guard Michael Furtney — deserved playing time based on how they'd performed in practice. Those three joined starting tackles Logan Bruss and Tyler Beach on the third series of the game and helped UW's offense put together a nice drive that ended with a missed field goal.
I think in time UW will find its best five linemen and stick with that group. But I think offensive line coach Joe Rudolph still is trying to figure out that process.
You'd hope that everything is clear by the Notre Dame game in two weeks.
---
The LT position was a virtual turnstile on Saturday, especially in the passing game. Is there any intention to upgrade that position ASAP. I understand the consistency comments from camp, but consistently poor isn't good, either.

— No Más 🦡 (@JoRy_MaMa) September 6, 2021
Beach's backup is former five-star recruit Logan Brown, who missed some time in camp with a head injury. I'll say the same thing I mentioned earlier with the quarterback situation: Chryst and his staff are going to play the guys they feel give UW the best chance to be successful. At this point, they must feel Beach is the better option than Brown or anyone else.
---
What happened to all the pre-snap motion that Chryst has used in the past? We appeared to just line up and expect to push Penn St around. Second question, how do you grade out the WR position? It looks to be the weakest on the O side.

— Doug Benzine (@DougBenzine) September 6, 2021
Good question about the pre-snap motion, Doug, and I'd like to see if that trend continues going forward.
I actually think the receivers were solid for the most part. I don't think there's a star in that group, but the top three — Danny Davis, Kendric Pryor and Chimere Dike — are solid.
---
How hard did the Big Ten Screw Penn State and UW by scheduling the match up in week one? Why would anyone agree to play that game?

— John Brennan (@hijohnnybrennan) September 6, 2021
It's not like UW and Penn State had a choice. The Big Ten scheduled this game four years ago.
I don't really see the issue here. Both UW and Penn State are in the same boat, so it's not like either had some sort of unfair advantage. Two other ranked teams, Iowa and Indiana, played each other Saturday as well.
Don't look past the positives. UW got a ton of eyeballs on its program, campus and stadium with the Fox crew in town. Those 11 a.m. kickoffs draw a lot of viewers and can serve as advertisements of sorts for teams.
---
thoughts on the Jalen Berger situation?

— Coach Riley (@OLCoachRiley) September 6, 2021
It's strange, I'll say that.
Chryst said it was about what Chez Mellusi and Isaac Guerendo were doing right and not about anything Berger was doing wrong. Chryst said the way the game played out, only two tailbacks were needed.
But that doesn't explain why Berger was standing away from the tailbacks on the sidelines, without his helmet on, when UW had the ball. Seemed pretty clear from where we were sitting that Berger knew he wouldn't be going in the game against the Nittany Lions.
---
1. Ohio State: C.J. Stroud was fine once he settled down in his starting debut.
2. Penn State: It wasn't pretty, but the Nittany Lions showed a lot of toughness — physical and mental — to win in Madison.
3. Iowa: The Hawkeyes led Indiana 31-3 at the half. Are they the new favorite in the Big Ten West?
4. UW: Big missed opportunity for the Badgers.
5. Michigan: The Wolverines routed Western Michigan but lost star receiver Ronnie Bell.
6. Indiana: Perhaps I was too high on the Hoosiers last week — and maybe still am?
7. Rutgers: Former UW player Aron Cruickshank averaged 28.3 yards on four kickoff returns and 27.5 yards on two punt returns.
8. Maryland: Taulia Tagovailoa with 332 yards passing and three touchdowns.
9. Michigan State: Hard to tell if that game in Evanston was more about Michigan State being way underrated or Northwestern being that bad. Either way, the Spartans have some exciting playmakers.
10. Minnesota: The Golden Gophers hung in there with Ohio State but lost the game and star tailback Mohamed Ibrahim for the season.
11. Purdue: David Bell and Payne Durham combined for 15 catches and 254 yards in a big "Alliance" win for the Boilermakers.
12. Illinois: Patting myself on the back here, but I called a letdown for Bret Bielema and the Fighting Illini.
13. Nebraska: The Huskers stomped Fordham, but they can't go above Illinois because of the Week 0 result.
14. Northwestern: The Wildcats allowed 326 yards rushing in a home loss to Michigan State.
---