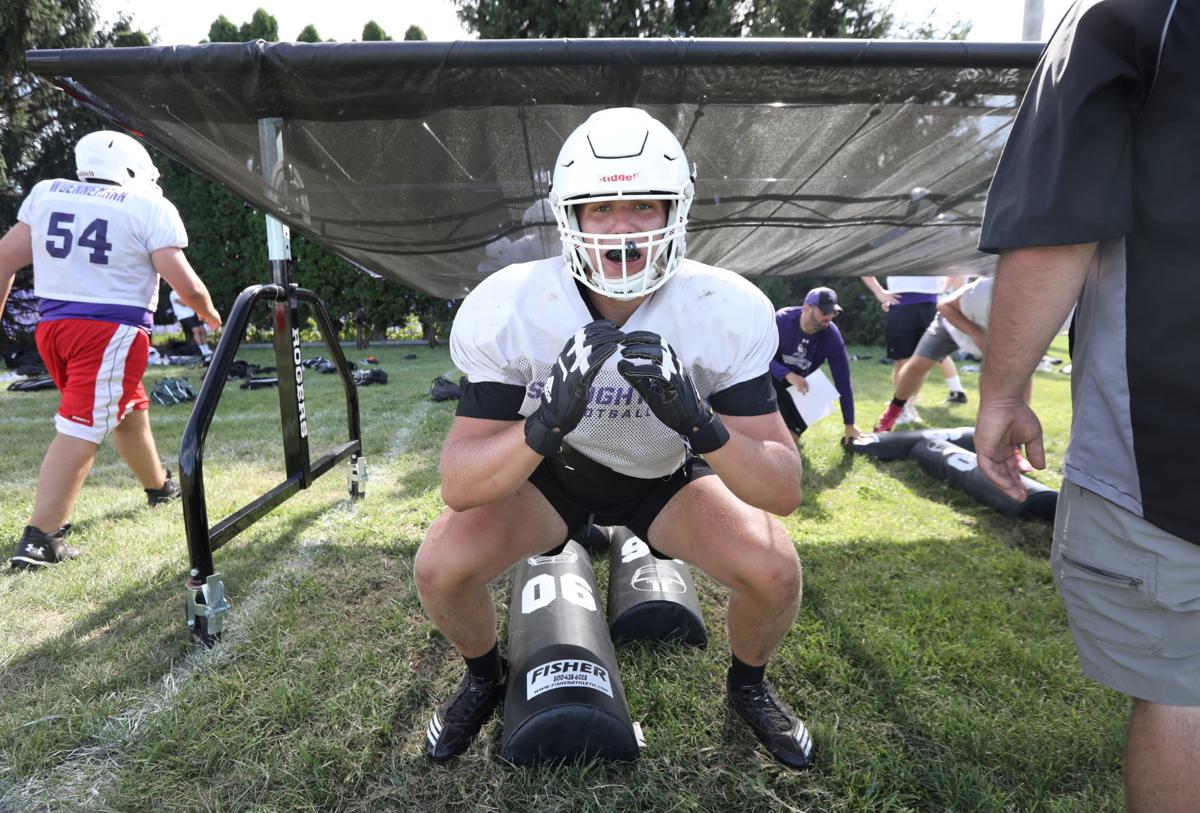 It didn't take long for Jack Nelson or Trey Wedig to make their college decisions.
Yes, where they would attend school and play college football was an important decision and they took great consideration into the school they chose. But once they had scholarship offers from the University of Wisconsin, that decision wasn't too difficult.
Nelson, an offensive lineman from Stoughton, and Wedig, an offensive lineman from Wales, were the first two commitments and two of the highlights of the 2020 recruiting class. That class, which has 17 oral commitments, is expected to put pen to paper on Wednesday — the early signing period for the class runs Wednesday to Friday.
With the recruits committed to UW heading into Wednesday, the 2020 class is ranked 25th in the country by Scout and ESPN, 27th by 247sports and 38th by Rivals.
Nelson and Wedig are the top two offensive line prospects in the state, according to multiple online recruiting services, and both are listed as four-star recruits. They both held their commitments to UW even as other schools tried to swing them after they'd announced their decisions.
Nelson said that once he had an offer from the Badgers, he was all set.
"If you're a recruit offensive lineman, or any position, you want to go to a school that's going to provide you the best opportunities," Nelson said. "Since I was little and didn't know anything about football, it's always been pretty clear that big offensive linemen come out of Wisconsin. That's always been it. If you're an offensive linemen, UW's the spot to be."
Wedig said early in his recruiting process that Notre Dame was a consideration, and even after his commitment to UW, SEC programs such as Georgia and Tennessee made offers. But once he got around the Badgers and UW's campus, the program "checked all the boxes."
"They didn't put on a facade when we were there. It wasn't like they were trying to put on a show or anything. They were just like, 'Here, we'll show you around, see what it's like,"' Wedig said. "Wisconsin was just genuine."
Nelson — listed at 6-foot-7 and 270 pounds — was the first commitment to the class, making his intentions known as a sophomore. His father, Todd Nelson, was an offensive lineman for the Badgers from 1984 to '88. That connection, along with his close proximity to Madison, always made UW attractive, but he said his dad never pushed his decision.
Instead, childhood memories of Todd Nelson's teammates and friends coming back to the area showed him the kind of bonds playing for UW can create.
Wedig — listed at 6-8 and 320 pounds — joined Nelson in the class last fall, and his stock as a prospect only continued to grow. He remembers vividly the car ride back to his home when he got his scholarship offer. He and his brother were returning from a workout when he was told by his high school coach at the time that he needed to call UW offensive coordinator and offensive line coach Joe Rudolph. That conversation led to the offer, and Wedig practically sprinted inside to tell his mother about it.
But even as the buzz around Wedig grew, he stayed grounded and didn't let it affect his actions.
"Any type of college kid can get kind of that swagger that they're too cool for school or too good, and kind of try to do things differently — that never happened with Trey," said Matthew McDonnell, Wedig's coach at Kettle Moraine High School. "He was always our hardest-working kid, he was always humble, he was always wanting to get better, he was always getting coached and taking coaching. It was incredible. If you watched us practice, you would have no idea that he was our dude attitude-wise."
Nelson and Wedig are part of group of five offensive line prospects expected to sign Wednesday. Ben Barten of Stratford, Tanor Bortolini of Kewaunee and Dylan Barrett of St. Charles, Illinois, round out the O-line class that will help reload the line. UW will lose guards Jason Erdmann and David Moorman to graduation and may lose center Tyler Biadasz to the NFL.
Because they signed early, Nelson and Wedig became a de facto welcoming committee for the 2020 class, reaching out to other UW recruits around the country as they made their choices.
"It's been really great to see the other kids go through the process. I've been able to talk with them, establish friendships with them, especially with the O-linemen," Nelson said.
Wedig said those conversations are sometimes about football, but often are about the next steps in the process of becoming Badgers, especially the academic side.
Nelson and Wedig have become fast friends. Their high schools have scrimmaged each another the past three seasons and they'd talk before and after those exhibition games. They've also hung out at UW spring practices and games since committing.
They'll get more quality time together, and their first chance to share a uniform, later this month when they head to San Antonio, Texas, to play in the Army All-American Bowl. They're both on the West team for the Jan. 4 game.
Nelson will graduate early from Stoughton and enroll at UW in January, while Wedig will come to Madison after he graduates in the spring. While their decisions to come to UW weren't too difficult, Wednesday's signing day will be an "emotional day," Wedig said.
"I don't really know what it's going to be like because I haven't done it before and I haven't seen it happen on this kind of scale, but I'll see what happens in the moment," he said. "I'm probably most excited to just get there and work with tons of other dudes who are just as dedicated."
---
Get to know the Badgers' 2020 recruiting class