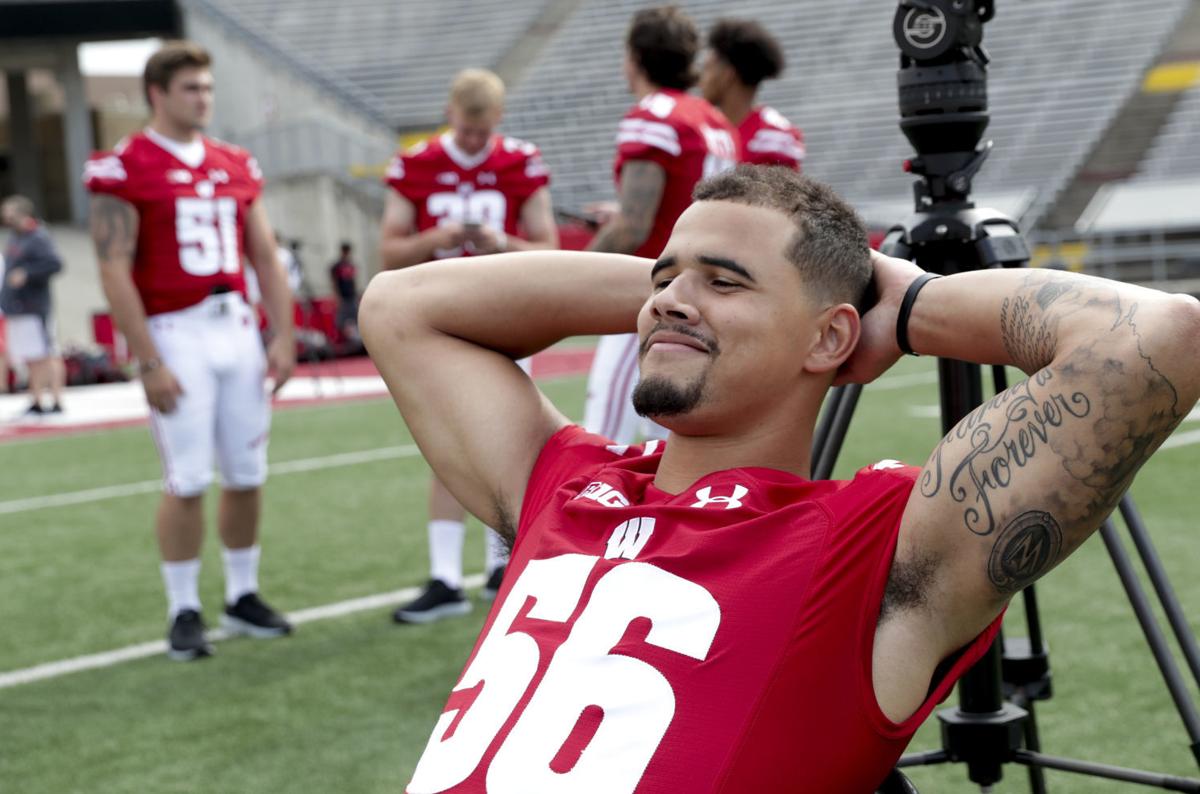 After 12 weeks of staying off his broken left foot last year, Zack Baun said he needed to "completely learn how to walk again" during his rehabilitation.
Now that the University of Wisconsin outside linebacker's running full speed during fall camp, he's only left to overcome the most difficult part of returning from the injury that ended his 2017 season before it started.
"I think if you ask any guy that has had a foot injury or an ACL injury or an Achilles, the most difficult part of it is the mental aspect of it," Baun said. "And that includes gaining confidence back in the foot."
Could anyone blame Baun for hesitancy? The junior even suffered a scare during spring practice in April, when he thought he re-injured the same foot before X-rays came back negative.
UW coaches didn't withhold their optimism for Baun last year before his injury in August, and the Badgers likely need him on the field more than ever this season after the departure of starters Garret Dooley and Leon Jacobs.
Baun's only game time in his career thus far came when he played a minimal role as a redshirt freshman in 2016, but the Brown Deer native has flashed strengths as a pass rusher and in coverage on the practice field. He's taken nearly all the first-team reps opposite Andrew Van Ginkel during UW's first week of fall camp.
"He brings a different athletic ability to the position," UW defensive coordinator Jim Leonhard said. "The big thing with Zack is just getting healthy and getting through the season. You feel like he's been around for a long time but really hasn't got a lot of game experience. ... He knows what he's supposed to do and now it's gaining the confidence to go dominate like we ask that position to do."
Baun couldn't hide a smile at UW's local media day last week when asked about his excitement for heading into fall camp healthy.
If his mind and body allow for it, Baun's potential could see him emerge as a breakout star for the Badgers this season.
"I'm the strongest I've been since I came here," Baun said. "I'm excited to get the ball rolling, just to play again. I kind of got my feet wet in the first half of spring ball. Now it's go time. Now I'm ready."
Henningsen, Williams earn first-team reps
Defensive end Matt Henningsen and cornerback Caesar Williams got their chance at first-team reps during Monday's half-padded practice.
Henningsen, a redshirt freshman walk-on, took the first-team reps that were occupied by redshirt freshman Aaron Vopal during the first few practices of camp. Redshirt freshman Kayden Lyles continued to run with the ones at the other defensive end spot.
"(Henningsen) knows what he's supposed to do and going through last year, I think he took huge strides physically, got his body in a place where he's going to put himself in a position to compete," Leonhard said. "You just see consistency. ... He's put himself in that conversation of earning big-time reps and a big role this fall. It really just comes through consistency and putting in work."
You have free articles remaining.
With Williams' inclusion in the first team Monday, four cornerbacks — Williams, Madison Cone, Faion Hicks and Deron Harrell — have had a crack at reps alongside projected starter Dontye Carriere-Williams during the first week of camp.
Johnson granted medical hardship waiver
Safety Patrick Johnson has been granted a medical hardship waiver after missing most of last season with an arm injury, per a UW official.
Johnson played in four games last year, just under the 30 percent threshold that allowed him to regain a year of eligibility. He'll be a redshirt sophomore this season rather than a junior.
Erdmann, Johnson awarded scholarships
Offensive lineman Jason Erdmann and outside linebacker Tyler Johnson are now both on scholarship, per a UW official.
Johnson received financial aid during the spring semester after former Badgers cornerback Nick Nelson opted to leave early for the NFL, and UW has opted to keep him on scholarship for this season. Johnson recorded eight tackles, two for a loss, one sack and two forced fumbles in 2017.
Erdmann split time with Jon Dietzen at left guard last season and could provide solid depth on the interior of the Badgers' offensive line in 2018.
The Badgers still aren't in full pads, but their injury report has continued to grow over the last few days.
Eight players were listed as out for UW's practice Monday — inside linebacker T.J. Edwards (right leg), tight end Zander Neuville (right leg), Hicks (right leg), fullback Alec Ingold (right leg), wide receivers Adam Krumholz (right leg) and Emmet Perry (left leg), offensive lineman Blake Smithback (right leg) and defensive end Isaiahh Loudermilk (left leg).
Safety Patrick Johnson also sat out with an illness, while kicker Rafael Gaglianone was given the day off. Running back Garrett Groshek (right arm) and wide receiver Jack Dunn (left arm) were limited.
Safety Christian Volpentesta left practice early with a right leg injury. Harrell (right leg) exited during the early stages of practice and rode an exercise bike on the sideline, but he later returned.
Dietzen continued to take initial first-team reps at left tackle Monday, although offensive coordinator Joe Rudolph said he's not ready to name a stater at the position between Dietzen and Cole Van Lanen. ... Kendric Pryor enjoyed an impressive outing Monday, notching four touchdown catches during red zone 7-on-7 drills.