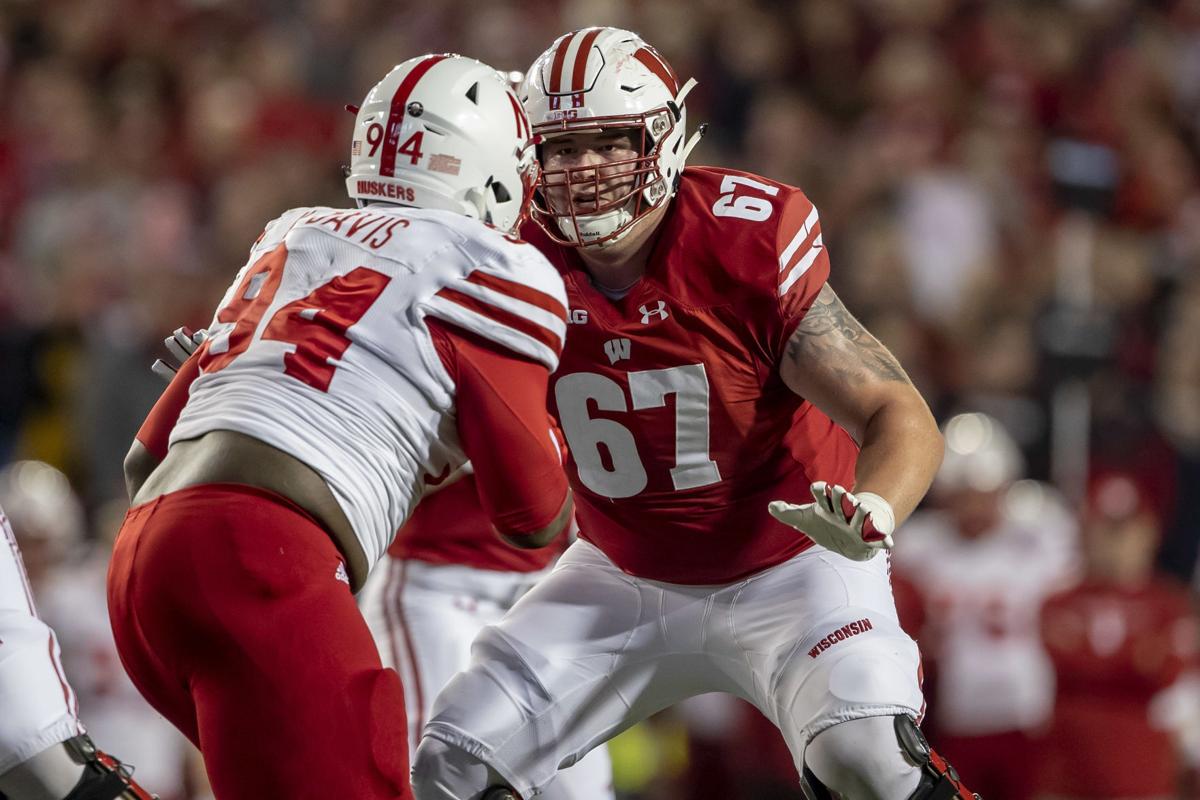 Jon Dietzen tried separating himself from football.
Following his retirement after four years of punishment as an offensive lineman for the University of Wisconsin football team, Dietzen was ready for more time with his hobbies outside of the game. He spent time hunting and fishing, hung out with his girlfriend and family, and let his aching body recover and heal.
But football was always present. He couldn't shed a lifetime of being invested in the game in just a few months. He went to a Green Bay Packers game with his family last year and that was the first time his father, Bruce, had heard legitimate inklings of his son's interest of playing football again.
But Jon says there was another sight that started the thought in earnest.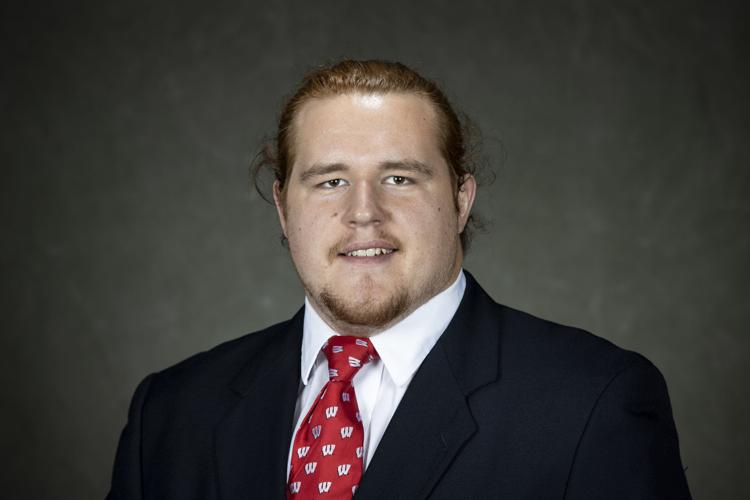 "I guess once I saw Wisconsin playing specifically, that was something that really kind of motivated me," he said.
When the No. 14 Badgers open their truncated season Friday night against Illinois — kickoff is set for 7 p.m. at Camp Randall Stadium — Dietzen is expected to make his 33rd career start and his first at right guard. It'll be his first football game since the Pinstripe Bowl against Miami on Dec. 27, 2018, a gap of 666 days between games.
His path back to the field gave the Badgers not only a talented, dependable lineman, but an inspirational boost as they head into an unprecedented season.
"I've loved it. It's been fun to see him out there. He's moving really well," UW coach Paul Chryst said.
"There's obviously a maturity that he brings, but also that appreciation. Something was taken away, and now (he's) getting to play and his actions are reflecting it. I think every day he's been going. There's a couple things where I just looked to a couple other guys, 'It's just fun seeing Dietz. He's moving and moving well, and bending.' He's been really good, again, knock on wood. It's been fun to see."
Family support
Bruce and Karen Dietzen sensed push was coming to shove for their son late in 2018.
The multitude of lower-body and other injuries was getting to be too much to sustain while trying to play. The Badgers had Dietzen splitting reps that season at left tackle with Cole Van Lanen, but just getting through each week was becoming an insurmountable grind.
"We knew that something had to happen," Karen said. "I think we just felt like we needed to be there to support him and get him through this. Because he was at the point he needed to step away and take care of himself."
He told his parents the weekend of the Pinstripe Bowl. They knew how difficult it was for Dietzen, and how he'd tried to grin and bear through the pain throughout that season. Now that he said he was done, they were supportive of his next steps.
He stayed in Madison in early 2019, working as a podcast editor after graduating the previous December. But when he needed surgery, he returned home to recoup.
At first, Dietzen's workouts were focused on rehabbing and living a normal, healthy life. But as he started feeling better and getting stronger, playing football again entered his mind. He set checkpoints for himself and as he cleared each one, he allowed the thought to progress.
His family was key in building his belief that he could play again, if his body continued holding up.
"I remember watching games and saying like, 'Oh, I bet I could still do it,'" Dietzen said. "(My family) said, 'If you think you can, why don't you?' They really helped push me to it. There was nobody that was questioning whether it was a good decision for me. They all knew that I knew how to listen to my body at this point."
Bruce and Karen said it wasn't difficult to encourage their son's pursuit of football again, knowing how much he loved the game and seeing what he'd been doing to physically prepare himself.
"He tested himself several different ways," Bruce said. "His workouts increased in intensity and he really started to pound on his body doing more physical things as he went on. Everything kept going in the right direction."
Karen added: "You want your kids to be happy, you want them to be doing something that's meaningful to them that they're passionate about. It's going to be great to see him out there."
The path back
Scotty Smith has worked with Dietzen since he was a high schooler at Seymour. Smith owns Synergy Sports Performance, a large fitness and training center in Hobart, just outside of Green Bay.
Smith witnessed Dietzen progress as a sought-after recruit to a high-level college lineman, and saw his injuries rob him of the power and explosiveness he once had.
"Honestly, I think it was a disappointment for him," Smith said. "His body kind of let him down. No matter what he did, he just couldn't get it back to what he should be at. That was probably the most challenging thing for Jon, was to try to find a way to fight through those feelings."
Dietzen worked out at Synergy in the summer and fall of 2019, slowly building himself back into shape before approaching the Badgers coaches about the possibility of returning to the team.
Chryst and Joe Rudolph, UW's offensive coordinator and offensive line coach, were receptive to Dietzen's return, assuming he was healthy. With that, Dietzen's workouts at Synergy intensified this year.
"I was working out with a couple guys who were training for the draft at O-line. We were doing very line-specific stuff, it wasn't necessarily just lifting weights to lift weights. We were moving weight and pushing sleds and taking footwork and pass sets and things like that," Dietzen said. "Once I realized that I got through a whole round, a whole week of stuff with them doing that, I was like, 'Man, I guess I can do this.'"
The prospects Dietzen worked with — Jordan Steckler, a Northern Illinois product who signed an undrafted free agent contract with the Saints, and Evan Heim from MSU-Mankato — helped him feel affirmed in his decision to return to the game.
Smith said he could see Dietzen's confidence return as they worked together. As COVID-19 at first delayed, then cancelled, then pushed back the Big Ten Conference football season, Dietzen got more time to train and be ready to hit the ground running with the Badgers.
Dietzen said he's focused on flexibility and daily recovery habits to help him avoid the injuries that ended his first run with UW.
"I think it's one of the coolest stories we've had over the years," Smith said. "I've been doing this 20-plus years now … What Jon put into it, and the type of quality player he is … I've talked to other guys in this sense, he was NFL-caliber ready before he got hurt.
"I want to see him finish this ride."
Finding a role
After being readmitted to the university, Dietzen's play during camp answered the question of if he could play with a resounding yes. He established himself among the offensive line's top players once again.
The question then shifted to where he should play.
That answer wasn't as clear — Dietzen's experience at both guard and tackle made him a candidate at both spots. He worked at both evenly during the early portion of training camp, both with the first and second teams.
Van Lanen had established himself at left tackle in 2019, and the Badgers had two potential starters at right tackle in Tyler Beach and Logan Bruss. An injury knocked Bruss out of practice for about a week, which slotted Beach at right tackle and Dietzen at right guard.
With Bruss healthy again heading into game week, Rudolph kept Dietzen at right guard to allow him to stay honed in on one role.
"I didn't think it was really fair to pick him up again and move him to a different spot as we start to wire in on a game plan," Rudolph said. "You're just trying to be fair with the guys and get them in positions to succeed. I think he feels very comfortable there, he's very confident there."
How's he doing in his spot? Ask senior defensive lineman Isaiahh Loudermilk.
"What I've seen from him is what he was able to do when he was here before," Loudermilk said. "He's a big, big, strong guy. You can definitely tell that the year he took off he didn't let off the gas working out or anything like that. He's still that big, strong, fast guy and I'm excited to see what he does this year."
Ready to go
Barring a new injury, Rudolph said he doesn't anticipate Dietzen splitting snaps as he once did.
His past injuries made getting through a week of practices and a game nearly impossible. Now, he's able to take on a full workload.
"It'll be interesting as we jump into this and extend it to a game length. But he's been as good as anyone, so I anticipate him rolling," Rudolph said.
Dietzen jokes often of being the old man of the team. But with that experience comes a great deal of respect from those around him.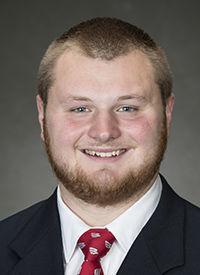 "For him going through what he's going through, battling through it and then to be done and to come back and put his body through it again for this team and to give himself an opportunity to go out how he wants to … you can't … the way we value Dietzen is higher than … I mean he just is an incredible warrior. He's battled through so much. Everything goes out to Dietzen. I love him, I love having him back, I'm happy he feels good now," Van Lanen said.
"I think I was the only one there playing with him when he was going through that so I know how tough it was on him. For him to come back, I'm just really, really excited for him to get this opportunity now."
Dietzen's love for the game — the force that drew him back to it — is matched by his desire to finish his college career in his own terms. And he's intent on soaking in each moment.
"I guess now the feelings leading up to the game have been more of an appreciation for every rep at practice, all the tough stuff that we go through to get there," Dietzen said. "Come game day, it'll be again just an appreciation that I have the opportunity to be out there."
---
Who has the edge when the Badgers take on Illinois?
WHEN THE BADGERS HAVE THE BALL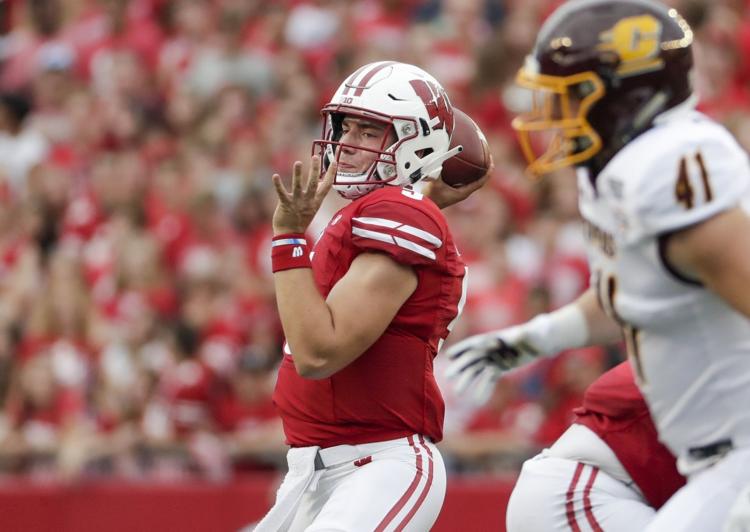 The Graham Mertz (above) era has begun, with the much-hyped quarterback getting his first career start. Mertz, a four-star recruit, has been a subject of much discussion since he committed to UW in 2017, and it's time to see whether he can live up to the hype.
Mertz has the advantage of veteran receivers Danny Davis and Kendric Pryor, along with tight end Jake Ferguson at his disposal.
A three-man running back group will be leaned on to keep the Badgers productive on the ground, with Nakia Watson, Garrett Groshek and Isaac Guerendo tasked with that challenge. Watson, who was Jonathan Taylor's backup last season, is a powerful runner, and will have to contend with an Illinois defensive front that allowed 4.3 rushing yards per carry and nearly 200 yards per game last season.
Illinois' defense was stellar at forcing turnovers last year, ranking eighth in the country in takeaways per game. With a redshirt freshman at QB for the Badgers, expect Illinois' defense to try to confuse Mertz and put him in difficult situations. Senior linebacker Jake Hansen forced seven fumbles last season, including two against UW.
EDGE | UW
WHEN THE ILLINI HAVE THE BALL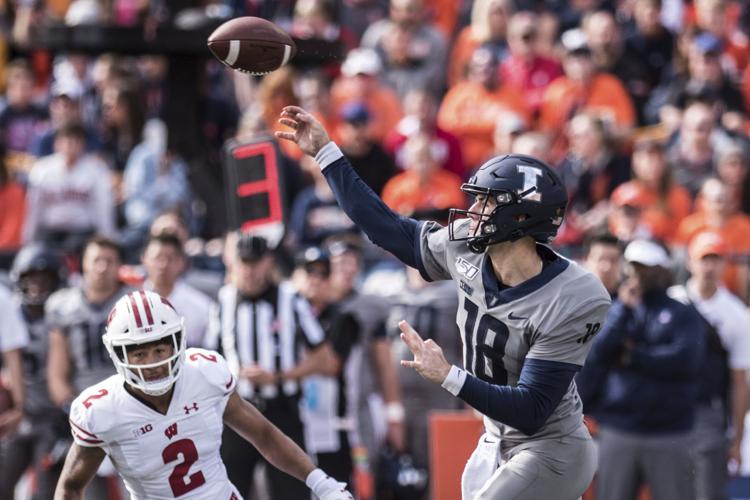 After transferring from Michigan, Brandon Peters (above) offered some stability at quarterback for Illinois as a redshirt junior. He had two passing touchdowns against UW in the Illini's shocking upset of the then-No. 6 Badgers last year. Peters threw for 18 touchdowns and ran for three more last season.
Peters is also the team's leading returning rusher — Reggie Corbin and Dre Brown both graduated, and Ra'Von Bonner opted out due to COVID-19 concerns. A new face must step up for the Illini in the backfield, with Mike Epstein and Chase Brown expected to garner most of the touches.
Illinois' receiving corps returns its top two targets in Josh Imatorbhebhe and Donny Navarro, both of whom scored touchdowns against UW last season.
The Badgers' defense returns eight starters, and while the sack-machine duo of Zack Baun and Chris Orr are among the three departures, UW coaches believe the defensive line can generate more pressure this season. Seniors Isaiahh Loudermilk and Garrett Rand, along with sophomore Keeanu Benton will need to plug holes in the run game and attack QBs in the pocket.
EDGE | UW
SPECIAL TEAMS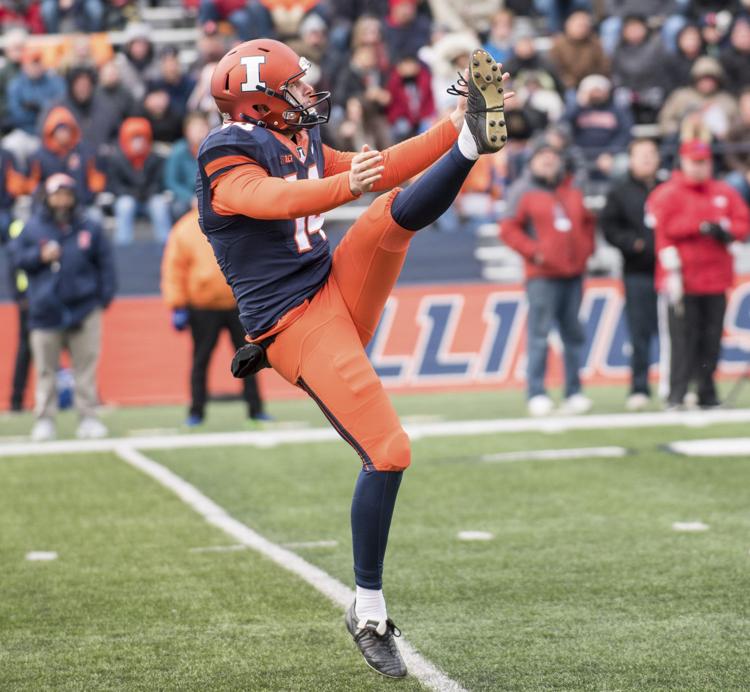 UW coach Paul Chryst hasn't been definitive about much of anything regarding special teams, a unit that needs to replace its punter, kickoff specialist and kick returner. Andy Vujnovich was granted a waiver to play this season by the NCAA after transferring to UW from Division III University of Dubuque. Punting is a concern for UW, which ranked 13th in that category in Big Ten play last season with a net average of 35.6 yards after finishing last the previous two seasons.
Freshman Jack Van Dyke will handle kickoffs, per the depth chart, and receiver Stephan Bracey will be handling kick returns for the first time.
Collin Larsh is back as the place kicker after a difficult 2019. Larsh went 12 of 18 on field goals a year ago, but just 5 of 11 on tries of 30 yards or more.
Blake Hayes (above), one of the best punting prospects in the nation and the Big Ten's punter of the year in 2019, returns for Illinois. He set multiple school records last season, including 22 punts of 50-plus yards. Kicker James McCourt is also back after going 13 of 19 on field goals last season.
EDGE | ILLINI
COACHING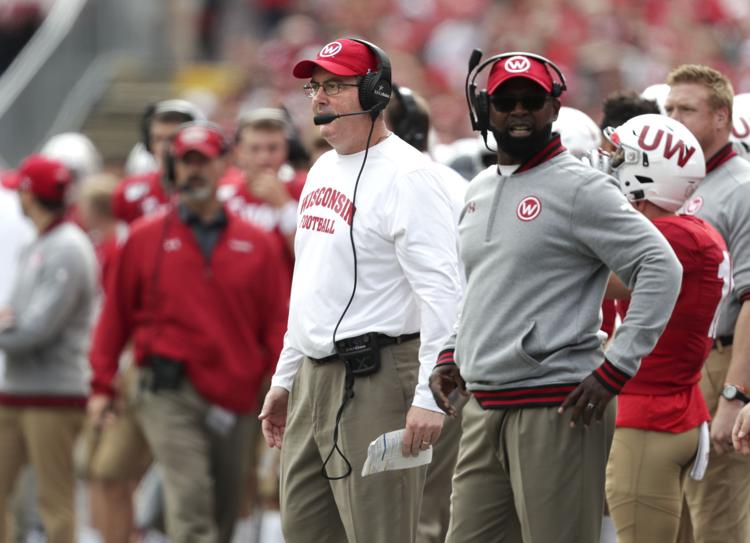 Lovie Smith and his staff have put significant recruiting resources into landing transfers, and he's gotten his defense to embrace his turnover-focused mentality. After a shuffle of its offensive coaching staff last season, the Illini averaged 24.7 points per game in conference play a year ago, and Smith hired two new defensive line coaches to help shore up the defensive front.
Chryst (above) and Co. stayed almost the same, only changing at wide receiver coach, bringing in Alvis Whitted. Whitted, who spent 2019 with the Green Bay Packers, drew praise from players for his ability to relate to them and for bringing NFL knowledge to the group.
Illinois' defensive execution in the red zone and ability to force turnovers helped them score the upset last season, but Chryst has proven his ability to adapt to his roster better than most coaches.
EDGE | UW
INTANGIBLES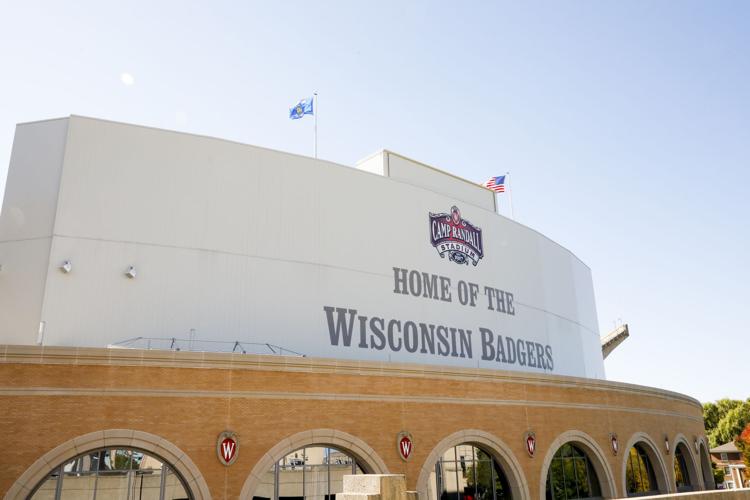 Friday's game will be played at a site not many have ever seen — an empty Camp Randall Stadium on a game day. The Big Ten isn't allowing fans at games this season, and due to rising COVID-19 cases across the state, UW isn't allowing parents to attend as it had originally planned.
Hanging over this game and every other this year is the impact COVID-19 could make, as a positive test later in the week could significantly alter a team's plan.
The usual home-field advantage of a raucous Camp Randall (above) for a night game will be gone, but the Illini still must travel on a shortened final week of prep.
EDGE | UW
STATE JOURNAL'S PICK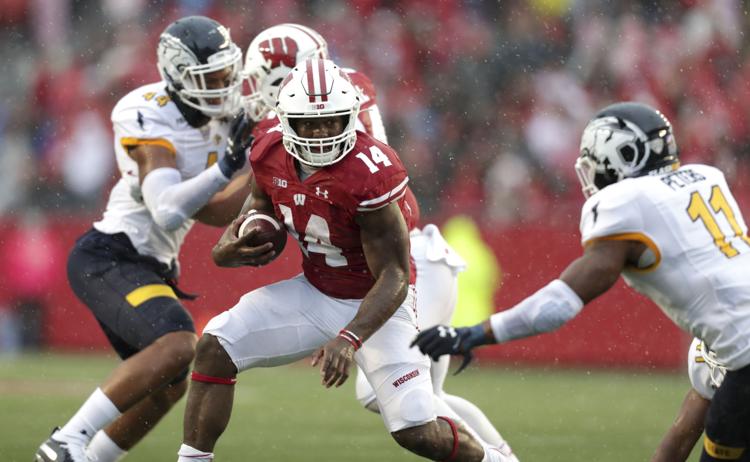 They've downplayed using it as motivation so far, but the Badgers are out for revenge after last season. Watson (above) said the Illini deserve "a butt-whuppin'." This one may not live up to that, as the Badgers offense could be slow out of the gates with the changes at quarterback and other key spots, but the defense is up to the task and leads the way in a win.
BADGERS 27, ILLINOIS 14
THE NUMBER (UW)
4: Number of players returning for the Badgers with at least 20 catches from 2019
THE NUMBER (ILLINOIS)
2.2: The Illini forced 2.2 turnovers per game a year ago, which ranked eighth nationally.
KEY STAT (OFFENSE)
Red-zone touchdowns: UW scored touchdowns on 36 of 54 red-zone possessions (66.7 percent) last year, their second-best rate of the past five years
KEY STAT (DEFENSE)
Chunk plays: UW allowed the Illini five plays of more than 20 yards in last season's loss, which accounted for 53% of their total offense
Prepare for kick off of the University of Wisconsin's 2020 football season on Friday against Illinois with the Wisconsin State Journal's annua…
With the long-delayed University of Wisconsin football season just around the corner, we asked fans to share their predictions for the Badgers…