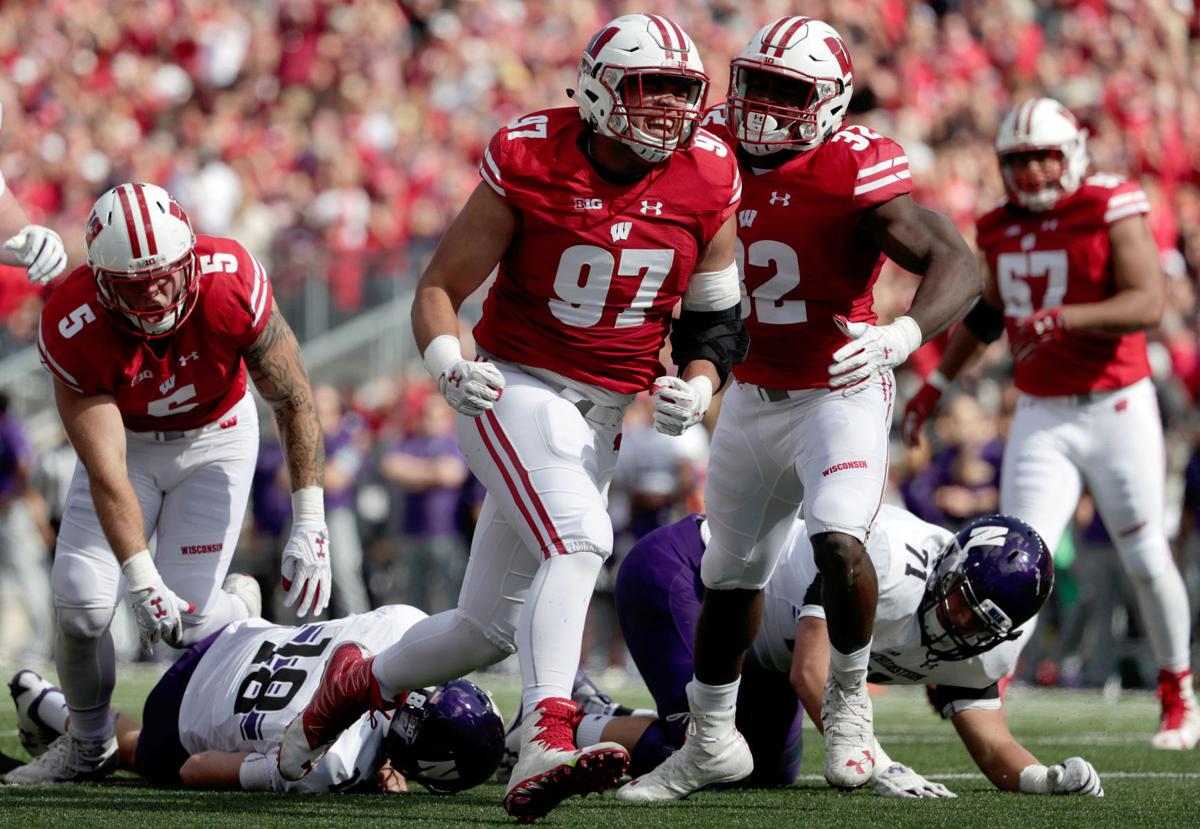 Garrett Rand and Isaiahh Loudermilk couldn't help but smile Sunday afternoon when the topic of finally getting to play together was raised.
The Rand-Loudermilk pairing at defensive end never materialized for the University of Wisconsin football team last season, when an Achilles injury ended Rand's season before it even began. Loudermilk went on without his buddy but dealt with injuries of his own, missing four games in 2018.
Now, both are healthy and eager to see what kind of partnership they can form along UW's defensive line. The No. 19 Badgers open the season Friday with a game against South Florida at Raymond James Stadium in Tampa, Florida.
"Me and Isaiahh have been best friends since freshman year," Rand said. "We live in the same house together, we talk about it all the time. It's finally happening."
Rand and Loudermilk arrived in Madison together as members of UW's 2016 recruiting class. They were on the field together at times as reserves in 2017, when Rand was a sophomore and Loudermilk was a redshirt freshman.
After the departures of an experienced group that included Conor Sheehy, Alec James and Chikwe Obasih, the UW coaching staff was hopeful Rand and Loudermilk would step in as starters and provide stability during a transition year.
But Rand was injured during an offseason workout and an offseason knee surgery delayed Loudermilk's start to the season. Loudermilk also missed three consecutive games during the middle of the 2018 season with a leg injury.
Loudermilk was limited this camp with a left arm injury, while the coaches also kept Rand on a pitch count of sorts as he worked his way back from the Achilles injury. Both say they feel fresh heading into the opener.
"I'm excited about what it could be," UW coach Paul Chryst said of the Rand-Loudermilk pairing. "Do we know it? No. … I think we've got a picture of our mind what it could be, but to be able to go out and see it and to be able to do it over a course of time, I think that will be one of the stories of the year really. How does that turn out to be?"
Chryst said he believes UW has built some depth along the defensive line. The coaching staff has raved about the offseason development of Matt Henningsen, who started 10 games as a redshirt freshman. Senior David Pfaff is the other backup at defensive end.
You have free articles remaining.
Bryson Williams played a lot as a true freshman, starting three games, and is the starter at nose tackle. True freshman Keeanu Benton of Janesville Craig is the backup to Williams.
"I like all of our guys," Rand said. "We just work hard. Guys that really don't get a lot of attention, but we're OK with that. We put our hand in the dirt and make sure we eat up the blocks so the linebackers can make some plays. I like our guys a lot. The young guys are really stepping up. I like to see that."
Rand and Loudermilk both made it clear that UW defensive line coach Inoke Breckterfield wants to see more plays being made in the backfield by the group.
Departed nose tackle Olive Sagapolu led the defensive line last season with 4½ tackles for loss. Loudermilk and Henningsen were credited with 2½ apiece.
"I think we can be a dominant defensive line," Loudermilk said. "I think that's something that we're really striving to do. Part of what we do is eat blocks and stuff like that. We want to do that well, too. We want to keep the backers flowing. We'll do anything for the defense to be the best it can be. But what we also want to do is we want to set the line, we want to push them back, which is something we'll be able to do this year."
Rand said he's been told by Breckterfield to "go eat." After sitting out a season, Rand is hungry to be a playmaker for the Badgers.
"My mentality is get off the ball and go up the field and wreak havoc," he said. "That's what he's having me do."
Ditto for the 6-foot-7, 293-pound Loudermilk, who is a physical specimen but has yet to make it through a season fully healthy.
"I think one thing (Breckterfield) expects this year, me being fully healthy, is to be explosive, to be someone who goes out there and gives it everything every single play," Loudermilk said. "I'm not going to take a play off, I'm not going to give up on a play. I'm going to make sure I make most of every single rep, every single play. I just want to be the best that I can be this year."
That his buddy will be right there with him is one reason Loudermilk and Rand can't help counting down the days to the opener.
"We've really been looking forward to it," Loudermilk said. "We've talked about things we're going to try to do, things we think we can do. We're going to go out there Friday, it'll be the first time we're kind of really out there together fully healthy. Hopefully we can do the best we can do. I think we'll be able to do pretty good, but I'm really excited for it."