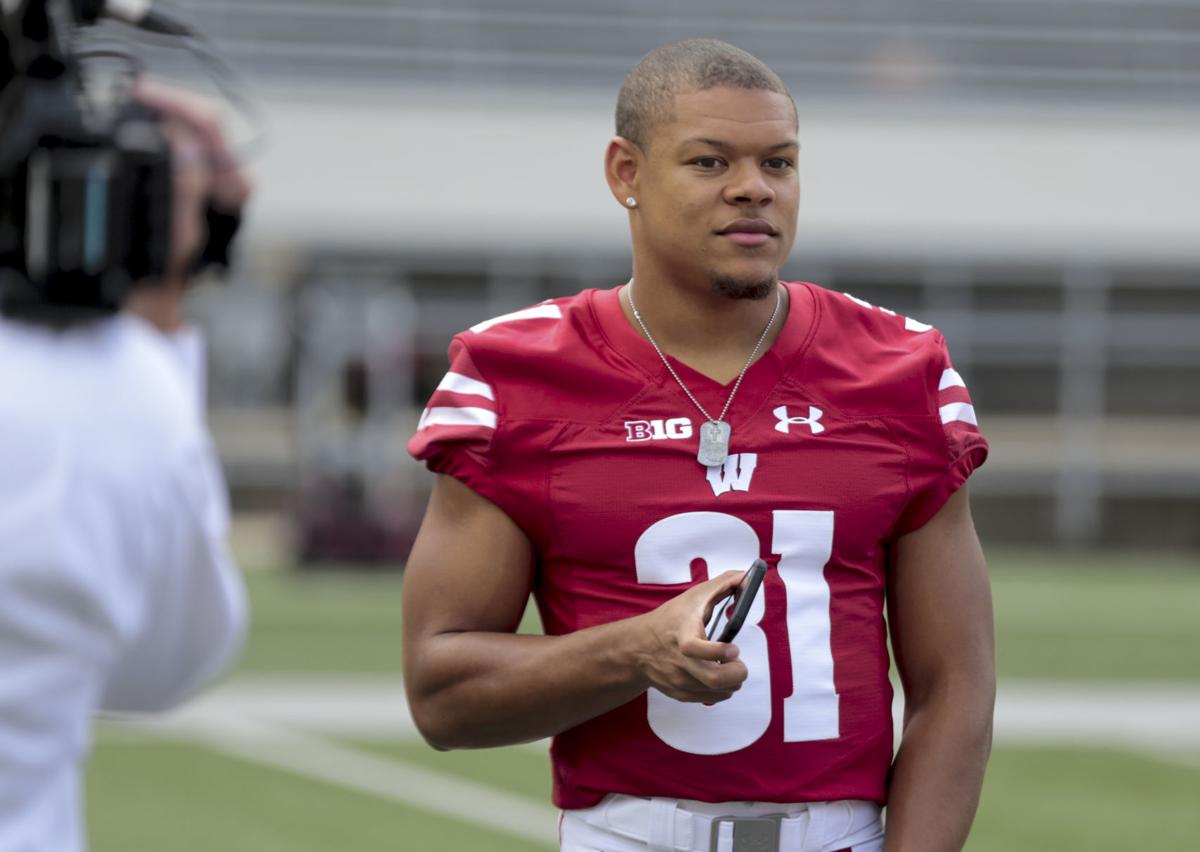 The University of Wisconsin held its sixth practice of fall camp Tuesday night, the Badgers' final session before strapping on full pads Thursday. Here's what we saw:
— Beau Benzschawel took some reps at right tackle during one-on-one drills, and UW has stuck both Jon Dietzen and Cole Van Lanen on that side at times this fall. Head coach Paul Chryst said he wants all the Badgers' linemen to be capable of playing at least two positions, but it's currently unclear how the line may shift if starting right tackle David Edwards were to miss time.
— UW's defense showed nickel packages for the first time this fall. Olive Sagapolu and Matt Henningsen were the first defensive linemen to take first-team reps in those situations. Cornerback Madison Cone played in the slot with Dontye Carriere-Williams and Caesar Williams on the outside, although both Faion Hicks and Deron Harrell are due to injury.
— Running back Jonathan Taylor caught three passes during team drills Tuesday - one screen, one over the middle and a touchdown in the flat. He's worked all offseason on route running and improving his hands, and it'll be interesting to see if that translates to any passing-down work this year.
— The Badgers have given kicker Rafael Gaglianone a couple days off this week, and junior Zach Hintze showed what's capable of during special teams drills Tuesday night. Hintze went 4 for 4, the final one a 51-yard attempt that would have been good from at least 60.
You have free articles remaining.
— Celebrations came out in full force for UW's first evening practice this fall. During red zone one-on-one drills, wide receiver Aron Cruickshank made a move that put fellow true freshman Alexander Smith on the ground. After Cruickshank caught a touchdown, he proceeded to complete a back flip. Smith rebounded with an interception of Jack Coan during modified red zone team drills later in practice.
Sophomore wideout Kendric Pryor threw down an emphatic dunk on the goal post after getting behind the defense for a 44-yard touchdown from Alex Hornibrook during move-the-ball drills. Officials were on hand at Camp Randall Stadium today, and two flags immediately flew in the air after his dunk.
— It looked like Hornibrook had a sure touchdown in the back of the end zone to wide receiver Quintez Cephus during modified red zone team drills, but outside linebacker Andrew Van Ginkel snatched the ball out of the air with one hand before it could reach Cephus.
Former Waunakee standout Smithback out for season
UW ruled offensive lineman Blake Smithback out for the season with a right leg injury, while Harrell (right leg) and Christian Volpentesta (right leg) missed Tuesday night's practice.
Smithback, a former Waunakee High standout, was removed from the Badgers' 110-man fall camp roster along with Volpentesta. Defensive end Michael Balistreri and safety Tyler Mais took their places.
Hicks (right leg), tight end Zander Neuville (right leg), inside linebacker T.J. Edwards (right leg), fullback Alec Ingold (right leg), defensive end Isaiahh Loudermilk (left leg) and wide receiver Emmet Perry (left leg) all remained out Tuesday. Running back Garrett Groshek (right arm) and wide receiver Jack Dunn (left arm) were limited and wore yellow non-contact jerseys.