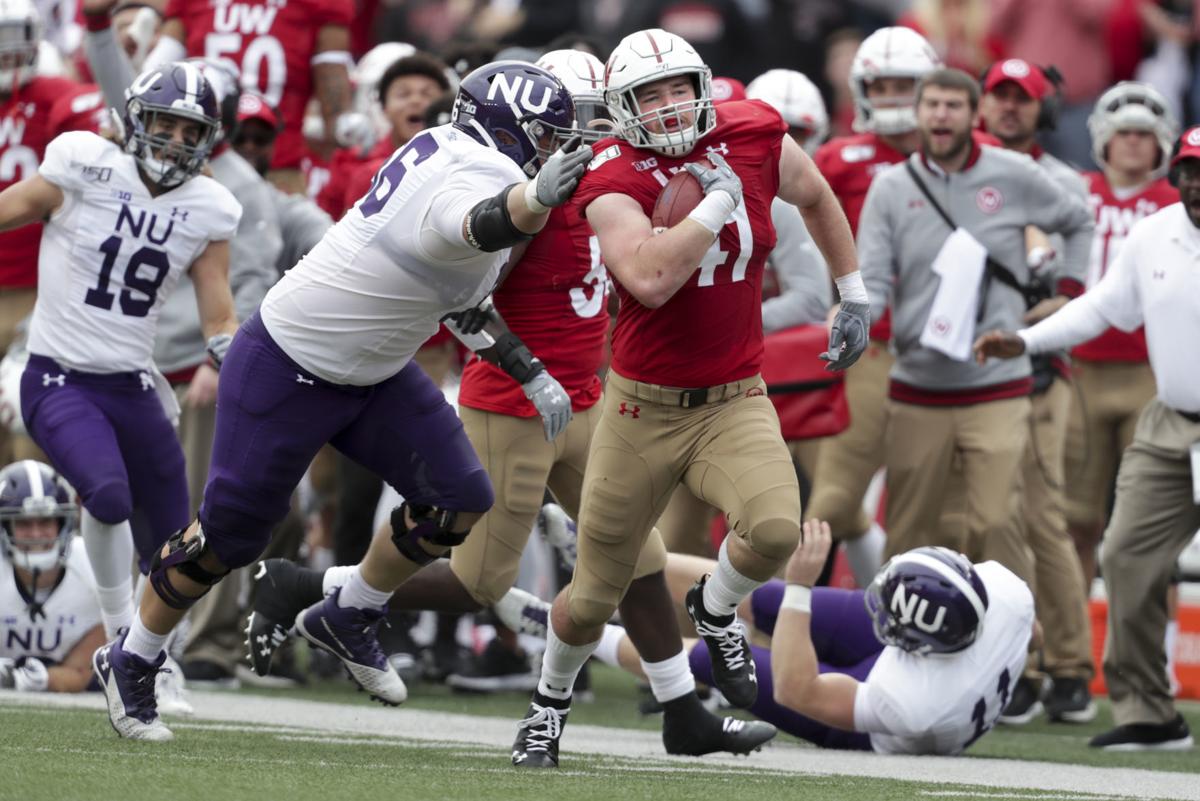 CHAMPAIGN, Ill. — A single word comes up when teammates and coaches talk about University of Wisconsin linebacker Noah Burks:
It comes up so often it almost seems as if the answer was coordinated.
But as football players and coaches discuss Burks, a junior who's holding down the outside linebacker spot opposite senior Zack Baun, it's his consistency that time and again jumps out.
"I think what Noah's done a really good job of, and I think it started in the spring and then fall camp, he's been really consistent," UW coach Paul Chryst said. "You're able to rely on what he's doing. He'll do it. If he's supposed to play it a certain way, he's going to do it."
Calling someone consistent can seem like a platitude — something nice to say when nothing else comes to mind.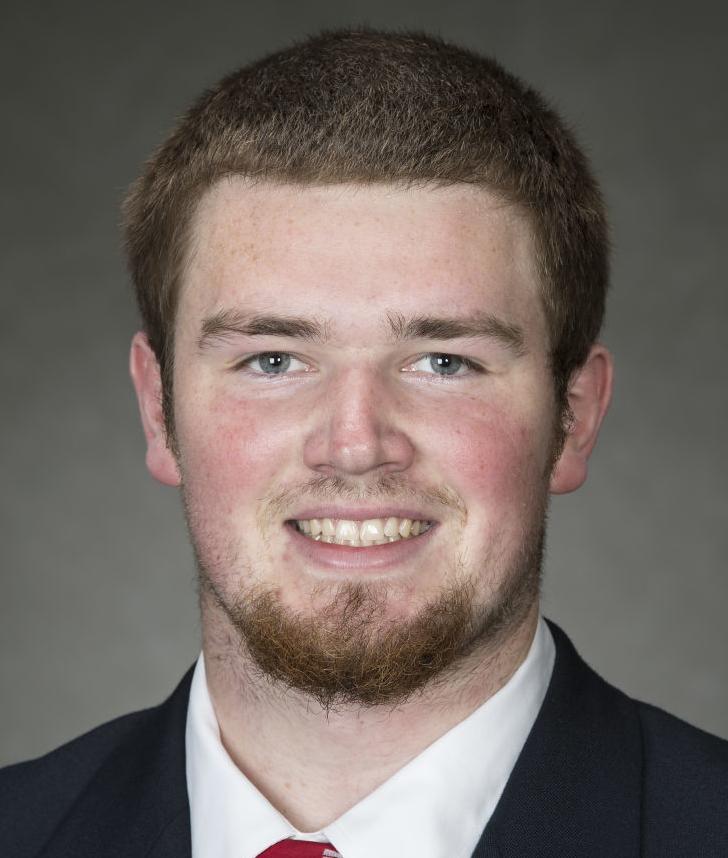 But to UW's players, consistency means more than that. It means doing your job each play, whether it's going on a pass rush or setting the edge against the run. It means not having your play dip as the game wears on. It means staying in your lane to not allow a quarterback an avenue for escaping a blitz. It means making a tackle or picking off a pass when the opportunity strikes.
Burks — a 6-foot-2, 235-pound product of Carmel, Indiana — has 11 tackles in six games this season. He doesn't have many plays that will make the highlight reel, save for his 68-yard interception return for a touchdown against Northwestern. But his impact for the No. 6 Badgers (6-0, 3-0 Big Ten Conference), who play at Illinois (2-4, 0-3) on Saturday, is appreciated when UW's top-ranked defense breaks down its play.
State Journal beat reporters Colten Bartholomew and Jim Polzin dive into a number of topics surrounding the University of Wisconsin football team. 
"(Burks) is a first-year starter and he's playing at a high, high level right now," Baun said. "He's not doing a lot that you guys would see, but in the film room he's doing a great job for us. Our main goal with him was for him to gain his confidence and I think he's really doing that."
To the bench and back
Burks' commitment to remaining consistent was tested during fall camp.
After playing as a reserve in every game of 2018, Burks was slotted into the No. 1 defense during spring practice. But when the Badgers returned from summer break, sophomore Izayah Green-May was in the starting role with Burks as his backup.
Burks said he knew he'd be in the rotation regardless of who was the starter, and he didn't let dropping out of the starting lineup affect his effort in practices.
Jonathan Taylor hinted during during an appearance on The Rich Eisen Show that this season may be his last with the University of Wisconsin football team. 
"If it did bother him, which it might've, he didn't show it. He just worked," UW defensive coordinator Jim Leonhard said. "I think to his credit he just worked, put his head down, and not get in his feelings and just go to work every day knowing he was going to have opportunities. It was up to him to create more. With the way he's playing on Saturdays, he's definitely earning more and more opportunities."
Green-May started the season opener against South Florida but then missed the home opener against Central Michigan with a right arm injury. That opened the door for Burks to get back into the starting role, one he hasn't relinquished since.
Burks said he didn't dwell on the demotion.
"I think it goes back to the consistency,'' Burks said. "My goal was just coming in, being the same guy every day. Obviously, I was going to work my butt off, that's just something that we do here at Wisconsin, everybody in the program. I never really thought too much about it."
Burks' steady approach, even through adversity, is something Baun appreciates.
"He's the same guy every day," Baun said. "That's what he brings. He's got one level and one speed. Whether he's first on the depth chart or bottom of the depth chart, even in special teams, he brings an energy that this team really needs and he's a gritty guy."
Every day the same
Baun's comment on Burks' unchanging personality is another that's repeated often.
Burks is who he is on the field, and that doesn't seem to change regardless of what's going on off of it. That's not easy given the stresses of playing Big Ten football, school and a personal life. Leonhard said Burks has taken to heart one of the program's messages about finding who you are as a man.
"We get these kids, in most cases, their first time away from home. Sometimes Mom and Dad tell you who to be and what to do and how to do it. So it's kind of a big-time transition period for these kids," Leonhard said.
The Fighting Illini, who play host to No. 6 UW on Saturday, are 0-3 in the Big Ten this season and have won just four of 30 conference games under Smith.
"When you see guys grow up and really take ownership on and off the field, it's amazing how usually one leads to both. Whether it's on the field or off the field, usually once they figure out that is kind of the trick of ownership and consistency, it usually translates on and off the field."
Burks' approach to practice and improving his skills also helps him stay even-keeled.
He says his biggest steps as a player this year are in his technique, and how he uses his hands and feet in his pass rushing. He feels more comfortable reading offenses as well, ensuring his eyes don't get caught in the wrong place.
He's a key part of a defense that ranks first in the Football Bowl Subdivision in scoring defense (4.8 points per game), total defense (173.7 yards per game), rushing defense (44.7 ypg) and passing defense (129.0 ypg).
Sacrificing so others succeed
With breakout stars such as Baun and inside linebacker Chris Orr, getting recognition on UW's defense this season is tough.
But Burks' teammates know how his play impacts the game. He might not be the one to get the sacks or tackles for loss, but those plays wouldn't work without him doing his job.
"In his pass rushes, he's constantly getting there at least. It might be a step behind, but he's in the quarterback's face or he's in the backfield, he's setting a firm edge, and he's helping everybody make plays," Orr said.
The sophomore nose tackle has returned to limited action after spraining his left knee in practice before UW's second game.
Junior defensive end Isaiahh Loudermilk works with Burks often on the field. Loudermilk and Burks communicate different pass-rush schemes and share what they see from the offense. He said having someone as dependable and, yes, consistent as Burks makes the task easier.
"He's definitely a guy that the coaches can look at and put him out there and not think twice about it," Loudermilk said. "They don't have to think how he's going to do against this guy, he's someone who you can put out there and he's going to get the job done."
WHEN THE BADGERS HAVE THE BALL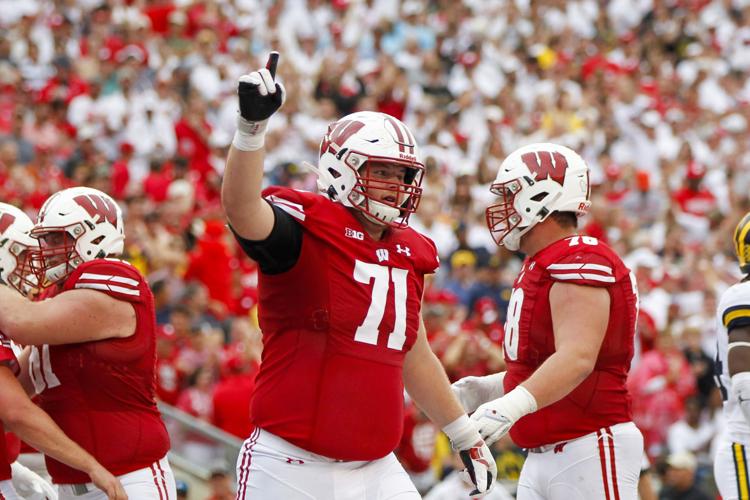 Jack Coan and the passing game had one of its most efficient days of the season against Michigan State.
The 180 yards it produced don't jump off the page, but Coan was 18 of 21 passing and extended drives with completions on third down. Coan's passing efficiency rating of 164.0 is 13th in Division I. However, expect Jonathan Taylor to get his Heisman Trophy campaign back on track against Illinois' defense. The Fighting Illini allow 201.8 rushing yards per game, the second-worst mark in the Big Ten ahead of just Rutgers.
Jake Hansen and Oluwole Betiku Jr. lead a struggling Illinois defense. Hansen, a junior inside linebacker, leads the FBS with five fumbles forced and three fumble recoveries. Betiku Jr., a sophomore transfer from Southern Cal, has 7 sacks, which is tied for fourth in FBS — UW tackles Cole Van Lanen (above) and Logan Bruss will have their hands full.
EDGE | UW
WHEN THE FIGHTING ILLINI HAVE THE BALL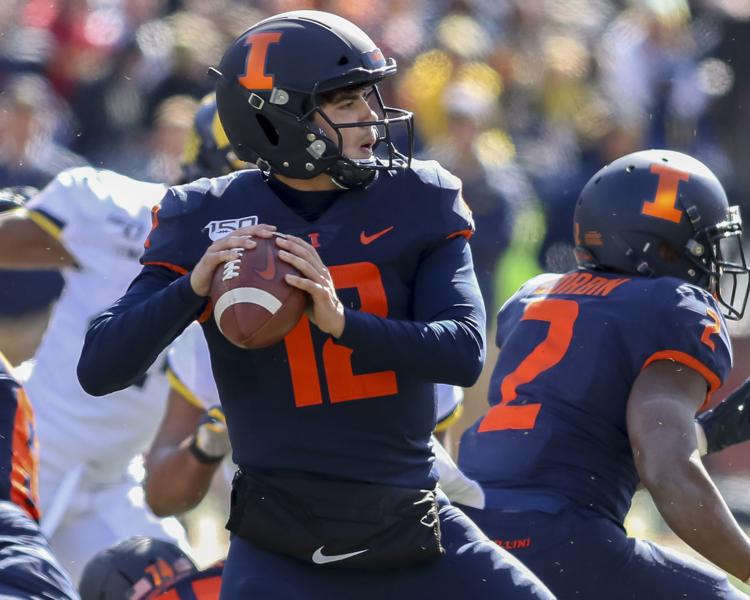 Illinois has been dealing with injuries and inconsistent play from its quarterbacks. Brandon Peters, a junior Michigan transfer, missed last week's game against the Wolverines due to a head injury. He's questionable for Saturday. Peters was under center for Illinois in its best offensive performances this season, but is also prone to turnovers — he's got four interceptions and two lost fumbles in five games.
If Peters doesn't play, redshirt freshman Matt Robinson (above) is likely to start as he did against Michigan. He helped the Illini put a scare into the Wolverines, as they cut the deficit to 28-25 early in the fourth quarter.
Illinois' biggest weakness offensively — staying on the field — is the UW defense's greatest strength. The Badgers continue to lead the nation in third-down defense (15.7% allowed), while the Illini convert just 36.5% of their third-down tries. UW senior outside linebacker Zack Baun (6.0 sacks) should play a big role, as Illinois allows 3.5 sacks per game.
EDGE | UW
SPECIAL TEAMS
UW punt returner Jack Dunn (above) was questionable to start the week due to a head injury sustained against the Spartans. Danny Davis filled that role last week, and could again against Illinois.
Kickoff specialist Zach Hintze has the third-most touchbacks in FBS, and placekicker Collin Larsh is 34 of 35 on PATs this season.
Dre Brown averages 27.6 yards per kick return for Illinois, but Hintze should be able to neutralize him. Illinois' James McCourt is 5 of 7 on field goals and 23 of 23 on PATs.
EDGE | PUSH
COACHING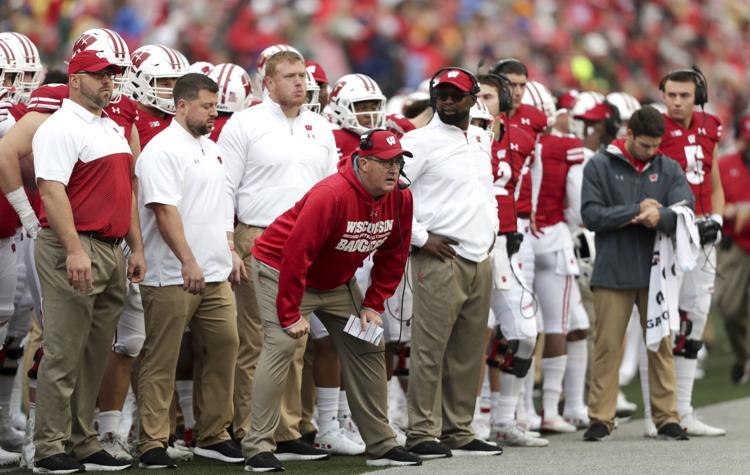 Lovie Smith hasn't brought the success that Illinois hoped when it hired the longtime NFL coach, but he has gotten the defense turnover-minded.His seat is getting hotter, though, and an embarrassing Homecoming loss to the Badgers wouldn't help.
UW's Paul Chryst (above) is looking to go 7-0 to start a season for the second time in his tenure.
EDGE | UW
INTANGIBLES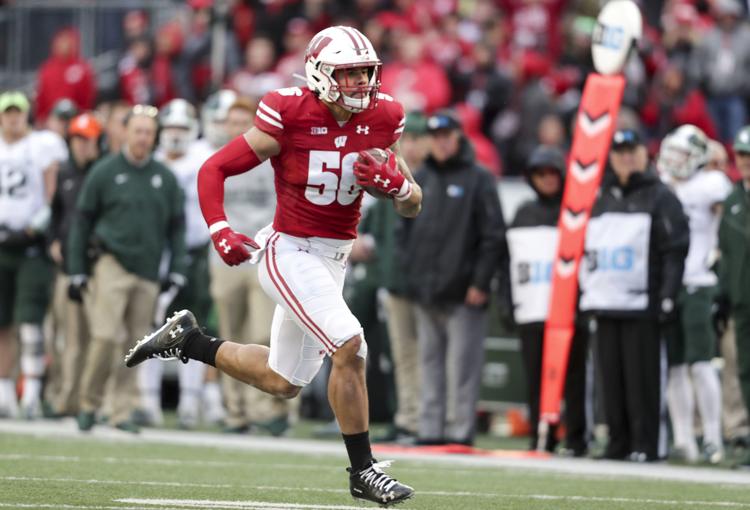 UW players were kick to dismiss the notion of a trap game, or looking past the Illini with a big game against No. 4 Ohio State looming next week. Baun claimed he didn't even know that the Buckeyes were next on the schedule after Illinois. A return to the road after five home games is unlikely to affect UW — Illinois is a combined 8-16 at home since 2016.
EDGE | UW
STATE JOURNAL'S PICK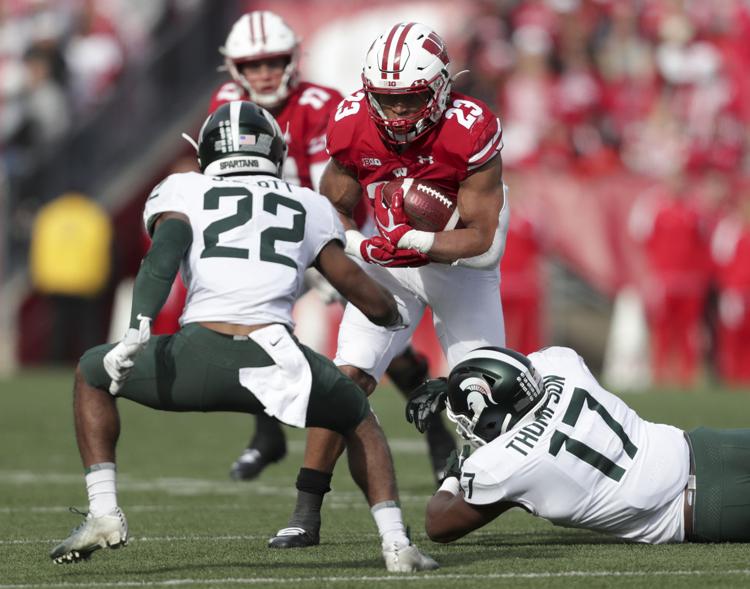 UW hasn't allowed a point yet this month, and a third consecutive shutout is possible given how well the defense has been playing.
Illinois' smoke and mirrors might be able to create a splash play or two, but they're not sustainable.
The Badgers should be able to ride Taylor (above) and the run game to cruise to another win and keep its starters fresh for next week's showdown at Ohio State.
BADGERS 45, FIGHTING ILLINI 10
THE NUMBER (UW)
6.4: Yards per carry for Jonathan Taylor, despite missing nearly 5 quarters of play this season.
THE NUMBER (ILLINOIS)
32:47: Opponents' average time of possession this season, the worst in the Big Ten and 115th of 130 teams in the FBS.
KEY STAT (OFFENSE)
Scoring: The Badgers' average of 42.5 points per game is their highest through the first six games of the season since 2011 (50.2)
KEY STAT (DEFENSE)
16.1: Yards per catch for Illinois' leading receiver Josh Imatorbhebhe had five catches for 102 yards against Michigan last week, and has five receiving TDs this year.
Video: Paul Chryst talks about the Badgers big win over the Spartans
breaking special section topical
Prepare for kick off of the University of Wisconsin's football season on Friday night against the South Florida Bulls with the Wisconsin State…
Video: Paul Chryst talks about Badgers facing Illinois
Be the first to know
Get local news delivered to your inbox!