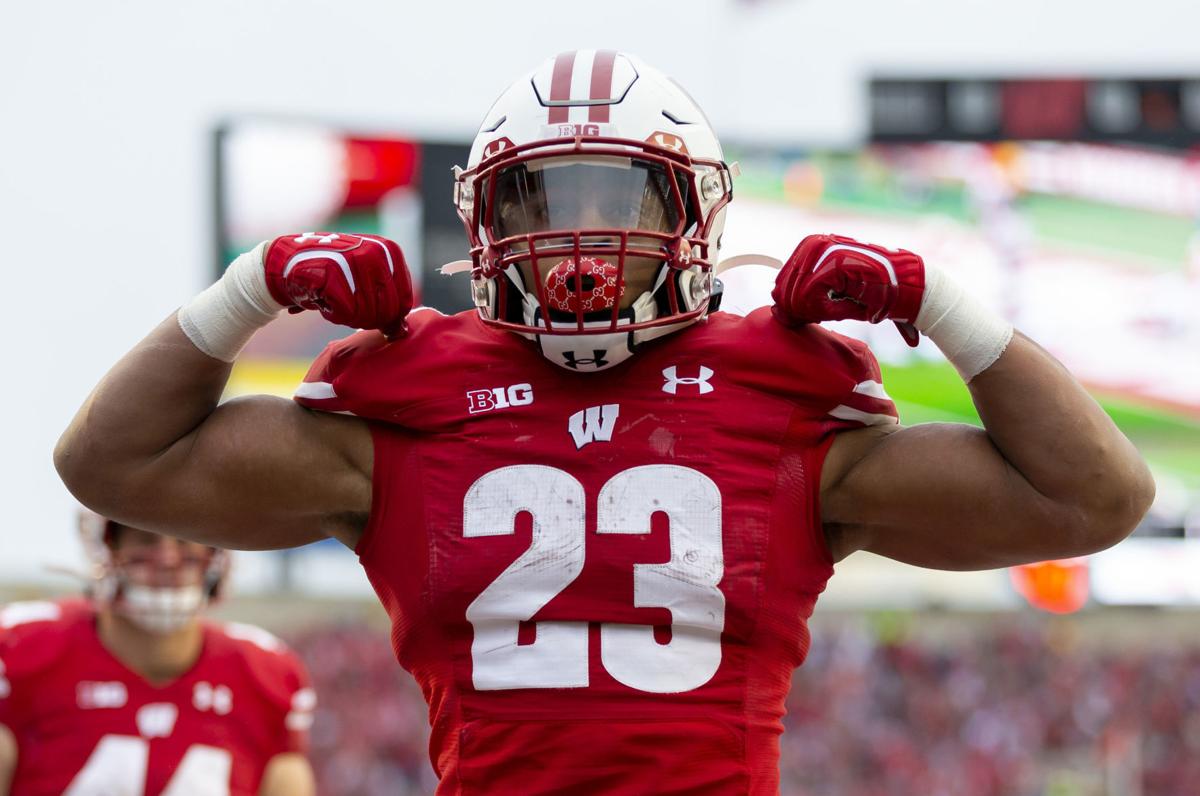 Jonathan Taylor didn't start the first game of his University of Wisconsin career.
A freshman not starting in his first collegiate game isn't all too surprising, but in hindsight of what Taylor did in his Badgers career, it's interesting to think there was a brief time that he wasn't the top option in the UW backfield.
He started his second game, and every game after that over the past three seasons, and put together one of the greatest careers college football has ever seen from a running back.
He'll look to parlay that success into the NFL — Taylor was the ninth pick in the second round (41st overall) of the NFL draft Friday, taken by the Indianapolis Colts. The Colts traded up three spots to pick the former Badgers star.
Last season, Indianapolis had the seventh-best rushing offense in the league at 133.1 yards per game, led by Marlon Mack's 77.9.
"(Colts general manager Chris Ballard) said, 'Look, Jonathan Taylor fits what I want to do behind my offensive line, which is absolutely just pound the football north and south, bloody your nose, and make you understand what it's like to be in a physical football game,'" ESPN's Louis Riddick said Friday.
"Jonathan Taylor can do it all. He can run inside, he can run outside, he's a guy that has home-run speed, 10.3(-second) 100-meter speed."
The Colts have spent the 2010s building their offensive line. Left tackle Anthony Castonzo, left guard Quenton Nelson and center Ryan Kelly were all first-round picks, while right tackle Braden Smith was a second-round choice, and right guard Mark Glowinski was a fourth-round selection.
Taylor won the Doak Walker Award as the nation's top running back in each of the past two seasons, joining Texas' Ricky Williams and Arkansas' Darren McFadden as the only two-time winners. He amassed 6,174 career rushing yards, sixth all-time in the Football Bowl Subdivision and second-most in Big Ten history behind only UW legend Ron Dayne.
Taylor is the only college player to post 6,000 or more rushing yards in only three seasons. He led the nation in total touchdowns with 26 this year, including 21 rushing.
Taylor is the first UW running back to be drafted since Melvin Gordon in 2015. Fullback Derek Watt was drafted in 2016.
"I can't wait to learn from (Mack)," Taylor said on a Periscope broadcast. "I'm excited to learn from (Colts quarterback) Philip Rivers. QBs see the game differently, they see the defense differently. So if you can see the game from a QB perspective, you'll kill."
Riddick and ESPN's Mel Kiper Jr. said the top concern NFL teams had about Taylor was his fumbling — 18 fumbles in college — but Riddick believes the Colts will be able to fix those issues.
Be the first to know
Get local news delivered to your inbox!