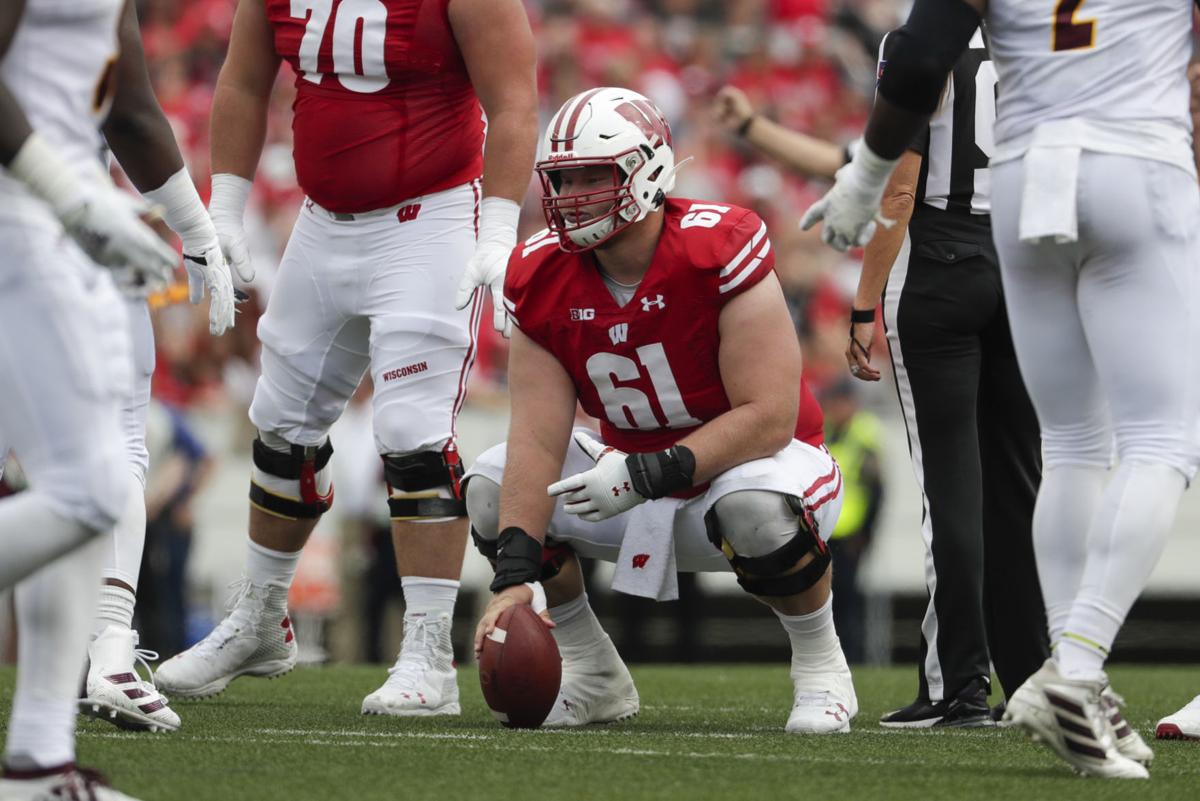 Tyler Biadasz has legitimate reasoning if he's developed a chip on his shoulder during the NFL draft process.
The former University of Wisconsin center was been dissected and has experienced a fall in draft stock that was hard to see coming — as recently as early February, Biadasz was projected as a late-first-round pick.
But injury concerns have clouded his accomplishments as a Badger. Biadasz had hip surgery before his redshirt junior season and had to have a shoulder surgery this offseason that kept him off the field at the NFL scouting combine and unable to participate in drills at UW's pro day.
However, the Dallas Cowboys traded back into the fourth round of the draft and took Biadasz with the 40th and final pick of the round (146th overall).
The Cowboys, whose offensive line has been one of the best in the league the past handful of seasons, lost former Badger center Travis Frederick to retirement this offseason. Biadasz appears poised to keep a UW product in the middle of that line.
With Dallas, Biadasz has the chance to block for one of the best running backs in the NFL in Ezekiel Elliott, who has posted three seasons of at least 1,357 rushing yards. Cowboys quarterback Dak Prescott will appreciate Biadasz's pass-blocking skills, as Prescott is coming off a season in which he threw for 4,902 yards.
"This is the perfect kind of guy for the Dallas Cowboys and what they want to do offensively, meaning they want to be run-centric with Ezekiel Elliott and they want everything to come off of that," ESPN's Louis Riddick said. "Tyler Biadasz is one of those people who, if he can even out those uneven performances, he has the kind of physicality on the interior that Dallas likes to really establish.
"To get that in the fourth round? They may have found themselves a steal."
Biadasz became the first Badger to win the Rimington Award as the nation's top center this season. He was the undisputed leader of a retooled offensive line that featured four new starters.
With Biadasz in the lineup, the Badgers went 31-10, and put together strong offenses. This season, the offense tallied 6,065 yards, eclipsing the 6,000-yard mark for the first time since 2014. UW's 34.1 points per game were its most since 2014.
UW rushed for 3,263 yards this season, marking a second consecutive season of more than 3,200 yards on the ground. Biadasz allowed four pressures on 373 pass-blocking snaps in his junior year, per Pro Football Focus.
However, ESPN's Mel Kiper Jr. said that Biadasz with linemen already on the Cowboys' roster — Joe Looney, Connor McGovern and Connor Williams — to become the starting center.
"I think expecting him to be the automatic replacement for Travis Frederick is asking too much. Just try to get in there, become a backup, learn, and maybe three years down the road he could be a factor," Kiper Jr. said.
Be the first to know
Get local news delivered to your inbox!