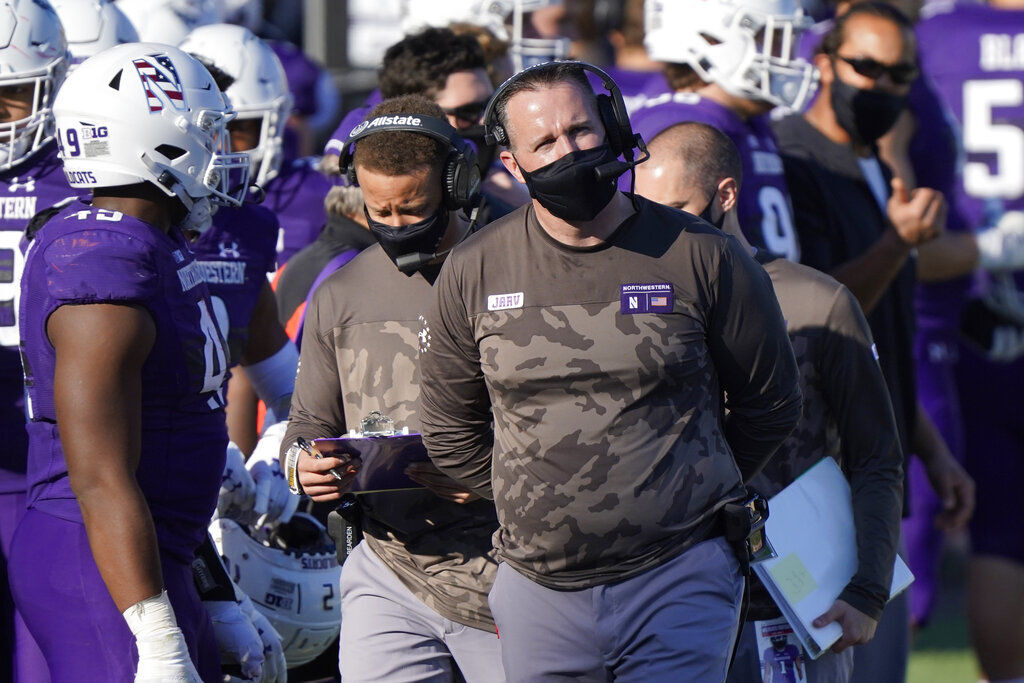 While this may not have been the best offseason for drastic changes, some programs have done a better job at making it work than others.
Count the University of Wisconsin football team's next opponent in the former category. When the No. 10 Badgers (2-0) take on No. 19 Northwestern (4-0) on Saturday at Ryan Field in Evanston, Illinois, the Wildcats will look significantly different on one side of the ball compared to when the teams met last season in Madison.
After a woeful offensive showing in 2019, Northwestern coach Pat Fitzgerald parted ways with longtime offensive coordinator Mick McCall and replaced him with former Boston College play-caller Mike Bajakian. In the midst of the COVID-19 pandemic that wiped out much of spring practice and led to a disjointed offseason, the Wildcats also brought in a new quarterback.
The early returns are promising. A much-improved offensive attack has helped the Wildcats already eclipse last year's win total (three) while producing the program's first 4-0 start in Big Ten play since 1996.
"I think offensively they're playing really good football," UW coach Paul Chryst said earlier this week.
Really good might be a stretch, but the Wildcats had nowhere to go but up on offense after finishing 1-8 in Big Ten play and producing the lowest overall win total of a Fitzgerald era that dates to 2006.
It's fair to say Bajakian's system will expand once Northwestern has a full offseason to implement it. It's also notable that the Wildcats are healthier than they were last season, particularly in the backfield.
But the biggest difference is behind center, where Indiana graduate transfer Peyton Ramsey has provided stability to a unit that desperately needed it. The Wildcats ranked dead last of 130 teams nationally with 117.0 passing yards per game, with four quarterbacks combining to throw for 1,404 yards, six touchdowns and 15 interceptions.
Ramsey already has matched that touchdown total in four games while completing 65.8 percent of his passes. Northwestern's completion percentage was an atrocious 44.1 last season.
When the Wildcats rushing attack was struggling last Saturday at Purdue, Northwestern turned to Ramsey to get things done through the air. He completed 23 of 36 passes for 212 yards with three touchdowns and an interception, connecting with senior wide receiver Ramaud Chiaokhiao-Bowman eight times for 86 yards and three scores.
"I don't want to speak for him. But, man, he seems like he's having a lot of fun," Fitzgerald said of Ramsey, who started 23 games over three seasons at Indiana and was a team captain last season. "He's a fun guy to be around every day. He's got a great demeanor, he's a terrific leader and he is who he is all the time. He doesn't just show up in the building and act a certain way. He's been so consistent since we've had him, and (I'm) really thankful that we do."
While Northwestern is still middle of the pack or below in the major offensive categories compared to its Big Ten brethren, the offense is at least giving the team a chance to win games. That wasn't the case in 2019, when the Wildcats averaged 16.3 points per game.
That number is up to 28 this season, more than enough support for a defense that returned every starter in the back seven and nine overall.
"I've got a ton of respect for Mike Hankwitz and what he does," Chryst said of Northwestern's longtime defensive coordinator, who worked in the same role during the first two seasons of the Bret Bielema era at UW. "I think one of his strengths is he obviously has a system, but he plays to his talent and the players understand it and they execute it."
Northwestern has arguably the best linebacking corps in the Big Ten, a group that includes seniors Blake Gallagher, Paddy Fisher and Chris Bergin. Gallagher already has three interceptions, as does redshirt freshman defensive back Brandon Joseph.
The Wildcats had to replace two stalwarts up front in end Joe Gaziano and tackle Alex Miller, but that group has performed well during the first half of the season.
"You flip on the tape from this year and you just see a really strong, physical defense," UW quarterback Graham Mertz said. "I feel like that's just how you can always describe Northwestern. You're going to have to earn it. And I think that shows in our past games that we've had with them. In the end, it's going to be a gritty game and whoever wants to play harder, play smarter and play more physical will win the game."
Fitzgerald was asked after the win over Purdue how this defense compares to other great ones he's had at Northwestern.
"We've got four regular-season chapters to write, so ask me again at the end of the season," he said. "But I would say the first four chapters of the book have been pretty outstanding. We're getting production from all three levels, and I think when you've got that, you've got the makings of a group that if they keep playing this way could be pretty spectacular."
Best of all for Fitzgerald, that defense may not have to outstanding for the Wildcats to have a chance to win. Unlike last season, there's an offense that can hold up its end of the bargain.