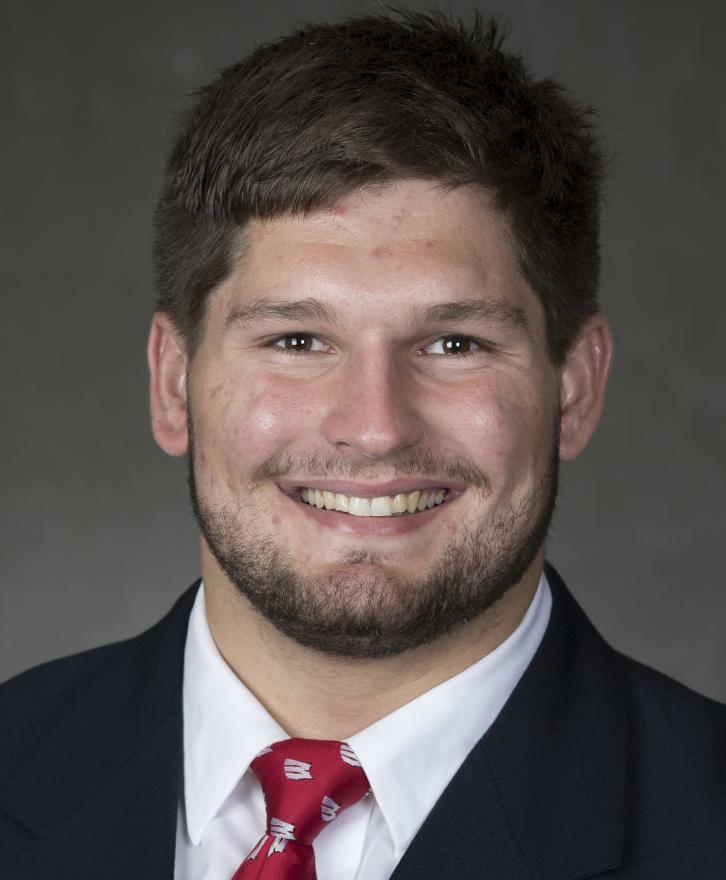 Peter and Helen Henningsen offered equal parts support and brutal honesty when it came time to send their youngest son off to college.
Prominently featured in any parents' words-of-wisdom manual is the reminder that education comes first, and the Henningsens made that abundantly clear during the trip from Menomonee Falls to Madison. But it was probably unnecessary. When Matt Henningsen announced on Twitter during the summer of 2017 that he'd committed to the University of Wisconsin football program as a preferred walk-on, he said he'd decided to "continue my academic and athletic career" — notice the order in that wording — at UW.
This was Henningsen's dream school. Not only had Peter and Helen gone there, but so had their three oldest sons: Pete, Joe and Adam. Matt made it a clean sweep, turning down guaranteed scholarships at Buffalo and Northern Illinois and even a chance for an Ivy League education at Princeton. He felt guilty about turning down a chance to have his education paid for, but a tour of the UW athletic and engineering facilities was the clincher. Afterward, Matt flashed his puppy-dog eyes at his parents and said he wanted to be the latest in a line of Badgers in the family. Game over.
But there was still the matter of managing expectations as Henningsen arrived on campus the following summer. He was a smart kid who worked hard in the classroom and produced a 5.0 grade-point average on a weighted scale in high school, so Peter and Helen were convinced he'd do great at UW. They also knew first-hand this was a competitive environment at a world-class institution. Work hard, they told him, but there was no expectation of perfection.
The odds were even more stacked against Henningsen matching his expectations on the football field. He did have a significant ally in Joe Rudolph, the program's associate head coach, offensive coordinator and offensive line coach. Rudolph loved Henningsen as a prospect but thought he was better suited for the defensive line. Inoke Breckterfield, who coaches that position for the Badgers, agreed after watching the way Henningsen moved on the football field and basketball court.
"And then you meet the kid," Breckterfield said. "Very intelligent kid and he's a grinder. I like those smart guys that love to work and he was that type of kid."
Peter and Helen were realistic with Matt. A scholarship might not come until his junior season. And, if it never comes at all, that's OK, too.
"We knew there was a successful history of walk-ons at Madison," Peter said, "but that doesn't guarantee you anything."
It's with this backdrop that we arrive at Henningsen's signature moment at UW to date, a 16-yard fumble return for a touchdown in the Badgers' 49-0 win over South Florida in last week's opener. The sophomore defensive end also had a sack for the No. 17 Badgers (1-0), who host Central Michigan (1-0) today at Camp Randall Stadium.
The scholarship that was dangling in front of him upon his arrival at UW? Henningsen was rewarded with one last season, when he became the first UW freshman walk-on since at least 1990 to start a season opener.
That pursuit of perfection in the classroom? Henningsen, who is pursuing a degree in electrical engineering with a certificate in math, has a 4.0 GPA heading into his third year on campus.
"If he's going to do something, he's going to do it right. That's his attitude," Helen said. "I always tell him to do his best, that his best is good enough. It always has been and it always will be.
"He's the one who motivates himself. He's the one who's really pushing to get that 4.0 every single year, whether it means staying up at night studying even though he has to get up early for practice or whatever. He goes that extra mile because it's important to him."
Next step
What was important to Henningsen this offseason was taking a significant step in his development. Forced into the lineup because of injuries, Henningsen appeared in all 13 games and started 10 times in 2018.
"You could say I made some strides last year," he said. "But I also have come up short on certain things as well that I tried to improve."
The two primary areas of emphasis: improving as a pass rusher and being more physical in the run game.
"Just trying to essentially become a physical, more dominant football player on the defensive line," he said.
Doing that required some major work in the weight room. Henningsen recorded personal records in the bench press, squat and power clean lifts. He was noticeably faster and quicker in speed and agility drills over the summer.
When Henningsen arrived at camp, he was bigger and stronger. He now plays at 285 pounds, up 15 from his redshirt freshman season.
"He is a relentless player," UW coach Paul Chryst said. "It matters to him, so he's going to take all the possible coaching. I think that's what you appreciate about him, he works his tail off in practice, off the field, all those things. He's still young and learning to play, but it's fun when a guy like that does get a chance to make plays because he puts himself in that position."
There's nowhere to go but down when it comes to Henningsen's exploits in the classroom, but maintaining a 4.0 is important to him.
He hasn't earned less than an A in a class since sixth grade reading. Eight-plus years later, he doesn't know if he received an A-minus or B-plus in that class.
"I'm not sure," he said. "But it wasn't an A."
The fall semester started Wednesday and, while some of his teammates were probably dreading the start of classes, Henningsen was looking forward to getting back in a routine.
Balancing football and academics isn't easy even if Henningsen makes it appear that way. He has practice in the morning before starting class at 11 a.m. In between classes, there's usually time to watch some video from practice. After classes are done for the day, he returns to the McClain Center in the afternoon for meetings. Once that's over, he fits in some homework or more video before going to sleep.
Henningsen's 14-credit course load this semester includes a signal processing lab, solid state electronics and three math classes: differential equations, theory of probability and cryptography.
"I'm excited to learn," he said earlier this week.
Mr. Perfect
Henningsen once scored 42 points in a basketball game as a senior and also competed in the shot put on his track and field team. As if balancing school and sports in high school wasn't enough, Henningsen also played the tuba, trombone and piano.
He'd make his mom mad every once in a while, but he had a knack at de-escalating the situation with a joke to make her laugh. He was the youngest of four boys, the tag-along always looking to compete with them, yet it never seemed to reach the point of annoyance.
Which begs the question: Where's the dirt on this guy?
"Well, he's not particularly neat," Peter said. "His room is a mess."
"Yeah, he's kind of a slob. He doesn't make his bed," Helen said before admitting even this flaw doesn't qualify as egregious. "He keeps his kitchen and bathroom clean, which is important to me."
Garrett Groshek didn't know the specifics on Henningsen's success off the field — "What a loser," he joked when told Henningsen's run of perfection in the classroom dated to sixth grade — but the UW junior tailback said he wasn't surprised.
"You can tell in conversations with Matt that he's a well-rounded person," Groshek said. "He's not just school smart, he has common sense and he's interested in learning different things. He's always interested in the conversation and what it's about."
Groshek wasn't the only UW player to acknowledge that Henningsen is universally loved in the locker room, a testament to how he carries himself around teammates.
"He's one of those guys you know you can count on when he's out there," senior offensive lineman David Moorman said. "You know he loves football, and I think that means a lot to guys. He's going to go out there and do whatever he can to help the team and play his butt off for the guy next to him."
What's striking about Henningsen is his humility. He answered a question about his 4.0 by saying he's "done all right" academically. He acknowledges there's plenty of room for growth on the field.
He's the same guy who arrived at UW two years ago determined to thrive at his dream school.
"I knew it was going to be a big jump academically and athletically," he said. "I'm just trying to take the next step in everything I do. I always try to strive to be the best."
Be the first to know
Get local news delivered to your inbox!