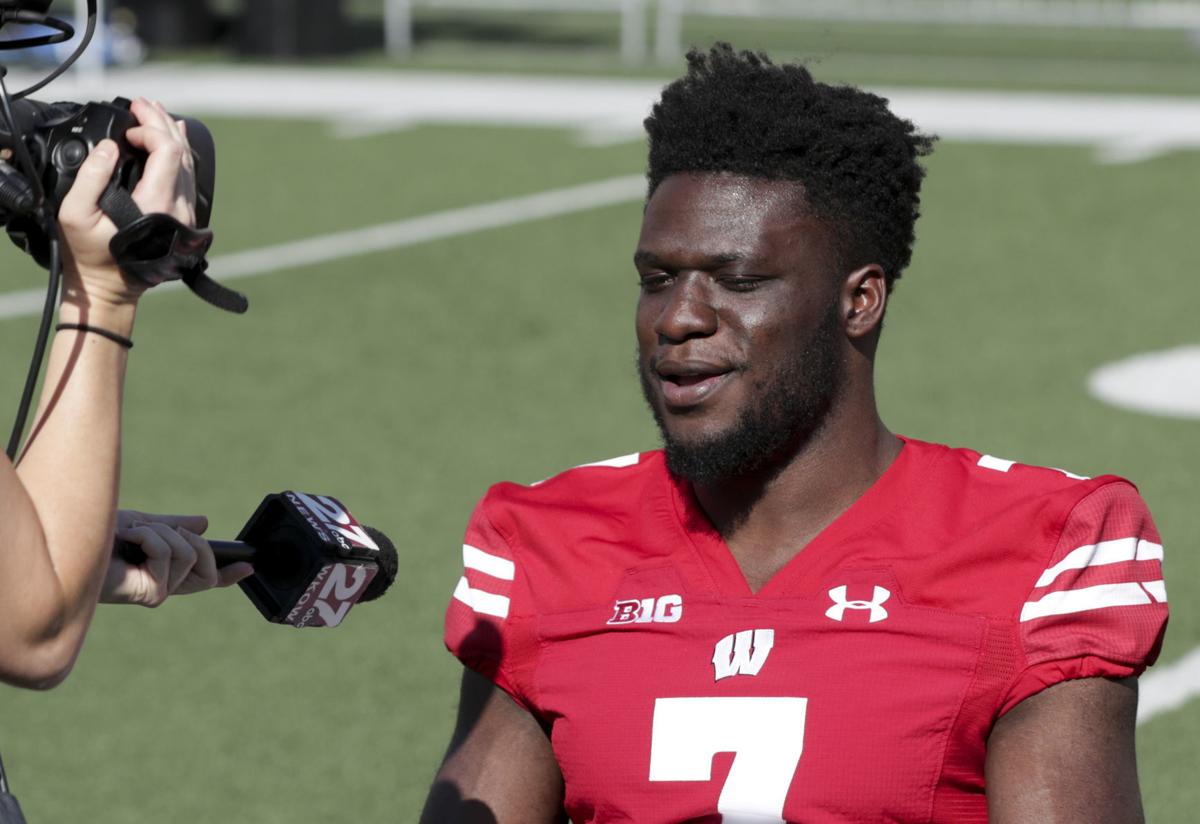 Running back certainly isn't an issue for the University of Wisconsin football team heading into the 2019 season.
Junior Jonathan Taylor, last year's Doak Walker Award winner, rushed for more than 4,000 yards combined over the last two years, and Garrett Groshek's a proven player who expects to continue excelling on third down.
"I like the group," UW coach Paul Chryst said "You start with Jonathan and (Groshek), two guys who have played a lot of football, that part's good."
It may be crucial, however, for the Badgers to find at least one more back who, like Taiwan Deal a year ago, can produce on early downs when called upon. Taylor can't take every carry, and UW won't want its rushing output to plummet if he misses time with an injury.
The Badgers weren't short on potential Deal replacements when they began fall camp Thursday. The problem? Three back on that list have yet to notch a single carry at the college level, and the other's been away from the field since tearing his ACL more than 20 months ago.
Senior Bradrick Shaw continues inching towards a full return after last playing against Minnesota in November of 2017.
Shaw still wasn't participating in full contact work during spring practice earlier this year, something that frustrated him. Chryst said the Alabama native's in a good spot heading into fall camp after a positive summer, but there are still "some steps to be taken."
You have free articles remaining.
"I think we've got to make sure we're smart on it, and it'll probably bother him at times," Chryst said. "But I told him I'd rather go a little bit slow than fast."
Shaw described himself as healthy and said he's ready for his long-awaited return to the field. He said he's not currently worried about the depth chart, only that he continues improving.
"I'm just going to trust myself and trust the training I've been doing this summer and maximize the opportunity that I have," Shaw said. "I just want to compete with everybody and keep getting better with everybody. ... I just want, when I go in, to make the most of my opportunities."
A jury found former Wisconsin Badgers receiver Quintez Cephus not guilty of two sexual assault charges Friday after deliberations lasting less than 45 minutes.
Redshirt freshman Nakia Watson may be the favorite to back up Taylor. He didn't earn any playing time during his first year with UW, but others have praised him throughout this offseason.
When Taylor was asked at Big Ten Media Days in Chicago about the Badgers' other running backs, he only mentioned Watson, describing him "as a big back who ran run" and saying he showed flashes this spring.
"I feel like he was just getting comfortable with the system," Taylor said. "He had a lot of great runs in the spring scrimmage. He was hitting the edge. He was running well between the tackles, and I feel like now it's just a matter of time of him getting that in-game experience and truly getting a feel for himself."
Taylor also seemed impressed with redshirt freshman Isaac Guerendo, who moved from wide receiver to running back this offseason. Taylor called Guerendo a "blazer" on multiple occasions and said he reached a top speed of more than 23 miles per hour this spring - something Taylor couldn't accomplish.
True freshman Julius Davis from Menomonee Falls High School also has the talent to compete, but he's currently limited while continuing to work his way back from sports hernia surgery.
"Certainly, we've got some guys that we're excited about," Chryst said, "but camp's big for them."