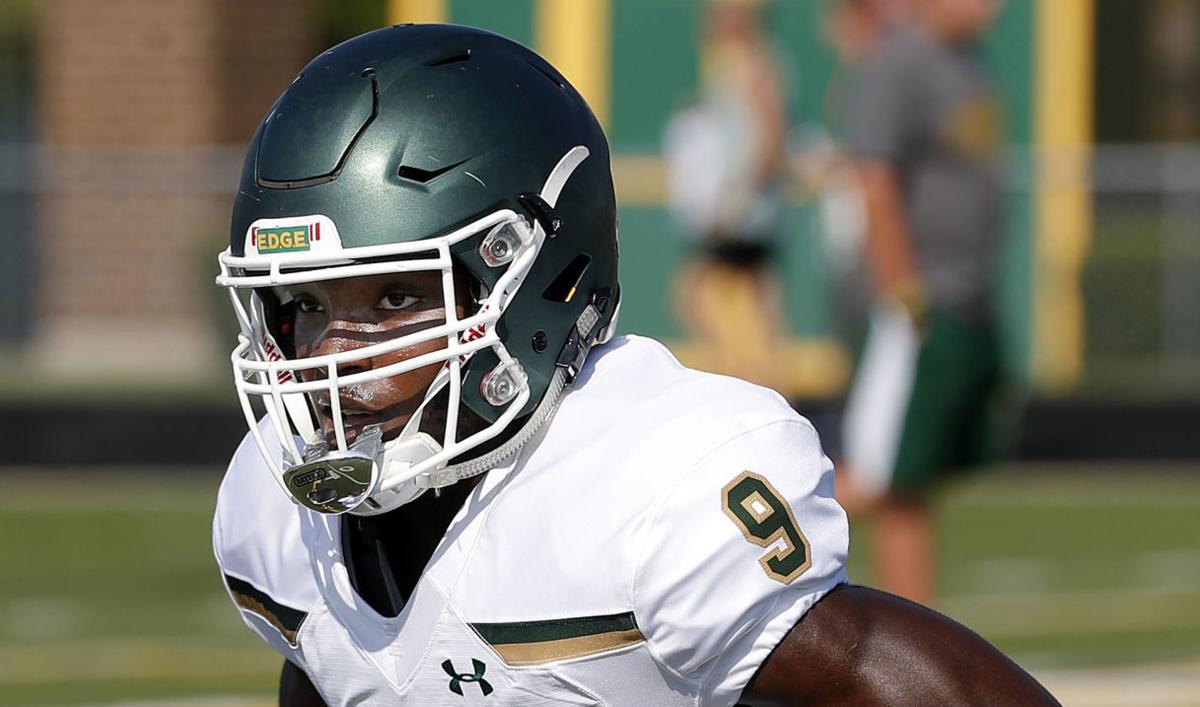 One of Maema Njongmeta's sophomore year highlights came on special teams, when he broke through the line to block a punt that ricocheted out of the opposing team's end zone.
As one typically does after such a play, the future University of Wisconsin signee joined his teammates in connecting his hands above his head to signify a safety.
What no one else realized in that moment was that Njongmeta, one of the most physically imposing players on the field, didn't even know what he had done.
"I was like, 'This is a cool celebration. Let me join in,'" he said. "I didn't know what a safety was until I forced one. … Everyone was going crazy, and I'm thinking, 'Oh my God, what just happened?'"
Njongmeta, a Cameroon native who moved to the United States as a young child, barely knew anything about the sport of football when he joined Stevenson (Ill.) High's team as a freshman. He arrived in Madison this month, less than four years later, ready to join the Badgers as a scholarship inside linebacker.
His safety epiphany certainly wasn't the first of its kind during Njongmeta's high school career. He even needed to look up the difference between a guard and a tackle as a freshman.
"He just sort of walked in and showed up in August and didn't know how to put on a helmet," former Stevenson coach Josh Hjorth said.
A former UW linebacker was among the first to notice Njongmeta's potential.
Njongmeta moved around between running back, linebacker and even nose tackle as a freshman and didn't play much at any level while learning the basics of the sport.
Guy Boliaux, the defensive coordinator of Stevenson's sophomore team who played for the Badgers from 1978-81, hadn't even seen Njongmeta at all before his sophomore year. Boliaux asked other coaches if he played much the previous year, and they shook their heads.
"I said, 'Well, it's a shame because this kid has the potential to be a D-I kid,'" Boliaux said. "He had all the talent. The first day I saw him move, he moved across the field, great lateral speed. He would close on running backs. Amazing closing speed. You block him, he gets up, he'll chase you all the way down the field and into the stands and make a tackle.
"I said, 'The only thing is he doesn't know much about football, so we'll have to teach him that. But once he gets the hang of that, there's no stopping him.'"
Boliaux took Njongmeta under his wing and often worked with him individually throughout his sophomore season. Even so, the process took time.
"He would just look at me and stare at me, and I assumed he knew what I was talking about," Boliaux said. "Until he started playing. Then I realized he had no idea what I was talking about."
Eventually, Njongmeta caught on. Boliaux described the raw talent as a "sponge" who found a love for game. He only needed to hear coaching points once or twice before applying them correctly.
As a junior, his first year playing varsity football, Njongmeta became a first-team all-area selection.
At that point, Njongmeta's parents didn't want their son to play college football. His mother moved to the U.S. on a full-ride scholarship before receiving a PhD from Texas A&M. His father also earned a PhD, along with two master's degrees. In their eyes, you went to college for an education, not to play sports.
They made their son create a list of colleges he would attend for the sole purpose of academics. UW happened to be in the top three.
When the Badgers offered him as a senior last year, it seemed like the perfect compromise. He garnered all-state honors at Stevenson that season before signing early with UW in December.
While Njongmeta can sense why he became an attractive prospect in a hurry over the last two years, he said he also knows he's got plenty more to learn before breaking through as a key player at the Division-I level.
"I think the coaches saw that I was still very raw, but I'm able to be a lot of places on the field," he said. "Any time there's a play around the ball, I'm there. I'm explosive off the line and when I'm making contact. … And then the fact that my ceiling is very high because I've only been playing for such a short amount of time.
"I think just diving deep into the playbook and really understanding not just what I'm doing on the field but what everyone else is doing and how I fit into that will make me a much better player."
Be the first to know
Get local news delivered to your inbox!