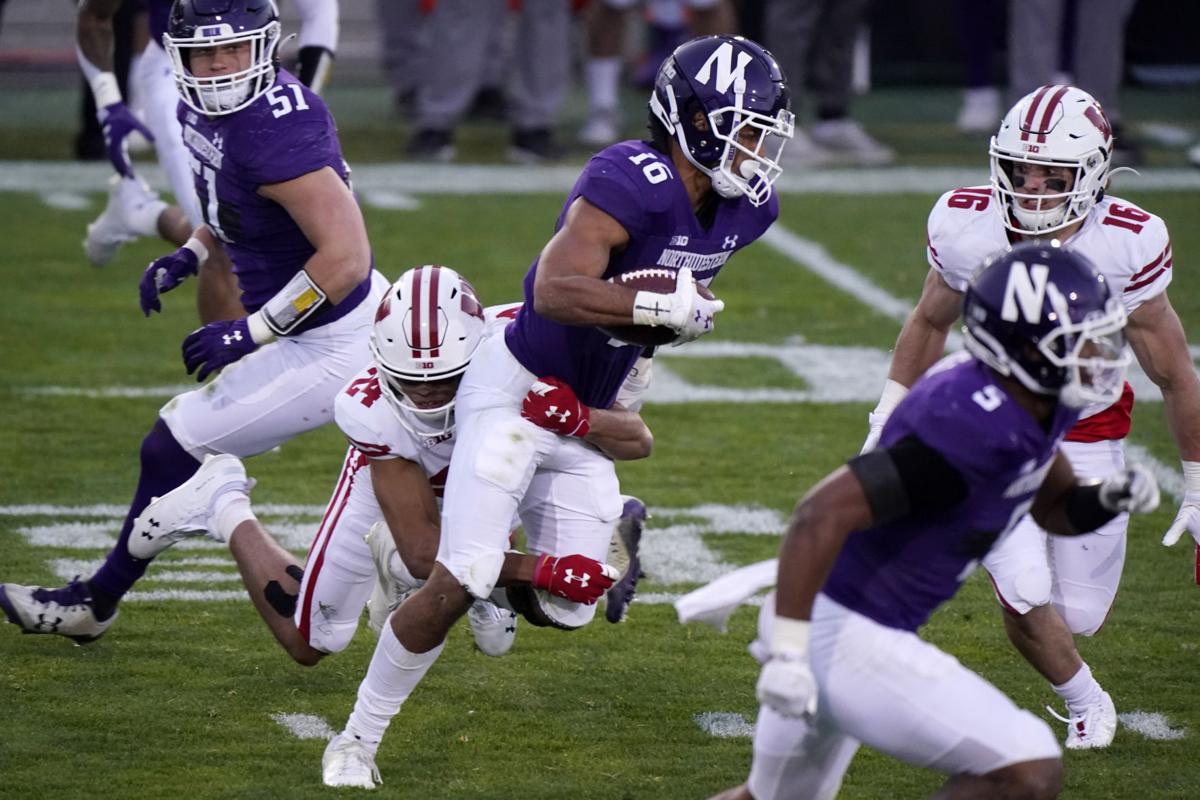 EVANSTON, Ill. — Nearly everyone involved in Saturday's top-20 matchup between the University of Wisconsin football team and Northwestern said beforehand they expected a fight.
The game was certainly that, but one in which the No. 10 Badgers seemed to tie one hand behind their backs over and over. The No. 19 Wildcats capitalized on the many mistakes UW made and continued to make Ryan Field a house of horrors for the Badgers.
UW allowed Northwestern to control the action and failed to generate offense consistently en route to a 17-7 loss, dropping UW to 1-6 in its last seven trips to Evanston.
"We've dealt with adversity off the field a lot this year and now on the field," said junior linebacker Jack Sanborn, who had a career-high 14 tackles. "We've just got to come together as a team. We can't let Northwestern and this week beat us again next week."
The Wildcats (5-0) now have the inside track toward the Big Ten West Division championship — they face Michigan State, Minnesota and Illinois down the stretch, all of which have losing records. UW (2-1) now turns its attention toward its rivalry game next week against Minnesota.
"We expected this. This isn't something that's a surprise to anybody in our program," Northwestern coach Pat Fitzgerald said. "This wasn't an upset tonight in our locker room. We fully expected it."
Senior receivers Danny Davis and Kendric Pryor were both not available for the Badgers after playing in the first two games of the year. Both appeared to take hits late in the Michigan game, but UW isn't providing status reports on players until the hour before kickoff, and that report didn't list reasons for Davis or Pryor's absences.
Their inability to play limited what UW could do offensively and exposed the lack of depth at the position.
Freshman receiver Chimere Dike caught a 49-yard touchdown to tie the game at 7 in the first quarter, but Northwestern took a lead before halftime and the Badgers' offense never was able to sustain drives to cut into the deficit in the second half. UW gained 132 yards on 44 plays (3 yards per play) after halftime — 43 of those yards came on its penultimate possession — turned it over on downs twice and threw an interception.
"We just weren't consistent on third downs to sustain drives and keep them going. We knew going in it was a good defense and we didn't do enough against them," UW coach Paul Chryst said.
UW was 3 of 16 on third down after going 16 of 30 in its first two games.
The Badgers defense made Northwestern's offense look even worse in the second half, allowing 91 yards on 37 plays (2.46 per play), but the offense was never able to cash in on the defense's stops or the short fields the special teams helped create.
UW entered the game having committed just four penalties for a total of 20 yards. The Badgers had eight penalties for 69 yards against Northwestern, including four defensive pass interferences to extend Northwestern drives and three false starts. Three of the interference calls, all in the first half, were questionable penalties and UW defensive backs haven't been flagged for similar plays in previous games this year.
The Badgers outgained Northwestern 366-263, including a 136-24 advantage in rushing yards and had a 37:01-22:59 edge in time of possession.
But the rustiness that many expected to see from the Badgers coming off a two-week layoff last week at Michigan seemed to catch up with them Saturday. UW came into the game with one turnover this season, but committed four turnovers in the first half and five in total. Three of those first-half giveaways, both interceptions and one fumble, came from quarterback Graham Mertz.
"For us, it was really the passing game today," Mertz said of what didn't work for the Badgers. "It was just working through progression and really seeing the field. Northwestern's a great, veteran defense. … They knew what was coming with our progressions, so obviously there was some I'd love to get back, but now it's just taking them as a learning experience and growing from it."
Mertz scrambled for 24 yards to keep a drive alive late in the first quarter, but then was stripped by senior linebacker Blake Gallagher on a play-action drop back the next play. That gave Northwestern the ball at UW's 32, but the defense got a stop and Northwestern's Charlie Kuhbander missed the 45-yard field goal attempt short and to the left to keep the damage minimal.
Momentum again turned toward Northwestern when UW punted facing a fourth-and-3 from the Wildcats' 36-yard line. Mertz tried a play-action pass on third-and-1 the play prior, but was sacked.
Two drives later, Mertz tried to throw against the grain of the defense after moving in the pocket to create a throwing line. Wildcats senior linebacker Paddy Fisher tipped the ball, which bounced off tight end Hayden Rucci and into the arms of safety Brandon Joseph.
The defense again got a stop off the turnover, forcing a punt in four plays. But back-to-back shaky plays from Mertz gave Northwestern the ball and all the momentum before halftime. On a second down play, Mertz faked a handoff and had tight end Jake Ferguson in the flat for a potentially big gain, but he threw the ball too hard and Ferguson dropped the hot pass. The next play, Mertz well overthrew receiver Jack Dunn over the middle and Joseph nabbed his second interception.
Wildcats quarterback Peyton Ramsey then orchestrated a 72-yard drive on which he went 7-for-7 passing, including a 25-yard touchdown to Ramaud Chiaokhiao-Bowman to give the Wildcats the lead with less than a minute before halftime.
"We have full confidence in our offense and that's how we're going to continue to play it," sophomore linebacker Leo Chenal said. "On the defensive side of the ball, we just kept working, didn't worry about anything else except us and what we were doing on the field."
Still down 14-7 early in the fourth quarter, UW turned down a chance at a 40-yard field goal and opted to go for it on fourth-and-6. Mertz was sacked for a loss of 10 yards on the play.
Kuhbander tallied the only second-half points with a short field goal early in the fourth quarter.
UW will need help to have a chance to win the Big Ten West, starting with the home date against Minnesota next week.
"I'm excited to see where this team takes the next step," Mertz said. "It's going to be a great team from this point on. We're going to learn from it tomorrow, we're going to flush it, and we're going to keep the Axe."
---
Photos: Badgers offense stalls against stingy Wildcats defense