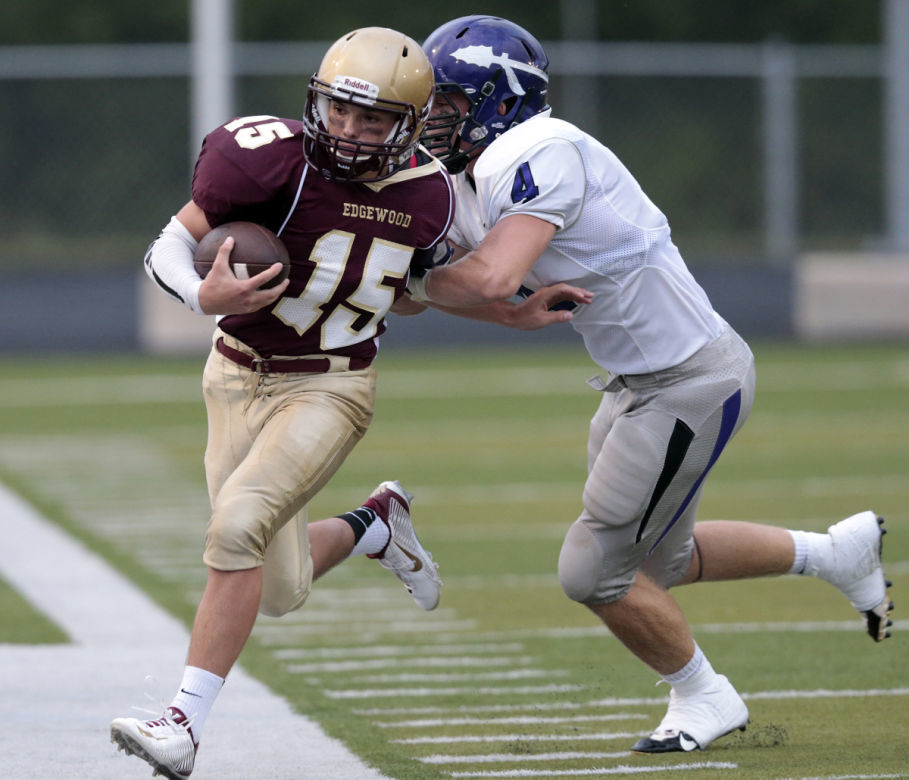 Wide receivers Jack Dunn and Adam Krumholz, essentially locked in a position battle since arriving at the University of Wisconsin together in 2016, may finally earn the chance at consistent snaps in the Badgers' season opener Friday against Western Kentucky.
Even during their first fall camp at UW, the local walk-on products were trying to outperform the other, scraping for as many scout-team reps they could get.
"Right off the get-go, we were always competing," Krumholz said. "When it comes to Jack Dunn, you've got to love it, just how competitive he is. We both wanted all the reps, all the catches, just to show who's the best receiver on that scout (team)."
Krumholz, from Stoughton, and Dunn, an Edgewood High grad, were always going to be linked during their Badgers careers. Both walked on at UW in identical situations as local prospects faced with the tall task of beating out an influx of scholarship talent at their position.
After both appeared on the Badgers' first two-deep depth chart of the year Sunday, it's clear the pair will be much more than scout-team players this week as UW prepares for the Hilltoppers.
"I think we've always kind of supported each other," Dunn said. "We obviously both have the same goals and come from similar backgrounds, so I think we've been able to learn from each other and kind of grow as receivers and teammates together."
The opportunity presented to Dunn and Krumholz in the coming weeks will certainly be a unique one, as two of the Badgers' top receivers are currently suspended.
UW suspended junior Quintez Cephus indefinitely after being charged with second- and third-degree sexual assault. Sophomore Danny Davis, who allegedly took pictures of the victims, will miss the first two games of the season.
That leaves Krumholz and Dunn to back up starters A.J. Taylor and Kendric Pryor on Friday at Camp Randall Stadium.
You have free articles remaining.
"I think the first couple games are a good opportunity for everyone, regardless of the situation," said Dunn, who will also serve as UW's No. 1 punt returner in Davis' absence. "We've got a lot of young guys that are going to get a shot early on. ... I think you've got to approach every game as an opportunity to make the most of whatever chance you get out there."
Although Davis is due back for UW's Week 3 contest against BYU, the inclusion of Dunn and Krumholz on the depth chart ahead of true freshman Aron Cruickshank wasn't anticipated during the early stages of fall camp.
Cruickshank became one of the stories of the offseason, beginning with a string of impressive performances during spring practice, but a more vast knowledge of UW's offense seemingly served as a major plus for Krumholz and Dunn heading into the season.
"They've been busting their butts," starting quarterback Alex Hornibrook said of Dunn and Krumholz. "They've been here for a while now, so they know what they're doing. That's one thing that helps out a lot. If they know what they're doing on the field, then coaches can feel comfortable putting them in. I think that's the first step, and then I'm expecting them to be ready to make plays whenever they need to."
Hornibrook said Krumholz possesses both the speed and size to succeed at this level. Dunn, at 5-foot-7, doesn't look the part of a Division-I receiver but has the quickness to consistently get open from the slot.
"If you can get open, that's really what matters," Hornibrook said.
Krumholz said he doesn't view himself as a walk-on. That only limits expectations for what he can accomplish with the Badgers. Dunn always felt he could compete at the highest level of college football. Otherwise, he said, he probably wouldn't have come to UW in the first place.
The next two weeks could be the best opportunity yet to show everyone else they belong.
"I just knew that if I worked hard, eventually I'd get a shot," Dunn said. "So that was my goal, just to prepare myself for whenever that opportunity came and try to make the most of it, whatever situation that is."
UW offensive coördinator Joe Rudolph said Monday that he expects tight end Zander Neuville (right leg) to return "sooner than later." Neuville is not expected to play Friday against Western Kentucky. ... A Big Ten official confirmed Monday that the conference has expanded its travel roster size from 70 to 74.